Laos visa is what you need to begin your trip to Laos. Indeed, travelers can easy to get a Laos visa and it will not take them a lot of time. If you are going to enjoy Asia vacation packages and Laos is one of your visiting destinations, this article is for you.
Laos Visa Exemption
Below is a list of countries where their citizens are allowed to travel to Laos without getting a visa
Within 30 days: Cambodia, Russia, Indonesia, Singapore, Malaysia, South Korea, Mongolia, Thailand, Philippines, Vietnam.
Within 15 days: Japan, Luxembourg, Switzerland.
Within 14 Days: Brunei, Myanmar.
Where to Get Laos Visa on Arrival?
These following land and air crossings offer Laos Visas on arrival to visiting foreigners.
Laos International Airports: Vientiane, Luang Prabang, Pakse Airports. Since October 2019, Savannakhet Airport stopped offering a visa on arrival.
Thailand: Friendship Bridge connecting Vientiane, Nong Khai as well as other Thai-Lao border crossings: Houayxay – Chiang Khong; Thakhek – Nakhon Phonom, as well as, Vangtao – Chong Mek. Laos visas arrival is able to be secured by travelers to the Tha Naleng train station in Vientiane that come in via the rail link from Nong Khai in Thailand. Since October 2019, 2 crossings have stopped offering "Visa on Arrival" service: Nam Heuang Friendship Bridge along with Nam Ngeun crossings from Thailand to Sayabouly Province.
Importance: If one's entering Laos from Thailand, he/ she have to decline the numerous offers by agents and guest house to handle their visa application in Nongkhai. Be careful because most of such services are scams.
Vietnam: You can obtain a Laos visa on arrival from Dansavan – Lao Bao overland crossing. Nam Kan – Nam Phao crossings have stopped their "Laos Visa on Arrival" services since October 2019.
Cambodia: Veun Kham – Dong Calor overland crossing.
China: Boten – Mohan overland crossing.
Laos Visa on Arrival Fees
| | |
| --- | --- |
| Country | Fee (in US Dollar) |
| China | $20 |
| Australia & other countries | $30 |
| Sweden | $31 |
| USA, UK & most Europe | $35 |
| India, Pakistan, Sri Lanka | $40 |
| For overtime (4:00 PM – 8:00 AM) | Additional $1 |
Getting a Laos Visa in Advance
If one wishes to remain within Laos for over 30 days, he/ she have to consider applying for a visitor's visa from a consulate office in Southeast Asia or at the Laos embassy in your hometown. Application fees differ; however, you may be granted up to a 60-day stay Having a Laos Visa before arrival, you may bypass some of the queues at the border as well as allow access to these additional international entry points which don't furnish Laos visa on arrivals: Napao – Chalo, Taichang – Pang Hok from Vietnam as well as Pakxan – Bungkan from Thailand. Laos has consulates situated all over Southeast Asia consisting of Vietnam, Thailand, Philippines, Indonesia, Cambodia, and Myanmar.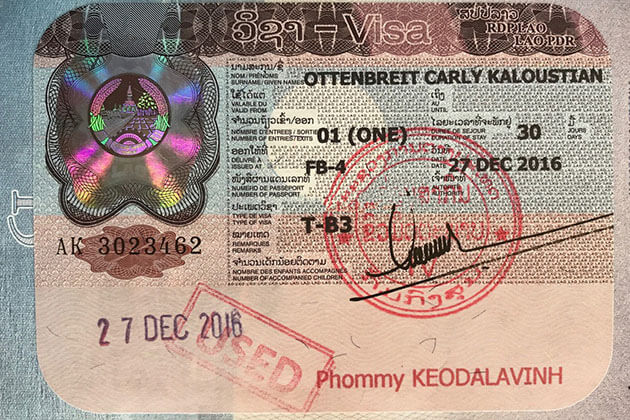 Laos eVisa
eVisa has been launched in Laos since July 2019. Laos eVisa is available to citizens of all countries. However, countries whose citizens are ineligible for a Laos visa on arrival.
Countries that are ineligible to obtain a Laos visa on arrival:
| | |
| --- | --- |
| Afghanistan | Algeria |
| Bangladesh | Burundi |
| Cameroon | Congo |
| Cote d'Ivoire | Ghana |
| Guinea | Guinea Bissau |
| Jordan | Lesotho |
| Liberia | Libya (Libyan Arab Jamahiriya) |
| Mozambique | Nauru |
| Niger | Nigeria |
| Pakistan | Senegal |
| Sierra Leone | Suriname |
| Syria (Syrian Arab Republic) | Swaziland |
| Tonga | Turkey |
| Zambia | Zimbabwe |
Laos eVisa is valid for 60 days from the date of issuance and its holders, perhaps, stay for up to 30 days. The price of Laos eVisa costs varies depending on the country and can be issued with 3 business days. Visitors can use eVisa to enter Laos through the entry points: Wattay International Airport, Thai – Lao Friendship Bridge, Luang Prabang International Airport.