Bhutan Tours & Vacation Packages
On your way of enjoying the best Asia tour packages, you cannot miss any chance to visit Bhutan. Bhutan – a kingdom sandwiched between the two countries China and India, is famous for a name "the last Shangri-La on earth" attracting visitors all around the world by its unique features of the kingdom including the Dzongs, monasteries, and temples as well as Buddha relics. Once enjoying Bhutan vacation packages, you will absolutely have a chance to experience the pristine beauty which has been preserved so long as well as take a trekking tour and get a chance to witness authentic Bhutan at the high attitude where sparkling glaciers placed under the blue sky.
To make your dream of coming and discovering Bhutan come true, Multi-Country Asia Tours would like to offer our ready-made Bhutan tour packages for you to choose. If you do not find your interests in our suggested Bhutan tours, feel free to contact us and we will support you to customize the best Bhutan tours that deserve you most.
---
Top Sensational Things to Do and See for the Delightful Bhutan Vacation
5 Stunningly Religious Attractions in Bhutan
Taktsang Goemba – the Tiger Nest Monastery
Stand out from other attractions in Paro, Taktsang Goemba aka the Tiger's Nest Monastery is the most iconic tourist spot that you don't want to miss at all costs, I'm sure. Take place on top of the 1200-meter mountain above the Paro Valley, this monastery is surrounded by splendid beauty. The site topped with the golden roof on the backdrop of clear blue sky and lush green hills look immensely beautiful and is considered as one of the best places to visit on your Bhutan vacation. If your Bhutan tours do not have a day hiking to Taktsang Goemba, this itinerary will be not completely perfect.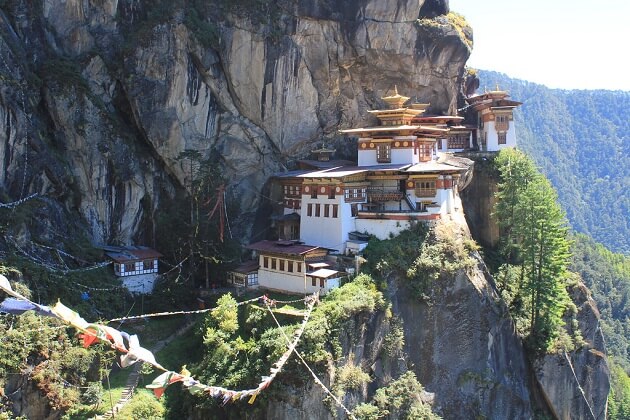 Punakha Dzong
Bhutan is famous for its wonderful old-aged architecture scattered throughout the land. Punakha Dzong is one such gorgeous architecture and provides a beautiful sight of the luminous aura of the whitewashed walls on a lovely day. Golden, black, and red-painted woods add to the charisma of this striking architecture.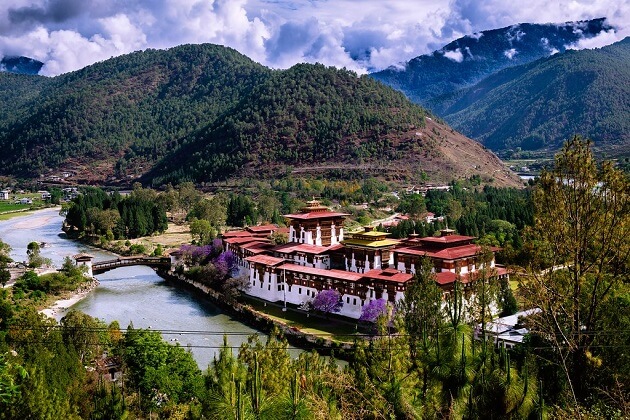 The Dzong is covered by the splendid natural beauty with lush green hills and endless blue sky and is believed as one of the best destinations to visit in Bhutan. The Dzong is a site holding historical and traditional importance of Bhutan. For a long time, it served as the capital. It also preserves the remains of Zhabdrung Ngawang Namgyal and holy artifact Ranjung Karsapani. Due to its gorgeous appearance and breathtaking surroundings, Punakha Dzong is one of the most renowned destinations to go when it comes to Bhutan tours.
Trongsa Dzong
Trongsa Dzong is renowned for being the largest dzong fortress in Bhutan that overlooks the mind-blowing gorge of the Mangde River. It was launched first in 1543 and in 1647, the first dzong replaced it. This dzong has so much importance in terms of administration and it is the headquarters of the Trongsa Government.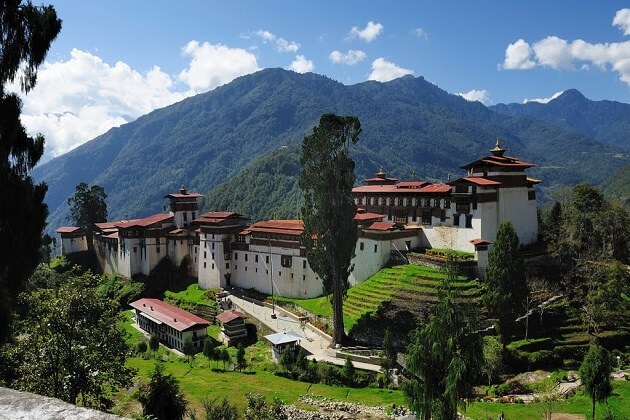 This extensive complex possesses manifold exemplary architectural nuances set on different levels. It is home to 25 temples along with the beautiful courtyards, corridors, passageways, and the natural beauty surrounding. Coming to the Dzong during December or January, it is your chance to witness the 5-day festival at the temple symbolizing the victory of Buddhism over evil and every monastery in Bhutan get into this festival.
Buddha Dordenma
Buddha Dordenma is known as one of the largest Buddha statues in the world and is also a masterpiece of architectural wonder. The massive bronze statue is over 50 meters in height and is gilded in gold. Apart from this, it is also home to 125,000 other Buddha statues which are placed surrounding the Buddha Dordenma statue.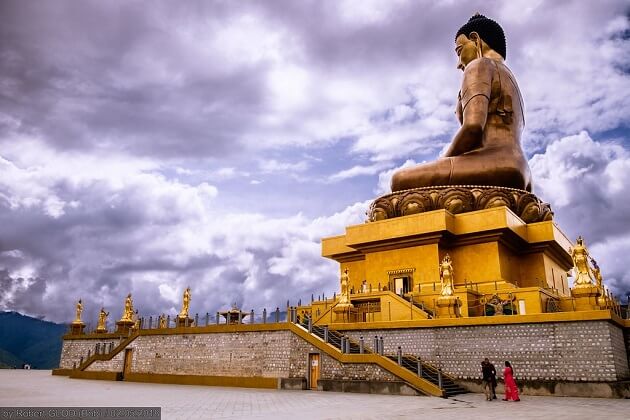 Sitting royally atop a great meditation hall, this Buddha statue exudes peace and tranquility and is considered as one of the best places to visit in Bhutan. The project has been believed to be prophesized as early as the 8th century in a sacred treasure kept by Guru Padmasambhava. It is a representation of the manifestation of human faith and everlasting peace and happiness for all human beings. Do not miss this place. When you go inside the temple, you will finally see how worth your Bhutan vacation is.
Chimi Lhakhang Monastery
Chimi Lhakhang is considered as the temple of fertility, dedicated to Lama Drukpa Kuenley, prevalently known as the Divine Madman. Lama Drukpa Kuenley is a legendary saint in Bhutan, who is much revered in the country; however, because of his odd way of teaching, he is considered an eccentric.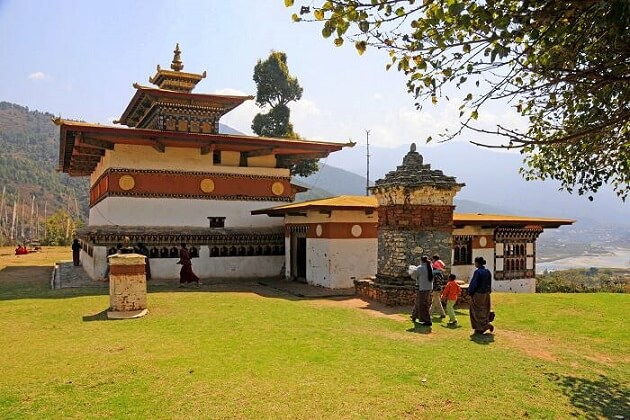 People throughout the country come to the temple to pray for children, even foreigners. The couples heading to the temple are sanctified with a wooden phallus which is the imitation of the saint's iron bow and arrows and his scriptures. The temple is surrounded by the abundant paddy fields this temple is a must-visit. My Bhutan vacation was so exhilarating when I went there. I learned a lot about Bhutanese culture.
5 Mind-blowing Activities for Your Wonderful Bhutan Vacation
Trekking
Once enjoying your very best Bhutan tours, how can we miss an opportunity to enjoy a trekking trip, a very famous adventurous activity in Bhutan, through evergreen forests, trails offering stunning views of Bhutan's beauty at the high altitude? Among many treks in Bhutan; however, the Jomolhari Trek and the Druk Path Trek are the two popular trekking trails in Bhutan that lead you to walk through every breathtaking view in the country.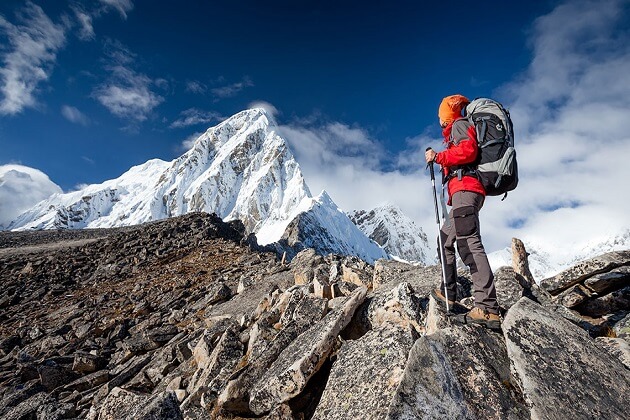 Rock Climbing
Personally, rock climbing absolutely is the one above all, to me, whenever there is a discussion about adventure. Besides trekking, you should not miss any chance to join in a rock-climbing trip and have interesting experiments in the activities. Once enjoying, there will be an opportunity to challenge yourself to see who you really are.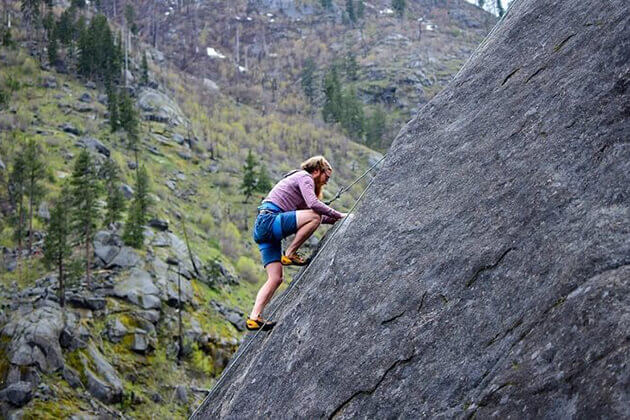 Climbing up to the vertical rock, beating all the obstacles while climbing, and if you get a bit tired, just stop for a while and turn your head back, then admire a spectacular vista watching attentively behind you. Also, if you want to get into a climbing trip, do not miss the Nose, a natural climbing rock located outside Thimphu where you can find 13 different routes in total which have been bolted and made safe. If you are into adventure, your Bhutan tours will not be perfect without rock climbing.
Get into Archery
If you want to experience the feeling of being an archer, just simply enjoy this sport. I know it, perhaps, is an unusual thing to do in Bhutan yet definitely worth your time spending on it. The archery, the national sport of Bhutan is not limited to athletes; hence, you can find locals getting into in all kinds of archery competitions during the local festivals and fairs. It's time to be the real-life Hawkeye. During your Bhutan tours, you can enjoy Archery if you want.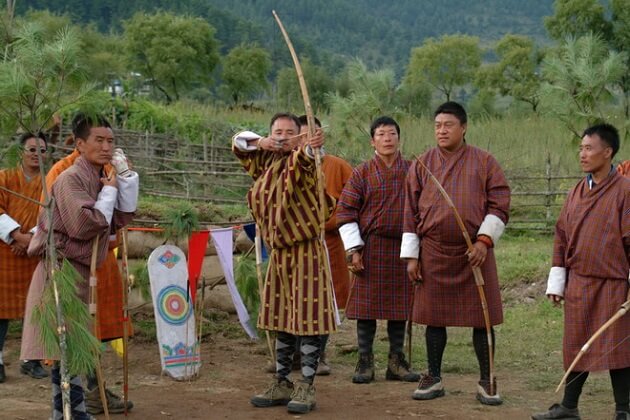 Unwind with Hot Spring
This one is rather relaxing than adventurous but let me give you a reason. If you are going to a trek called The Duer Hot Springs Trek, lucky you that you will have an opportunity to both enjoy an exciting trekking route and take it easy with hot spring after a grueling four-day trek. Hot springs are the signature attractions of mountainous countries so that do not miss to have the best time with this elegant activity when visiting Bhutan. I found this thing the most relaxing way to release myself after a day of enjoying my Bhutan vacation.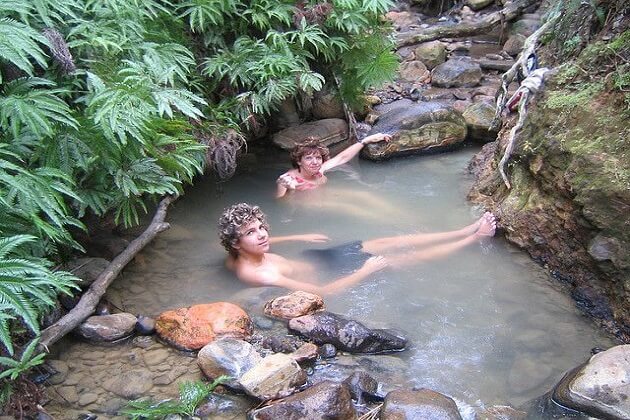 High on Life with a Biking Trip
This one is also the reason that makes me eager to enjoy an adventure tour in Bhutan because it is the perfect way to explore the exotic beauty in such a beautiful country. Setting against the stunning valleys and the mountains, the trails are best covered on bikes that you can find and hire from the towns or even villages in Bhutan. Although I consider it an adventurous activity, it suits everyone from beginners to experts.