Indochina Tours & Travel Packages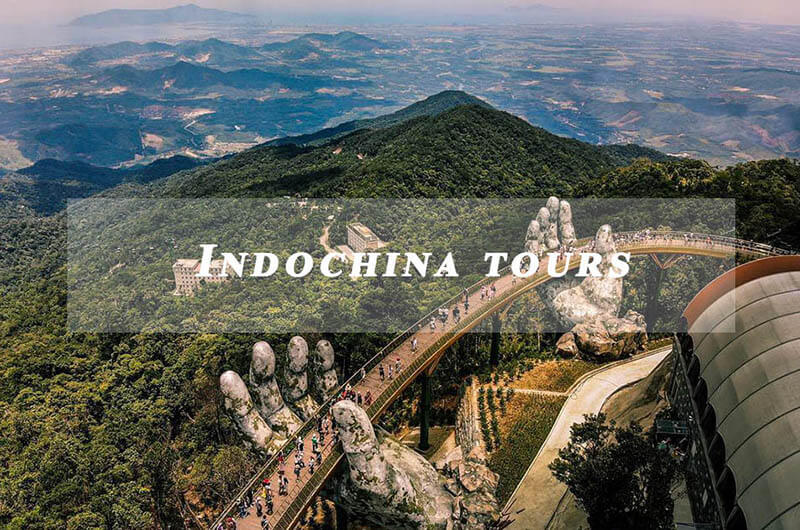 Indochina is an area of 3 countries: Laos, Cambodia, and Vietnam, which is just a small part of Asia but possesses the ranges of lively attractions of every field from nature, culture, history to people in this area. Indochina Tours are hoped to give you a memorable trip with interesting experiences about friendly locals, breathtaking landscapes and yummy food within Indochina countries.
Proud of the expert of organizing Asia tours with many years of experience, Multi Country Tours Asia has the honor of giving you Indochina tour packages, where you are suggested tour itineraries and travel service before and during your vacation in Indochina. We offer a range of ready-made Indochina travel packages for individuals, group of friends with all sizes and families. If you plan to visit Indochina but do not have a detailed plan, feel free to contact us and receive advice from our expert team. Let work together for your perfect Indochina vacation packages.
---
Things to Do and See for Memorable Indochina Tours
Indochina is just a small area of Asia with 3 countries nearby the East Sea (Vietnam – Laos – Cambodia) but owns so hundreds of attractive tourist attractions in many kinds that nobody claims that he has explored the whole destinations in Indochina. The more you discover Indochina, the more you will be impressed by the picturesque landscapes along with the thick layer of Indochina culture and history and the numerous adventure activities, sports games, etc. Do you think that on your next trip you should put Indochina on the top list of destinations you must explore? Let Multi-Country Tours Asia reviews for you about the top 10 places you must visit in amazing Indochina tours.
Top-rated Things to Do & See in Indochina Travel Packages - Vietnam
Ha Long Bay
Known as one of
Seven World Heritage sites by UNESCO
,
Ha Long Bay
is an unmissable attraction when enjoying jovial Indochina tours in Vietnam. Located in the Northern of Vietnam and the area of the
Gulf of Tokin
, Ha Long Bay owns special terrains; although situated in the sea, it possesses the diversity of the
terrains of Karst
with nearly 2000 islets. Visiting Ha Long Bay, you have chances to widen knowledge about literature by exploring typical limestone caves like
Sung Sot cave
where you are surprised at the carter terrain with the various colors reflecting the stalagmite with many shapes or
Dau Go grotto
which you will observe the masterpieces of Mother nature where the column of limestone is eroded into the lively shapes like elephant, chicken, etc.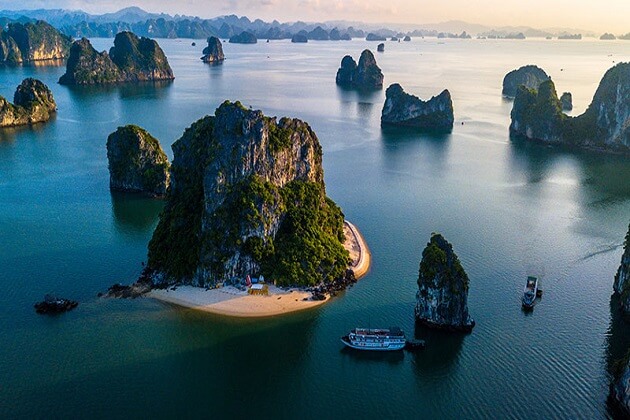 Besides, Ha Long Bay is the relaxing paradise that owns many sun-kissed sandy beaches like
Tuan Chau Island
,
Ti Top Island
. With about 30 minute cruise, you set foot into Ti Top Island – one of the most beautiful beaches in Ha Long Bay; standing on the golden sand and observing the dawn appearing gradually from the blue of sea or dumping the body into the cool freshwater with tiny waves or surfing waves are some of best recommendation for you when visiting Ti Top Islands, there are many interesting activities you should experience.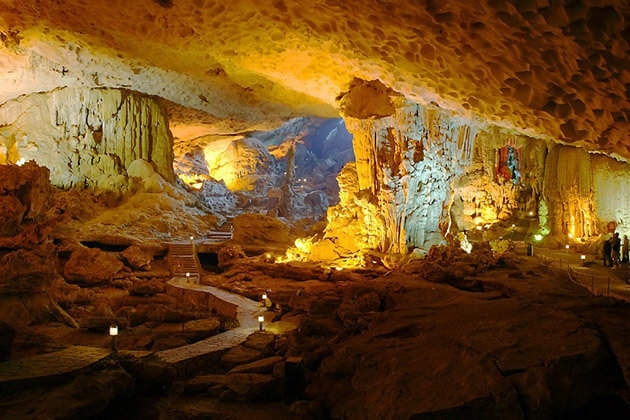 Hoi An Ancient Town
Hoi An ancient
town is an old charming town prospering from the 16th-17th century with the appearance of Chinese and Japanese there. Hoi An is the best choice for a trip on foot where you experience from day to night without the tiredness. In the day, you can walk or take a cyclo around the town to visit historic sites which marks the prosperous period of Chinese and Japanese in Vietnam, you should pay a visit to
Bridge Pagoda
called
Japanese covered bridge
, Chinese assembly halls,
Guan Yin Temple
, the Tran family home, and chapel. Besides, you can participate in lantern making class or cooking class in Hoi An like White Rose (pawn dumplings),
Cao Lau noodle
. In the night, Hoi An becomes a sparkling town with a
colorful lantern
hung in the range of same structured house, especially on 15th days of each month there are flower lantern festivals on
Hoai River
and pray for the health and luck which promises to be your best moment in Hoi An old town.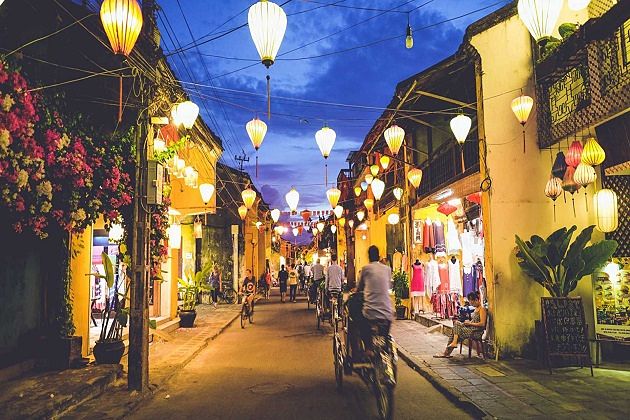 My Son Hindu Sanctuary
About 40km from Hoi An,
My Son Hindu Sanctuary
is a UNESCO World Heritage Site which is a sample of the ancient Champa civilization, it was a political center, a royal burial area, and the complex of about 70 structures related to Hindu goddesses and gods-Shiva who is the protector of the Champa's kings. The impressive point of My son Sanctuary is the structure of beautiful stone sculptures, temples, and towns. On the way to getting into a joyful Indochina travel, do not miss this site.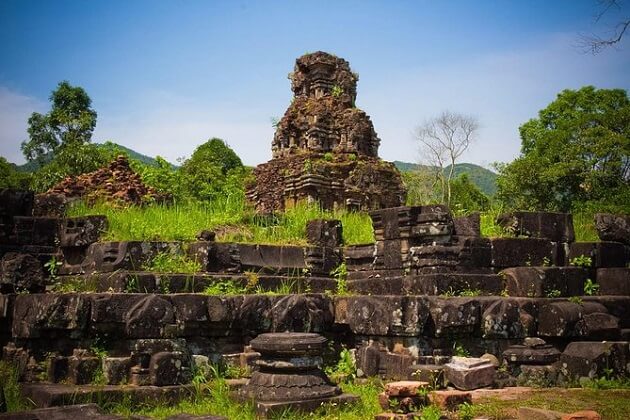 Lung Cu Flag tower
Standing in the
Lung Cu Flag Tower
– the northernmost point of Vietnam, you have the chance to extend your view to the horizon. At the height of 1700m, you can explore the panoramic view of local villages, standing-out rice terraces, China side & great mountains.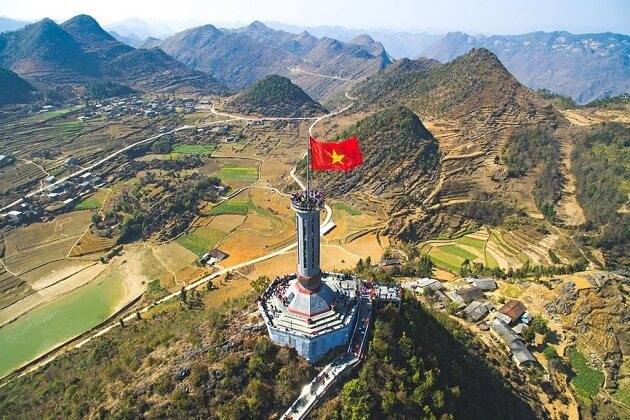 Dong Van Limestone Plateau
Ha Giang
is also home to many other natural tourist attractions but you cannot miss
Dong Van Limestone
Plateau which is recognized as the Global Geopark by UNESCO in 2010 because of the clear imprints of the revolution of the Earth's crust. It forms the majestic scenery with towering mountains and massive valleys in the region.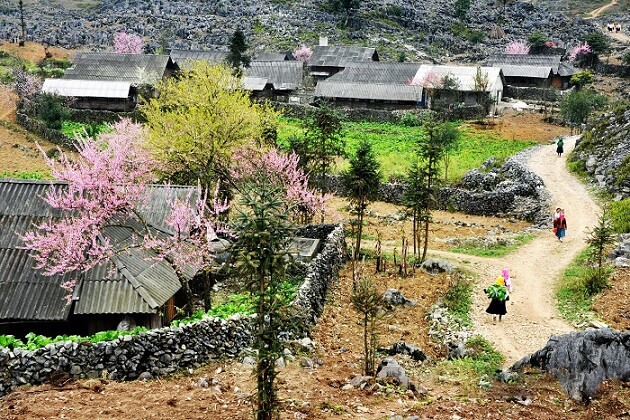 Cai Rang Floating Market
Cai Rang Floating Market
is one of the most attractive attractions in Can Tho, a special culture feature in
Mekong Delta
. It is the attraction that exchanges and trades agricultural products, fruits, good as well as an eating area. Going to Cai Rang market, you not only experience trading of the local residents there but you also observe and learn the life of many extended families with many generations living together on boats. It's time to take one step closer to the authentic atmosphere of the floating community. Your Indochina tours will be so much fantastic, I am sure.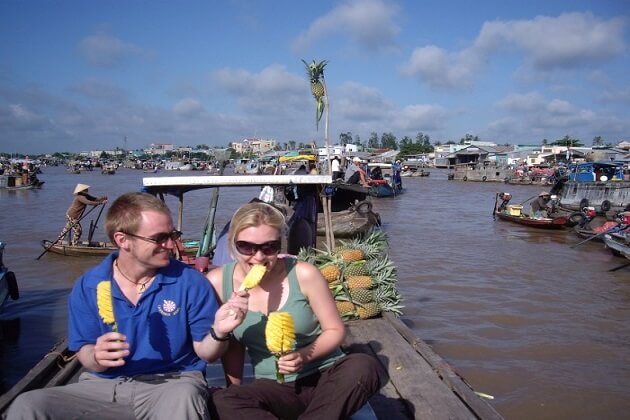 Tram Chim National Park
Located in Dong Thap, Vietnam, Tram Chim National park is an alluring place for birdwatchers. This bird kingdom consists of nearly 200 types of birds with many endangered and rare birds in the area of 7500 hectares. Visiting there, you have a chance to sailing across small channels surrounding by ranges of Duoc trees – a type of tree planting in the marsh and see birds flying or perching on the top of Duoc trees.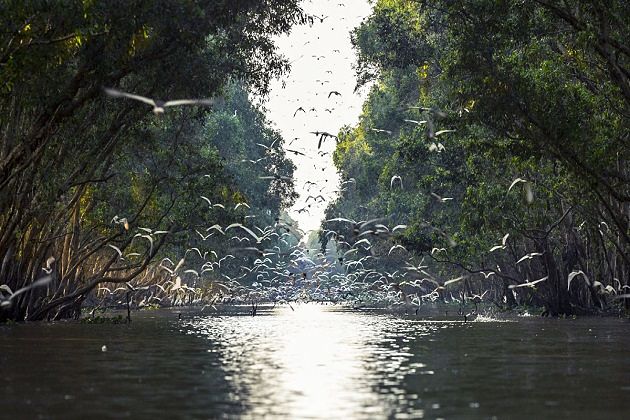 What to Do & See for a Perfect Indochina Travel - Laos
Phousi Hill
If you are asking me what could be a well-worth destination to visit in Laos for wonderful Indochina travel packages, without doubt, it must be Phousi Hill. Situated inside the city of Luang Prabang, Phousi hill is home to several Buddhist shrines and temples. To reach the top of Phousi Hill, travelers climb up hundreds of steps, visitors can visit notable temples like Wat Tham Phousi, Wat Chomsi, etc. If you have chances to explore the top of this hill in the early morning, you will observe the sunrise over this Lao city.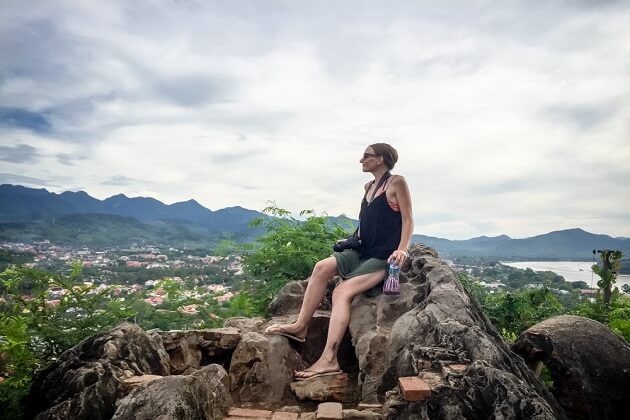 Wat Xieng Thong
Another attraction in Laos for those aiming to participate in happy Indochina vacation packages. Wat Xieng Thong is named the Temple of the Golden City, which was built in the mid16th century beside Mekong rivers and placed Laotian kings who were crowned. It is a complex of more than 20 buildings used with various religious functions. Like many temples in Laos, this temple is also covered by plenty of golden leaves, which makes it very stunning in the sunshine of Lao. Visiting Wat Xieng Thong, tourists should not miss a mosaic tree of life, statues of deities and 25-meter high funeral carriage.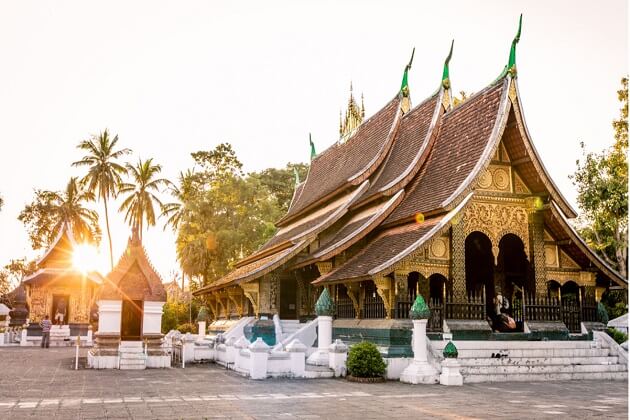 Buddha Park
Buddha Park is also called Xieng Khuan which is an open-air sculpture park with a collection of about 200 huge Buddha statues and Hindu deities, besides there are various mascots, people constructed by cement. The structure of this park is entirely special; the entrance looks like the mouth of a demon leading to a stone ladder; climbing this ladder, you will see panoramic views of the whole park. If you are interested in religion, especially in Buddhism, your Indochina vacation will be much more meaningful with this site.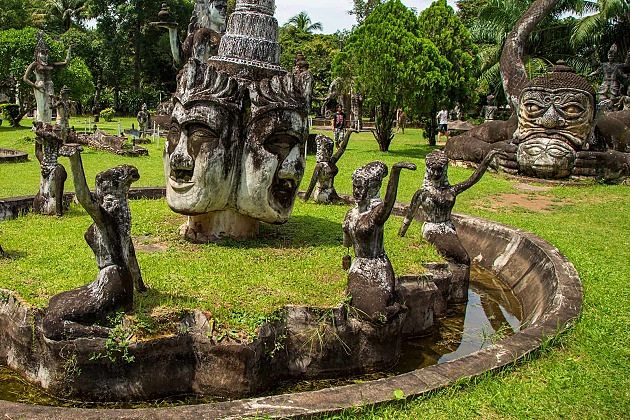 Vientiane Night Market
Getting into Indochina tours, how can we ignore indulging in the vibrant ambiance of the night markets in each country of such a region, especially in Laos. Vientiane night market locates along the Mekong Riverfront, it is easy –identified by rows of red-roofed stalls trading handicraft, clothes, and electronics. The common items there are Buddhist-inspired paintings, cheap sunglasses, and a T-shirt. You cannot speak Laos, do not worry because the trader there can speak basic English and you will have opportunities to bargain before deciding to buy somethings. Ì you don't intend to buy somethings there, visiting the Vientiane night market is a good choice for you to enjoy Lao cuisine like Laap, Paeng Pet, Jaew, etc.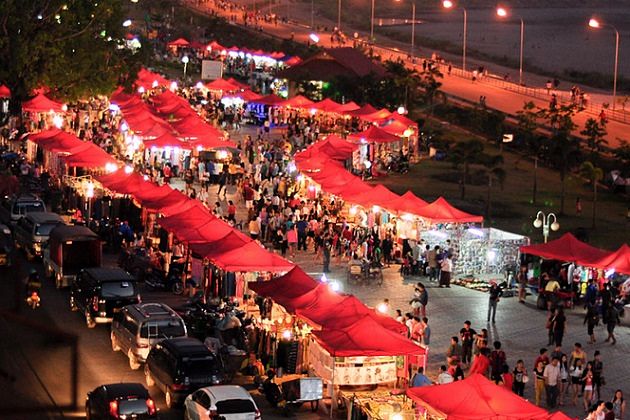 Blue Lagoon
Blue Lagoon is the complex of 2 parts Blue Lagoon 1 for sports games and adventure and Blue Lagoon 2 for swimming. In Blue Lagoon 1, you can rent a life jacket, a water slide, and rope swings; moreover, in the high season, when the number of tourists is quiet, you have another chance that you can experience Zipline or Western-style Parisen café round out this attraction. In Blue Lagoon 2, it is not as popular as Blue Lagoon 1 but it is a plus point, you can be free to swim and dip into the cooling water without worrying about the high season and if you do not like taking a bath but still like peaceful and fresh, Blue Lagoon 2 is the best choice for you, you can eat or hang out in the cabanas. Let your Indochina vacation become more relaxing by indulging yourselves in the blue and cooling water of Blue Lagoon.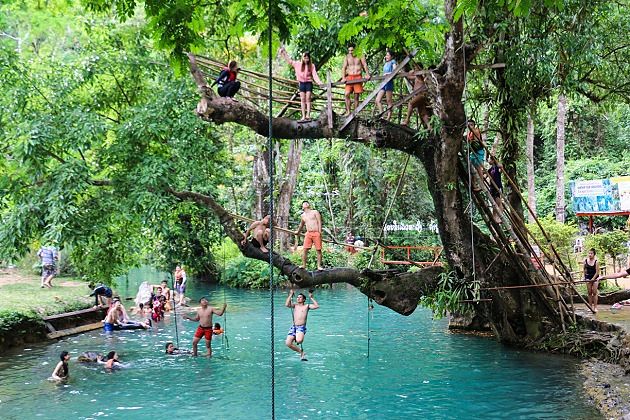 Tham Nam Water cave
Located far from 11 km north of Vang Vieng, Tham Nam is one of the most popular locations in Lao for adventurers. Traveling to Tham Nam water cave, you should try on at least one of water sports like tubing, kayaking, ziplining. Just paying the rental fee of about 60,000 kips and another 60,000 kips refundable deposit, you can experience jumping in the waiting Songthaew transporting you to the starting point.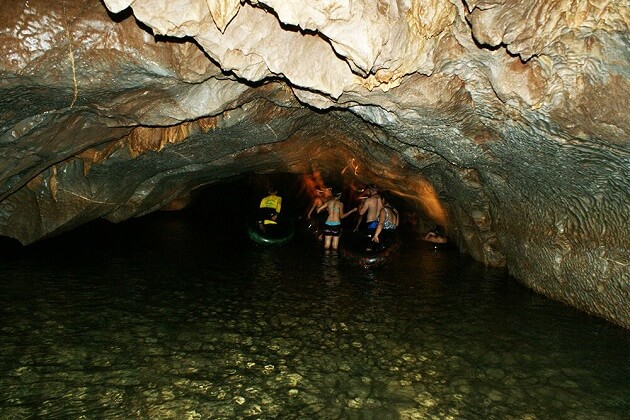 Angkor Wat
Perhaps, you've heard of the name of this renowned site. Obviously, this place is the most iconic attraction that you should visit on your Indochina vacation packages. Angkor Wat mentioned is the world's largest city during the medieval age; however, only the temples remain today. This city comprises many small tourist attractions like Angkor Thom with one of the most photogenic temples, Bayon Temple with 216 stone faces of Avalokitesvara built by King Jayavarman VII, Ta Prohm – one of the most photogenic sightsees, etc.
Phare Ponleu Selpak
Phare Ponleu Selpak is Cambodia's lauded circus which combines acrobatics, music, dance, circus slapstick, and performance arts. It is a contemporary circus with a story weaved through the performance, combining drama and comedy in one show. Phare Ponleu Selpak is perfect for an Indochina vacation with family.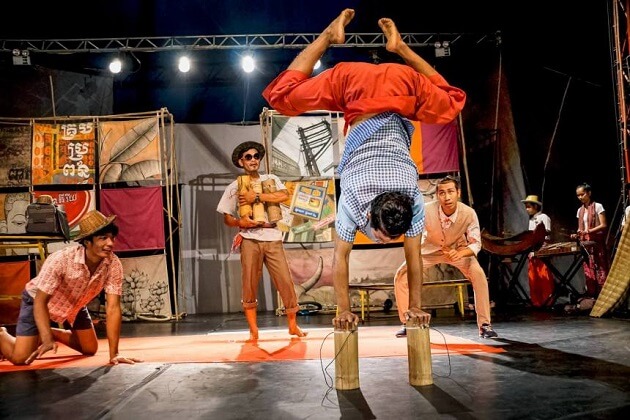 The most Fascinating Attractions for a Memorable Indochina Tours - Cambodia
Royal Palace
Royal Palace is the seat and residence of Cambodia's royal family since the 1860s, it consists of the Throne Hall and the Silver Pagoda. The Throne Hall was built in 1917, replacing an earlier wooden structure whereas the silver pagoda is the home of the Emerald Buddha statue and 90-kilogram Gold Buddha statue with thousands of diamonds. Stunning outside-look, fresh-air condition, impressive building making this site a well-worth visiting destination when it comes to a cheerful Indochina vacation.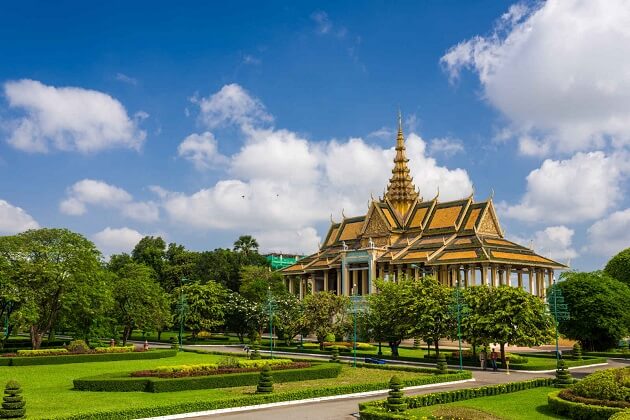 Choeung Ek
Choeung Ek is a reminder of the Khmer Rouge about the period turning Cambodia into a socialist again society between 1975 and early 1979. When visiting there, tourists have chances to explore the huge histories of Cambodia to gain its independence. At the center of the area is a memorial stupa that includes more than 8000 skulls. A simple place but contains a lot of value in history. Your Indochina vacation packages would not perfect without this site.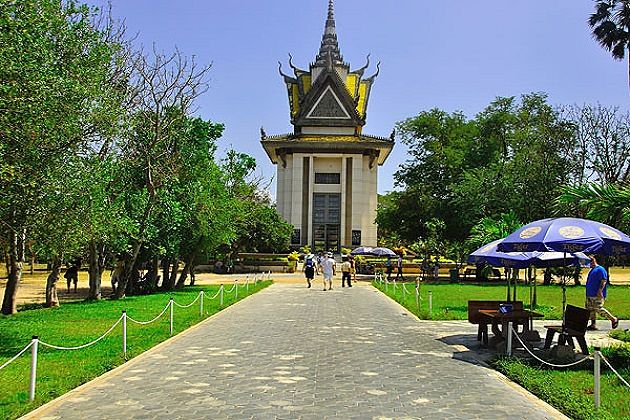 Rabbit Island
Taking 20-40 minute by local boat from Kep, tourists are set to foot on Rabbit Island which is an ideal tropical island with white sandy beaches hidden the shadow of the slightly slanted coconut trees. Known as one of the pristine beaches of Cambodia, Rabbit Island is undeveloped but it is the advantage of this beach that makes it more distinctive than others. The water there is so clear and no coral but more than swimming or beachcombing, you can experience snorkeling to see many-colored fish in the bottom of the sea that is a good chance to capture the wonderful marine moments to show with friends about your Indochina travel. Besides, Rabbit Island is also a paradise of seafood. The seafood there is so great, you should taste big crabs there. I believe that no seafood is fresher than that on Rabbit Island.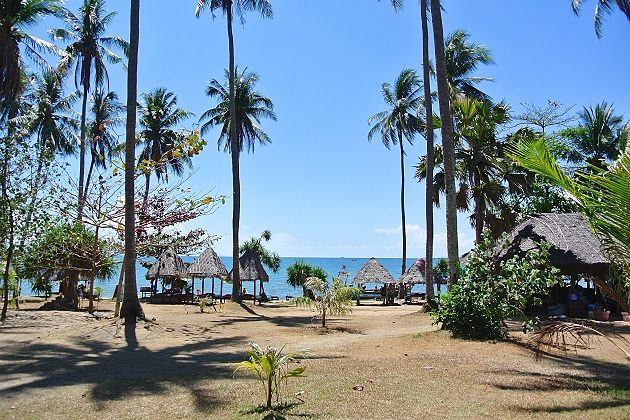 The Old Church
Last but not least, do not forget to visit the Old Church which is a charming destination to see while cheerfully getting into the perfect Indochina tours. Also called the Old Catholic church, the site is the oldest church in Kampot built by the French in the early 1920s with the function as part of the French township on Bokor Mountain. Visiting this attraction, you get an opportunity to explore the ancient beauty with old architecture and historical background when the French invaded Cambodia.