Thailand Tours & Vacation Packages
The Kingdom of Thailand is actually a paradise of sun-seeker, a Shangri La of culture hound, and a dream of an adventurer. Getting into Thailand tours, travelers will have a chance to experience from the isolated hill tribe villages in the North covered by forest to the vibrant ambiance of Bangkok where visitors will be warmly greeted by the Thai locals.
Thailand has been the most prevalent tourist destination in South East Asia mostly because it contains manifold stunning attractions including the Kingdom features Buddhist Temples, diverse wildlife, majestic landscapes as well as its epic history and uniqueness. Some more things that charm visitors once enjoying Thailand vacation packages is mouth-watering Thai food, the most relaxing Thai massage & spa therapy, and deep dive into the bluest and most sparkling ocean.
Are you going to participate in multi country tour packages? Then, do not ignore the Kingdom of Thailand offering you such these fascinating things to enjoy above. What should you do to have the best Thailand tours? Scroll down and seek yourself a Thailand vacation that suits you most. If none of them can satisfy you, feel free to contact us and our dedicated consultants will support you to customize your own Thailand vacation packages that suit your specific wishes.
---
Fabulous Things to Do and See for Rewarding Thailand Tours
The Grand Palace
This stunning gold-tipped series of buildings is more than200 years old, and perhaps Bangkok's most renowned destination. Yes, it can feel like a tourist trap, but the complex's history and grandeur are palpable: since 1782, it has been the official residence of the Kings of Siam (and later Thailand).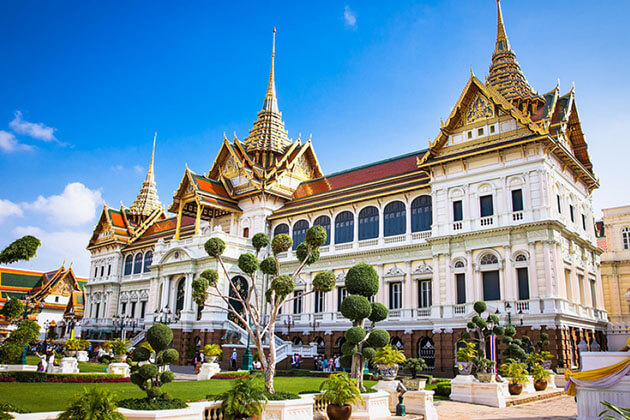 Once there, don't miss the Emerald Buddha and nearby Wat Pho, which houses the largest reclining Buddha in Thailand. Another well-worth visiting destination is Wat Arun, the Temple of Dawn, which is stunning from a distance and intriguing close up, with its mosaic detailing, as you climb to the top. Later, at night, the Grand Palace is illuminated, and although you'll likely still bump into the crowds, it's a very romantic experience.
The Golden Triangle
Sop Ruak is locally known as the point where the Mekong River meets the Ruak River, but to the rest of the world, it's the Golden Triangle: the point at which the three countries - Burma/Myanmar, Laos, and Thailand meet. While standing on the Thailand riverbank, and you are able to look across to Burma/Myanmar and Laos, or hire and board on a boat for a closer look. You'll find market stalls, Buddha and elephant statues, and manifold signage to confirm that, yes, this is exactly the Golden Triangle.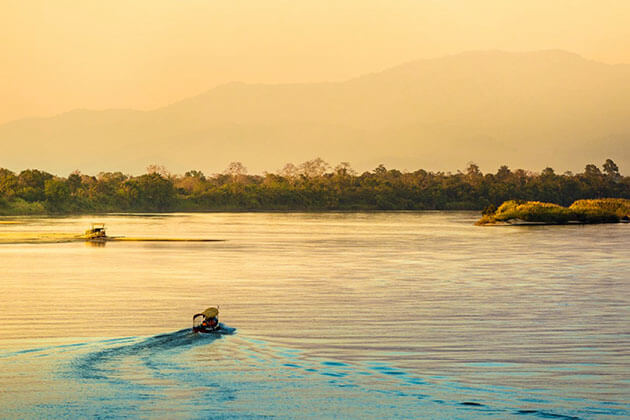 It used to be a prolific opium-growing zone; the exhibitions at the Hall of Opium in Golden Triangle Park, provide a good introduction to the history of the local and effects of the industry, as well as the potency of the drug. If you fancy venturing further from the beaten track, see our guide to alternative itineraries in Thailand – and discover a side to the country that few other travelers get to see.
Wildlife Experience
Unfortunately, animal cruelty is a real problem in some elephant 'sanctuaries' - for instance, avoid any center that makes the elephants perform tricks. Fortunately, there are plenty of good wildlife experiences out there too. The Elephant Nature Park rehabilitates rescue abundant or injured elephants, and your visit helps their work. If you want, you can opt to combine your elephant experience with luxury accommodation, strive the award-winning Elephant Hills; a comfy tented camp, with great opportunities to encounter the animals. Your Thailand tours would be so mesmerizing with those cute elephants.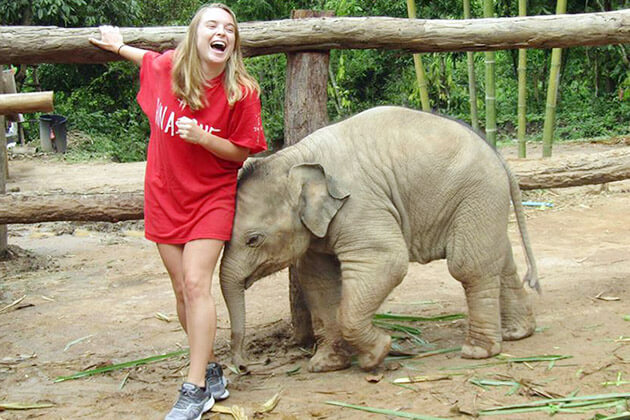 Island Hopping
If one asks me what is the well-worth activity to do for the perfect Thailand tours, this thing would be what I'd like to tell. Thailand has more than 5,000 miles of coastline just waiting for you to be discovered. Traverse by long-tail boat and explore as many beaches and islands as possible. Admire Phang Nga Bay and the limestone rocks which are so famously photographed off Thailand's west coast, or island hop in the Andaman Sea off of Phuket and Krabi. Here's you'll explore white-sand beaches and abundant snorkeling on Ko Phi Phi Lee and Ko Phi Phi Don.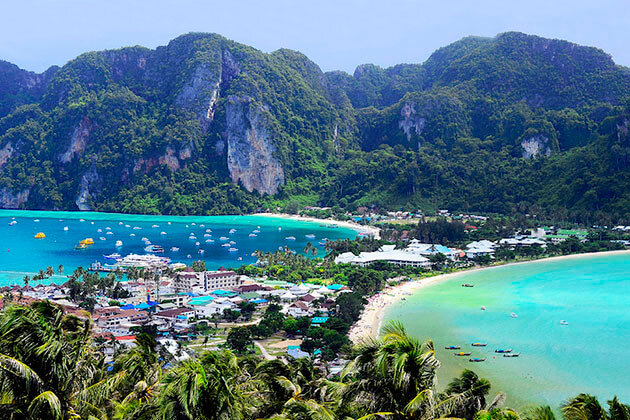 The calm sea along with clear conditions is favorable for kayaking. It's a great way to discover the islands without the masses on tourist boats or passenger ferries, and take the unique experience at your own pace. The coastlines of Koh Phan Ngan, Koh Tao, and Koh Samui in the Gulf of Thailand are particularly picturesque. I love the chilling atmosphere whenever I come to the islands in Thailand and I am sure that your vacation will be perfect when you head to them.
Hill Tribe Villages Experience
Karen, Lisu, Hmong, and Akha tribes are found across the north of Thailand. Get yourselves a break from the tourist trail, and spend a day or a few nights with the locals to get an insight into their way of life. Decide to choose your tour guide wisely – make sure that they operate in an ethical and sustainable manner. Take a look at our guide to hill trekking in Thailand to find out how to meet the locals on the most vibrant tribal treks the country has to offer.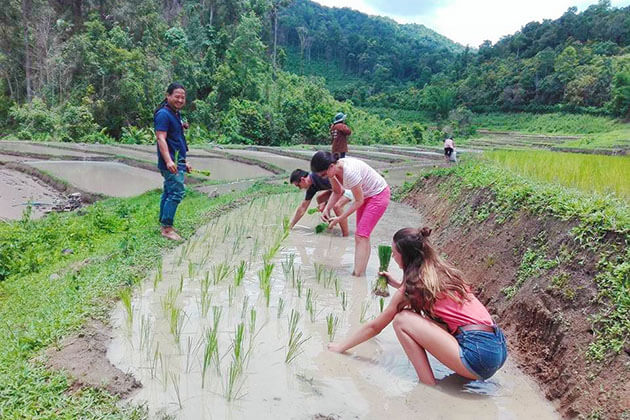 Floating Market
This is the iconic photo shot: the floating market, with rickety wooden boats, piled high with vibrant local produce. Pick a market, and arrive early to avoid crowds as well as bag the best bargains. Don't forget to keep your camera handy – these markets are immensely vibrant. Damnoen Saduak, Ratchaburi: The most renowned of the floating markets, take place 100km south-west of Bangkok along the way to Hua Hin/Cha-am.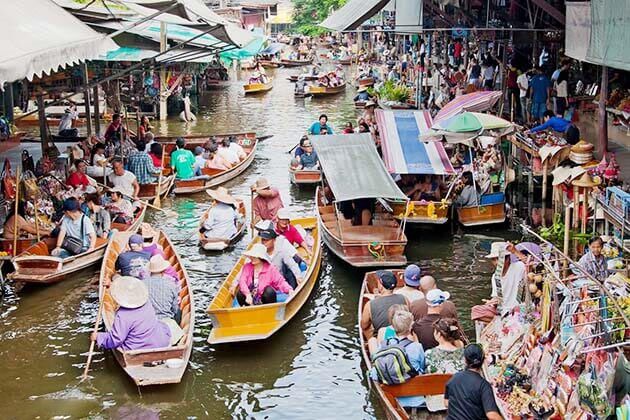 Amphawa Floating Market, Samut Songkhram: Open in the afternoons and located close to a temple. Taling Chan Weekend Floating Market, Bangkok: just recently explored by travelers, this market is entirely authentic and frequented by locals. Try a range of Thai fruits consisting of the pungent durian, custard apples, and yellow longan. Just like Vietnam, this watering experience made my Thailand vacation memorable.
Kanchanaburi
Kanchanaburi province is an area of lush forest and a haven for backpackers. The destination has a dark past. Here, you'll also find the start of the infamous Death Railway (which links to Burma/Myanmar), and the bridge over the River Kwai. Both of them are haunting relics from WWII, constructed by prisoners during the war. It's a chilling spot; however, essential on any Thailand vacation itinerary. Close by, you'll find the Tiger Temple, which has been the focus of some damning animal welfare reports. Consult other travelers for advice, and follow your conscience before booking.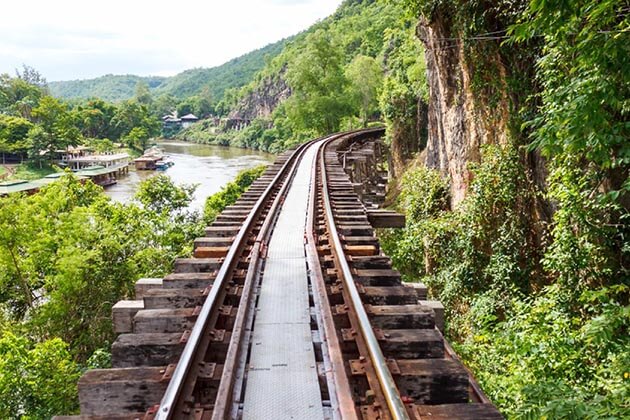 Ancient Ruins and National Park
Our favorite national parks consist of Doi Inthanon National Park (houses Thailand's highest peak); Khao Yai National Park (one of Asia's largest monsoon forests and the World Heritage Site); Sai Yok National Park (with manifold waterfalls, caves and rare animals to explore); Khao Sok National Park (the finest in southern Thailand).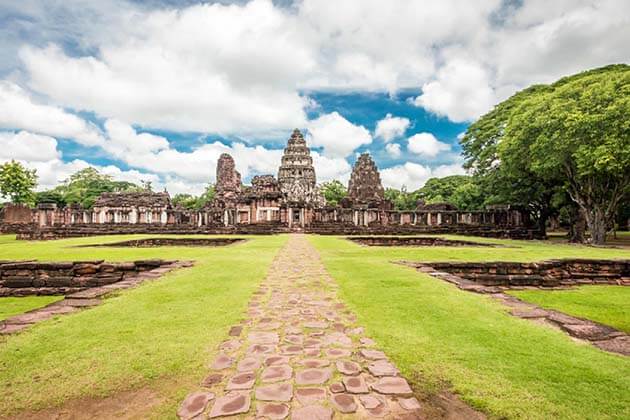 Other natural highlights include
: • Erawan Waterfall: the site boasts seven tiers of waterfalls, each feeding freshwater pools that you can swim in. • This Waterfall: considered by many to be the most beautiful waterfall in South-East Asia. • Phimai Historical Park: with 12th-century Khmer ruins. • Phanom Rung Historical Park: house Old-aged Khmer ruins, dating from the 12th century, constructed of sandstone. • Khao Sai Dao Waterfall: visitors can explore a wildlife sanctuary, as well as an astonishing 16-level waterfall that flows year-round.
Shopping Experience
You can shop at every turn in Thailand, from street stalls to bustling markets. In Bangkok, try any of the following markets: Chatuchak (JJ Mall); Weekend Market (Sat/Sun), all day; Asiatique Night Market (riverside), open 4 pm-midnight, seven days a week. In Northern Thailand, let stroll around the streets of Chiang Mai Night Bazaar, daily from 6 pm; Wualai Walking Street Saturday Market, from 2 pm. Then, your Thailand vacation would be one of the most memorable experiences in life.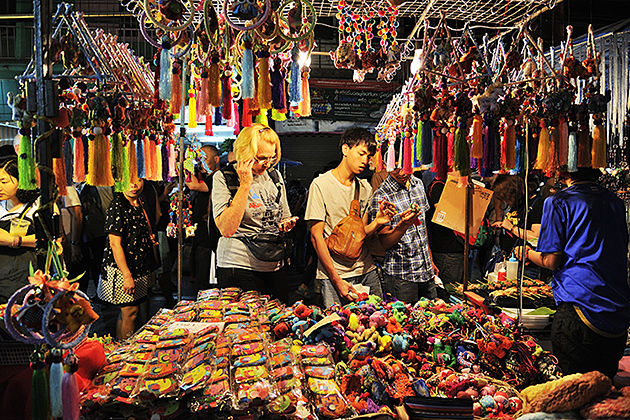 There are numerous shops and local markets across the north and north-east specializing in local handicrafts, wooden carvings, silverware, silks, pottery, and furniture. Korat and Khao Yao in Nakhon Ratchasima has a prevalent night market, too.