Cambodia Tours & Vacation Packages
Taking thrilling Cambodia vacation is likely you are indulging yourself in the back-in-time trips to an epic history movingly inscribed in the ancient temples and old-aged ruins. Also, it is a valuable opportunity to let yourself roll into the artistic and cultural renaissance of the country, exploring thriving towns, stunning countryside villages, and simple coastal scenery. And then, a trip to Angkor Wat will give you a chance to deep dive into the largest religious sites in the world, where the myth and something uncanny roll into one making your Cambodia vacation so much more exciting.
To make your dream of enjoying a memorable Cambodia vacation come true, Multi Country Asia Tours offers to our clients the best Cambodia tours 2023 – 2024 featuring on the top-selling lists of Cambodia tour packages that are appreciated by travelers all around the world. Just scroll down and take a look at our ready-made Cambodia tours & vacation packages to meet your ideal Cambodia tour itinerary. If you cannot choose one among them, contact us (without any commitment) and our dedicated consultants will support you to customize the most exciting trip to Cambodia that will absolutely leave a deep and beautiful memory after a Cambodia tour.
---
Things to Do and See for an Exhilarating Cambodia Tours
Cambodia is a Southeast Asia country that is well-known for its ancient temples and pristine beaches. Visiting Cambodia, you not only go sightseeing cultural and historical attractions but also challenge yourselves with adventure or thrilling. Cambodia is such a wonderful destination that you will be regretful if you do not visit at least once in your life. If you are going to enjoy Cambodia vacation but don't know where you should visit, let us – Multi Country Asia Tours introduce to you about things you should try when traveling to such a beautiful country.
Top-rated Attractions to Go for Cambodia Tours
Bayon Temple
One of the most renowned attractions for Cambodia tours, Bayon Temple is a sacred site for Khmer people, where both Buddhism and Hinduism appear in the style of architecture patterns. This temple was constructed during the rule of Buddhist King Jayavarman VII with the architecture of traditional Khmer people and through many dynasties later, this temple was renovated but this temple remains numerous towers with a stone face carved skillfully and delicately. Visiting Bayon Temple will be the best choice for architecture lovers because you have a chance to see Lord Buddha statue and a couple of bas reliefs showing numerous mythological values.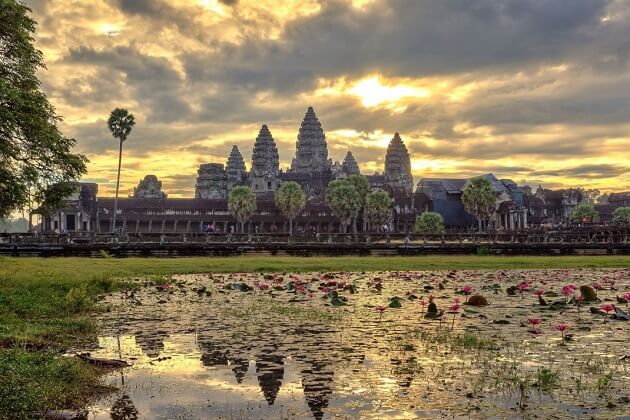 Royal Palace
Located in Phnom Penh, the Royal Palace is another gorgeous Cambodia's attraction and also is the residence of Cambodia's royal family which includes in The Throne Hall and the Silver Pagoda. The Throne Hall is decorated with two main colors: yellow to symbolize Buddhism and white to represent Hinduism which is the dominant religion during Angkorian times. The Silver Pagoda is known as 'Temple of the Emerald Buddha'. Moreover, its name evokes the special things of this pagoda; this pagoda is constructed with the floor covered with five tons of silver, an Italian marble staircase; especially, the pagoda is home of a life-sized gold Buddha decorated with 2,086 diamonds.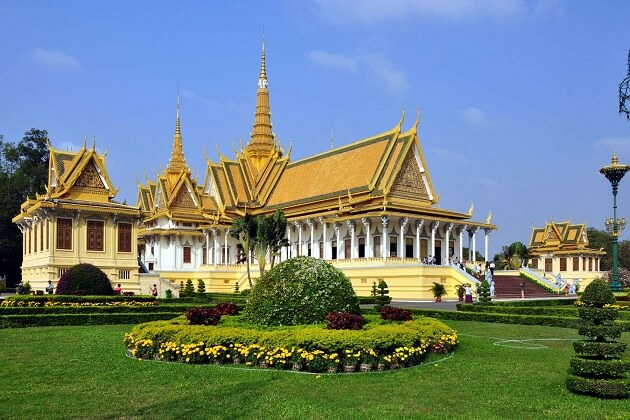 Choeung Ek Killing Field
A trip to Choeung Ek supplies you with a devastating insight into the sad history of Cambodia by war. Witnessing the skulls and bones that are too many to half-open in the ground of Choeung Ek, you will understand the heinous crime of Pol Pot 's genocide in Cambodia as well as the big loss of Cambodian when observing the death of their relatives in 1975-1979. It is said that more than 3 million people were killed in that period which makes up half of the Cambodian population. Now, Cambodia is an independent and peaceful country but the shreds of evidence of sorrow past still remained in Choeung Ek to remind the Cambodian and tourists visiting it about the crime of Pol Pot's Genocide and war.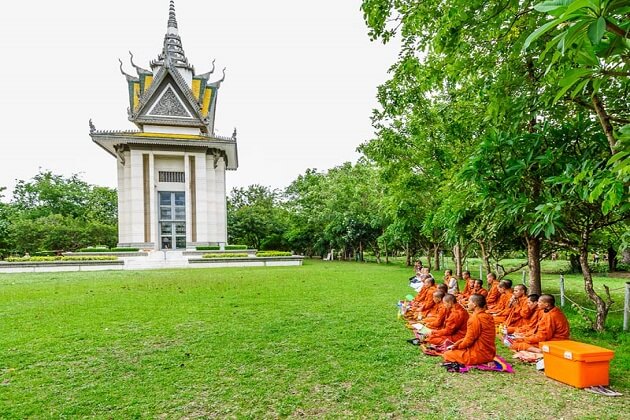 Battambang Bat Caves
Far away 12 km from Battambang, Battambang Bat Caves is a tourist attraction for tourists to observe Bat flight every day. The best time to visit this cave is at the dusk about 5 pm to 6 pm when bat leaves from the cave to hunt; flocks of bats will fly in rows like a river flowing in the sky. Tourists can order a beer in the main view and observe this flight in 30-40 minutes with other tourists there or if you like the peace, you can take a tuk-tuk to the other place of this cave, climb up to the slope of mountain and enjoy the panoramic view of surrounding landscapes and the river of bats flying.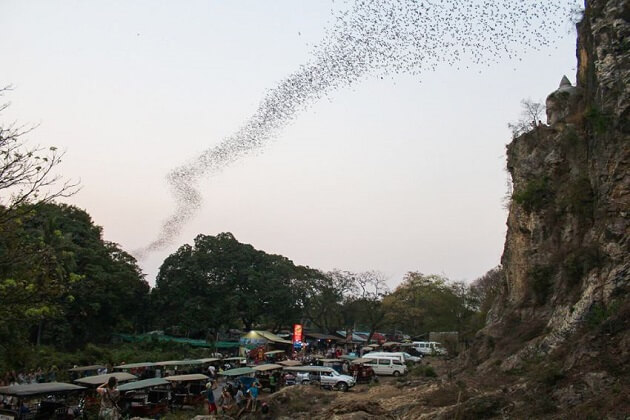 Top Thrilling Things to Do for Cambodia Vacation
Tuk-tuk for a Tour to Angkor Wat
Obviously, one visiting Cambodia cannot miss a chance to enjoy this one of the best things to do in Cambodia. Tuk-tuk is a prevalent vehicle in Asia that looks like a special version of the zip car. With a small fee to hiking a Tuk-tuk, you can discover the whole Angkor Wat which is known as the biggest religious site on the word with the area of 163 hectors. The tour should start in the early morning to observe the marvelous moment when the sun gradually appears to make yellow the whole of landscapes in the Angkor Archeological Park. Angkor Wat Temple is the next attraction you should visit to make sense of the architecture of Khmer and you should cover your shoulder and avoid wearing miniskirts to show respect to temples which is the symbol of civilization. Besides, you should visit Angkor Thom which is an ancient city prospered as European urban communities in the late 20th century.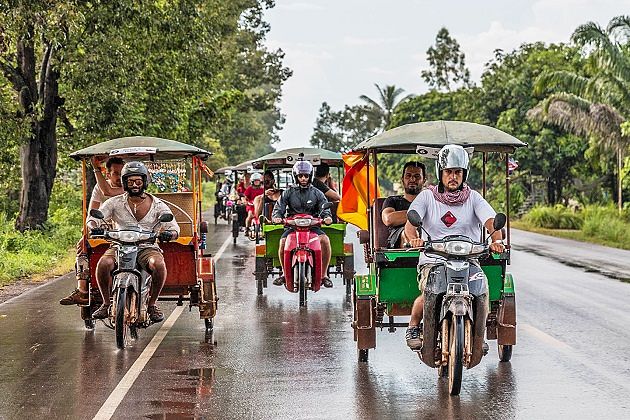 Snorkeling in Rabbit Island
To me, this is the best thing to do for a Cambodia vacation. It is super fascinating. Rabbit island is an ideal beach for tourists loving pristine beauty and water sports. After 20-40 minutes going boat from Ket, you will be impressed first by the tropical island with intensive white beaches beside the long-range of slightly slanted coconut trees. Beaches in Rabbit Island are a mini-size paradise for you to dip your body into cool seawater and release the stress effectively. Moreover, if you are an adventure lover, snorkeling is a good suggestion for you when visiting there. Although beaches do not own coral but are endowed with the diversity of colorful fishes swimming in schools around you.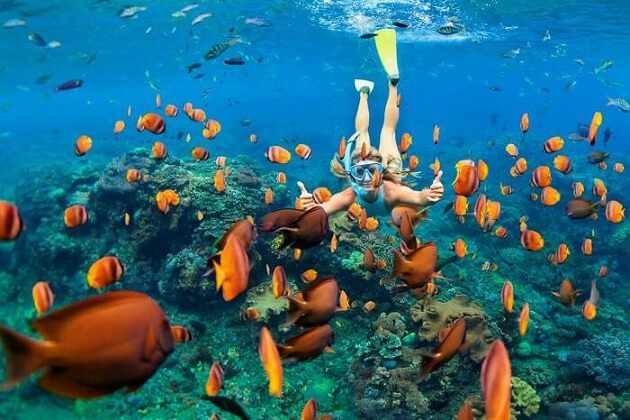 Observing Apsara Dance Performance
Apsara Dance is a Cambodian traditional dance deriving from the Hindu and Buddhist mythology in the 7th century. It reflects the spirits of religion – Hindu, and Buddhist through the description of the bloom of a flower to remind hundreds of religious legends. This dance is the complex of hand gestures. Each movement of fingers expresses its distinct meaning and Jeeb which is a hand position showed by the thumb and forefinger together before fanning the remaining fingers out has various meanings such as shyness, laughter, love, and sorrow. In 2008, the Apsara dance is listed in UNESCO 's Representative List of the Intangible Culture Heritage of Humanity and recognized as the icon of Khmer culture.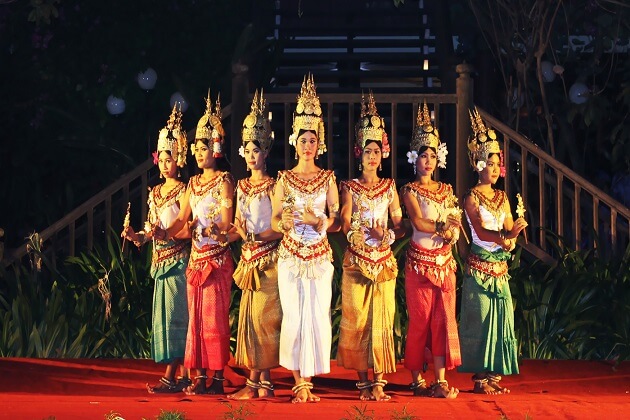 Trekking through the Jungle
Trekking in Cambodia is one of the best things you should experience when enjoying Cambodia tours. In around Cambodia, there are many places available for trekking; regarding your itinerary, you can choose between trekking in Ratanakiri Province or trekking in the Cardamon Mountains located in Southwest of Thailand.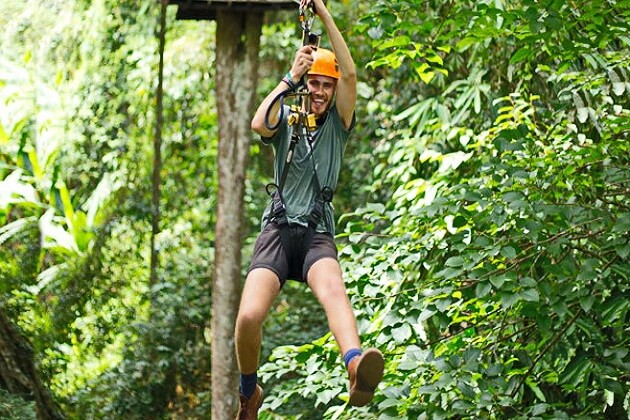 Sampling Street Food in Phnom Penh
Like many countries in Asia, Cambodian cuisine is very diverse and tasteful and Street food is a special point in Asian cuisine reflected by a variety of foods. A food tour around Phnom Penh is a good recommendation for you when you get into Cambodia vacation, you will taste a list of street food little and little for 3 meals per day. You can begin the morning with your breakfast with rice porridge soup – Bobor Sach Moan or Khmer Noodle soup – Nam Banh Chok. At lunchtime, you can enjoy sandwiches – Num Pang Pate and drink coconut and cane juice. If the weather is hot, an ice cream- Karem will help you cool and fresh again to continue the food tour. At dinner, that is time for a party with beer and grilled dishes like chicken, beef, pork, fish or frog.