Indonesia Tours & Vacation Packages
The fascinating Indonesia tours are awaiting you among the country's island to search for its natural splendors along with culture enlightenment. In the northern Sumatra, board on the boat across the volcanic Lake Toba where you will be introduced to the friendly and adorable Batak people. On Java, get ready to take a tour experiencing manifold activity volcanoes peppering the islands and head to the old-aged temple of Borobudur.
What can make your Indonesia vacation be more exciting? Getting into a beach trip and letting yourself soak up the sun on Bali's Black sandy beaches – yes, it is. Even you can get a dose of the culture of Bali in the Ubud village. Is that all? Not yet. Fierce Komodo dragons are waiting to warmly greet you on the remote Komodo's island and so do wild Orang-utans living in the jungle of central Borneo.
Indonesia is worth to add to your must-visiting destination in your Asia tour packages. Multi-Country Asia Tours is glad to offer travelers our ready-made Indonesia tours which are specially designed by our travel experts. Select one among our best Indonesia vacation packages to enjoy. If you cannot seek your interests in our ready-made tours, feel free to contact us and we will support you to create the best Indonesia tours for you to be high on.
---
Top Euphoric Things to Do and See for the Awesome Indonesia Tours
Go Surfing in Kuta
Head to the renowned Kuta beach, a strip of beach in the south of Bali where the sea rests on a soft sand bar and offers gentle rolling waves that are perfect for beginners learning to surf. Getting into surfing lessons by the hour is plentiful or visitors can rent a sponge board and ride the waves that way. For people who are not looking to get wet, crowds flock to the beach at night to take photos of the exquisite sunset and unwind with a beer or a soft drink. Is this enough to have memorable Indonesia tours?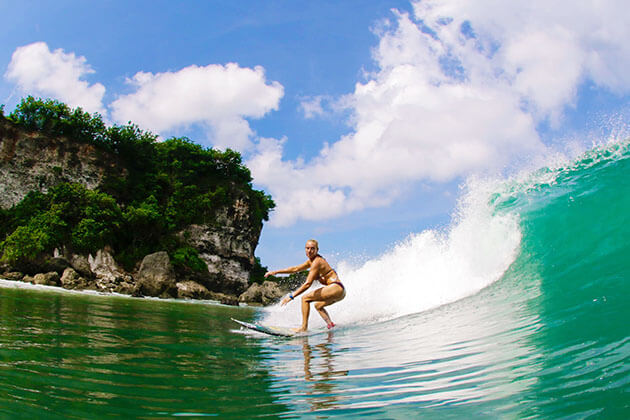 Head to Borobudur Temple
Borobudur Buddhist temple, located in Magelang, Central Java, is easily visited by travelers staying in the neighboring city of Yogyakarta. This 9th-century sacred site is now a UNESCO World Heritage Site and has a central dome covered by 72 sculpted figures of Buddha, making it the largest Buddhist temple in the world. The locals come to worship, scale the central platform, and admire the scenery that stretches beyond the central temple complex.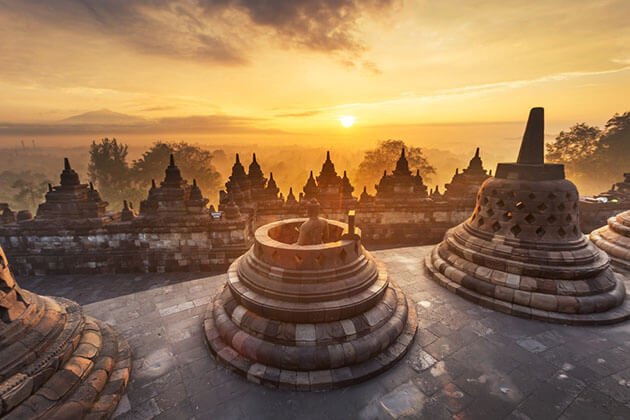 Sunbathe on Pulau Weh in Aceh
Pulau Weh, or Weh Island, is located at the tip of Sumatra, off the coast of Aceh. This island still experiences the volcanic activity as well as sits in the Andaman Sea, and house Sabang - the northernmost town in Indonesia. Visitors heading to the island to go snorkeling in the crystal blue waters that have an abundance of tropical fish along with rare Megamouth sharks. You can opt to stay at Gapang beach close to Sabang or pay a visit to Anoi Itam Beach, made famous by its uncanny black sand. For those who are looking for a chilling Indochina vacation, Pulau Weh is truly a paradise.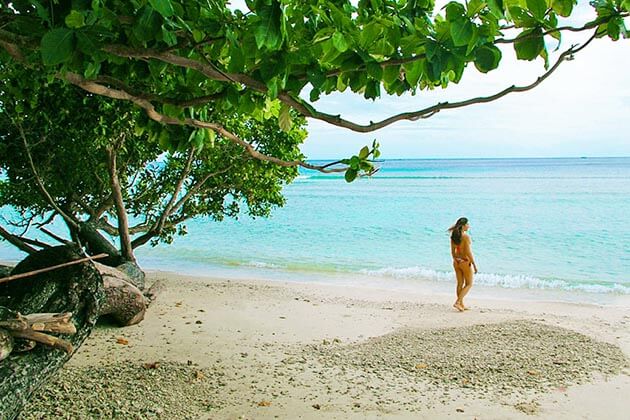 Strive Padang Food
If you a big fan of food, your Indonesia tours cannot be perfect without a visit to Padang. Manifold Indonesians maintain that the best food in Indonesia hails from Padang - the capital of West Sumatra. Padang food, currently, is still served in the traditional way across Indonesia, and a Padang restaurant is easily noticed by the tower of dishes stacked in the window. Tiny individual plates of the various dishes, sometimes as many as 20 or 25, are placed before customers mixing them with rice at the table. Visitors just pay for the dishes which they touch. Traditional Padang favorites include Beef Rendang, a spicy curry paste made with chilies and coconut and cooked with beef, pounded cassava leaves with coconut milk, and jackfruit curry with snake beans.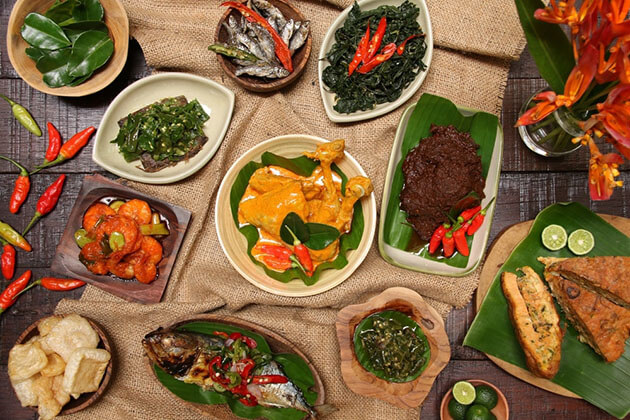 Tanah Lot
Tanah Lot is famous as a rock formation emerging out of the sea with a Hindu temple, Pura Tanah Lot (Tanah Lot Temple), perched on the top. Year by year, the ocean tides have carved the rock from the shore which leaves it to stand alone at high tide, and be accessible on foot during low tide. Venomous sea snakes are believed to guard the temple and recently, visitors traverse to the site to worship or to marvel at the stunning sunsets over the ocean. I love this place and I think you will too. Let pay a visit to such an amazing attraction on your Indonesia tours.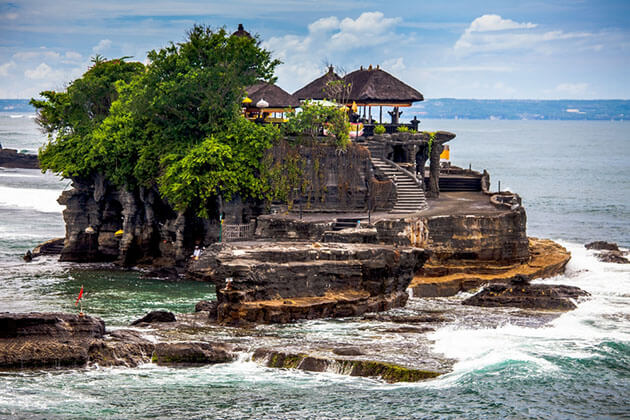 Get into the Culture in Ubud
Ubud is a town in the Gianyar regency and it is prevalently known as the major arts and culture hub of Bali. Distinct from other regions of Bali, Ubud doesn't have a beach but sits instead amongst paddy fields, steep terraces, and lush forests taking place in the surrounding foothills. Ubud is famous for an abundance of art galleries that now are home to the works of a host of prominent Balinese artists, and visitors can also admire a Tek Tok dance at the Bali Culture Centre in Ubud, a new style of Balinese dancing mixed with traditional elements which were created in 2013. Why don't you spend your Indonesia tours here? Especially when you are an art lover, Ubud is worth a visit.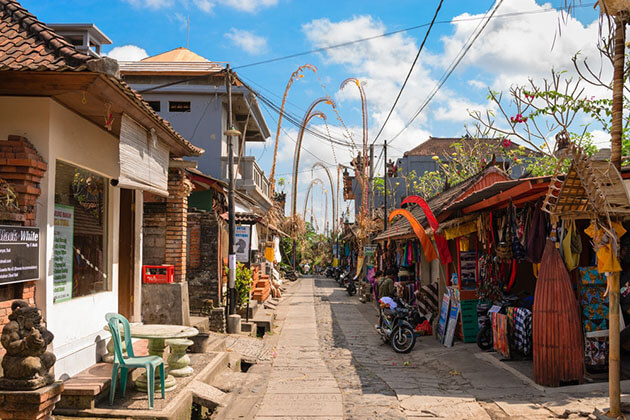 Stroll around Lake Toba
It is no exaggeration to say Indonesia is a watering paradise. A natural lake that sprung from the crater of a long-dormant volcano - lake Toba, in North Sumatra, is the largest lake in Indonesia as well as the largest volcanic lake in the world. Visitors coming to Lake Toba can opt to swim or get into a variety of water sports on the lake or head to the traditional houses of the indigenous people - the Batak. Also, they can go to ornate stone replicas of Batak houses that are the graves of long-dead Batak kings as well as nobles or spend the afternoon on a traditional Batak village and get an insight into Batak weaving techniques, other art and craft forms such as blowpipe making. A perfect place to have a perfect Indonesia vacation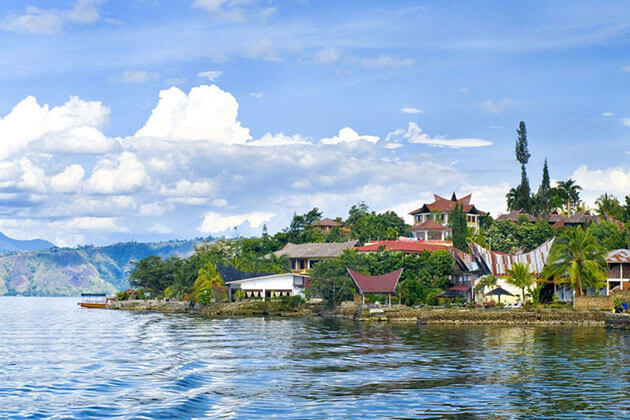 Trekking in Bukit Lawang
If you want to enjoy off-beaten-path Indonesia tour packages, this destination is for you. Situated a four-hour drive from the North Sumatra, Medan's capital city, Bukit Lawang has its own the largest sanctuary of Sumatran orangutan in Indonesia and also forms the entrance of Gunung Leuser National Park stretching all the way to Aceh Province in the north of Indonesia. Prevalent activities in Bukit Lawang including tubing on the river, trekking, or visiting the orangutan sanctuary to get an insight into the habitat as well as conservation projects of this graceful protected species.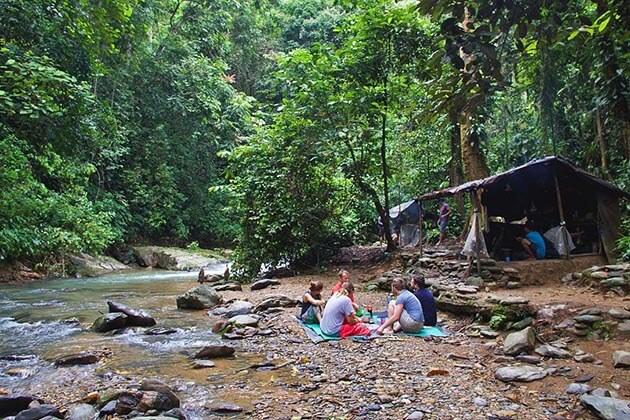 Unwind on the Gili Islands
Another watering destination for you to have chilling Indonesia tours. The Gili Islands consist of three islands, Gili Meno, Gili Air, and Gili Trawangan, all located off the coast of Lombok. The largest and most common of these is Gili Trawangan, but even there, there are only basic roads as well as transport comes in the form of bicycles, horses, and carts. No cars and no police here, which is the reason why plenty of travelers make the trip by ferry or speedboat from Bali to get themselves a peaceful retreat from the busier towns of Sengiggi in Lombok or Bali.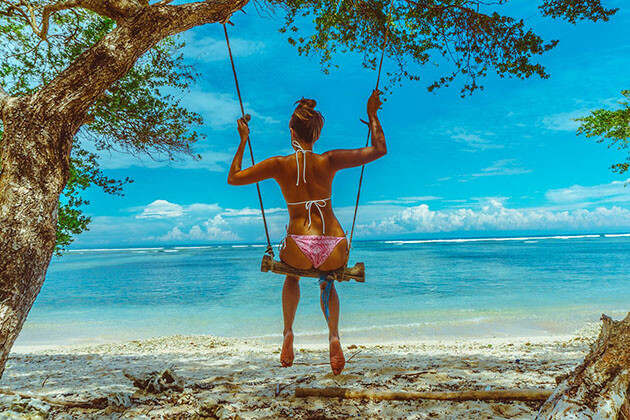 Admire the Lake of Kelimutu – Flores
Kelimutu is the name of a volcano in central Flores which has three crater lakes located within it. The lakes are renowned for their different colors ranging from blue, red to green, thought to be triggered by continued volcanic activity and gases beneath the surface of the water. Manifold travelers make up their minds to visit the lakes to behold this natural phenomenon or to hike to and sleep near the volcano to witness the sunrise over the crater. I would be brutally honest that this place is so incredible. I haven't ever seen such a place like this before. It's gorgeous, glorious, and splendid. Your Indonesia tours will be worth the time and money you spend