Vietnam Tours & Vacation Packages
Visitors looking for distinctive and authentic travel won't be disappointed once enjoying our mesmerizing and vivacious Vietnam tour packages. From thrilling exploration in Halong Bay – one of the Seven Wonders in the World to luxury holiday in Phu Quoc island, from the capital of long-standing tradition and cultures – Hanoi to the majestic and energetic Ho Chi Minh City (Saigon), all of these charms make Vietnam become one of the most well-worth countries you have to visit once getting into the long Asia tours.
Take a look at our ready-made Vietnam vacation packages below and choose your best tour to be high on life. If you cannot select yourselves a Vietnam tour that suits you most, feel free to contact us and our dedicated travel expert will joyfully support you to customize your own unique and memorable Vietnam tours.
---
Best Things to Do for Perfect Vietnam Tours
Vietnam is one of the most popular travel destinations once getting into Indochina tour packages. One of the reasons why this country could attract so many tourists is because of the various travel experiences. Vietnam has 3 regions, North, Middle, and South, which are quite distinct regarding weather, scenery, and culture. Travelers coming here could enjoy so many different activities, all in one trip. Here are our suggestions for the best things to do and see if you are planning to spend time in Vietnam tour packages here.
Best Things to Do in Vietnam in January - February
Visit the Biggest City in Vietnam – Ho Chi Minh City
Ho Chi Minh City, formerly known as Saigon, is the center of Southern Vietnam. It witnessed one of the biggest events in modern Vietnam history – the reunification day. Therefore, the city is a living history book with marks and traces of the past in most of the places. Travelers are advised to visit the Cu Chi Tunnels, which is a massive system of caves built underground by the Vietnamese soldiers to fight their enemy while staying undercover.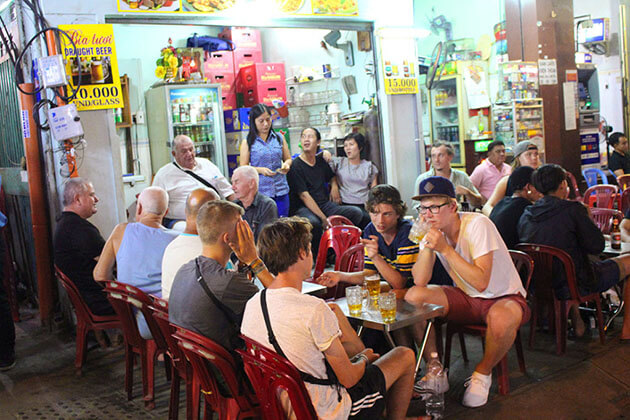 The city is also famous for its vibrant modern life with the population is now more than 8 million people. So, get ready to experience the loud honks from motorbikes and cars that filled the street, the crowds in all the popular markets and center squares. The night street Bui Vien is a perfect example to show the city's young blood. With sidewalks full of street vendors, performers, bars, and pubs open until the morning, the street definitely "doesn't sleep". However, remember to keep your belongings with you all the time to have a safe journey. Overall, without spending time being high on life in Bui Vien, your Vietnam tours will not be completely perfect.
Participate in Perfume Pagoda Festival in Hanoi
Locates right in the outskirts of Hanoi, the Perfume Pagoda is actually the name of a religious complex that consists of multiple pagodas and temple scatter along the path to the top of a mountain. Thousands of Vietnamese pilgrims make their journeys here every year not only to express their sincere devotion but also to enjoy the picturesque scenery. With a boat ride offered by a local, tourists are taken along a clear stream with lush green trees on top of limestone karsts and paddy fields on the side.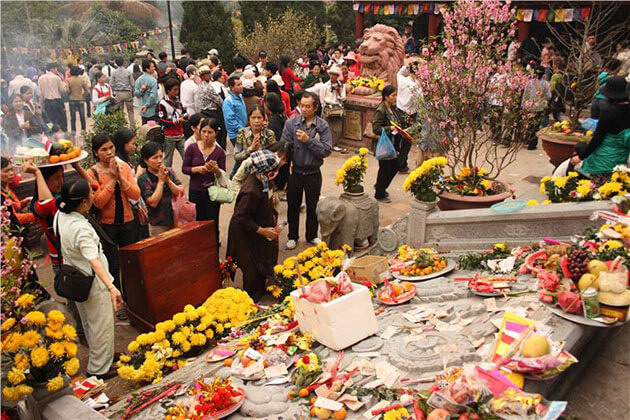 The Perfume Pagoda Festival takes place on the 15th day after the Vietnamese New Year, which usually falls into the beginning of February, and lasts for about 3 months. Here, visitors can see lines of people coming to pray for a peaceful and fortunate new year, well-prepared offerings and pretty decorations. It is a great place to learn about Vietnamese religious beliefs and cultures. If you are interested in religion, the pagoda would be a good place to visit for your Vietnam tours.
Things to Do in Vietnam in March - April
Watch Elephant Racing in Vietnam Central Highland – Tay Nguyen
This is a great suggestion for those who would like to explore Vietnam in an "off the beaten path" way. Just like the Northern mountainous area of the country, the Central Highland is home to a variety of ethnic minority groups with a very interesting culture. For example, the Ede people living in long boat-like stilt house are famous for their matriarchal culture, where women are the one who owns properties and in charge of big decision making.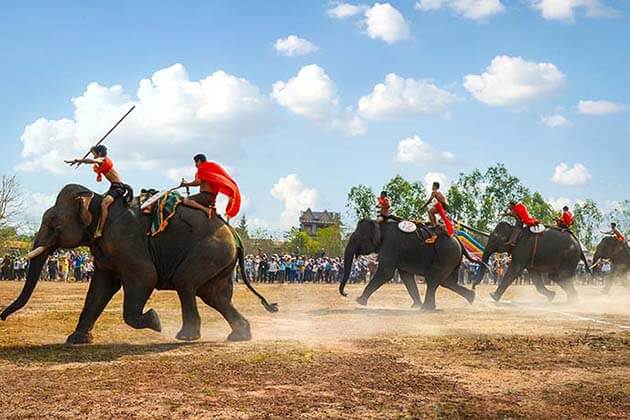 It is also famous for the coffee industry with fields of coffee beans and processing facilities. Tourists can pay a visit to a coffee garden with the guidance of a farmer to learn about how coffee is grown and try all types of the most famous coffee in Vietnam in the central highland. In March, there is an exciting festival going on in Central Highland that you should not miss – the Elephant Racing Festival. About 30 full-grown elephants compete with each other to be the fastest in the loud cheering sound of drums, gongs and happy local people supporting their favorite contestants. There are also other fun and exciting games after the big competition like a swimming race, tug of war and soccer, all for the elephants to compete.
Join the Hue festival
Every even year, Hue organizes a big festival around April to May to celebrate the traditional customs and history of the ancient city. The festival is held in most of the big venues around the city with streets filled with games, performances, and parades. Inside the Hue monument, which was the royal palace of Vietnam in the 19th century, visitors have the opportunity to see re-enactments of important ceremonies like the King enthronement or courtier examinations. There is also an Ao Dai show to exhibit the beauty of Vietnam's traditional costume for tourists worldwide. Another option to enjoy the festive atmosphere is to take part in sporting games like kite flying or boat racing, which are popular leisure activities of the locals in the past.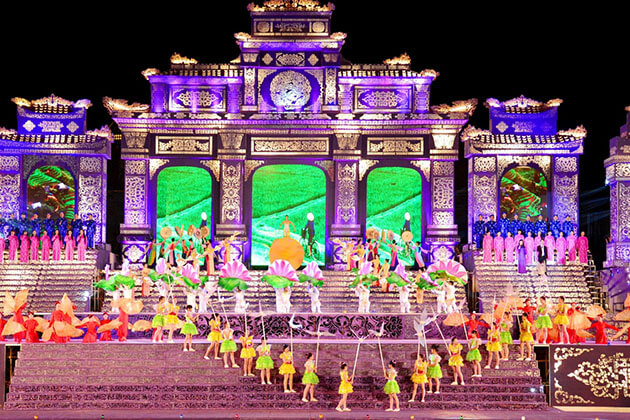 Hue festival is held for about a week and is considered as one of the biggest festivals in Vietnam. It is a great place to experience the beauty of the imperial city and learn about Vietnamese culture and history.
Best Activities in Vietnam in May - June
Trekking in the Pretty Mountains of Sapa
Sapa is the must-visit destination in Vietnam if you love trekking. Springtime in Sapa is from March to June, with cool, sunny days and blooming plants and flowers. There are dozens of different and unique treks for you to choose from even though Sapa is so crowded with tourists. Trekking is certainly the best way to enjoy rolling rice terraces and lush green mountains laying side by side while breathing in the fresh air.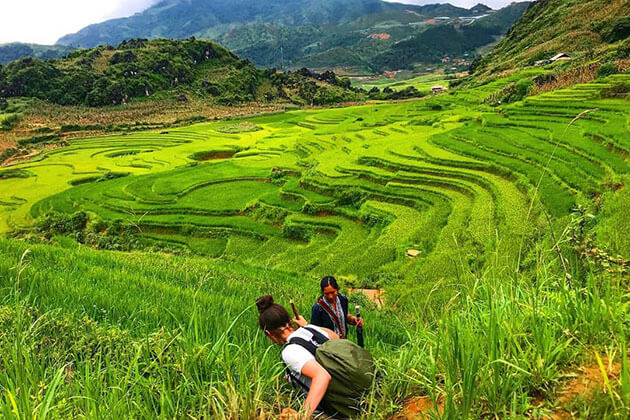 Go trekking with local ethnic guide and then spend the night at their homestay is also a good way to get an insight into the life of the people living here. Sapa is home to 5 minority ethnic groups, all of which have their own language and culture. Spending time with them will definitely make your trip becomes more memorable and exciting. Just like other trekking destinations in countries around the world, Sapa is impressive and your Vietnam tours will be more memorable once in here.
Turtle Hatchling Release on Con Dao Island
Known for the lively coral reefs, white beaches, grand granite cliffs, rainforest trails, and nice resorts, Con Dao island was named as one of Asia's paradise islands by CNN. Visiting the island from March to October, tourists will have the chance to participate in a very special activity – turtle hatching release. This is part of the country's effort to preserve the sea turtle population from the negative effect of climate-changing. Travelers, with the help of specializing personnel, can observe sea turtle laying eggs in the sand or assist in the release of newly hatchlings little baby turtle, and watch them run down the beach into the big ocean waves.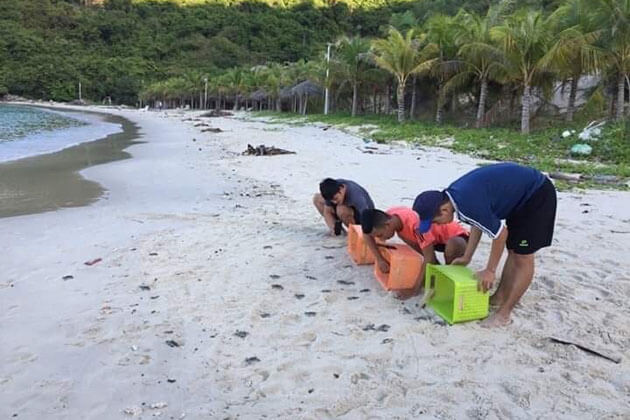 The number of visitors is controlled and calculated carefully to protect the safety of the sea turtles. Therefore, tourists are advised to book a tour to get assistant in acquiring permission to the hatching destination. So, is it exhilarating and meaningful enough for your Vietnam tours?
Top Things to Do in Vietnam in July - August
Enjoy The Cool Weather in Da Lat
.Unlike the rest of Vietnam with burning hot weather in July and August, the temperature ín Da Lat is cool all year round thanks to the higher altitude. Therefore, Da Lat is a great escape destination if you decide to visit Vietnam in the summer but don't want to be soaked in sweat. Da Lat is called the romantic city of eternal spring because of its French-style architecture villas, dreamy pine forest, and lovely hills and lakes. Dalat is also famous for pretty farms that grow strawberry, flowers and other vegetables, where tourists can visit and participate in harvesting activities.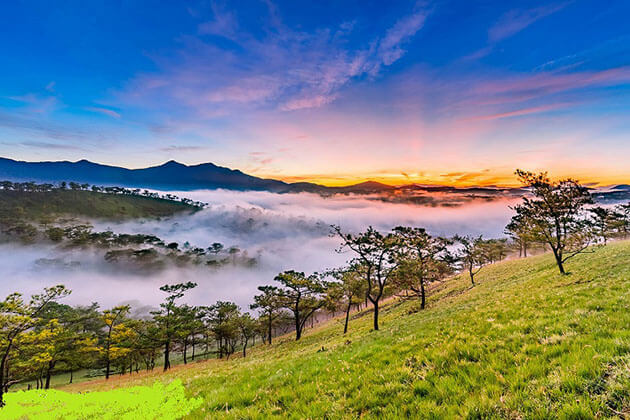 There is a variety of activities for travelers to see and do in Da Lat, whether it is for a relaxing time or an exciting long journey. The city offers nice natural scenery for soothing treks and sporty activities like white-water rafting or mountain biking. The city is best to visit with your loved one. By now, I still remember vividly my very first Vietnam vacation in Da Lat as it was so beautiful. Da Lat is truly a paradise in Vietnam. Your Vietnam tour packages would be done here.
Relax on The Beach of Nha Trang to Avoid the Rainy Season
If you enjoy Vietnam tour packages with your soulmate, well, I highly recommend you going here. Nha Trang is a seaside city located in the South of Vietnam, it is famous for the beautiful beaches of white sand. The coast is lined with green palm trees, deck chairs, vendors and resorts to serve hundreds of tourists both international and domestic. While at the sea, you are welcomed to go for a dive, go snorkeling or go on a boat ride or visit floating fishing villages. Or simply lying still on the beach to soak up the warm sunlight and achieve the perfect tanned skin is also a good idea.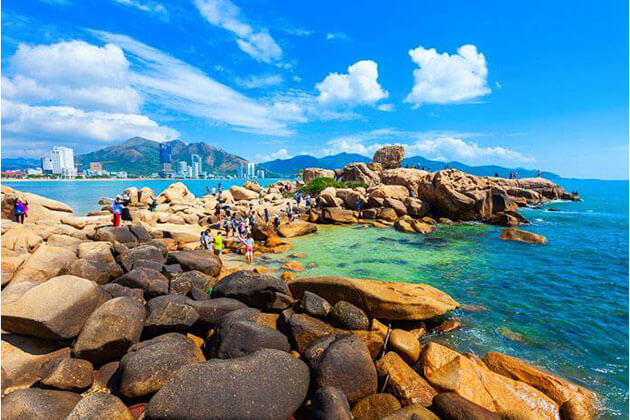 Nha Trang offers more than just seaside activities. Into the north of the city, tourists can find hot springs and mud baths spot named Thap Ba. It is a famous destination among Vietnamese as having the healing property thanks to the high mineral content. Other places to explore in Nha Trang include the National Oceanographic Museum of Vietnam with more than 20000 specimens, the Po Nagar Cham temple complex which was built in the 8th century and so much more. Best Things to Try in Vietnam in September and October.
Mid-Autumn Festival in Hoi An
Hoi An is a beautiful ancient port city famous for original architectural style. It is so beautiful and special that UNESCO has recognized it as a World Heritage Site in 1999. The Vietnamese celebrate the Mid-Autumn Festival on the 15th day of the 8th lunar month, which usually falls into late September or early October. In the past, with the majority of the population works on the farm, the festival is when the locals celebrate the end of a harvest season. It is a joyful and colorful festival when adults decorate the houses and prepare special food and children play in the streets with pretty lanterns.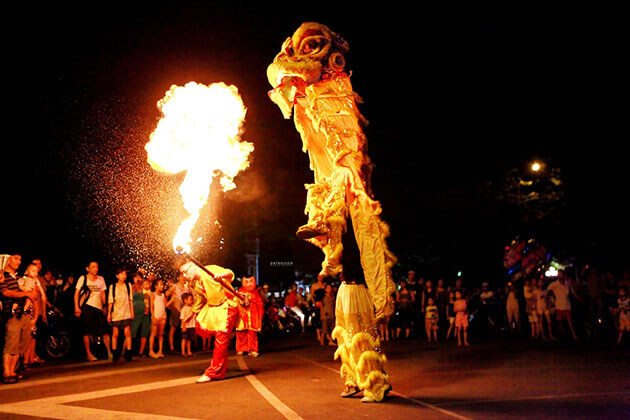 The festival is even more special in Hoi An because of the vintage atmosphere. The rivers that run through the city come alive with glowing lanterns floating along with the flow of water. Coming here, you will have the chance to see the exciting lion dances. It is performed by a group of young men under a big lion custom dancing to the loud music of drums and gongs. They are very talented performers because the dance often involves difficult stunts, which makes the audience overwhelmed. Therefore, book your Vietnam tour packages and don't miss out on the festival.
Explore Hanoi Streets and Cuisine
Hanoi – the capital of Vietnam – is a city with a rich distinct culture, cuisine, and architecture. Every traveler should spend their time to visit the heart of the city, which is called the Old Quarter. It is special for the vintage-looking-houses laying side by side, busy streets lined with green trees and small peaceful alleys. The cool weather of January, February makes the perfect time to freely explore the city.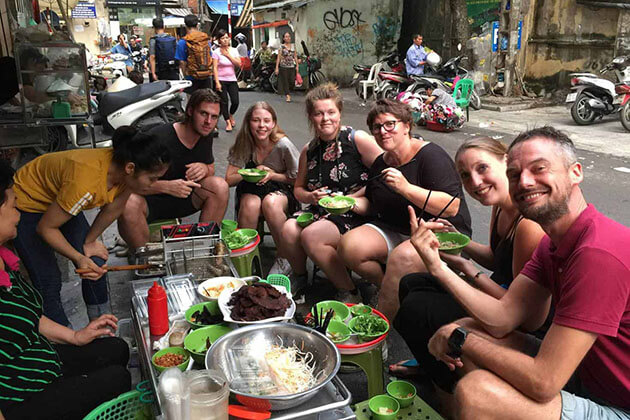 After the journey, find yourself a nice restaurant to have lunch or eat at side street food stall like a real local. We highly recommend hot meals like Phở or Hotpots or Grills to warm yourself up on a chilly day in Hanoi. It will definitely be one of the most memorable parts of your journey. Moreover, your Vietnam tours would be perfect with Bun Cha. As you might know, the former US President - Obama visited Vietnam and fell in love with this simple but flavorful dish. Just try it if you have any chance.
Things to Try if You Travel Vietnam in November - December
Take a Photo of Buckwheat Flower in Ha Giang
As the furthest Northern point of Vietnam, Ha Giang is a beautiful province with grand landscapes of granite mountains, green forests, big rivers, and gorgeous caves. This destination is adored by thousands of travelers for the panoramic views over the green and yellow terraced rice fields.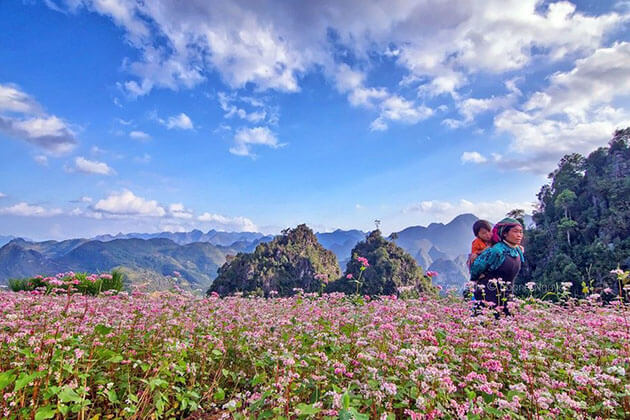 Every year around September to December, thousands of visitors gather at Ha Giang to admire the vast fields of pretty buckwheat flowers. The distinct soft pink color of the flowers stretches from hills to hills, creating a picturesque scenery. Bring a good camera to take a picture of yourself or the local ethnic people in their colorful costumes standing in the fields of flowers.