The official Bhutan currency is Ngultrum (Nu). Indeed, there is only one version of Bhutan money is in use: Cotton notes from Nu 1 to Nu 10, Nu 20, Nu 50, Nu 100, Nu 500, and Nu 1000). If you are going to enjoy Asia tour packages and Bhutan is one of your visiting countries, here is some useful information about Bhutan currency and its exchange rate.
Essential Bhutan Currency Information for Visitors
Indian Currency to Bhutan Currency
Due to a close partnership, the Indian currency – Rupee, is accepted in such a country with an equal exchange rate: 1 Rupee = 1 Ngultrum. But, the higher value-notes such as INR 500, 1000, 2000 are not readily accepted. It is better to use Bhutan money for higher-value transactions.
US Dollar to Bhutan Currency
| | |
| --- | --- |
| Bhutan Currency | US Dollar |
| Nu 1000 | $ 14.33 |
| Nu 500 | $ 7.17 |
| Nu 100 | $ 1.43 |
| Nu 50 | Too small to convert |
| Nu 20 | Too small to convert |
| Nu 10 | Too small to convert |
| Nu 1 | Too small to convert |
How to Recognize Bhutan Currency – Ngultrum
Below is a photo of Bhutan money, let take a look.
Bhutan Currency Notes
Nu 1, Nu 5, Nu 10, Nu 20, Nu 50, Nu 100, Nu 500 and Nu 1000 are the currency notes acceptable in the country. The notes have some detail related to Bhutanese culture imprinted on them. The backside of the note has a dzong picture. For example, a BTN 500 note has a picture of Ugyen Wangchuk with a Raven Crown on the front side. The backside has a picture of majestic Punakha Dzong. This pattern is followed for every value note and each of them will have a different picture.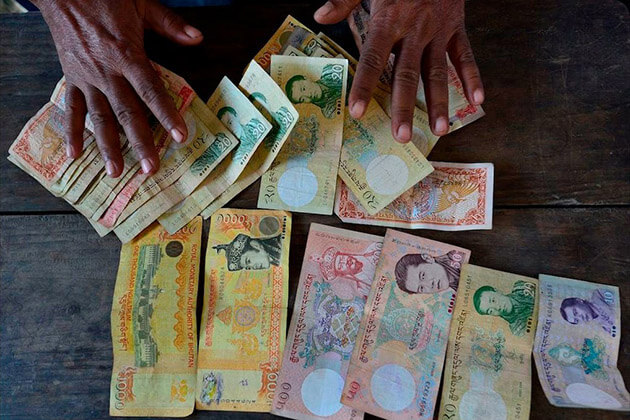 Bhutan Currency Coins
Is the Bhutanese use coins? Yes, they do. In the form of coins, Nu 0.2, Nu 0.25, Nu 0.5 and Nu 1 value coins are available. All of them, except for BTN 0.2, have letters "Royal Government of Bhutan" carved on them. Nu 0.2 has "Food for All" inscribed on it.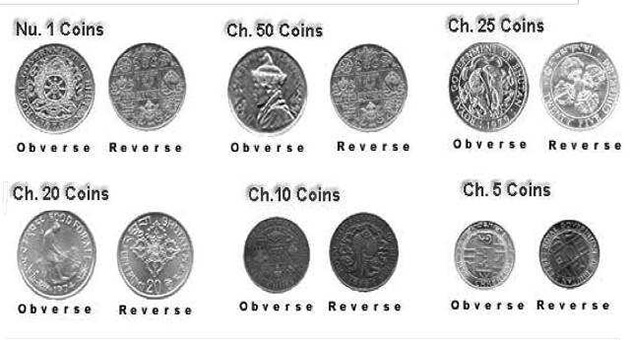 Bhutan Currency Tips
Where to Exchange Bhutan Money
Once arriving at Paro International Airport, you can exchange your local money to Bhutan currency at the foreign exchange currency desk. Also, Bhutan National Bank is available for exchanging currency. One thing you have to know that it is better to do your banking in Thimphu and Paro mostly because when you traverse into the interior, banking facilities and ATMs, perhaps, can be nowhere seen.
Credit Cards
Luckily, credit cards are accepted; however, only in a few handicraft stores and several high-end hotels in Thimphu. Furthermore, in each deal, you will be charged a surcharge of up to 5 percent. Thus, it is better to use cash than a credit card.
ATMs in Bhutan
Do not rely on ATMs, trust me. You can see ATM facilities in big towns like Thimphu and Paro; however, there will be regular problems relating to withdrawing money. What's more, Transactions are limited to Nu 10.000 to Nu. 15.000.
Travelers Cheques
Like the credit card, the travelers' cheques are accepted at most luxury hotels, banks as well as Forex Counters at the Paro International Airport. It is better to carry renowned Travelers Cheques like American Express.