Vietnam culture is a vibrant and dynamic picture and each Vietnam festival is a color that makes up that masterpiece. From the Lunar New Year when the streets are filled with decorations and people put on their best new clothes to go to pagodas; to the Mid-autumn festival where kids with little lanterns travel through their neighborhood while enjoying the exciting lion dances.
Most of Vietnam's festivals are based on the lunar calendar, thus their dates relative to the Gregorian calendar are moveable. Festivals that are related to a location or a specific historic event are celebrated locally while the rest are national holidays.
The lively atmosphere and vibrant color of Vietnam festivals will ensure a memorable experience for those who are looking for a destination to stop on their Asia vacation packages. So, let check out the 7 biggest Vietnam festivals below and get yourselves an insight into the colorful culture of Vietnam.
Tet Holiday – The Biggest Festival in Vietnam
If one asks me which is the most meaningful Vietnam festival, without a doubt, the Tet holiday is my definite answer. The full name for the festival in Vietnamese is "Tet Nguyen Dan". It is the Lunar New Year holiday, which takes place on the first day of the first month of the lunar calendar. This is the most important time of the year for the locals. Before the festival arrives, all local markets and busy streets are filled with people rushing to shop for food, decorations, and flowers to prepare their home for this occasion. After that, all businesses and schools will have about 10 days off so the country witnesses a massive flow of people leaving big cities to go back to their hometowns to celebrate Tet with their family. At the stroke of midnight of the important day, some families would make beautifully decorated altars to express their wish for a lucky new year to the gods who guard the land, while other gathers at city central to watch the sparkling fireworks. In the next days, the Vietnamese would go to pagodas to pray, travel to beautiful sites and visit their relatives and friends.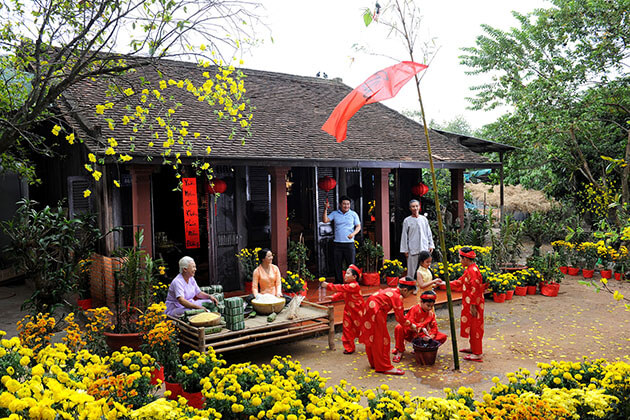 But how does Tet affect travelers? Traveling Vietnam during Tet holidays requires a thorough plan. Due to transfer demand soars, it is not easy to book long distant transportation for the weeks right before Tet. The prices for transportation and tour guides will also go up, therefore advance booking is recommended. You can ask your local tour operator to assist you with that. And as mentioned above, all administrations and most shops and stores are closed for 3 to 5 days around the New Year day. Only a small number of restaurants and coffee shops in big cities still operate throughout the holiday while the rural area really shut down.
Dates for the upcoming Tet holiday:
– 2020: January 25
– 2021: February 12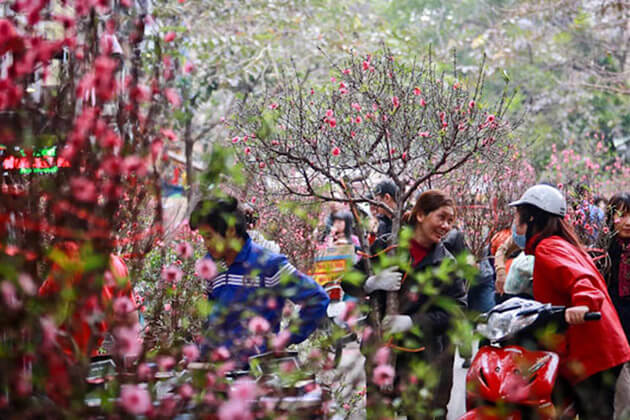 Lim Festival – A Festival with UNESCO-listed Quan Ho Folk Singing
This is one of the biggest festivals in Vietnam. Still, in the festive atmosphere of the Lunar New Year, the Lim festival is held on the 12th and 13th day of the first month. Thousands of local visitors from the surrounding area come to enjoy the famous "Quan ho" folk singing. Several stages are set up in the village to perform Quan ho and the biggest is on the lake right outside the Lim Communal House.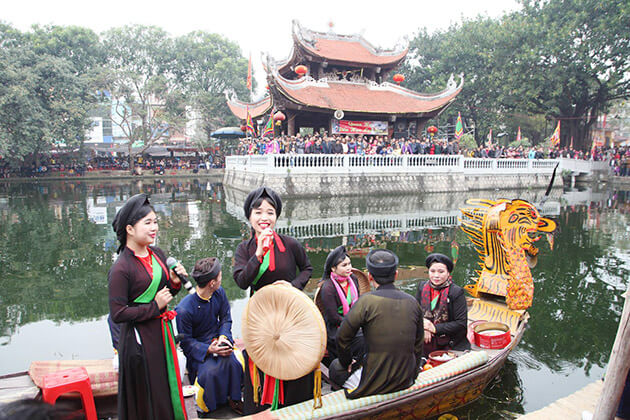 Groups of male and female singers in beautiful traditional clothes standing on a dragon-shaped boat take turns to sing a charming melody about love and sentimentality. Lim festival also features exhilarating traditional games such as cockfighting, bamboo swing, wrestling, tug-of-war, blind man's bluff, and human chess. The locals love to come to enjoy the art of singing Quan ho, play games and most importantly, meet old friends and get to know more people. If you like to see this festival, travel to Lim Village, in Tien Du District, Bac Ninh Province, which is 18km from Hanoi.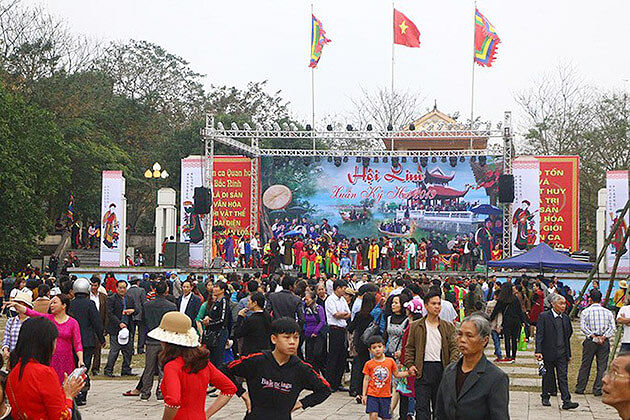 Perfume Pagoda Festival – A Religious Festival in Exquisite Mountains
Perfume Pagoda is a collection of many pagodas, temples, caves, and mountain tops located in Huong Son Commune, My Duc district, which is 2-hour-drive from center Hanoi. The long festival starts as soon as the 6th day after the Lunar New Year but the main date is the 15th. Devoted Buddhists all over Vietnam travel to this religious site to pay respect to Buddha and pray for a prosperous year. To prepare for the festival, the monks in all the pagodas light up lots of incense sticks, which makes the whole region immerse in a pleasant smell and create a holy, smoky view. Perfume pagoda is also a highlighted travel destination because of the alluring nature scenery that includes a clear stream with lush green trees on top of limestone karsts and paddy fields on the side.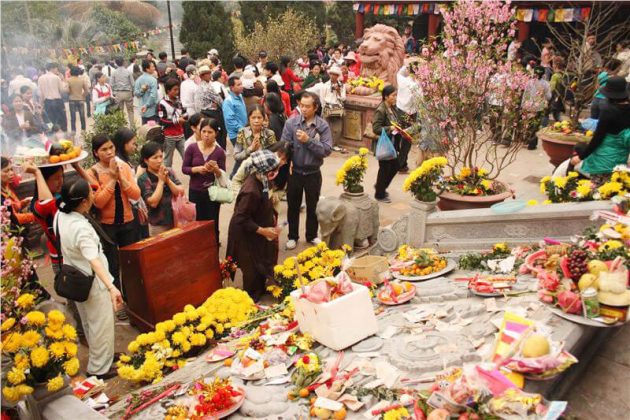 It is not recommended for foreign travelers to visit Perfume pagoda in peak days due to the crowds of locals. But you still can come and observe the religious rituals and enjoy the view on the last days of this Vietnam festival, just make sure to have everything booked in advance.
Phu Giay Festival – Holy Ceremony to Honor the Vietnamese Mother Saint
In Vietnam, there is a popular religious belief that worships mother goddesses, and Mother Saint Lieu Hanh is the main deity. She was the daughter of Jade Emperor and during her time on earth, she helped improve the lives of many poor people. On the third lunar month every year, Phu Giay Temple in Nam Dinh province held a big festival with the same name to honor Mother Saint Lieu Hanh. During this six-day-long festival, Vietnamese people from all over the region come to pray for health, happiness, and prosperity. Phu Giay Festival also has special ceremonies where performers wear special costumes and carry decorated bamboo relics to recreate the historic events. Visitors are welcomed to participate in or observe various traditional games like wrestling, dancing, capture-the-flag or human chess.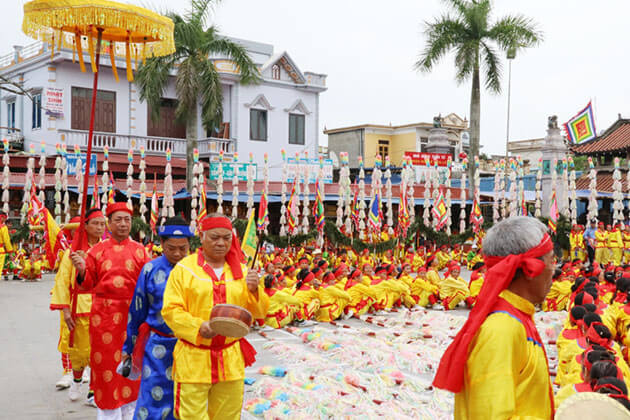 Hue Festival – A Festival Dedicated to the Former Imperial Capital
This is one of the most vibrant Vietnam festivals celebrated in Summer. Hue is a beautiful city in central Vietnam, which is famous for being the seat of the last feudal system in this country. To celebrate Hue's ancient complex of monuments and its unique culture, a dedicated festival with the same name as the city is held every two years around April to June. It is an exhilarating event with many community-based activities organized throughout the city.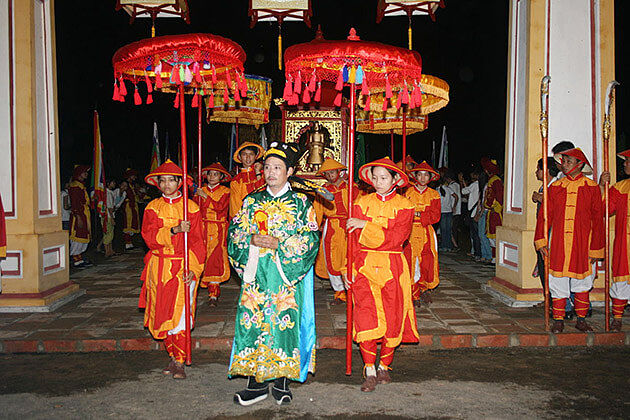 The week-long festival has art performances, like parades, dances, music shows and especially traditional costume fashion shows to show visitors the values and beauty of Hue. This festival is a great opportunity to experience and emerge yourself in one of Vietnam's World Heritage Sites. If you are planning to travel to Vietnam next year, we highly recommend you book a tour to visit Hue Festival. It will be held on April 1 – 6, 2020.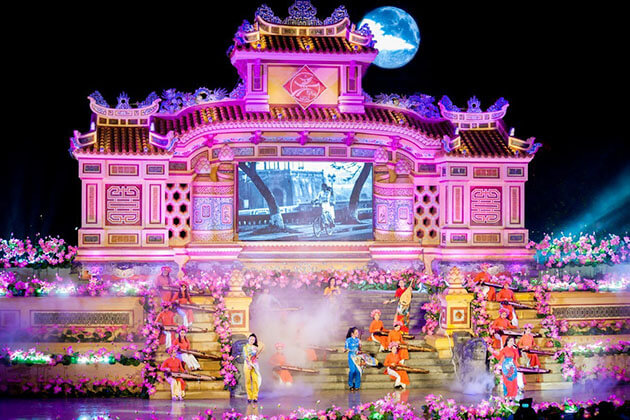 Mid-Autumn Festival – The Most Colorful and Joyful Festival in Vietnam
Festivals, especially ones that belonged to rich traditions from the past, hold a special place in Vietnamese people's hearts. The Vietnam Mid-Autumn festival is no exception. In the past when the majority of people were farmers, they celebrated the middle day of autumn because that is when they are finished with harvesting and can take a break from the farm work. It is also the day when the moon shines the brightest in a year and creates a beautiful view at night. The festival is celebrated with special snack food like rice crackers, fruits, and sweets, and most importantly, the moon cake. It is a type of bakery product with sweet or savory filling in a soft golden or a chewy white crust. And on the street is a joyful atmosphere of children going on procession with colorful lanterns along with groups of lion dance performers.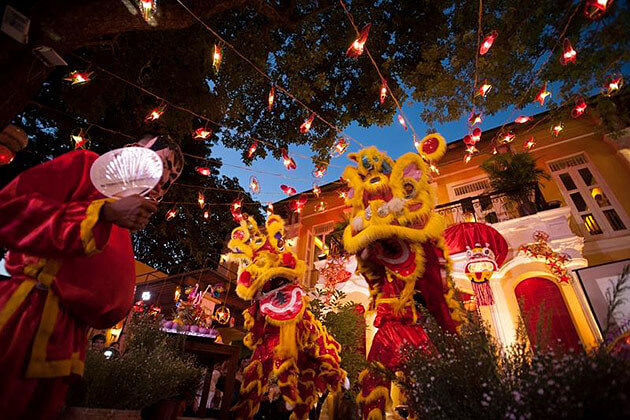 The Mid-autumn festival takes place around the fourteenth and fifteenth day of the eighth month of Lunar Calendar, which usually falls on the latter half of September. It is celebrated by most Vietnamese households and cities, but the best place to visit for this occasion is the ancient town of Hoi An city. This is one of the most colorful Vietnam festivals during the summertime.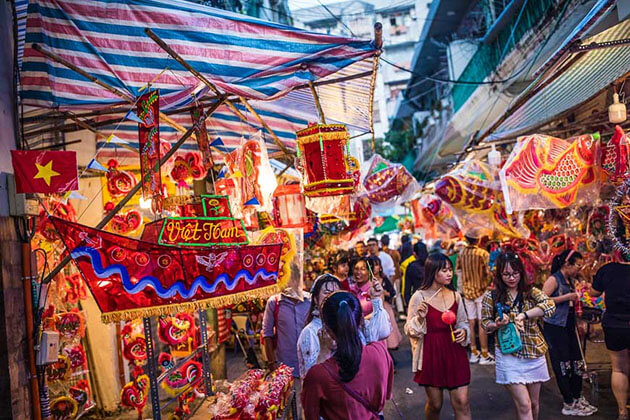 Wandering Souls Day
Wandering Souls Day or Vu Lan Day is a spiritual celebration in Hoi An, Vietnam. Travel to the ancient city Aug. 25 and observe as locals offer flowers, fresh fruit, sweet potatoes, rice cakes and sugarcane for the wandering souls of their ancestors. Festivalgoers celebrate deceased family and friends whose souls are able to roam for one day each year. The stunning sight of candles, as well as lanterns floating on the river, are meant to guide the wandering souls to nirvana. All in all, Wandering Souls Day is one of the most meaningful Vietnam festivals.