Noi Bai International Airport is the main airport serving Hanoi city and surrounding provinces. The distance between this airport and the city center is about 30 km and there are plenty of travel options such as taxis, motorbike taxis or rented vans. However, these means of transport often come with certain risks such as loss of luggage, overprice charging, or getting lost. But don't worry, the Hanoi Transport Corporation Ltd, (Transco), which is in charge of the public transport system in Hanoi, has launched the 86 Bus line to offer high quality and affordable travel options between the airport, Hanoi railway station, and the city center. For a convenient, cost savings and safe multi country Asia tours in Vietnam, read our article below to get to know more about this perfect travel option.
Why Choose Bus 86 to Get from Noi Bai Airport to Old Quarter?
Extremely Affordable While Maintaining an Excellent Quality
The ticket price for line 86 is VND 35,000 (around USD 1.5). This price of very reasonable compare to traveling by taxi or rented van, which usually costs around VND 200,000. Of course, this inexpensive type of transport means that you have to share the vehicle with other passengers, but Bus 86 has plenty of conveniences that make your travel experience as enjoyable as possible:
Air-conditioner to ensure a comfortable ride even when it is a hot summer day
Free Wi-Fi connection helps you to stay on track and entertained while on the bus
Comfortable furniture for a pleasant ride
No limit regarding the luggage allowance on the bus. You will carry them on the bus and there is a large space in the middle of the deck to store them.
Wide windows offer a good view of the city scenery.
Important information is available in English for the best convenience to foreign tourists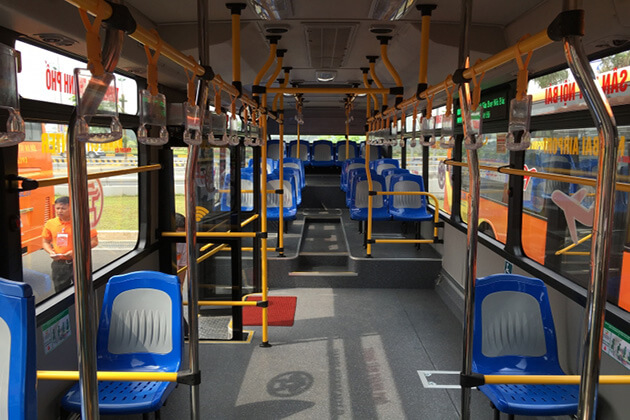 A Reliable Travel Experience
Although traffic jam is a common problem in Hanoi, bus 86 still can offer tourists with punctual travel. There are not too many stops along the line so even at rush hour, the worst-case scenario is only 5 – 10 minutes late than scheduled.
Hanoi Transport Corporation Ltd, (Transco) has put line 86 into use since April 30, 2016. Over more than 3 years in operation, Bus 86 has helped thousands of passengers to travel with high-grade quality and professional services. And like other kinds of public transport, it is an excellent option for those who would like to help to contribute to protect the environment and reduce traffic jams.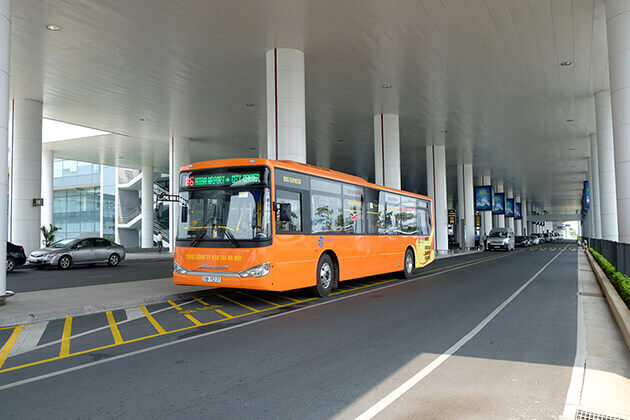 Bus 86 Operating Hour – Route – Timetable
Operating hour
– Hanoi Train Station: from 5:05 am to 9:40 pm every day
– Noi Bai Airport: from 6:25 am to 11:05 pm every day
Duration: 68 minutes (one way)
Frequency: 25-30 minutes/bus
Bus 86 Route
From Hanoi Center to Noi Bai Airport
Hanoi Train Station (120 Le Duan)
Melia Hotel (59 Ly Thuong Kiet)
Hanoi Post Office (75B Dinh Tien Hoang)
Long Bien Transpoint station (Post E11)
Yen Phu – Cua Bac Intersection
Au Co – Xuan Dieu Intersection
Noi Bai Terminal 1
Noi Bai Terminal 2
Noi Bai Terminal 1 Car Park
From Noi Bai Airport to Hanoi Center
Noi Bai Terminal 1 Car Park
Noi Bai Terminal 1
Noi Bai Terminal 2
Au Co – Xuan Dieu Intersection
Yen Phu – Cua Bac Intersection
Long Bien Transpoint station (Post E3, 4)
Hanoi Opera House (19/9 Garden)
Melia Hotel (59 Ly Thuong Kiet)
Hanoi Train Station (120 Le Duan)
From 01/09/2016, there is a periodical event that takes place in the area around the Old Quarter every week from 5 pm on Friday to the end of Sunday. During this time range, the streets in this area are turned into walking streets, therefore there are changes in bus 86 stops. For the route from Hanoi Tran Station to Noi Bai Airport, the stop at Hanoi Post Office (75B Dinh Tien Hoang) is changed to the stop on Phan Chu Trinh street, opposite house 6C (near Hanoi Opera House). Please notice this if you travel at the weekend and plan to stop at Hanoi Post Office. The route will remain the same in times other than the one mentioned above.
Time Table of Bus 86
Let take a look at the time table of bus 86 below and get yourselves the best option
Other Tips and Notes for Traveling on Bus 86
How Many Passengers Bus 86 Can Carry?
The maximum capacity of Bus 86 is 80 passengers but there are only 25 seats. Because of this, when all seats are taken, other passengers will have to stand, especially at peak times.
How Safe the Bus 86 is?
Like most types of public transport in Vietnam, passengers are advised to pay close attention to their luggage and bags to prevent stealing or pickpocketing.
What are the Functions of Front Door and Rear Door of Bus 86?
The front door is for people going up to the bus and the rear door is for passengers leaving. This design helps to smooth the flow of people moving in and out of the bus and save time.
What to Know Before Traveling by Bus 86?
Prepare information about your destination and know when to drop off. Prepare all your luggage and belongings before the bus stop, taking too long to get down from the bus could cause delay to the rest of the passengers. If you are not sure about the route, ask the controllers or other travelers on the bus. Furthermore, there is no restriction on the size and weight of your luggage.
How to Buy Bus 86 Ticket?
The tickets are bought directly on the bus so prepare some Vietnamese cash or any type of international cards like Visa or Master.
How to find Bus 86 Pick-up Point at Noi Bai Airport?
At Terminal 1 (Domestic terminal): Look for an orange signpost right outside the terminal door.
At Terminal 2 (International terminal): Move outside to stand no 02, cross the road and you will see a bus sign with number 86.