Japan, a country having a perfect mix of quirky chaos and tranquil bliss, is a well-worth destination to go when you decide to enjoy Asia tours. With epic adventures in nature and crazy experiences you cannot have anywhere else, there are manifold things you should put on your Japan trip. From incredibly smart robots to adorable monkeys in hot springs to lush bamboo forests, I would like to make a list of all the things you will not want to miss on your Japan trip.
Whether you are the first-timers, or you are a frequent traveler to Japan – the "land of the rising sun," I've got a collection of bucket list things to do and see in Japan. Let check out this comprehensive list.
Top 5 Jovial Things to Do and See in Japan
Get Lost in Arashiyama Bamboo Forest
This charming pathway through a bamboo forest will take you out of the crowded streets and to a fairy tale land. Even though the Arashiyama Bamboo Forest is not far from the Kyoto center, you still feel a world away. The grove of giant, swaying bamboo stalks is stunning all-year-round and emanates serene. If you have time, stop in some of the cute shops close to the entrance and head to the neighboring temples.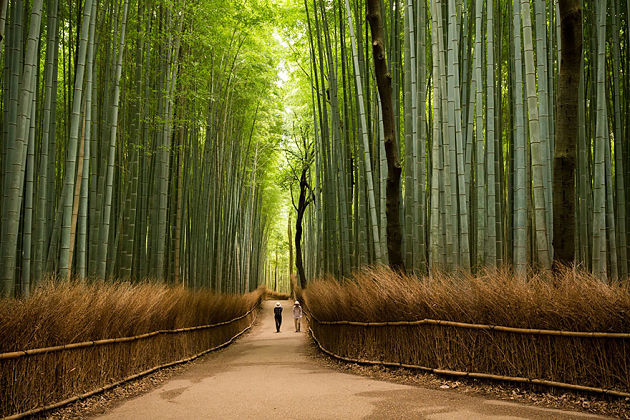 Be Stunned by Fushimi Inari Shrine
If you've seen "Memoirs of a Geisha", you'll recognize these renowned orange gates of the Fushimi Inari Shrine. Though my friend (an oversea student studying in Japan) once told me about it, they were far more impressive in person than I could have imagined. To stroll through all of the gates, you will need to set aside a better portion of a day. Don't fret if your time in Kyoto is limited though! 1 or 2 hours should be sufficient to discover a large portion of this shrine and leave without feeling like you're missing out.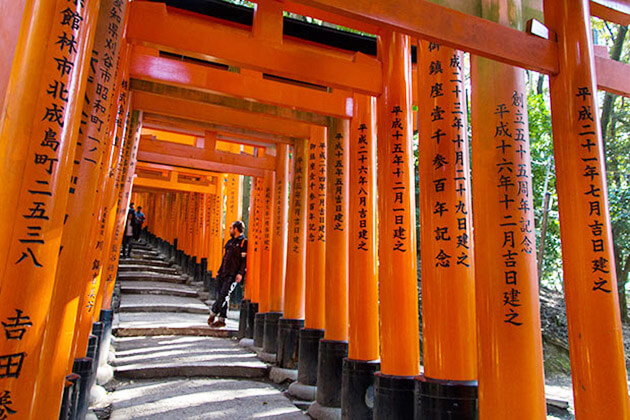 Admire the Adorable Snow Monkeys at Jigokudani Snow Monkey Park
Witnessing the monkeys at Jigokudani Snow Monkey Park was one of my favorite things to do and see in Japan and I did during my week in the country. I escaped the chaos of the big city – Tokyo for a little day trip to Nagano. The path leading me to the monkey park is lined with towering pines, and when I visited in February they were frosted with snow. I finally made it to a river valley and I knew I was close when I saw a monkey in the middle of the path. As I ventured further, they were everywhere. The monkeys brushed past me as if I was not there at all. The most interesting sight was to witness them soaking in the natural hot spring. Getting to this place is a bit of a logistical headache, and it takes a full 3-hour drive from Tokyo, but it's definitely worth it.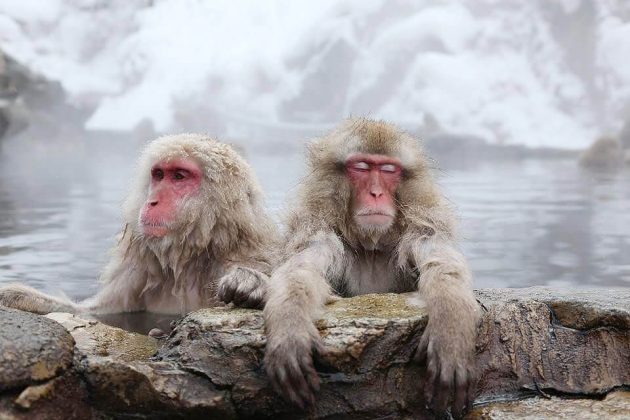 Strive Sushi at the Tsukiji Fish Market
Sushi enthusiasts and first-timers alike must head to this Tokyo icon. Although Tsukiji Fish Market itself closes down well before noon, there so many shops still serving the freshest rolls in all of Japan throughout the lunch hour. I had to wait in a queue before entering and sat at a table along with other people because the small restaurant was packed. I guess that is how you know it is good, right? The exquisite, yet affordable fish was well worth it and made this experience be the best things to do and see in Japan.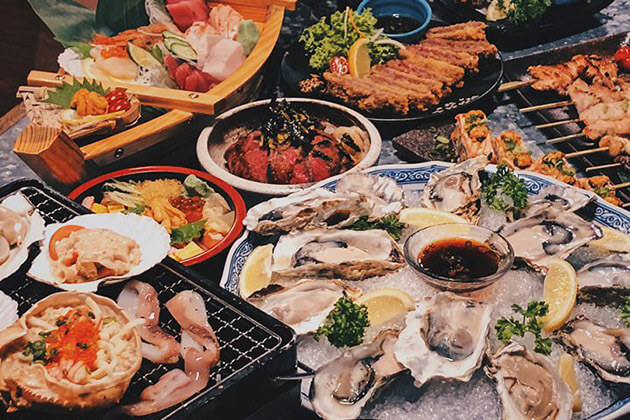 Experience the Crazy Ambience of the Renowned Robot Restaurant
Get into Anthony Bourdain, Katy Perry, and countless others who have been audience members of this illustriously wild show. Although it's prevalently known as a restaurant, you will not come for the food. The scantily-clad dancers, pulsating lights and giant robots are what draw large tourists and Japanese businessmen each night. The show just cannot be described by a single word or even words. It's truly an experience that is so uniquely Japanese, that you will not see anything like that elsewhere in the world. Pair the Robot Restaurant with a bar-hopping tour, and then, welcome to a wild night! It's one of the best things to do in Japan I want to share with you.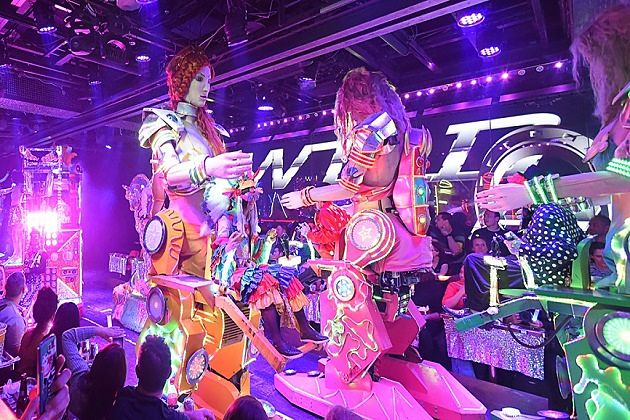 Top 5 Japan Attractions to Go
Golden Pavilion
Kinkaku-Ji aka the Temple of the Golden Pavilion is the most prevalent tourist attraction in Japan and Kyoto. The pavilion was originally constructed as a retirement villa for Shogun Ashikaga Yoshimitsu in the late 14th century. In the past, the pavilion was burnt down in 1950 by a young monk as he had become obsessed with it. 5 years later, the temple was restructured as an exact copy of the original. Emphasis is placed on the building and surrounding gardens which are in harmony with one another. The pavilion is covered in gold leaf that highlights the reflection of the pavilion in the pond as well as the pond's reflection on the building. All these things create a breathtaking scenery and make the site to be one of the most stunning Japan attractions.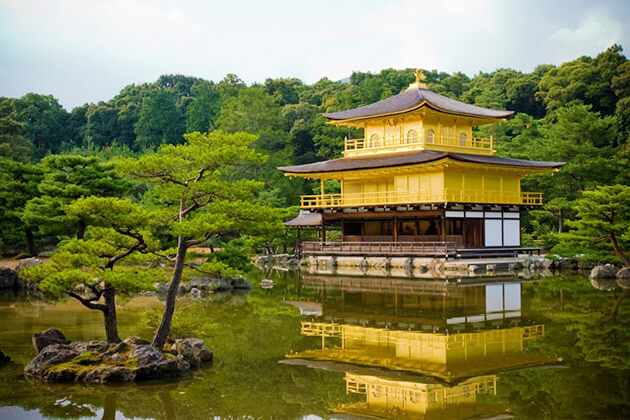 Mount Fuji
Mount Fuji is the highest mountain in Japan with height is 3,776 meters. The mountain is a renowned symbol of the country and is frequently depicted in art and photographs, as well as a prevalent Japan attraction for sightseers and climbers. An estimated 200,000 people climb Mount Fuji every year, 30% of whom are tourists. When you trek ascent, it is able to take anywhere between 3 and 4 hours while the descent can take from 2 to 5 hours.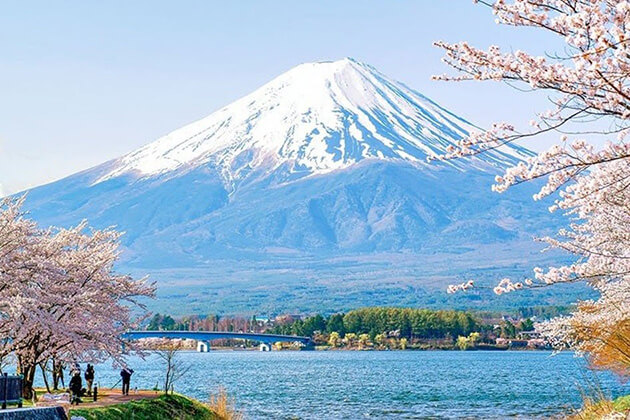 Himeji Castle
Himeji Castle is known as the best existing example of Japanese castle architecture. This Japan attraction was fortified to defend against enemies during the feudal period; however, it has been re-constructed manifold times throughout the centuries and reflects the different design periods. the Himeji Castle survived the bombings of World War II and is frequently seen in both domestic and foreign films, consisting of the James Bond movie "You Only Live Twice". The white exterior and design of the castle give it an appearance of a bird taking flight, earning the castle the nickname 'white egret castle'.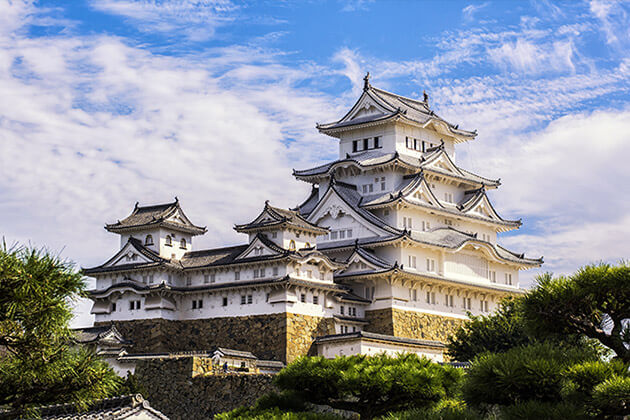 Hiroshima Peace Memorial
Perhaps, we all hear of the bombing story about Hiroshima during World War II (on August 6, 1945). Hiroshima Peace Memorial is a haunting place to the lives lost when the atomic bomb was dropped on Hiroshima. Situated in a park, the Japan attraction features Genbaku Dome, the only building left standing in the vicinity after the bombing event. This harsh reminder of a world at war reminds both foreigners and the locals of the importance of human life as well as honors the victims; thus, they will never be forgotten.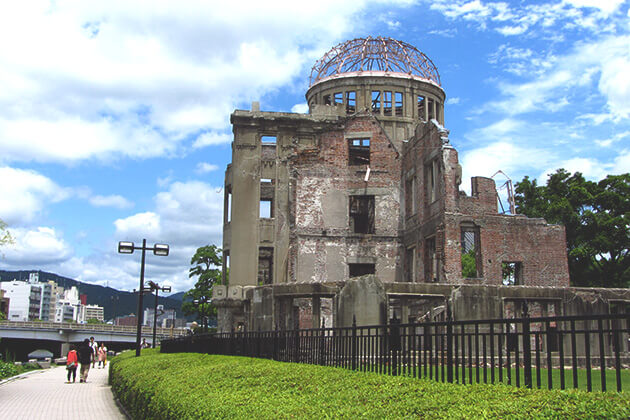 Great Buddha Statue of Kamakura
Great Buddha Statue of Kamakura is a colossal outdoor representation of Amida Buddha which is one of Japan's most celebrated Buddhist figures. Cast in bronze, the statue stands at more than13 meters high and weighs approximately 93 tons. The Great Buddha Statue of Kamakura reportedly dates from 1252. Although it originally was housed in a small wooden temple, it recently stands in the open air because the temple was washed away in a tsunami in the 15th century.