General Information
Highlights of 15-day Vietnam & Laos Tour
Start your journey in Ho Chi Minh City, explore the bustling city, and enjoy a full-day unique Mekong River Cruise.
Soak up the wonderful quaint streets, ancient shrines, and hospitable ambiance of Hoi An ancient town
Discover one of the most charming cities in Asia, take a luxury Halong Bay cruise to explore the many lime karsts jutting out of the green water
Explore every corner of the city, marvel at the stunning beauty of Kuang Si Waterfall in Luang Prabang
Take part in fascinating activities to learn more about the local cultures of Vietnam & Laos
Duration: 15 days/14 nights
Start/ End: Ho Chi Minh City (Saigon)/ Luang Prabang
Tour Route: Ho Chi Minh City – Vinh Long – Can Tho – Da Nang – Hoi An – Hue – Hanoi – Vientiane – Luang Prabang
Tour Customizable: Definitely! (Tell us your specific requirements in the inquiry form)
Guides: Local Guide (English Speaking Guide, Other Languages upon Request)
Transportation: Private first-class air-conditioned vehicles
Accommodation: Rooms with private bath or shower, hotel taxes, porterage, tips, and service charges
Brief Itinerary
Day 01: Ho Chi Minh City Arrival
Day 02: Ho Chi Minh City – Full-day Cu Chi Tunnels and City Tour
Day 03: Ho Chi Minh City – Drive to Ving Long, Can Tho – Mekong Delta
Day 04: Can Tho – Drive to Ho Chi Minh City, Flight to Da Nang-Hoi An
Day 05: Hoi An – Full Day My Son Holy Land & Ancient town
Day 06: Hoi An – Hue
Day 07: Hue – Half-day City Tour, Flight to Hanoi
Day 08: Hanoi – Ha Long Bay – Full-day Ha Long Bay Cruise
Day 09: Ha Long Bay – Half-day Ha Long Bay Cruise, Drive back to Hanoi
Day 10: Hanoi – Fly to Vientiane
Day 11: Vientiane – Full–day City Tour
Day 12: Vientiane – Flight to Luang Prabang
Day 13: Luang Prabang – Full-day Kuang Si Waterfalls & Luang Prabang City Tour
Day 14: Luang Prabang – Pak Ou Cave
Day 15: Luang Prabang Departure
Full Itinerary
Day 01: Ho Chi Minh City Arrival (D)
Welcome to Vietnam! The land of unique culture and wonderful natural views! Upon arrival, you will meet your local tour guide, check in the booked hotel, and relax to refresh from the long international flight. In the evening, enjoy a welcome dinner on the Saigon River Cruise which gives you the first impression of this charming city by immersing yourself in the night scenery on the cruise boat.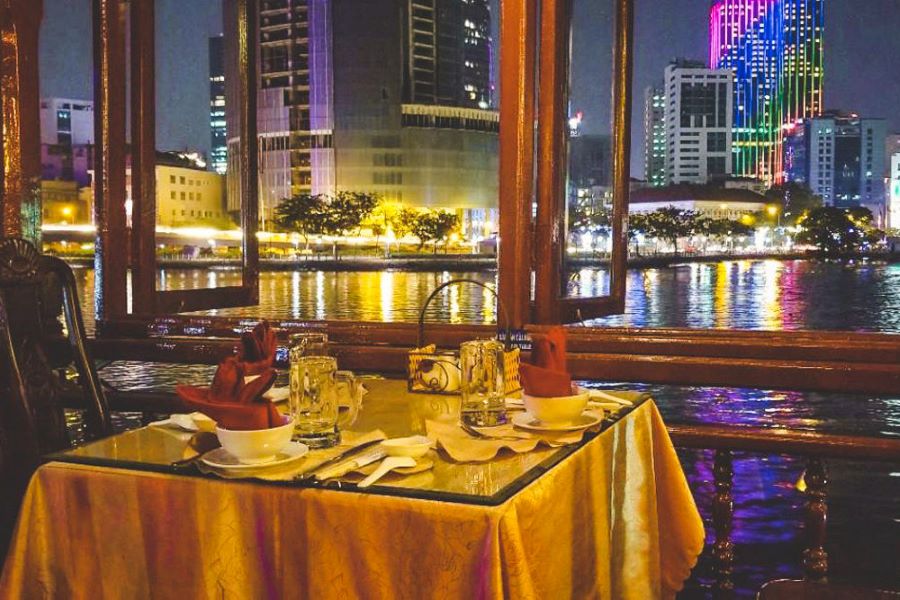 Day 02: Ho Chi Minh City – Full-day Cu Chi Tunnels and City Tour (B, L)
After breakfast, you will be driven to Cu Chi Tunnels which is among the top seven particularly interesting spots in Southeast Asia and in the world's six extraordinary artifacts, become the indispensable destination for both domestic and international tourists. This great monument is being used as a war museum for the younger generation and history buffs to discover more well-kept secrets that American soldiers did not research throughout the very long period of wartime. From here, you can join many interesting activities such as discovering the underground networks, watching documentaries, contemplating war exhibits, exploring traps, capturing some nice photos, and of course, must shooting a gun like Vietnamese troops!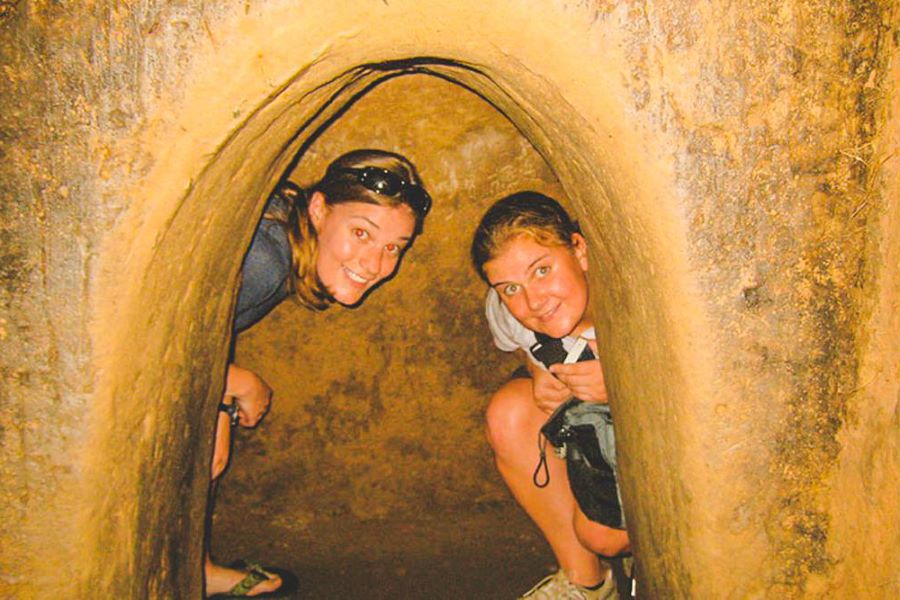 Following your lunch, you return to Ho Chi Minh City to take a half-city tour. Start your afternoon with a visit to Reunification Palace, a symbol of the victory, the peace, and territorial integrity of Vietnam country. Next, you will reach Notre Dame Cathedral, the largest and oldest Catholic church in Vietnam, to admire its ancient beauty and elegant structures. Then, pass the Old Saigon Post Office, the Emperor Jade Pagoda, and Cho Lon to explore more about this bustling city. The rest of this day is your leisure time.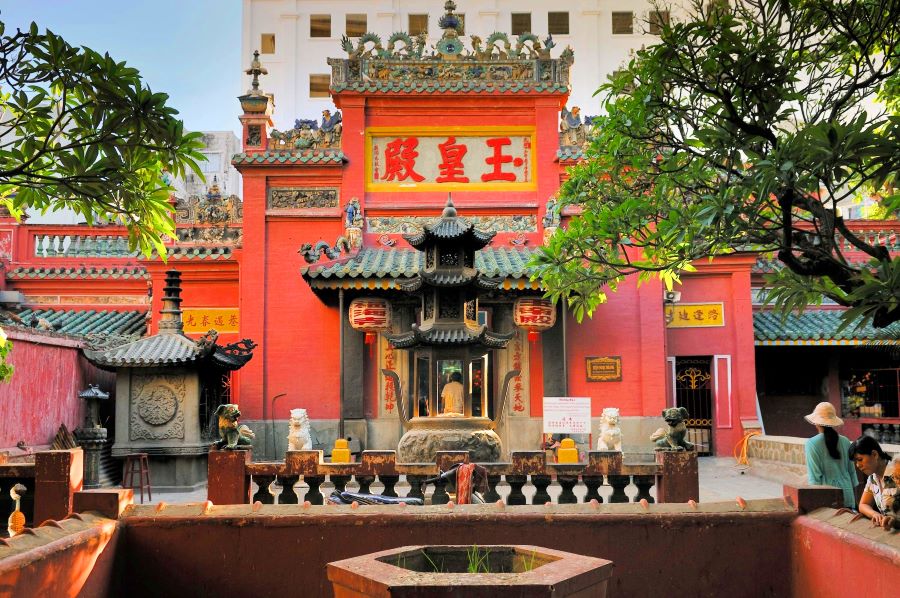 Day 03: Ho Chi Minh City – Drive to Ving Long, Can Tho – Mekong Delta (B, L)
In the morning, transfer to Vinh Long province, a riverside town located in the Mekong Delta (approximately 136 km). Enjoy a boat cruise to the Cai Be Floating Market, enjoy the vibrant ambiance. Observe the bargain between the merchandisers and the buyers. Immerse in the lush fruit and vegetation from the Mekong Delta. Cruise through the maze of shady canals.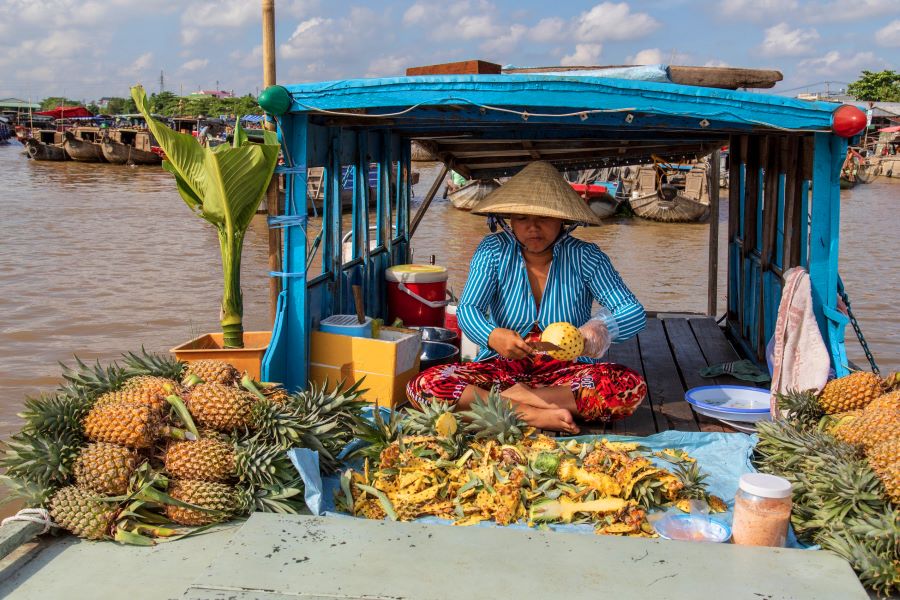 Then head to Hoa Binh Phuoc islet where the maze of shady creeks will surely fascinate you. You will have a chance to mingle with local peasants and learn the secrets of their bonsai gardening. It is a great idea to visit local homes where the families produce tiles and ceramics, drop into rice-paper kiln and coconut-candy kiln, and observe daily country life. A local specialty lunch is arranged at a local home. Afterward, you will be driven to Can Tho for check-in at the hotel and free to relax. In the evening, take the time to wander around the night market after dinner.
Day 04: Can Tho – Drive to Ho Chi Minh City, Flight to Da Nang – Hoi An (B, L)
Rise early in the morning for breakfast at your hotel where your local tour guide and driver will greet you and escort you to the pier of Can Tho for an adventure on the river. Board a motorboat to the largest floating market in Can Tho where people sell and buy things above water. A floating market usually starts at 4 or 5 a.m before dawn and ends when the sun rises high at 9 or 10 a.m.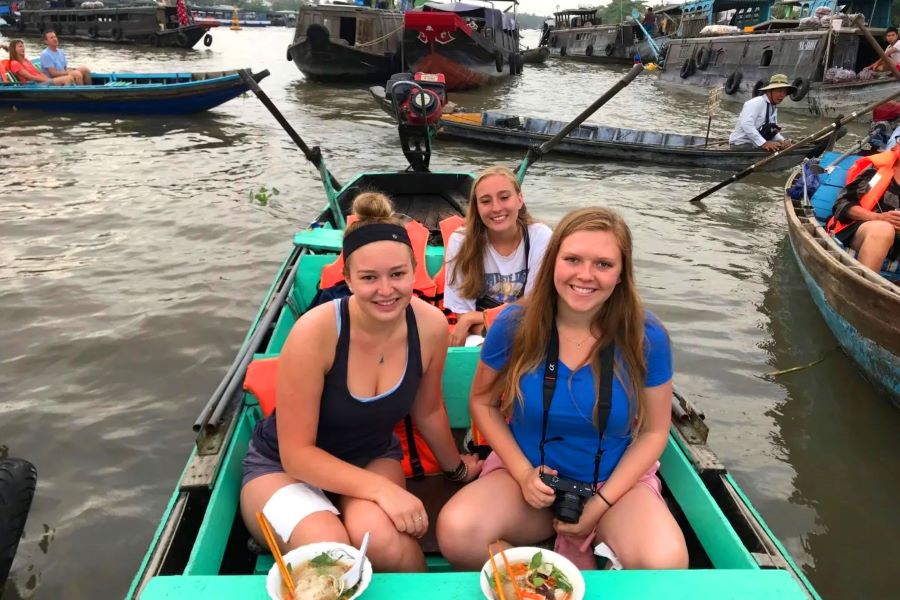 Upon arrival, you will see boats with colorful fruits and vegetables such as pineapple, dragon fruit, watermelon, yam, and cabbage which are dominant goods at these floating markets. Besides, garden tools, crafts, and Vietnamese breakfast like rice noodle "Bun" or "Hu Tieu" are also found there. It will be an interesting experience to try to manage the chopstick and soup bowl while paddling along the river. Finally, we will return to town by boat, drive back to Ho Chi Minh City's airport for onward flight to Da Nang. Upon arrival, check-in the hotel and relax for the rest of the day.
Day 05: Danang – Hoi An – Full Day My Son Holy Land & Ancient town (B, L)
Your morning begins with a trip to My Son, Vietnam's most important Cham's site located inside the valley complex of Quang Nam Province, southern Vietnam around 69 km southwest of Da Nang City. Here you can have more chances to explore and understand the technique of Old Cham people in making red bricks to build Tower which is still now a secret to everyone. It also a big surprise for those who are curious about architectural art. Moreover, you will have a chance to enjoy traditional music performed by Cham girls in their colorful uniforms. Afterward, join a boat trip along with the Thu Bon River to Hoi An Ancient Town.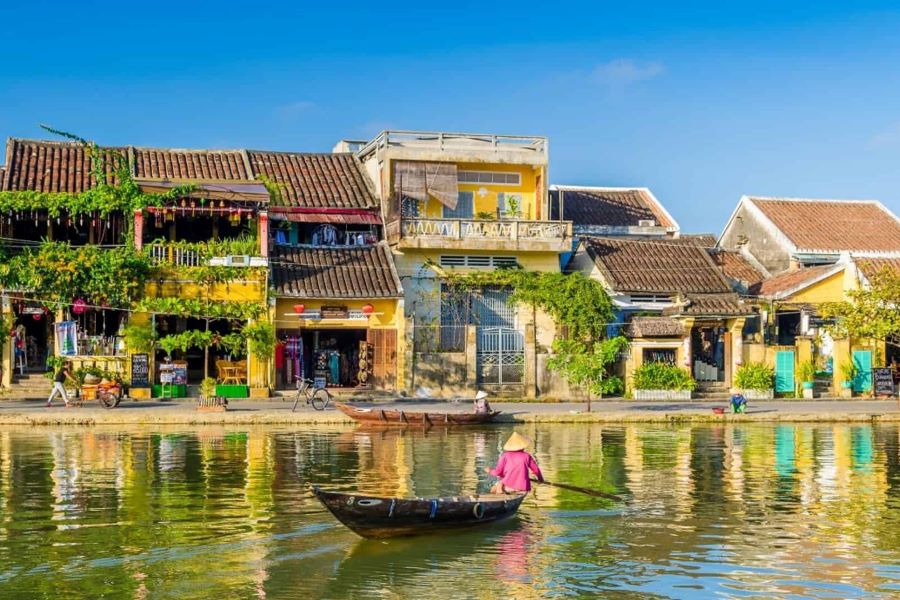 Following your lunch, continue your journey to visit Hoi An Ancient Town, one of the most popular destinations in Vietnam that cater to travelers of all tastes and across the continents. The small town is just the perfect candidate for what the Vietnam tourism ministry is aiming to show to the world. Warm-hearted, welcoming, and traditional, the people of Hoi An are in overdrive mode trying to catch up to the opportunities to develop their homeland. There are a variety of attractions to discover, some of which are the famous Japanese Covered Bridges, the Pottery Museum, the 200-year-old Tamky House, the Chua Ong Pagoda, etc. Trolling around the ancient town, enjoying traditional music performances, and visiting Hoi An's handicraft workshop are must-do things to discover the historical and cultural beauty of this charming town.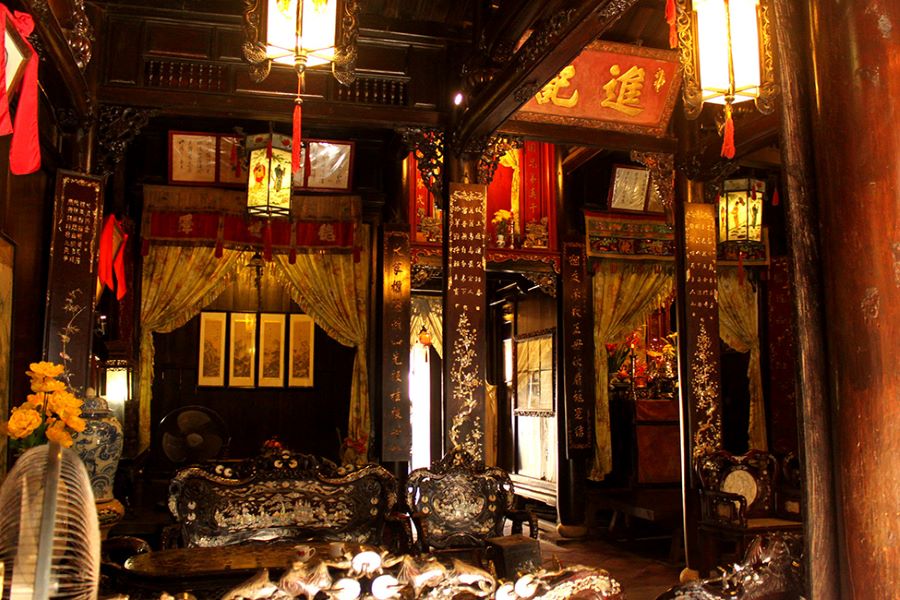 Day 06: Hoi An – Hue (L, D)
Enjoy your free day to explore until transfer to Hue in the afternoon. Hue, the ancient capital of Vietnam, is famous for its historic monuments which have earned it a place in UNESCO's World Heritage Sites. Upon arrival, after checking in the hotel, enjoy a prepared dinner in a royal residence with a descendant of the imperial family. It will be a unique experience for you to learn more about imperial life in ancient times.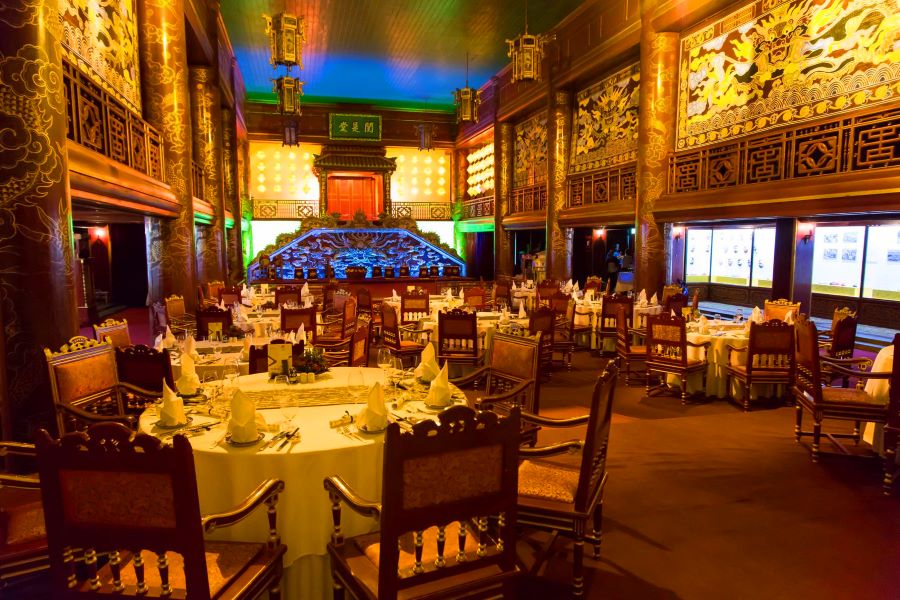 Day 07: Hue – Half–day City Tour, Flight to Hanoi (B, L)
After breakfast, enjoy a half-day city tour to visit Hue Citadel, Vietnam's former imperial capital and recognized by UNESCO as a World Heritage site. Start a boat trip to explore Thien Mu Pagoda, which is located at the hillock that famous for images of the Perfume River, a small dragon boat, and Phuoc Duyen Tower, it's really a good view to enjoy. Moreover, for those who have predestination with Buddha, you can get to the Monks and hear their chanting.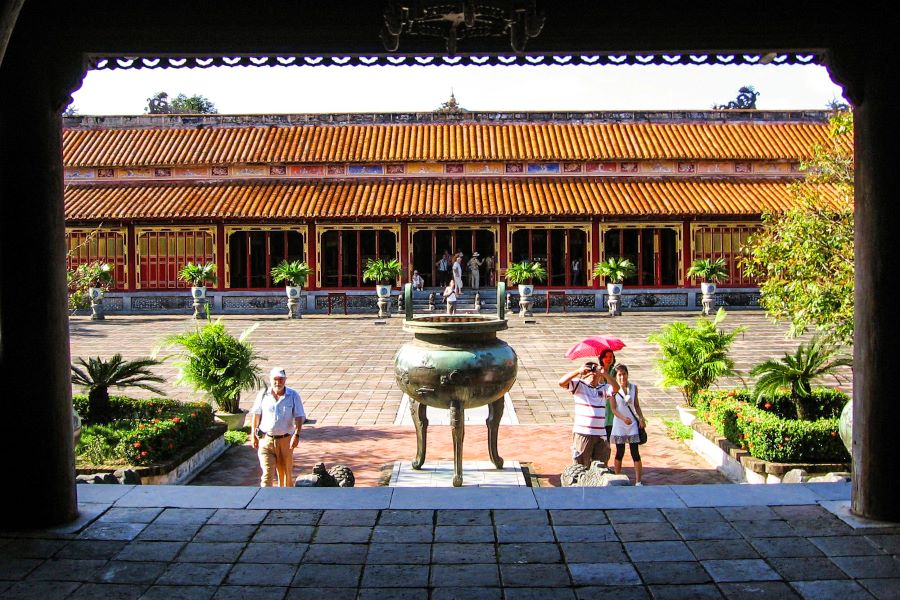 Next, soak up the historical Hue Royal Antiquities Museum – one of the most beautiful palaces in Hue imperial city named Long An Palace and now is the place displaying the antiquities collection of ornaments of the Nguyen Dynasty in the 19th century. After that, visit Dong Ba Market to witness the daily life of local people and shop for nice souvenirs. Your afternoon will be time for the onward flight to Hanoi from Da Nang's airport. Upon arriving in Hanoi, please take time to relax.
Day 08: Hanoi – Halong Bay – Full-day Halong Bay Cruise (B, L, D)
Following your light breakfast in the early morning, head to Halong City for the Halong Bay Cruise experience. When arriving, you will board a cruise ship to discover the stunning Halong Bay. A shore excursion will bring you to explore a fascinating cave, visit a local fishing village with the opportunity to interact with local people.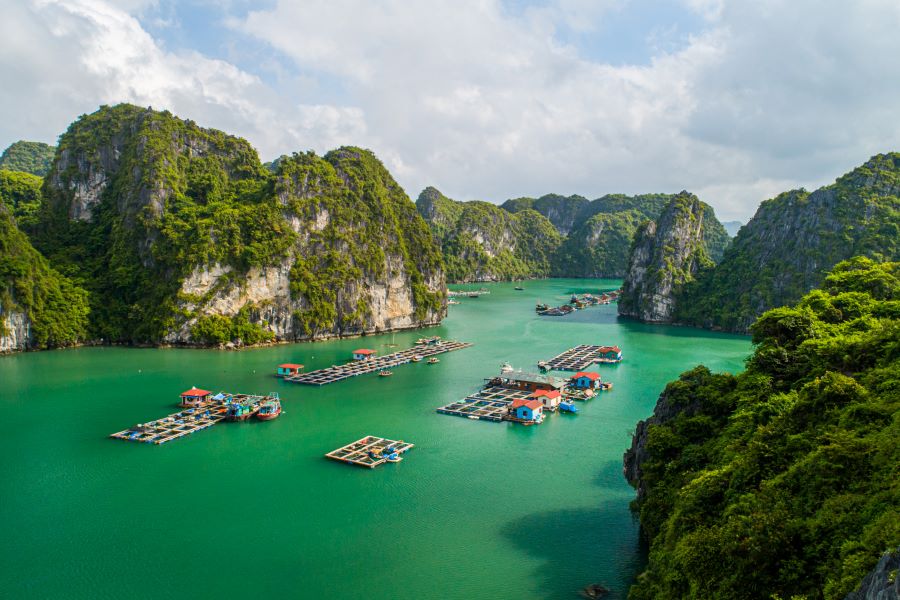 Your heavenly shore excursion starts around noon on Tuan Chau Island at the doorstep of Vietnam's most fascinating wonder. Discover some of the treasures disseminated across the Bay during the afternoon, including fascinating caves, pristine beaches, picturesque floating village, and fantastic rock formations rising up out of emerald water. While onboard, you can experience Spa, Beauty, and Massage services. Another interesting activity for you is attending a cooking class onboard and try your skills in the art of traditional Vietnamese cooking.
Day 09: Halong Bay – Half-day Halong Bay Cruise, Drive back to Hanoi (B, L)
Greeting by the morning sunrise from the sea horizon, you can join a Tai Chi lesson to join morning exercise before breakfast. Continue soaking up Halong Bay sailing across its 2000 islets and visiting some of its major highlights. Your cruise will come to an end on Tuan Chau Island between 10:30 a.m and 11:00 a.m and then drive back to Hanoi. Then, you are free to explore and relax.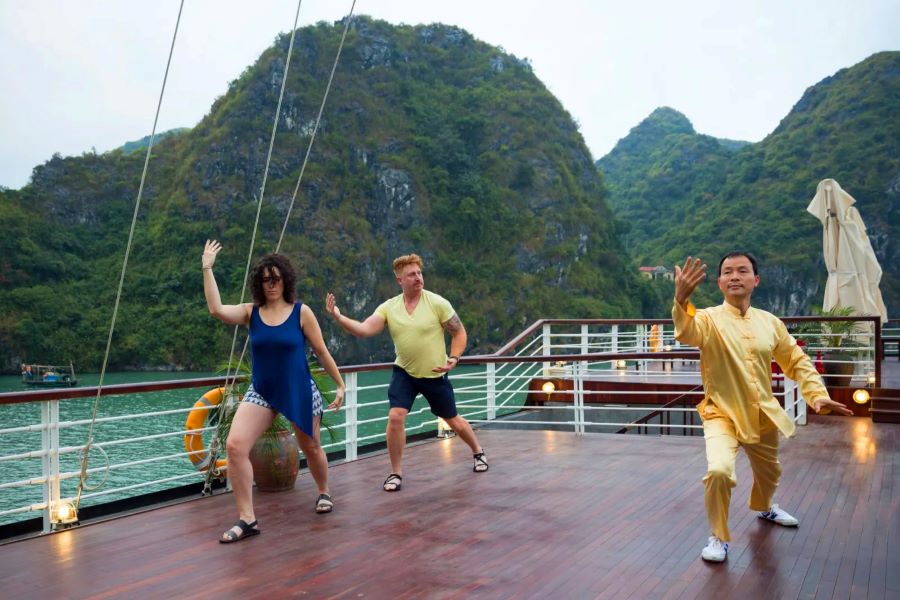 Day 10: Hanoi – Fly to Vientiane (B, L)
Enjoy free morning until your Classic Vietnam and Laos Tours 15 Days will be continued by a flight to the next Indochina destination – Vientiane, the capital of Laos. Upon arrival at Vientiane airport, you will be escorted to the hotel by your private local tour guide and driver. Enjoy the rest of the day at your leisure to relax or walk around or stroll along the river bank to enjoy the sunset.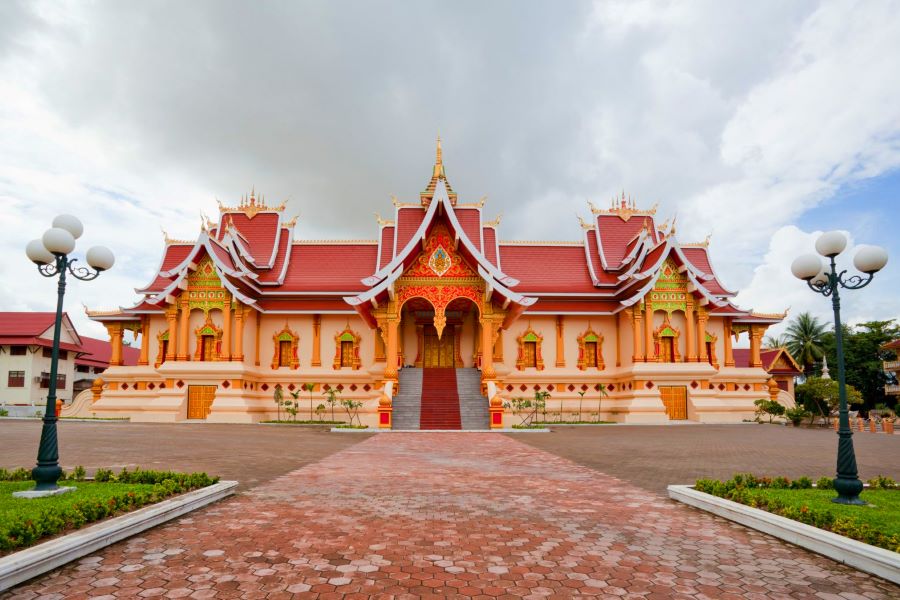 Day 11: Vientiane – Full-day City Tour (B, L)
Vientiane, located along the banks of the mighty Mekong River, is one of the least discovered capitals in Asia. Today is a full-day city tour that brings you different highlights of the city, including gilded temples and important monuments, complimented with the chance to savor Lao cuisine at a vocational restaurant.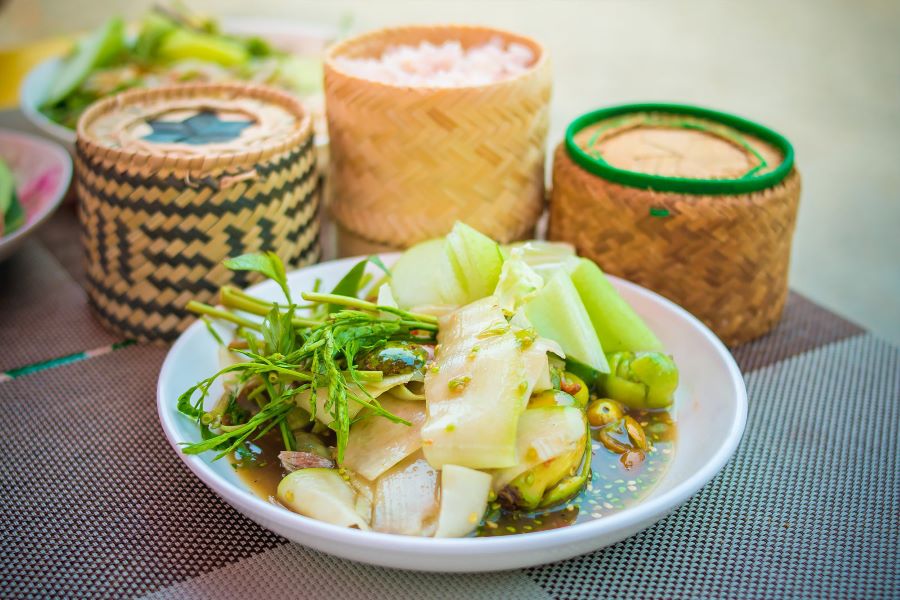 After breakfast, your tour begins at the serene Wat Sisaket, the only temple left intact after the Siamese (Thai) invasion in 1828. Continue on to the nearby Wat Phra Keo, where displays a collection of both Laos and Khmer work of art. Next, stop at Wat Simuang, the most popular and venerated temple in Vientiane. Here, you will find an Angkorian-era pillar and it is said that if you circle it three times and make a wish, then that wish will come true. Then, spend time visiting 'Black Stupa', the structure was once covered with a layer of gold which was stolen by the Thais during their invasion in 1828.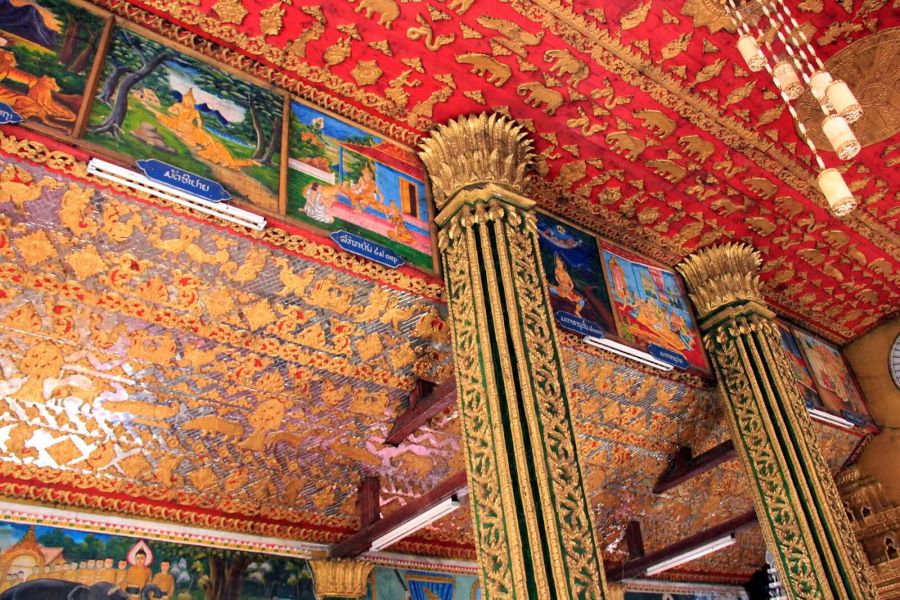 In the afternoon, discover the Patuxay monument, Laos's version of the Arc de Triomphe, where you can climb the stairs to the roof for sweeping panoramic views of the city. After that, travel to That Luang, the holiest site in Laos. Finally, end your city tour by strolling around the Mekong River, dipping in a drink, or sampling a snack are also interesting things to try in Vientiane.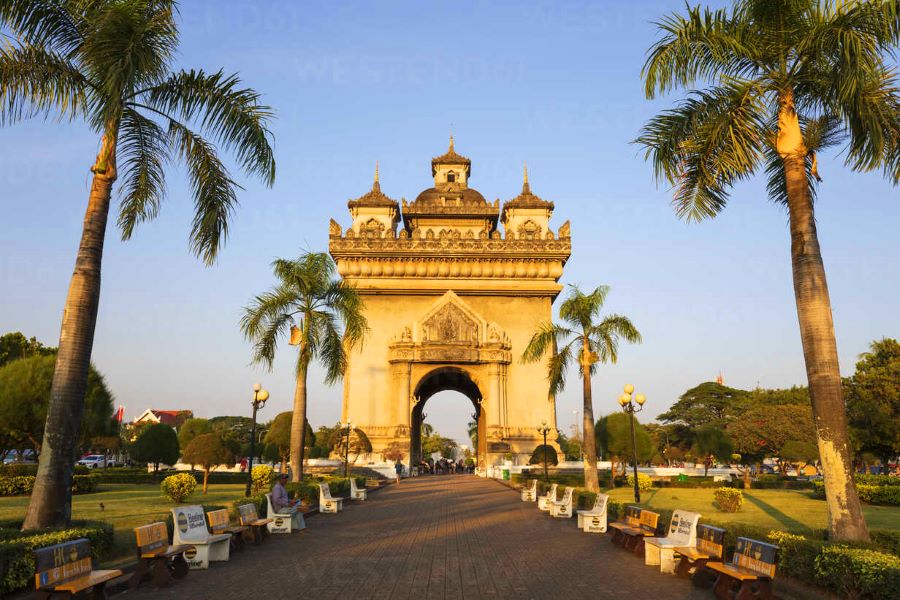 Day 12: Vientiane – Fy to Luang Prabang (B)
Today starts with a drive from Vientiane to Luang Prabang. Afterward, you are free to explore
Day 13: Luang Prabang – Kuang Si Waterfalls & Half-day City Tour (B, L)
Luang Prabang, the city surrounded by the Mekong River and famous for its golden city, is a place that you will keep appearing in your mind for a long time after your Classic Vietnam & Laos Tour 15 Days. After your breakfast in the hotel, start your half-day excursion to Kuang Si Waterfalls, which is the largest water in Luang Prabang. Here, you will enjoy the beautiful natural scenery, have fun in waterfalls and relax.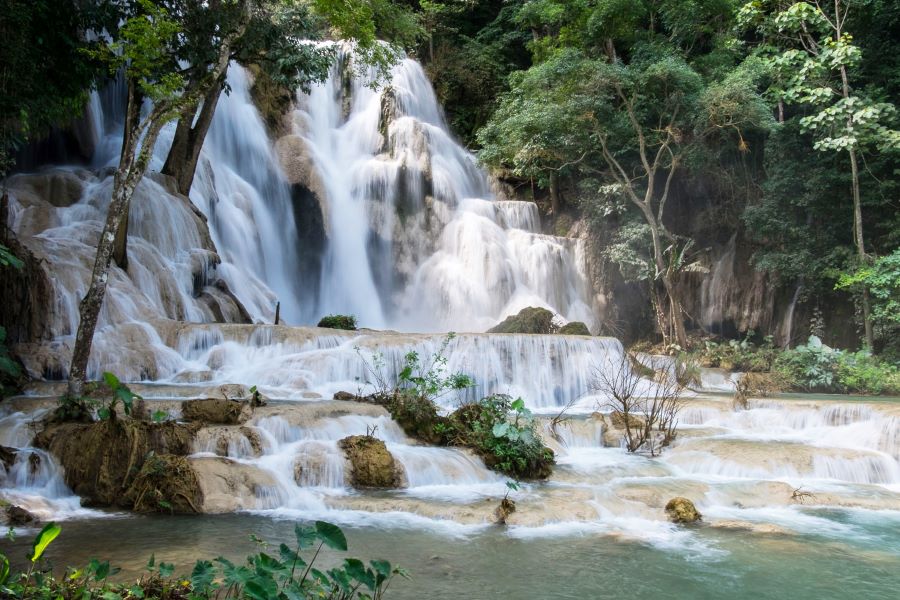 In the afternoon, visit the Wat Xiengthong which is a symbolic temple of the classic Laotian architecture; visit the Royal Palace Museum to learn the history of Laos. Continue your journey to the next destination, Wat Aham Temple, signifying "The Monastery of the Blossoming Heart". This temple was surely a destination for mediation and meetings between spiritual culture and Buddhist practice.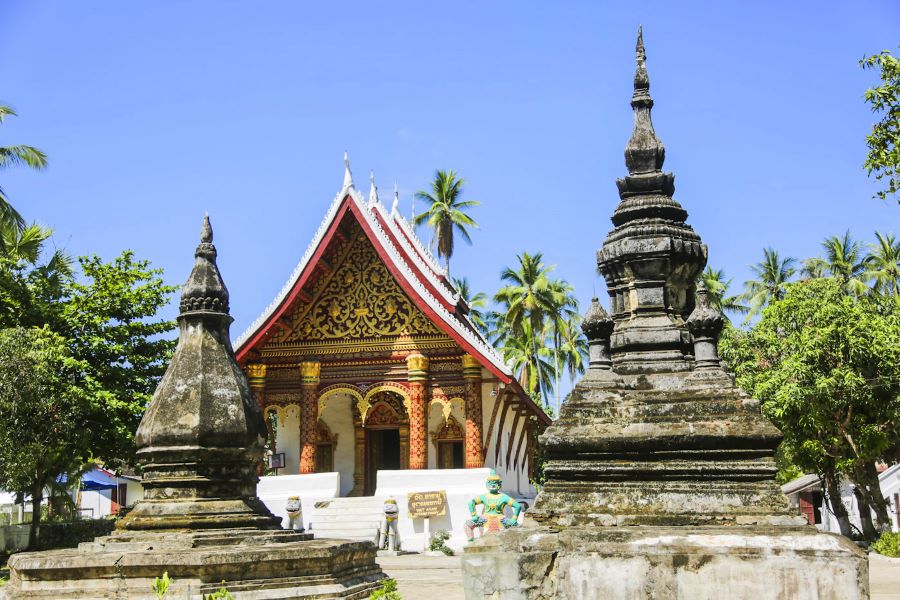 Day 14: Luang Prabang – Pak Ou Cave (B, L)
After breakfast, you will embark on a private 2-hour boat trip along the Mekong River to the Pak Ou Cave. Along the way, immerse yourself with the stunning scenery along the river and observe the daily life of local people in a riverside fishing village. Then, take time to visit the mysterious Pak Ou Cave, which has been a place of worship for centuries, as people believed they are inhabited by the spirits of the river. After visiting, take a boat back to Luang Prabang and relax at your leisure.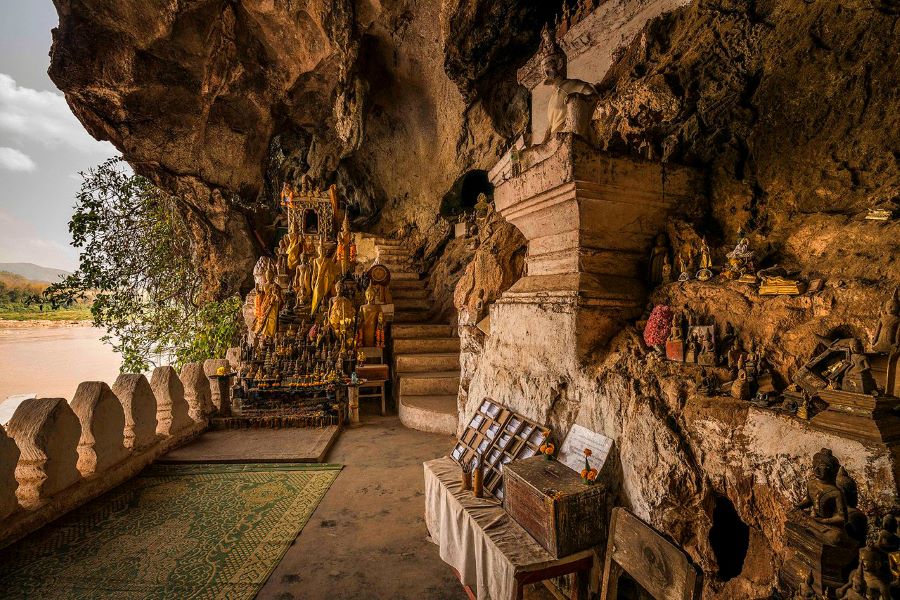 Day 15: Luang Prabang Departure (B)
Enjoy a relaxing time in the morning until you take your departure flight home. We wish you to have an unforgettable Asia tour package in Vietnam & Laos.