General Information
Admire the historic Angkor Thom Complex and other temples which are considered as historical witnesses of Cambodia
Immerse yourself with the beauty of the city and the local people of Vientiane
Carry on a boat trip in Luang Prabang, explore the textile village, and the Jewel and Elephant camp are interesting activities in Laos
Explore hill villages in Sapa
Go on a junk boat in Halong Bay
Enjoy the peace of the Imperial Citadel Hue
Take part in a biking excursion to explore Hoi An
Soak up the fascinating activities in Mekong Delta and end up in Ho Chi Minh City
Duration: 24 days/ 23 nights
Start/ End: Siem Reap/ Ho Chi Minh City
Tour Route: Siem Reap – Vientiane – Luang Prabang – Hanoi – Sapa – Halong Bay – Hue – Hoi An – Ho Chi Minh City – Vinh Long – Ho Chi Minh City
Tour Customizable: Definitely! (Tell us your specific requirements in the inquiry form)
Guides: Local Guide (English Speaking Guide, Other Languages upon Request)
Transportation: Private first-class air-conditioned vehicles
Accommodation: Listed below or equivalent. Rooms with private bath or shower, hotel taxes, porterage, tips, and service charges
Brief Itinerary
Day 01: Siem Reap Arrival
Day 02: Siem Reap – Angkor Discovery
Day 03: Siem Reap – Phnom Kulen – Beng Mealea
Day 04: Siem Reap – Tonle Sap Lake – Flight to Vientiane
Day 05: Vientiane – Full-day City Tour
Day 06: Vientiane – Flight to Luang Prabang
Day 07: Luang Prabang – Boat Trip
Day 08: Luang Prabang – Textile Village – Jewel and Elephant Camp
Day 09: Luang Prabang – Flight to Hanoi
Day 10: Hanoi – Full-day City Tour
Day 11: Hanoi – Transfer to Sapa
Day 12: Sapa – Explore Hill Village
Day 13: Sapa – Train back to Hanoi
Day 14: Hanoi – Halong Bay– Junk Boat
Day 15: Halong Bay – Hanoi – Flight to Hue
Day 16: Hue – Motorbike Tour
Day 17: Hue – Hoi An
Day 18: Hoi An – Biking Excursion
Day 19: Hoi An – Free day
Day 20: Hoi An – Flight to Ho Chi Minh City
Day 21: Ho Chi Minh City – Cao Dai Temple – Cu Chi Tunnels
Day 22: Ho Chi Minh City – Vinh Long
Day 23: Vinh Long – Cai Be Floating Village – Ho Chi Minh City
Day 24: Ho Chi Minh City – Departure
Full Itinerary
Day 1: Siem Reap Arrival (D)
Upon arrival at Siem Reap airport, your private tour guide will pick you up and escort you to the hotel by private car. The first day in Siem Reap is a free day to get to know about this fascinating place.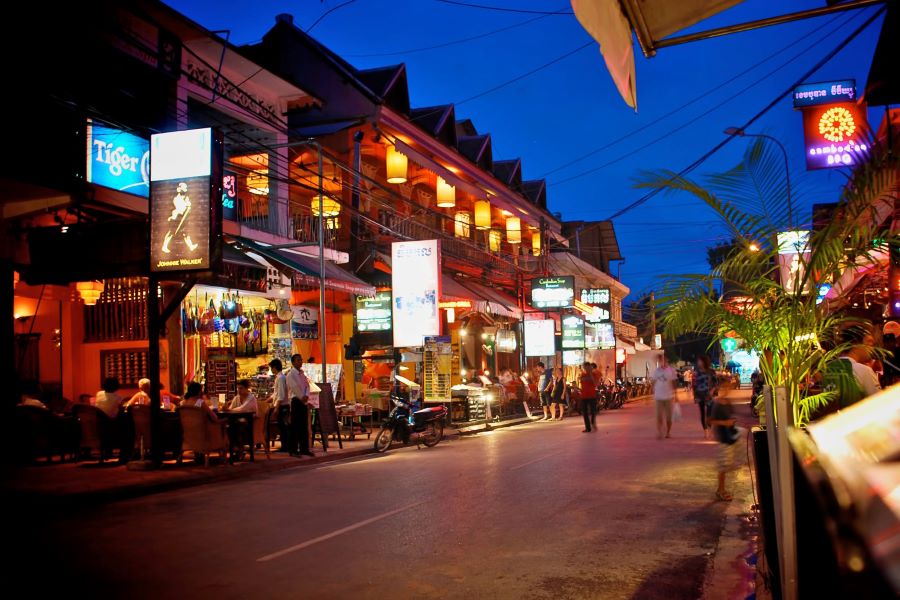 Day 2: Siem Reap – Angkor Thom (B, L)
After breakfast, we will take a cycle ride (approximately 45 minutes for cycling) or drive to world heritage areas on the roads less traveled. Ride among the jungle passing local villages and local shops, meet local people along the roads are truly special and interesting activities before you explore some of Angkor's most beautiful temples. When arriving at West Gate of Angkor Thom Complex, the walking tour begins.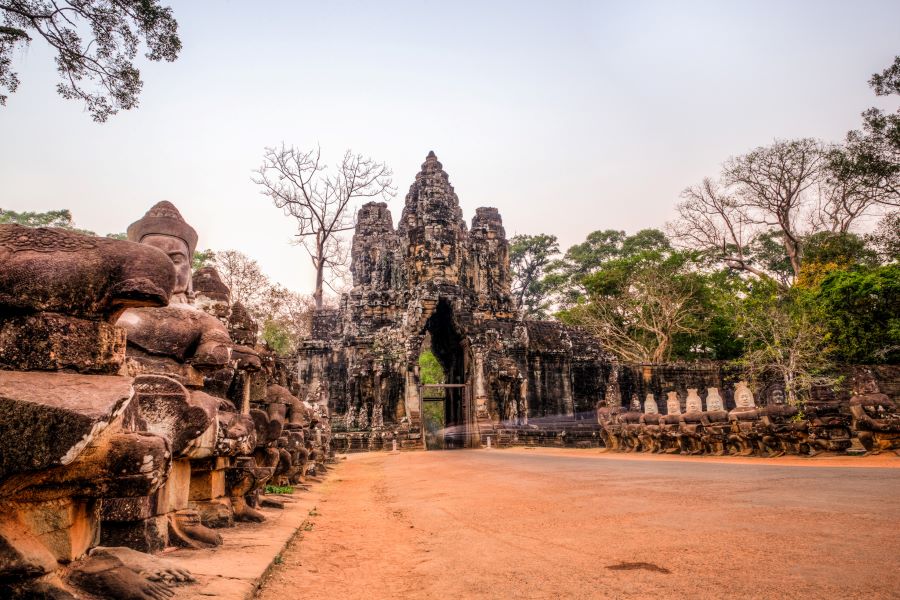 Angkor Thom, the last capital of the Khmer Empire, was a fortified city enclosing residences of a priest, officials of the palace and military, as well as buildings for administering the kingdom together with some sites at the Complex we will visit: the ancient capital Angkor Thom, the South Gate, Bayon Temple, the Royal Enclosure, Phimeanakas, the Elephant Terrace, and the Terrace of the Leper King. Afterward, we proceed to the Ta Prohm, one of the most evocative of all Angkor's ancient monuments. In the afternoon, continue to explore Angkor Wat before witnessing the sunset at Phnom Bakheng or Pre Rup casting the temple in an orange hue.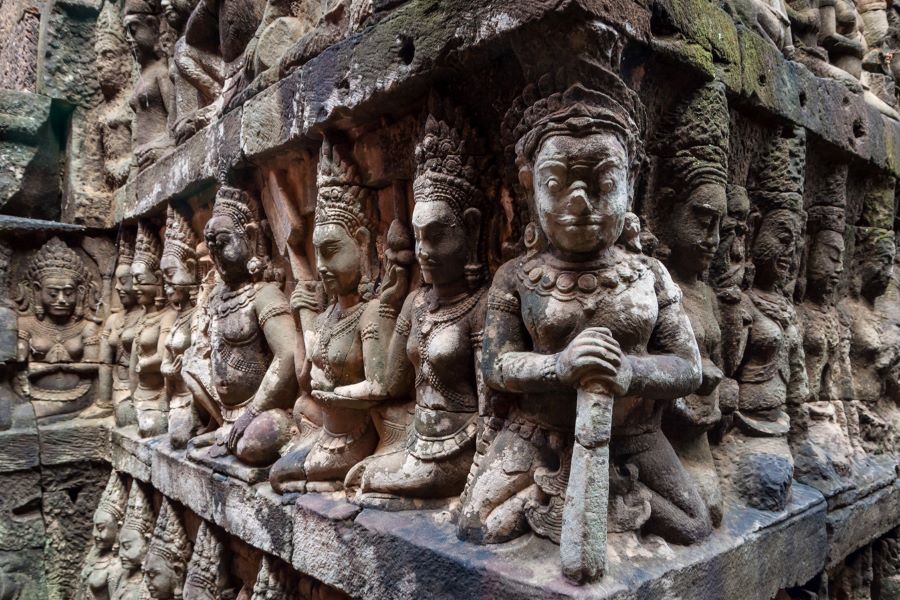 Day 03: Siem Reap – Phnom Kulen – Beng Mealea (B)
After breakfast, a transfer for 2 hours to Phnom Kulen which is considered as the birthplace of the Khmer Empire where King Jayavarman II was crown as 'God-king'.  Nowadays, Kulen Mountain is a favorite spot among Cambodian families for weekend getaways and special vacations. Next, take time to visit the River of 1000 Lingas, a reclining Buddha and cascading waterfall. An interesting activity for you is swimming at the waterfall; please prepare your swim gear.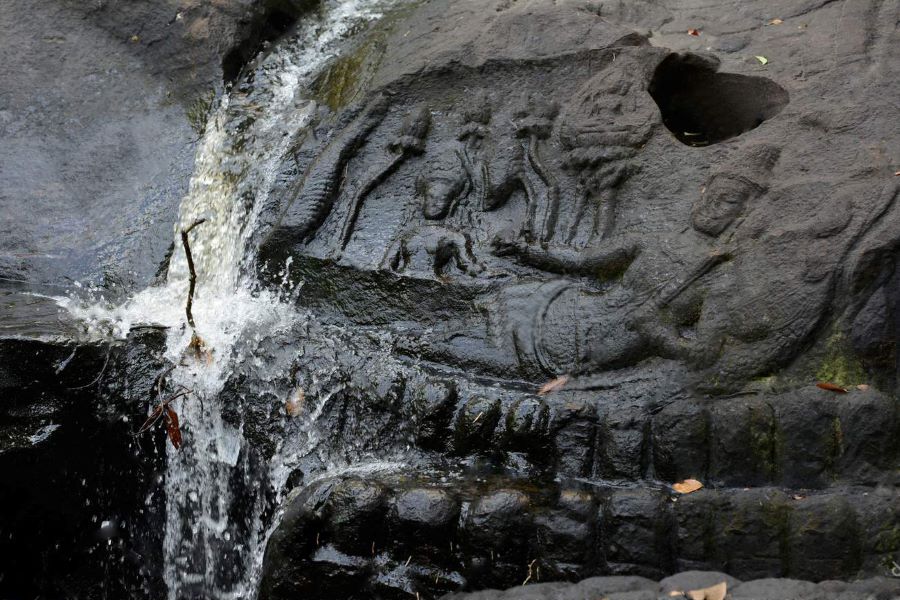 On the way back to Siem Reap, explore another of the lesser-visited temples – Beng Mealea, built with the same floor plan as Angkor Wat. It is worth taking time to explore it thoroughly to understand what it must have been like for early explorers discovering these temples for the first time.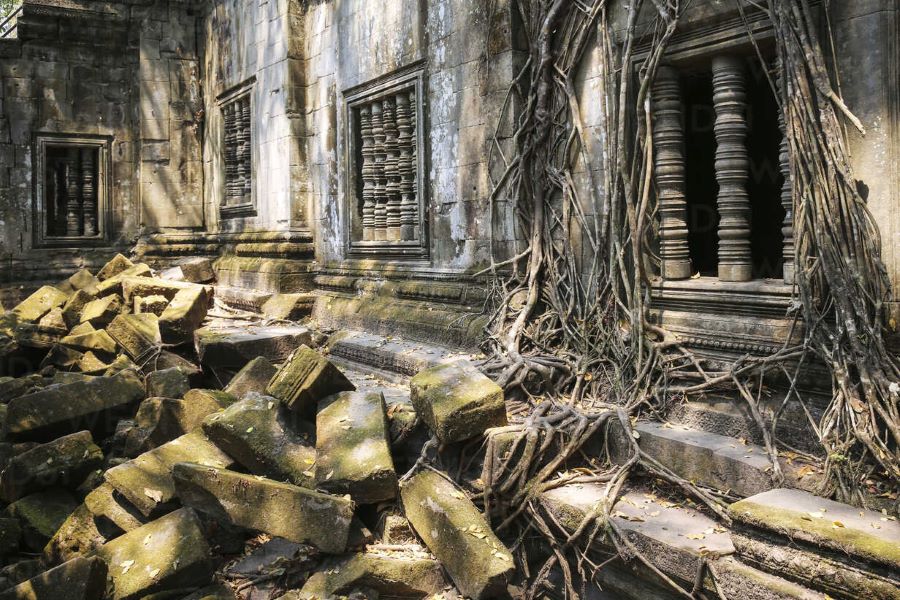 Day 04: Siem Reap – Tonle Sap Lake – Flight to Vientiane (B)
After breakfast, you will move in tune with the rhythm of the great annual flood of Tonle Sap, the massive freshwater lake that dominates the map of Cambodia. Aboard a small boat and admire the scenery as you glide by lotus fields and lush rice paddies, visit a fish and crocodile farm to learn more about traditional fishing practices. Head to Chong Khneas and learn about the local life on the lake as you sail around the homes, markets, schools, and spirit houses of the floating village. In the afternoon, you will have a short flight to Vientiane. Afterward, the rest of the day will be your own free time.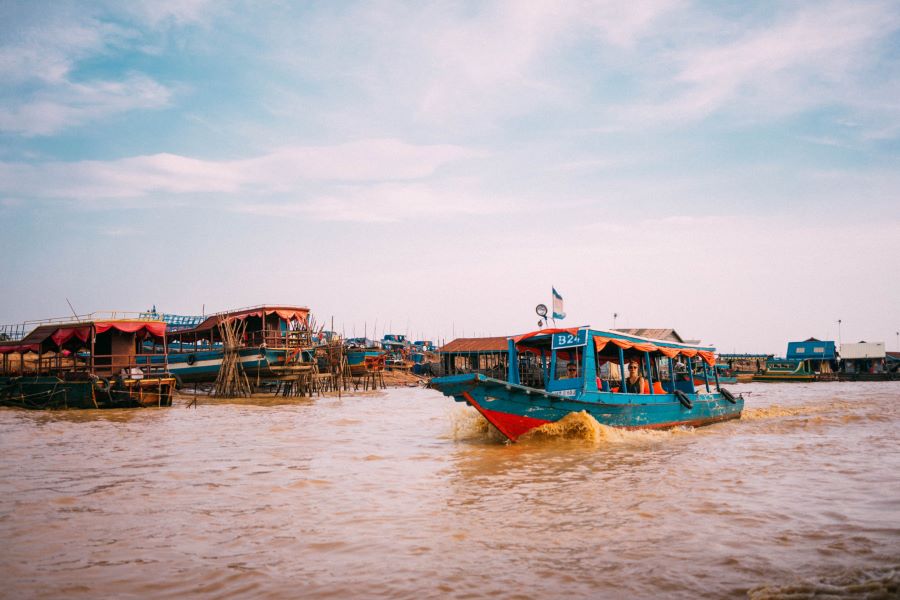 Day 05: Vientiane – Full-day City Tour (B, L)
After breakfast, your tour guide will pick you up and take you for a sightseeing tour of the capital; including the oldest Wat Sisaket, famous for its cloister wall housing thousands of tiny Buddha images – more than 6800 Buddhas in total and rows with hundreds of seated Buddhas. Then, continue your tour by taking a trip to the outskirts of Vientiane, following the road along the bank of the Mekong River to visit the Buddha Park of Xieng Khuan. On route, you will marvel at the beautiful view of the Mekong Friendship Bridge as the border between Laos and Thailand. In the late afternoon, return to Vientiane to visit Ban Nongbuathong the hand-weaving village. Another option is walking on the Mekong Riverside for relaxing.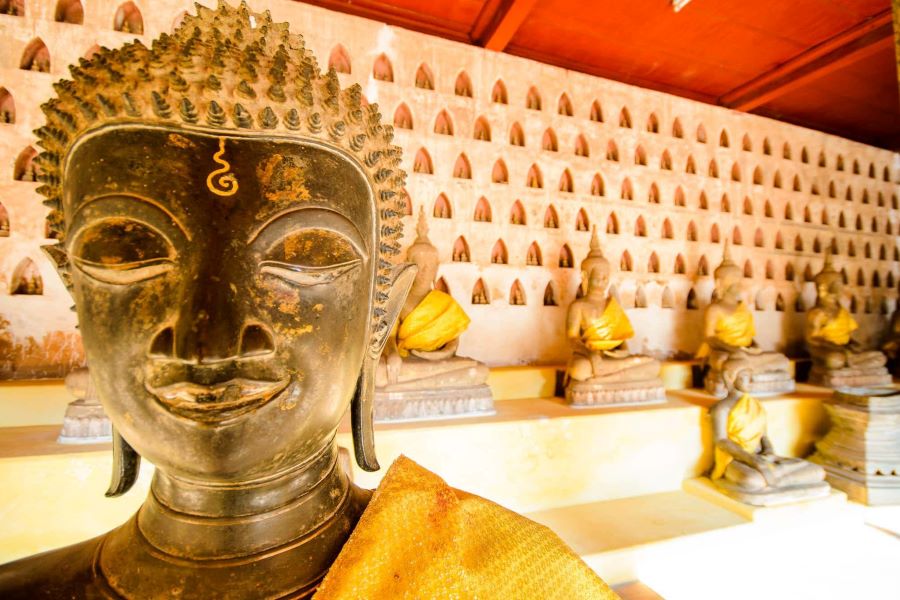 Day 06: Vientiane – Flight to Luang Prabang (B, L)
In the morning, start your day by a short flight to Luang Prabang from Wattay Airport. Take free time before continuing to explore Luang Prabang in the afternoon. Your afternoon tour will start at the National Museum, former Royal Palace of Luang Prabang, which features a blend of Lao tradition and French style. It consists of a lot of interesting items and every item tells a story, so you can learn about the Lao history and Lao's Royal. Next, visit the impressive stupa of Wat Visoun and the shrine of Wat Aham, Wat Mai. Then, explore Wat Xieng Thong, a fine example of the classic Luang Prabang architectural style with a sweeping two-tiered roof and ornate mosaics including a beautiful 'tree of life' glass montage on the rear temple wall.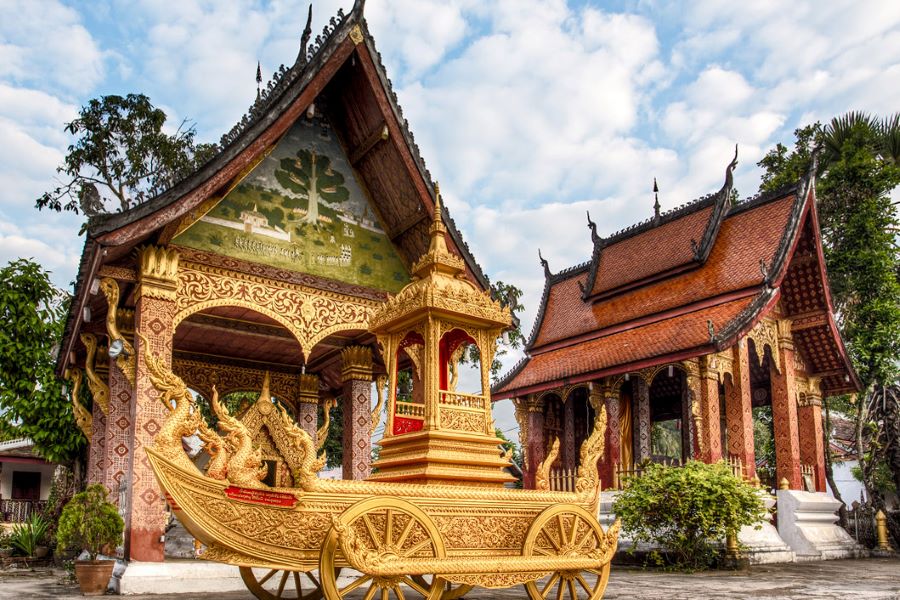 The tour cannot be completed without a trip to Phousi Mount. Experience climbing up to the top of the mountain, soak up the beautiful sunset view of the city and the Mekong River. In the evening, explore Street Night Market, where you can find a variety of lovely collections and handmade textiles by local and hill tribe people surrounding Luang Prabang.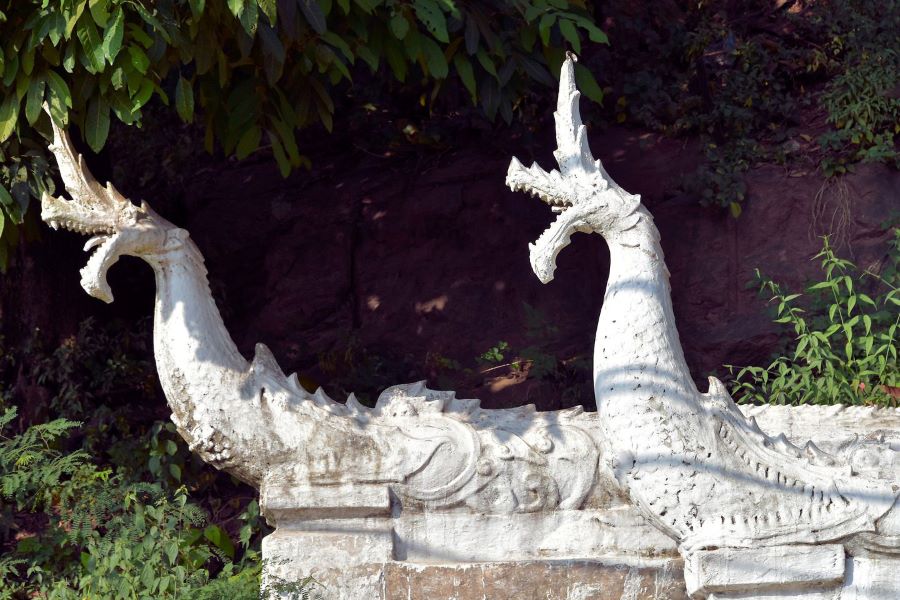 Day 07: Luang Prabang – Boat Trip (B, L)
After breakfast, you will be picked up and taken to a memorable activity, which is enjoying a cruise upstream on the Mekong River. Immerse yourself with the fascinating view of the tranquil countryside as well as an interesting visit to the mysterious of Pak Ou Caves. It will be a lovely way to see a little more of Laos village life and the beautiful Mekong River. Along the way, we will stop at the village of Ban Xanghai, where they make the distillation of local rice wine. In return, a short drive to Ban Xang Khong will give you an interesting experience on the place well known for its hand weaving. Afterward, you have your free afternoon to explore.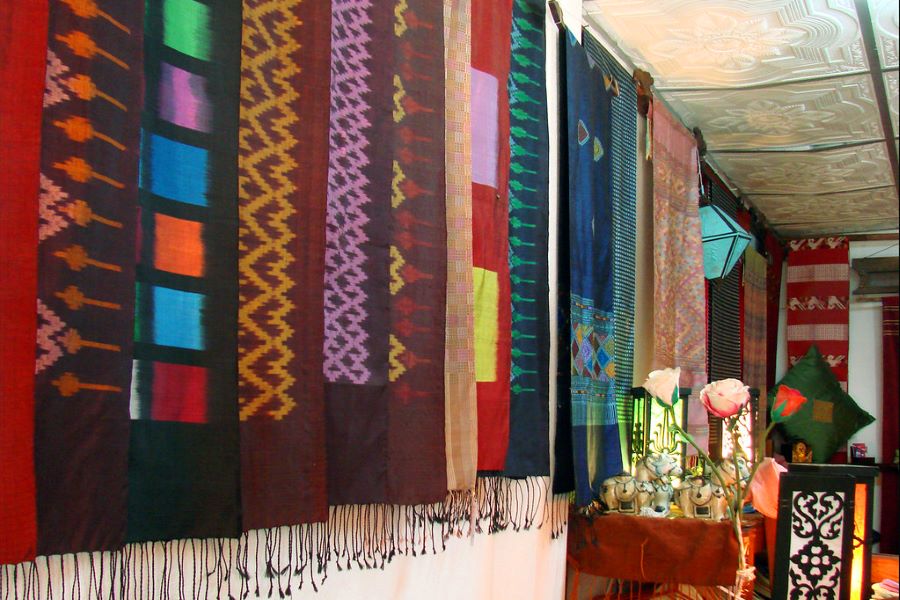 Day 08: Luang Prabang – Textile Village – Jewel and Elephant Camp (B, L)
After breakfast, drive out of town to explore the Jewel Land Elephant camp at Ban Ann. On the way, stop at a famous and well-known village, Ban Phom Nom, where most of those villagers are weavers. In the past, they used to be servants and made handicraft souvenirs for the last king of Laos. You also visit the Henrimouhot monument at Kang Noon, a French man, who founded Angkor Wat in Siem Reap, but he passed away at Kang Noon when he moved to Laos for his discovery.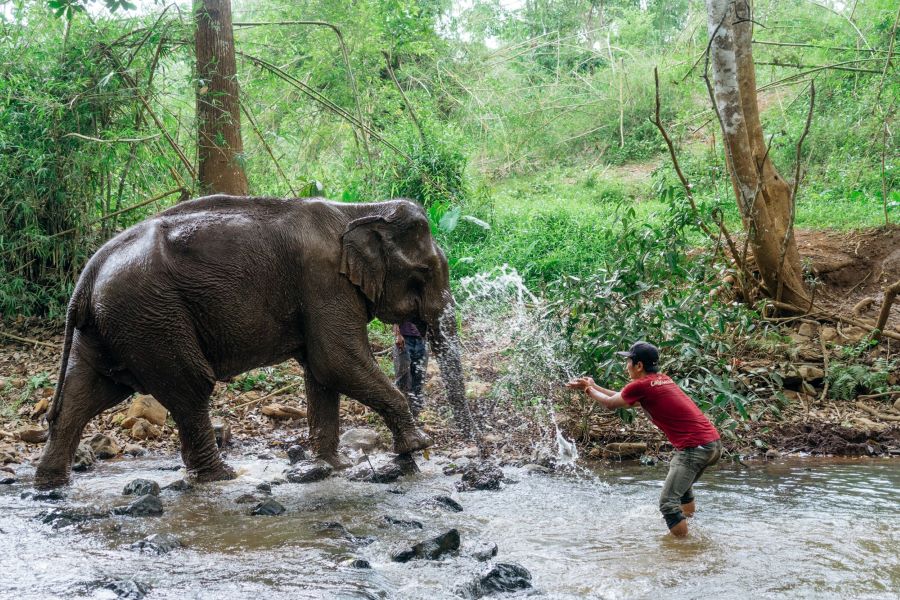 After that, continue to explore the Elephant camp, located in a private natural area up on a hill that is not open to the public. Upon arrival at the camp, you will meet an elephant mahout, be introduced to the elephants, and learn about their history and daily lifestyle. Interact and play with the elephants under mahout's supervision, ride or just walk alongside them and enjoy watching them play in the mud pond are some interesting activities. Also, learn to communicate with them and hơ to prepare nutritional food and desserts for them using various natural ingredients. Finally, returning to Luang Prabang and take free time to relax at your leisure.
Day 09: Luang Prabang – Flight to Hanoi (B)
After breakfast and your free morning, you will check out by midday and be taken to Luang Prabang Airport for a short flight to Hanoi. Upon arrival at Hanoi's Noi Bai Airport in the afternoon, our tour guide will assist you to check-in at the hotel and then, the rest of the day is yours.
Day 10: Hanoi – Full-day City Tour (B, L)
After breakfast, enjoy a full-day city tour of Hanoi. Start your day with a cyclo tour of the interesting Old Quarter – 136 streets in old-schooled French colonial style would present you the past days. Cycling ends in the Old Citadel, from where you will walk along the beautiful tree-lined boulevards until you get to Ba Dinh Square, Ho Chi Minh Complex, including Ho Chi Minh Mausoleum, The President Palace, The Humble House on Stilts, and One Pillar Pagoda. From here, you will start your walking tour.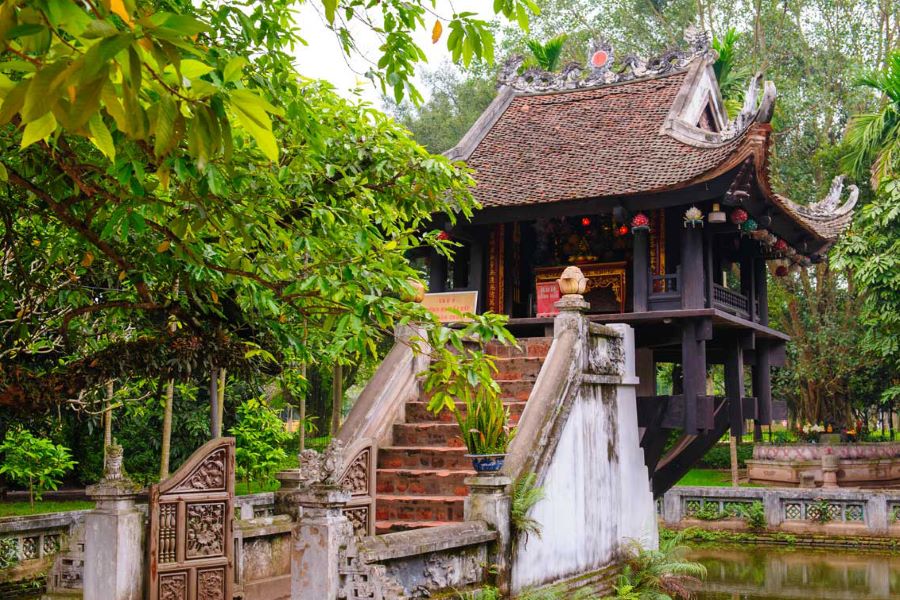 After that, continue your morning journey to visit the Temple of Literature and infamous 'Hanoi Hilton', also Hoa Lo Prison, was a prison used by the French colonists in Vietnam for political prisoners and later by North Vietnam for prisoners of war during the war.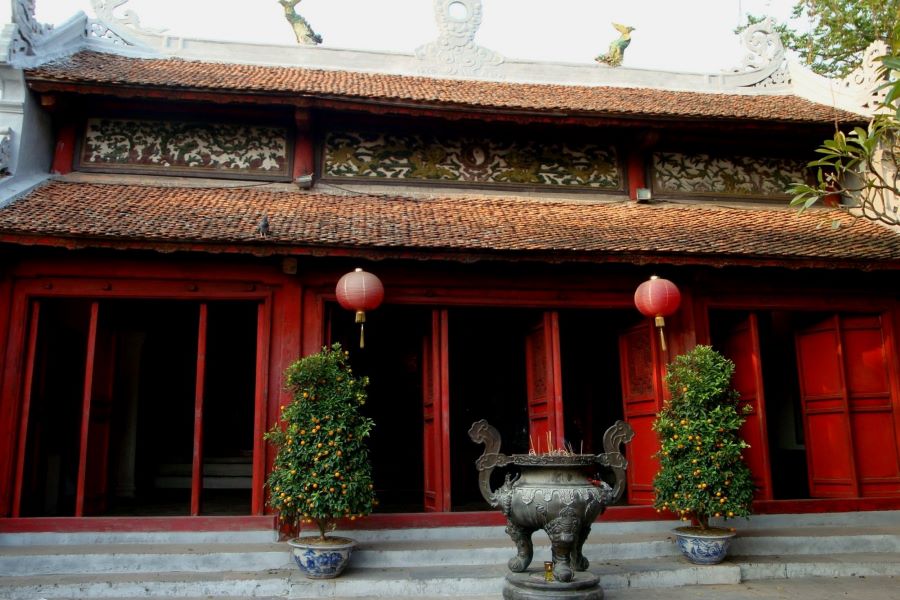 In the afternoon, enjoy a walk around Hoan Kiem Lake and visit Ngoc Son Temple. Then, you will have a chance to attend a performance of a traditional water puppet show, a typical northern Vietnam art form at the nearby Theater.
Day 11: Hanoi – Transfer to Sapa (B, D)
After breakfast, escape Hanoi heat and city noise, take a 5,5-hour road journey to Sapa, a mountainous town in Northern Vietnam. Sapa and its surrounding regions are home to a wide range of hill tribes, rice terraces, lush vegetation, and Fansipan, the highest peak in Indochina. Also, the remoteness and simple lifestyle of ethnic minority people are a highlight of Sapa.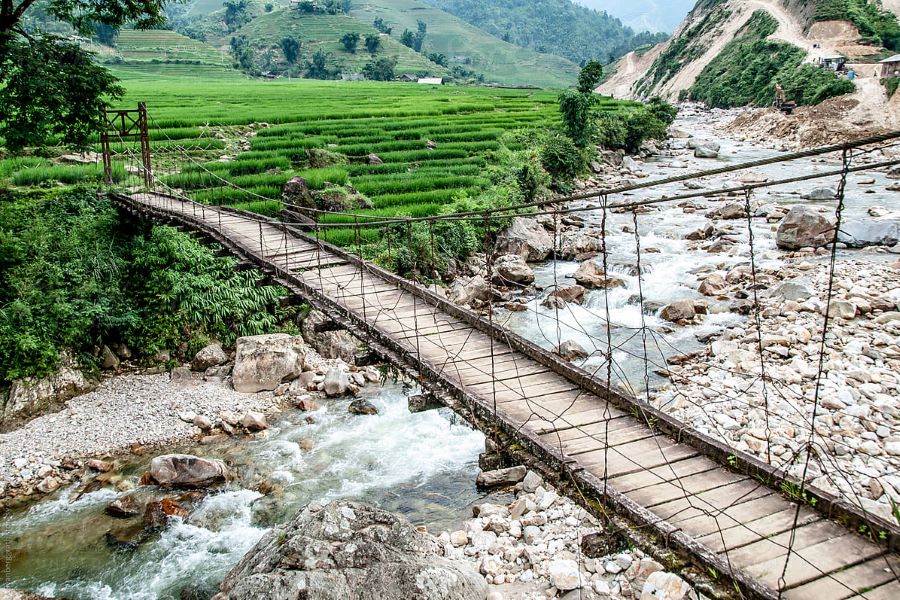 Your afternoon will be started by a walking visit to Sapa town, Sapa market. From here, tourists have a chance to discover the unique cultural features of ethnic minorities. The Sapa market is not only a place to exchange numerous kinds of commodity, local products but it also the opportunity of upland people to go to the fair, for the youth to encounter, get dating and show their affection through love songs, sounds of the flute, panpipe, etc. Then, take a drive to Lao Chai – Ta Van villages to meet and talk with Giay people and explore their daily life and breathtaking landscapes. Finally, enjoy a home-hosted dinner with the local family before return to town.
Day 12: Sapa – Explore Hill Village (B, L)
After breakfast and checkout, start your day with a trip to the lowest valley of Sapa. Along the way, you will have chances to marvel at the astonishing views of the largest terraced paddy fields and cornfields of the Sapa district.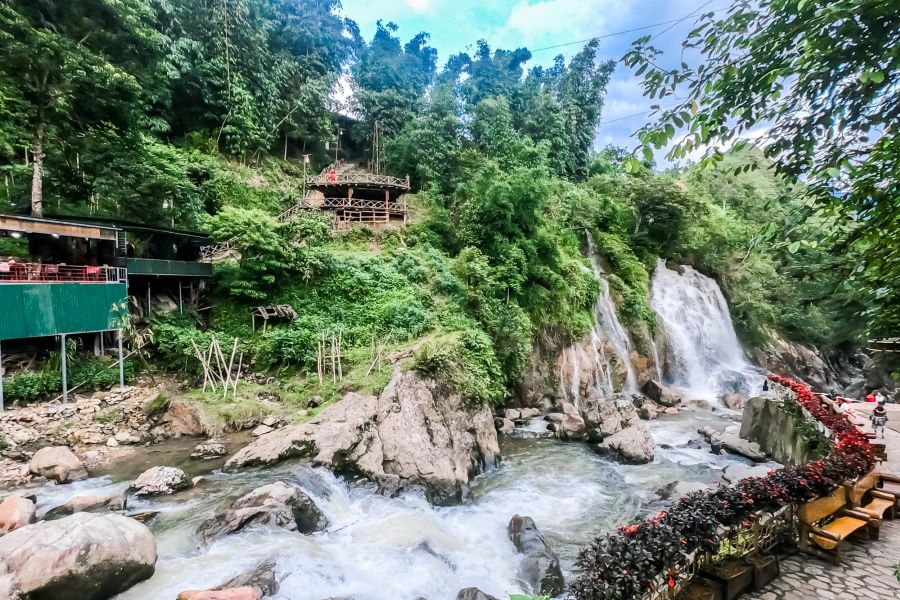 Pass Ban Ho village, you will ascend to My Son village, Nam Cang village, where you can learn and experience about the minorities' daily life, such as Xa Pho, Red Dao, and White H'mong. Stop at Nam Thang village, visit a minority home and then cross the suspension bridge. Along the way, you will soak up many waterfalls, together with stunning views of the lowest valley, paddy terraces, and buffalo houses on stilts. This wonderful 2-hour trip ends with lunch at a minority stilt house in Thanh Phu village. In the afternoon, you will return to Sapa and take free time for yourself.
Day 13: Sapa – Train back to Hanoi (B)
Your morning will be free for you to explore every corner of Sapa. Then, our tour guide will pick you up and drive you to Lao Cai station to board the long overnight train to Hanoi. It takes approximately 7 – 8 hours on the train.
Day 14: Hanoi – Halong Bay – Junk Boat (B, L, D)
Morning arrival in Hanoi, you will be picked up and transferred to the hotel. After breakfast, you will be taken through green rice paddy fields to Halong Bay to board our authentic traditional Vietnamese Junk sailing boat. Seafood lunch will be served on board while you cruise among the hundreds of islets of Halong Bay, a remarkable UNESCO World Heritage-listed site.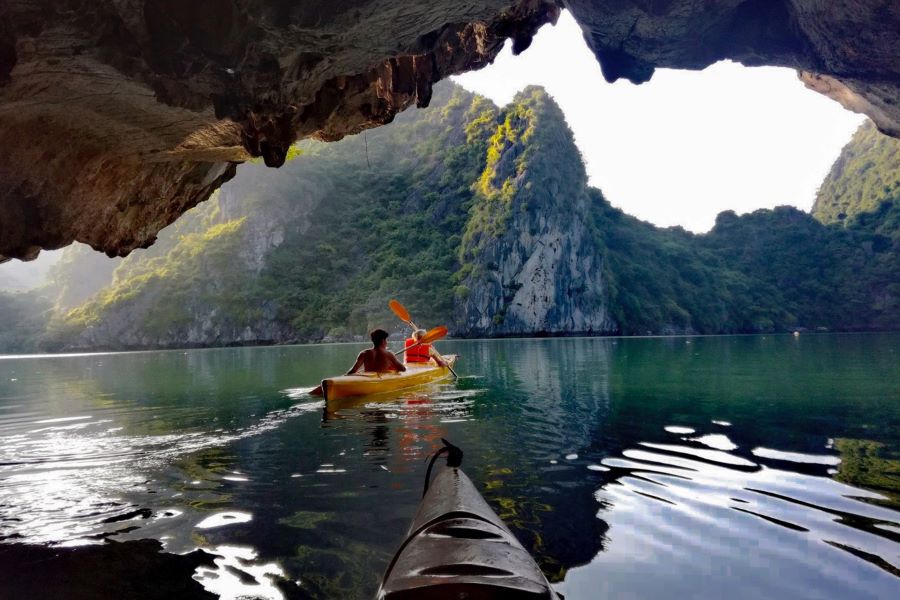 In the afternoon, take a short visit to Tiptop Island for Kayaking, swimming, and relaxation. Immerse yourself with the sunset before you drop anchor for a delicious meal and a peaceful overnight stay.
Day 15: Halong Bay – Hanoi – Flight to Hue (B, L)
Start your early morning by taking part in a Tai Chi class on the sundeck. Enjoy the peaceful and witness the sunrise on board, and then have breakfast. Next, take time to explore Sung Sot grotto, located in Bo Hon Island, which is one of the finest and widest grottoes of Halong Bay. Ascending to the cave, the road is surrounded by trees and foliage with great paved stone blocks. Then, you will return to the boat for check-out and brunch as you continue cruising amongst the islands and islets.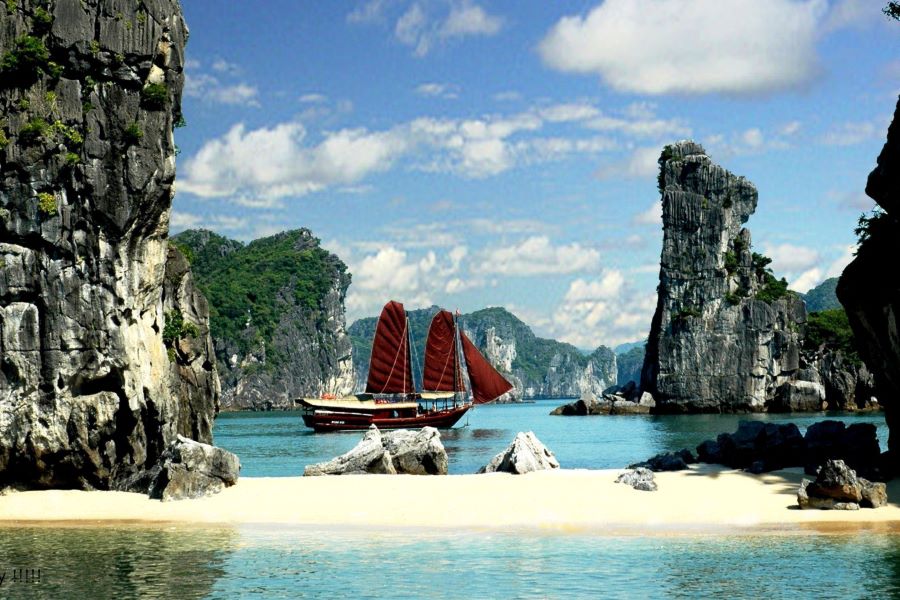 The afternoon is time to drive back to Hanoi Airport and take a short flight to Hue right then. Upon arrival in Hue, the rest of the day will be your leisure.
Day 16: Hue – Motorbike Tour (B, L)
After breakfast, you will see your private motorbike driver waiting for you at the hotel lobby. Spend all day discovering Hue by motorbikes. It will be an enjoyable and fascinating experience when riding through the lush fields and local villages visiting the major attractions of Hue. After a brief tour, you will be picked up (01 people per bike) and driven to the outskirts of the city, stop at Thanh Toan Bridge, a remarkable bridge built more than 200 years ago.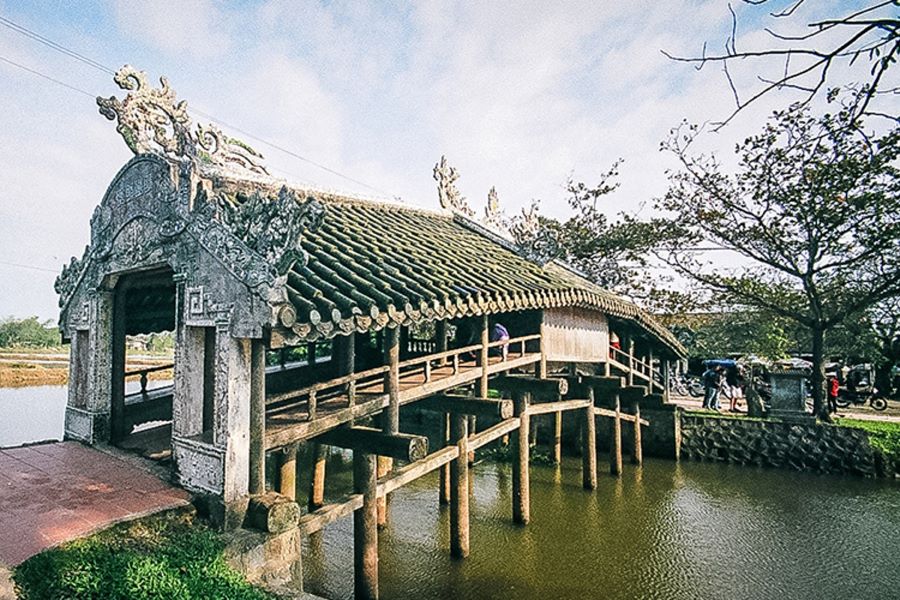 One of only two covered bridges in Vietnam, Thanh Toan has stood the test of time, lasting through wars, floods, and numerous storms. Carry on through the countryside to Thanh Tien, home to a long-lasting tradition of making beautiful paper flowers including chrysanthemums, orchids, and lotus designs. Witness the locals crafting these delicate creations and learn about their role in traditional Vietnamese culture.
After that, continue your motorbike journey to Sinh village, a scenic village located in the lower stretch of the Perfume River. Visit family-run workshops where skilled craftsmen make woodblock prints, another of Central Vietnam's ancient art forms. These handmade items are used during the Lunar New Year as burning effigies for ancestor worship.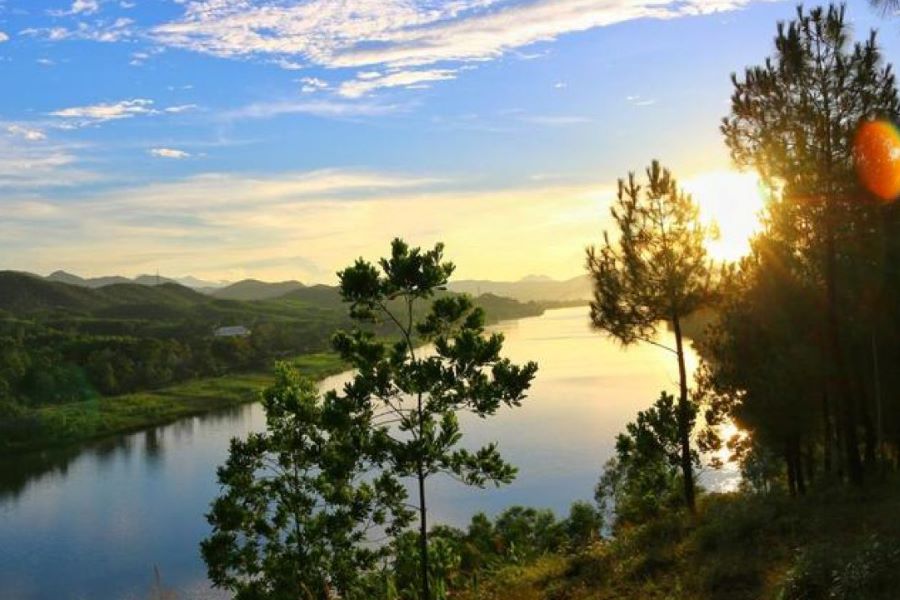 Following lunch, visit the Royal Tomb of Tu Duc King, the final resting place. Then, head to the nearby Vong Canh Hill to watch the stunning panorama view of the Perfume River below. Finally, you will return to visit the Forbidden Purple City, enjoy one last look at Hue by visiting the central Dong Ba Market, or walking across the historic Trang Tien Bridge to return to the hotel.
Day 17: Hue – Hoi An (B)
After breakfast, your private tour guide will pick you up and transfer you to the Ancient Town of Hoi An via Da Nang. It will take about a 4-hour scenic journey passing the coastline with some photos, stop en route at Lang Co Beach, Hai Van Pass, and the Marble Mountain.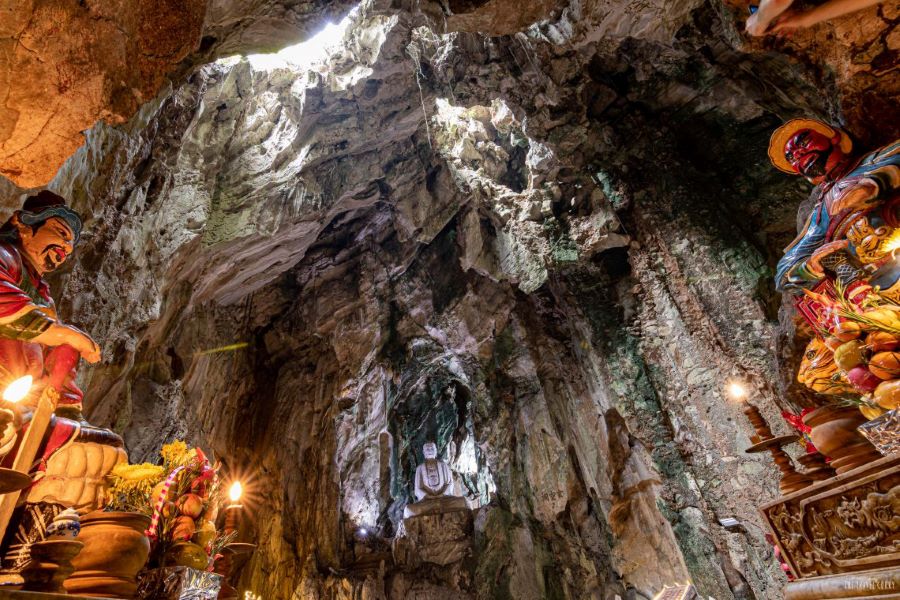 After checking in the hotel at midday, enjoy the rest of the day at your leisure. You can wander the peaceful lantern-lit streets of this picturesque town and get a whole new wardrobe from a tailor shop.
Day 18: Hoi An – Biking Excursion (B, L)
After breakfast, join in a cycling trip to visit Hoi An's attractive destinations: Japanese Bridge, Old Merchant House, China Assembly Halls, and some other interesting shops. Then, you will ride by bicycle to the home of a craftsman in the old street in Hoi An Town, where you will discover the daily life of Hoi An people and learn how they make a lantern. Taking part in making the lantern is a great activity and keeps it as a souvenir for yourself. Later walk deep into a narrow alley to reach a secret garden-like restaurant with a special lunch awaiting for you.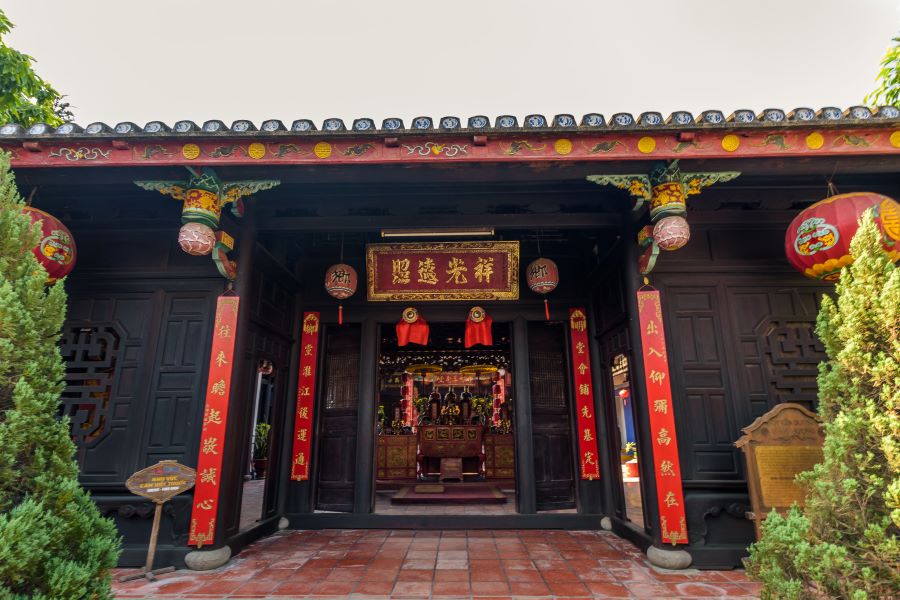 Following lunch, you will meet a fisherman at the shore and continue your step on Hoi An's special boat: Basket Boat, an activity where you can explore the jungle, learn about local fishing and crabbing, and about the history of the Vietnam War. During the basket boat tour, the local fisherman will show you how to row, how to catch fish and you can also join a basket boat race which is great fun. Finally, return to shore and enjoy the beautiful sunset on the boat. What a harvest!
Day 19: Hoi An – Free day
The whole day is free for you. You can join a Vietnamese cooking class or learn more about the ancient Champa civilization with a trip to My Son Cham Towers.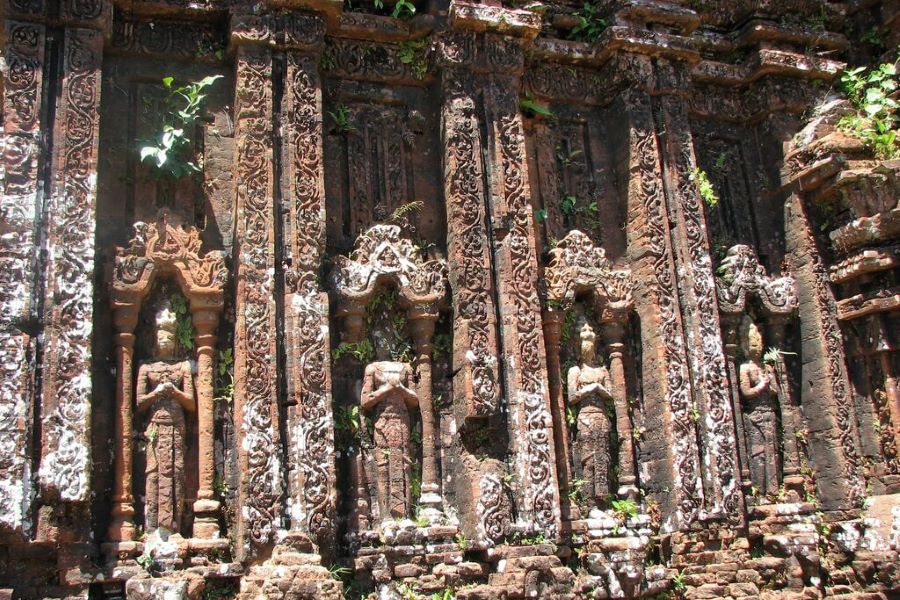 Day 20: Hoi An – Flight to Ho Chi Minh City (B, L)
After breakfast, you will be transferred to Da Nang International airport for a short flight to Ho Chi Minh City – a large, busy, and fascinating city. Formerly known as Saigon, this former capital is an electric blend of the traditional and the modern.
When arriving in Ho Chi Minh City, you will be picked up by your local guide and transferred downtown for a guided tour of this bustling city. The tour begins with a visit to Saigon Central Post Office, featuring unique architecture, great aesthetic, and historical values have deeply left an impression in tourist's mind. Next, head to the Saigon Notre Dame Cathedral, built in the late 1880s by French colonists, which is one of the few remaining strongholds of Catholicism in largely Buddhist Vietnam.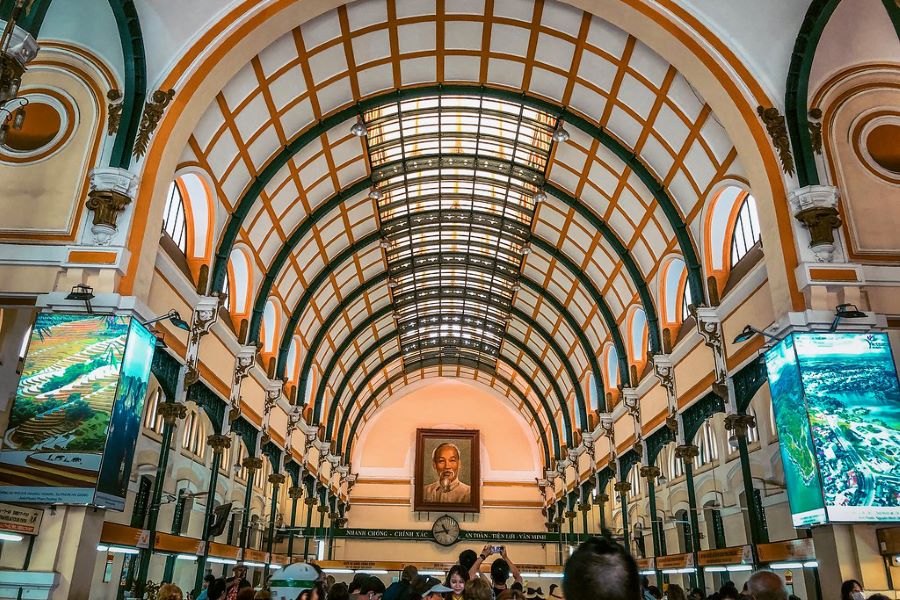 Additionally, you will pass the historic Ben Thanh Market – one of the symbols of Ho Chi Minh City. Not only it is home to trading, but the Ben Thanh Market has also become a historical witness looking on at numerous ups and downs of the city throughout nearly a hundred years. Here you can find various products such as local handicrafts, branded goods, Vietnamese art, and other souvenirs. Also, you can get a taste of hawker-style Vietnamese cuisine or simply cool off with a cold drink inside the market.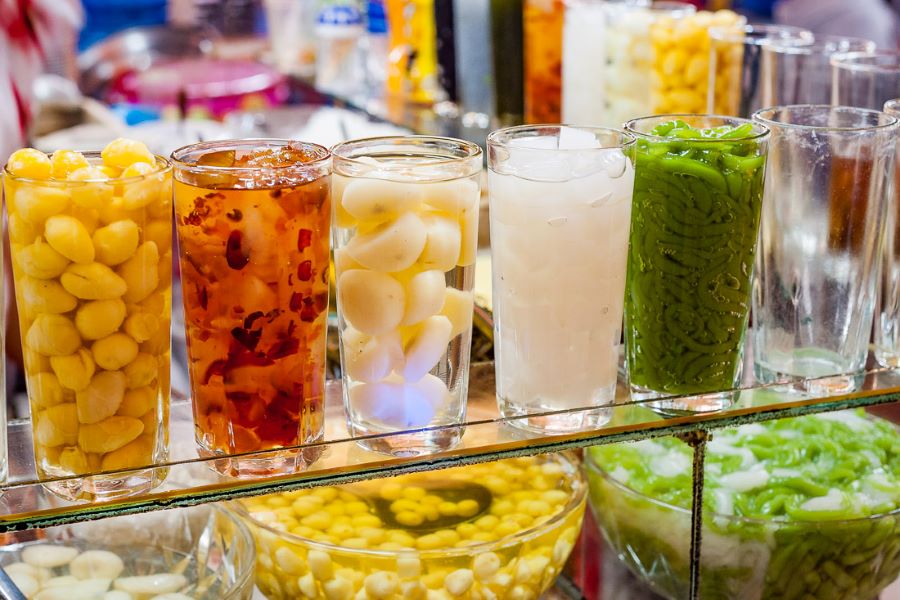 Day 21: Ho Chi Minh City – Cao Dai Temple – Cu Chi Tunnels (B, L)
After breakfast, you will take a 2-hour drive to the ornate temple of Cao Dai in Tay Ninh which is the combination of Buddhism, Christianity, Taoism, and Confucianism. Cao Dai temple has been considered as a Walt Disney fantasia of the East. One of the major highlights when visiting the temple is watching Caodiasts pray inside the temple.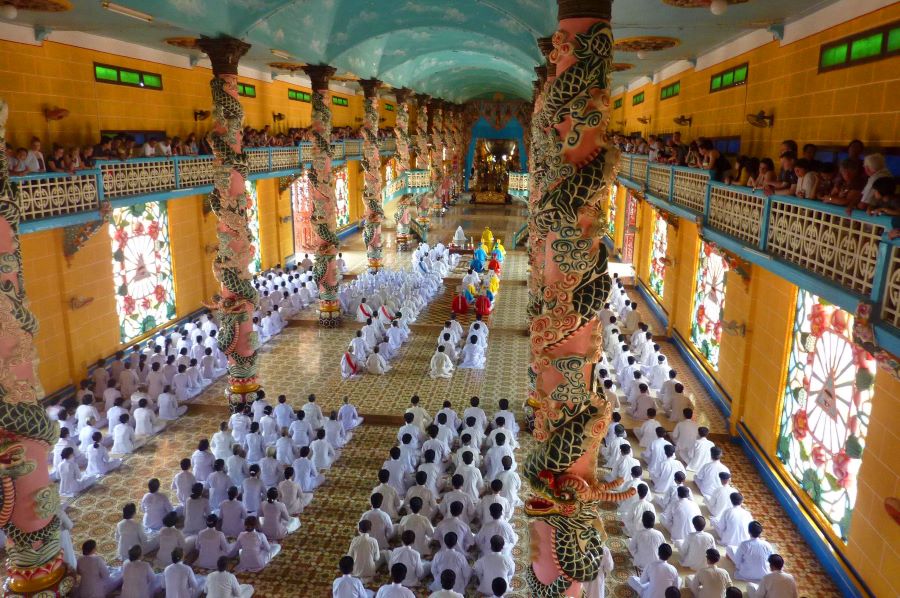 After lunch, you will be transferred back and stop to visit the Cu Chi Tunnels system, an amazing complex of underground tunnels used during the Vietnam War. The Cu Chi tunnels are a byzantine maze of underground passages, rooms, chambers, and booby traps used during the Vietnam war and a symbol of Vietnamese resilience. You will be able to get an idea of what it would have been like to live, sleep and eat in the underground passages and bunkers during the fierce battles. More, you have a chance to crawl through this amazing system of tunnels. For those interested in a more 'thrilling' experience, you can even test your shooting skills on original AK47s and other guns from past war times. Afterward, return to Ho Chi Minh City and take a rest.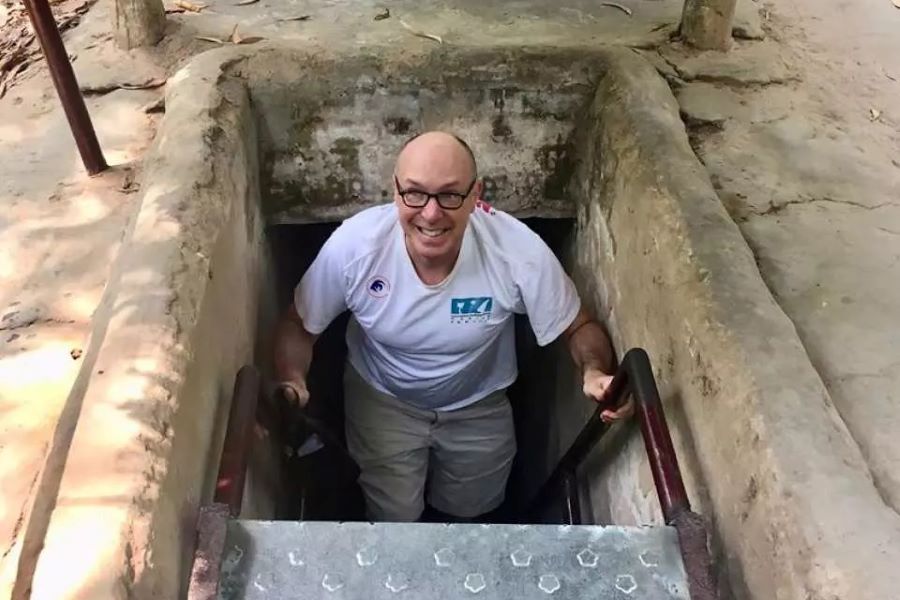 Day 22: Ho Chi Minh City – Vinh Long (B, L, D)
Leave the bustling Ho Chi Minh City to drive to Vinh Long in the early morning. A three-hour trip through the lush fields and farms will take you to the southernmost region of Vietnam – the Mekong Delta. Visit some of the most interesting boat trips in the delta – to the Cai Be floating market, coconut candy workshops, fruit orchards or even overnighting in homestays.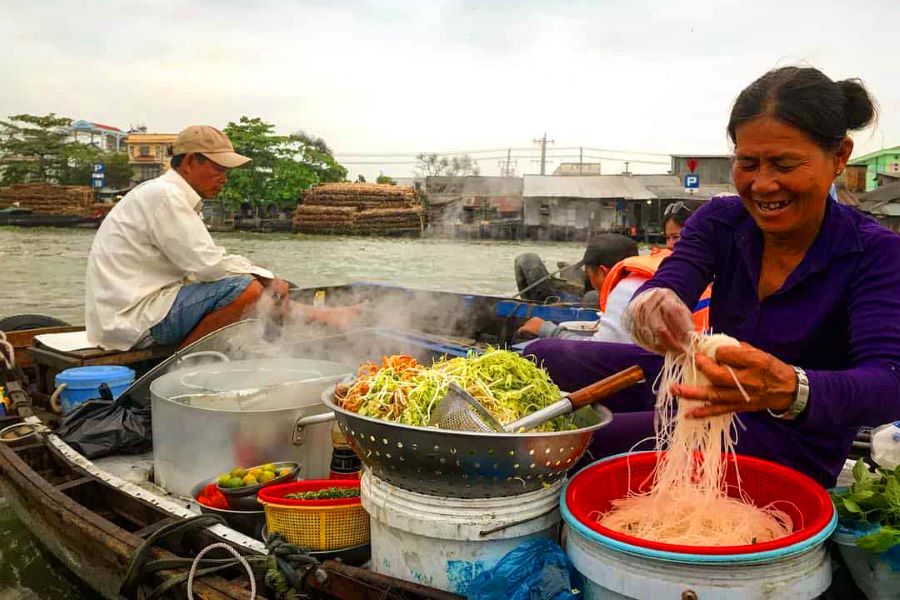 Upon arrival in Vinh Long, you will embark on a boat trip to visit local cottage industries such as the production of floor tiles, pottery, soya bean, and tofu. Additionally, you will visit one of the local orchards where you can enjoy some of the exotic fruit and have a taste of Mekong cuisine. In the late afternoon, you arrive at your homestay for relaxing. A delicious dinner has already been prepared and served by the host family.
Day 23: Vinh Long – Cai Be Floating Village – Ho Chi Minh City (B, L)
Start your morning journey with a motorized boat to visit the Cai Be Floating Market, explore how local people exchange goods, fruits, and many other commodities on their vessels. Next, we will onboard for an exploration of the lush vegetation of the Mekong Delta and the lively floating market buyers bargaining. Then a rowing boat rides on the maze of shady canals to arrive at a local orchard to enjoy the local tropical fruits and visit the daily activities in the handicraft village.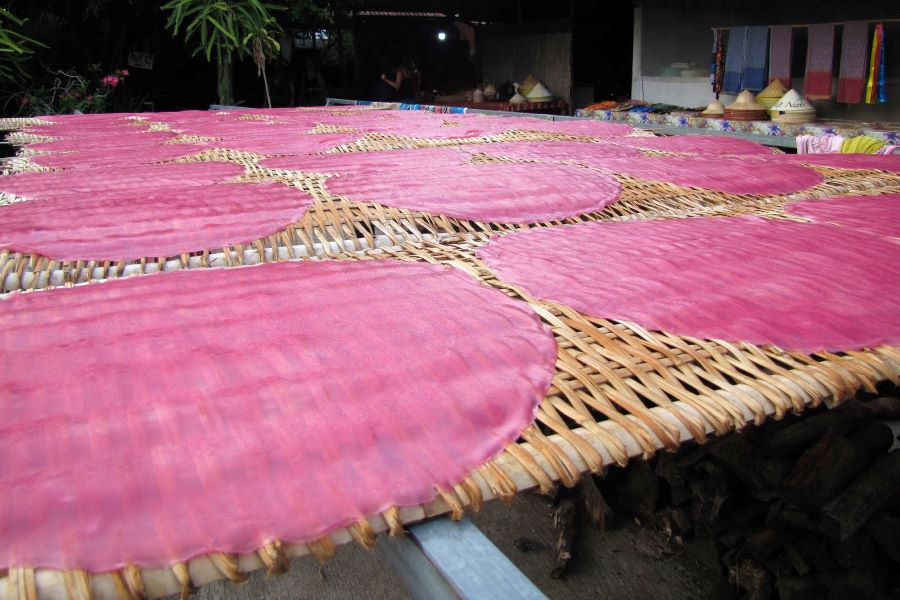 In detail, you will visit a family business where they make popular sweets such as coconut candy, pop rice cakes, and rice paper. Another activity is riding a bicycle to the villages, sightseeing, or relaxing on the hammock. In the afternoon, say goodbye to the wonderful outskirt to return to Ho Chi Minh City. Afterward, you can spend your time doing whatever you want.
Day 24: Ho Chi Minh City – Departure (B)
Your Indochina adventure draws to an end after your breakfast. Our private driver will pick you up and take you to Ho Chi Minh City's Tan Son Nhat Airport for your departure flight home. We wish you to have an unforgettable time with our Asia tour packages.