General Information
Tour Highlights
Head to the astonishing temples of Angkor consisting of Angkor Wat
Spend time in Battambang – a stunning colonial town with a genteel old-world feel.
Get to know Phnom Penh – Cambodia's arty capital city which is brimming with cafes, restaurants, and boutiques.
Discover the rarely visited mountains of Northern Laos to truly appreciate one of South East Asia's hidden gems.
Visit Hanoi to get to know about life in the north of Vietnam. Also, head into the countryside to see true rural culture outside of the city.
Tour Details
Duration: 23 Days/ 22 Nights
Start/ End: Vientiane / Siem Reap
Tour Route: Vientiane – Northern Laos – Luang Prabang – Hanoi – Mai Chau – Ninh Binh – Phnom Penh – Battambang – Siem Reap
Tour Type: Tailor-made tour
Tour Customizable: Definitely! Tell us your interest
Transportation: private air-conditioned vehicle and licensed driver
Guide Service: private English-speaking guide (Other languages upon request)
Brief Itinerary
Laos
Day 01 – 03: Vientiane
Day 04 – 07: Northern Laos
Day 08 – 10: Luang Prabang
Vietnam
Day 11 – 12: Hanoi
Day 13 – 14: Mai Chau
Day 15: Ninh Binh
Day 16: Ninh Binh Bear Sanctuary
Cambodia
Day 17 – 18: Phnom Penh
Day 19 – 20: Battambang
Day 21 – 23: Siem Reap & Angkor Wat
Full Itinerary
Day 01 – 03: Vientiane
Our trip begins in Vientiane – the quiet capital of Laos hugging the Mekong river. Wander along French-inspired boulevards and get into delicious breakfasts at one of the patisseries that rub shoulders with decorative temples. With your guide, discover the highlights of the city consisting of the French-inspired Patuxai Monument, the mysterious Buddha Park, and the insightful COPE center where you can learn about Laos' history as the most bombed country in the world.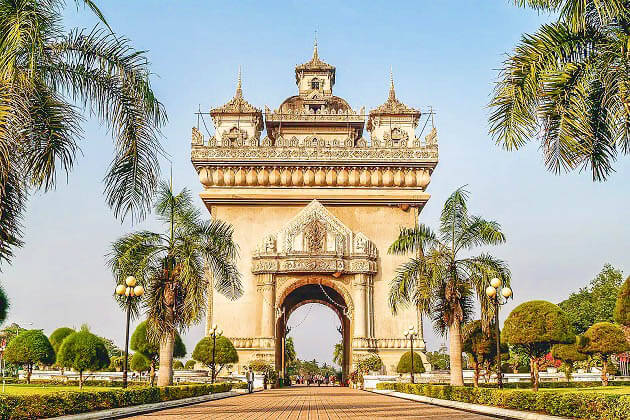 Day 04 – 07: Northern Laos
After 2 nights in Vientiane, you will take a quick flight toward northern Laos, landing in the mountain town of Oudomxay. From here, take a scenic 45-minute drive to Muang La Resort. This beautiful property is far off the tourist trail, and the surrounding area is perfect for trekking and discovering something new. We have included a fun half-day mountain biking excursion, as well as a half-day in a 4×4 car heading to local Ikhos tribal villages which are some of the most isolated communities in Laos.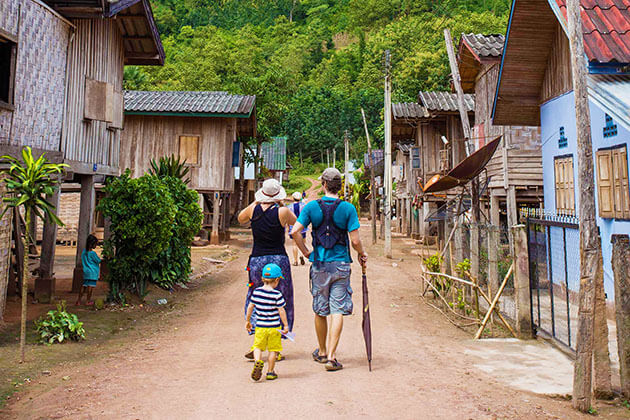 From Muang La you will be taken to the south by road and boat, admiring the astonishing scenery unfold before you, with dramatic limestone karsts and luminous green terraced paddy fields. During a night stop in Nong Khiaw, you and your guide will enjoy a 3-hour mountain trek past cascading waterfalls, stopping for a typical Lao picnic at the summit.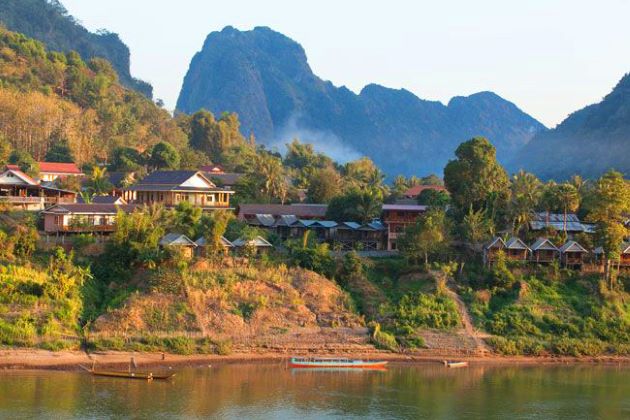 Day 08 – 10: Luang Prabang
The journey continues to Luang Prabang, It is crammed with unique old-world charm, colonial buildings accented with local designs, and quiet streets lined with boutiques, local restaurants, and museums. Staying here for 3 nights, you will spend a day relaxing at the mighty Kuang Si waterfall, swimming in the clear blue pools, or embarking on trekking up to the top of the main cascade to observe the water slip away from beneath you.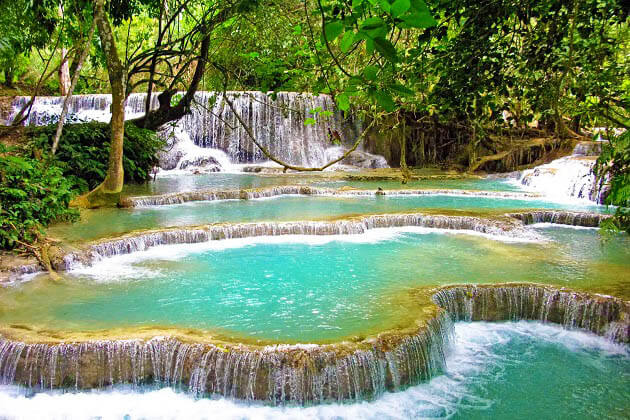 A full-day city walking tour will be a great opportunity to get a local's perspective on life in this unique town, heading to key locations such as the Royal Palace and the towering Mount Phousi, dominating the town center.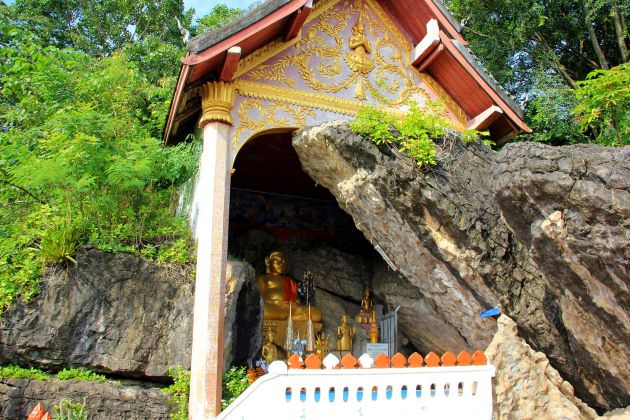 Day 11 – 12: Hanoi
Today, you will take a short flight to Hanoi – the capital of Vietnam. Stay 2 rights in the heart of the city next to the Hoan Kiem lake, just steps away from the inviting Old Quarter, and allow your guide to steer you through the thronging streets to find the landmarks like the house of 'Uncle Ho' and Ho Chi Minh Mausoleum to view the preserved body of the revolutionary leader of the former Democratic Republic of Vietnam. We finish our excursion at the Temple of Literature – the first university of Vietnam in the past. Your day 12 will be a free day. Relax at leisure and discover Hanoi your way.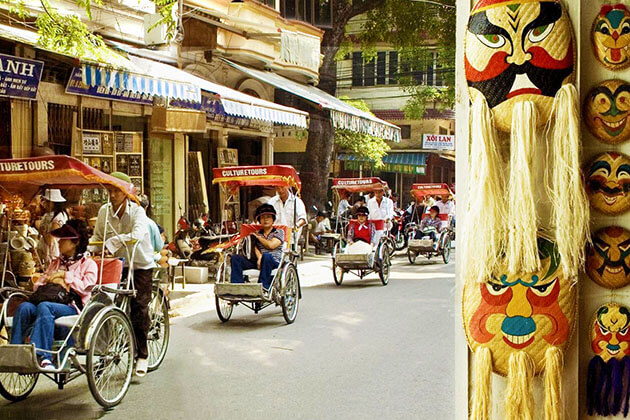 Day 13 – 14: Mai Chau
From Hanoi, take a 4-hour drive toward the west to the pretty and verdant scenery of Mai Chau. Stay at an enchanting lodge and discover on foot or in the local area and meet the friendly locals. Hop on a bicycle and go with your guide through towns and villages, marveling at the scenery and stopping to speak to the naturally welcoming and curious villagers, some of whom will be thrilled to have a chance to practice their English.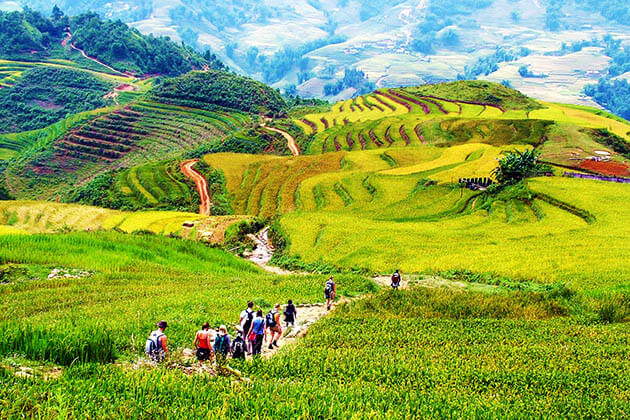 Day 15: Ninh Binh
From Mai Chau, leave the lush fields behind and head to the dramatic mountain scenery of Ninh Binh. Spend a day in one of the several old-aged capitals of Vietnam and admire the intricate lacquer-work of the Dinh and Le Dynasty Temples. Also, you can take a traditional sampan ride through the flooded scenery of Tam Coc, striving to spot endangered monkeys perched high above you on the limestone crags. Tam Coc is prevalently considered the 'Halong Bay on land' and is a great alternative to going to the often-crowded bay.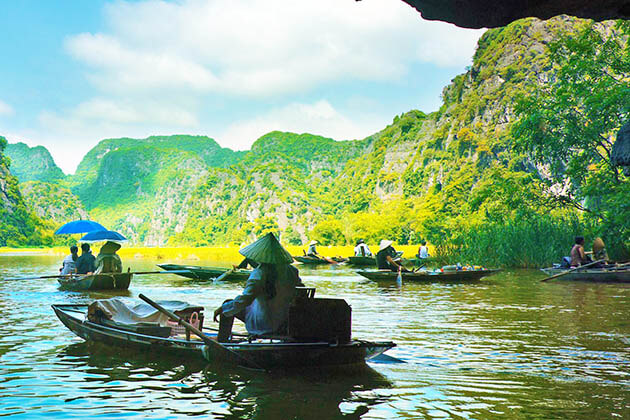 Day 16: Ninh Binh – Bear Sanctuary
Today, we head to Ninh Binh Bear Sanctuary – the only sanctuary in Southern Vietnam where black bears are seriously protected. Once there, it is your chance to witness naught; however adorable black bears playing, seeking food, or even sitting inertly to think about something that we will never know. If you want. you can enjoy a program of preparing food for them. Each bear in the sanctuary has its own name and each name regards a specific history of each. You will have a great time in the Bear Sanctuary in Ninh Binh. Lunch at the Sanctuary (vegetarian meal only) and take a drive back to Hanoi, in the afternoon.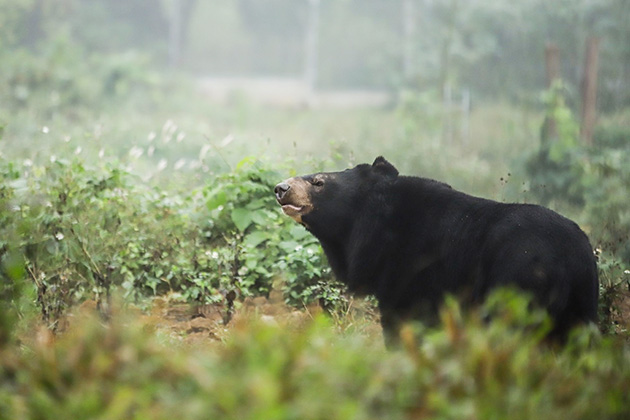 Day 17 – 18: Phnom Penh
Take a scenic two to three-hour drive back to Hanoi airport and fly southwest to Phnom Penh, the growing riverside capital of Cambodia. 2 nights here is the perfect introduction to Cambodia; visit 19th and 20th-century colonial buildings, explore the Tuol Sleng Genocide Museum and head out to the Killing Fields at Choeung Ek. Cambodia's recent history is sobering; however, with our talented guides, you will be introduced to it in an educational and informative way.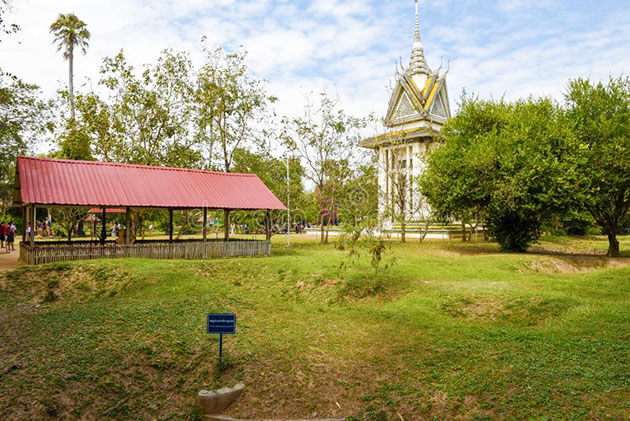 Day 19 – 20: Battambang
From Phnom Penh, you will take a long (about 5 hours), but scenic drive to Battambang – a small colonial city halfway between Tonle Sap lake and the Thai border. There's not a great deal to do here so you can get into some well-earned downtime strolling along the river banks and its genteel colonial streets, passing the time in enchanting cafes and absorbing its old-world charm. Your guide will join you for a half-day biking trip through the town and surrounding countryside, and we thoroughly recommend you pay a visit to the internationally famous Phare circus which was founded by an organization that helps to educate and train disadvantaged Cambodian youths in the area.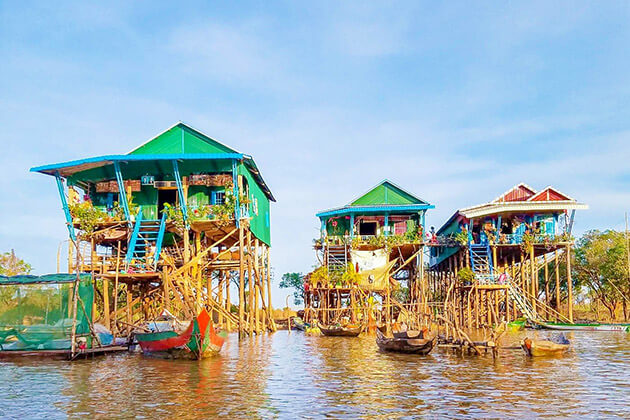 Day 21 – 23: Siem Reap & Angkor Wat
Your final stop is the vibrant tourist town of Siem Reap, the entry point to the astonishing Angkor temples consisting of the renowned Angkor Wat. Once a small town, Siem Reap is now brimming with beautiful hotels, boutiques, and restaurants, and from here, with our experienced guides, you'll visit hidden corners of Angkor, getting away from the crowds before we head out to popular areas such as Angkor Thom, just after the tour groups have left. Witnessing the sunrise behind the awe-inspiring Angkor Wat as your trip draws to a close. Siem Reap is more than just a base for temple bashing because once here, you can also choose to enjoy a private dinner in a paddy field, get into a helicopter flight, enjoy a cooking class or take a private cruise on Tonle Sap Lake.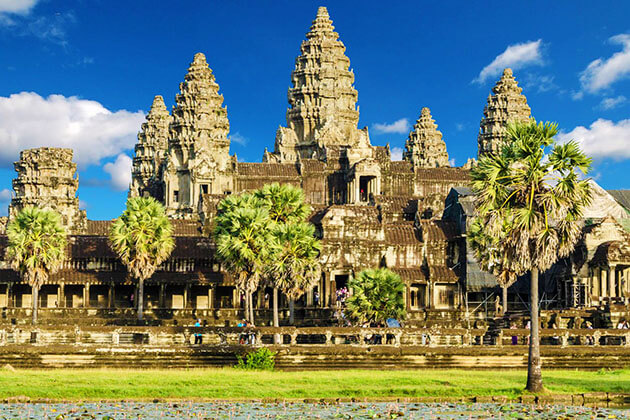 Your Asia vacation ends. Hope you enjoyed it and wish that we could serve you next time. Safe flight.