Laos is an attractive and peaceful destination and enriched with unique culture and traditions. If it is possible, why don't you guys get yourselves an exhilarating trip to Laos to be high on life? However, we are talking about Laos souvenirs – the best things to take home after your trip. Do not waste your time anymore, in this article, you will find the best souvenirs in Laos regardless of what you looking for is an authentic traditional item or a unique gift that cannot be found elsewhere.
7 Best Laos Traditional Souvenirs to Buy
Silk and Textile Weaving
Making textile has been a popular tradition in Lao culture since the 14th century. It is special because the entire process is handmade, from obtaining the silk from the worms to dyeing and weaving. You will find most houses in rural areas to have a wooden loom. The men of the house build them so that the women can use them to make textiles. They will then teach their children to weave and the tradition is passed down through dozens of generations.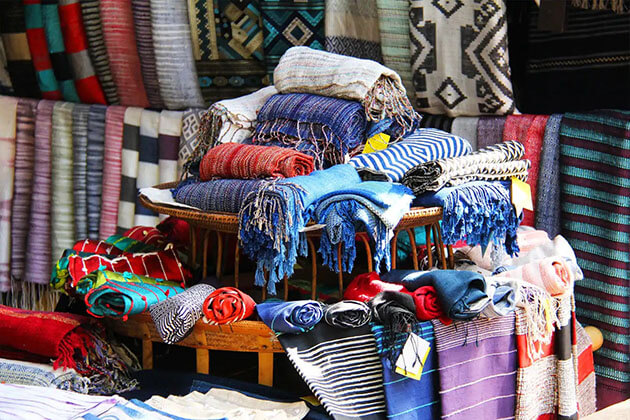 These elegant souvenirs are best found in Ok Pop Tok – a stunning craft center set in a tropical garden next to the Mekong River in Luang Prabang. Another recommended destination is the Ban Xang Khong village, which is only 5km from the center of Luang Prabang. Here, tourists will have the chance to see how natural silk is made and learn about the different regional patterns.
Hand-made Home Decor Items
The perfect combination of rustic wood and creative, skillful artists creates unique wood artworks, luxury home decor, and unique furniture. Art colored-pencil tables, wine glass holders, and rustic wall clocks are born with the purpose to brighten up the living space and raise the inspiration for their owners. Travelers from the USA & Canada can acquire an amazing item after the trip cause it is recently available on Amazon.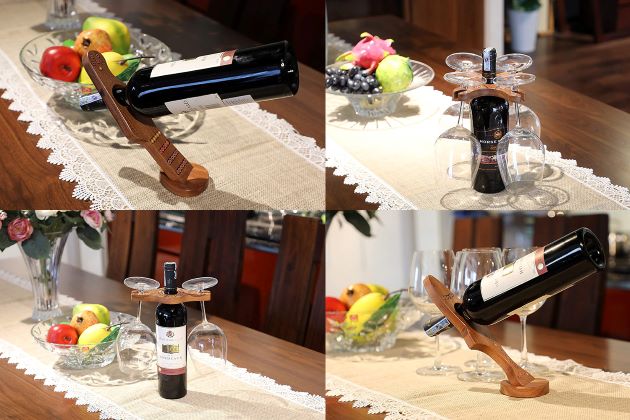 Wood Carvings
Buddha and other types of sculptures is a very popular souvenir, which can be found in most markets in big travel destinations like Pakse, Vientiane or Luang Prabang. Among which, the best place to visit is a village in southern Laos named Ban Nong Bueng that specializes in wood carving. Here, travelers are welcomed to meet the artisans and ask them about their work. The village was built since the 1800s by the Ta Oy people. Apart from wood sculptures, visitors can also buy traditional masks, candleholders, or paperweights that are custom-made. This one would be an interestingly unique wood artwork for your family or even your friends.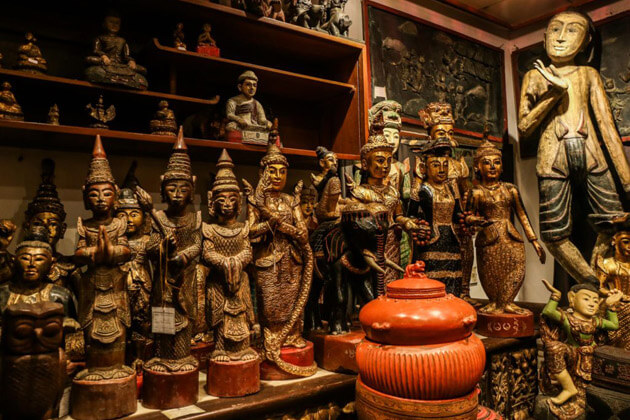 Silver and Gold
Like textiles, silver and gold making has also been an old tradition in Laos. With special tools, local silversmiths can create exquisite designs that imitate the shapes of Buddha, characters in Lao traditional culture or natural sceneries. Laos has many active gold and silver mines that are the main source of material to make these souvenirs. With excellent purity of 99% for gold and 96-98%% for silver, the price is significantly lower than items that are sold elsewhere. However, tourists should beware of imitations or scams. It is best to shop in a big, authentic store or try out the Night Market in Luang Prabang or the Hmong Street Market.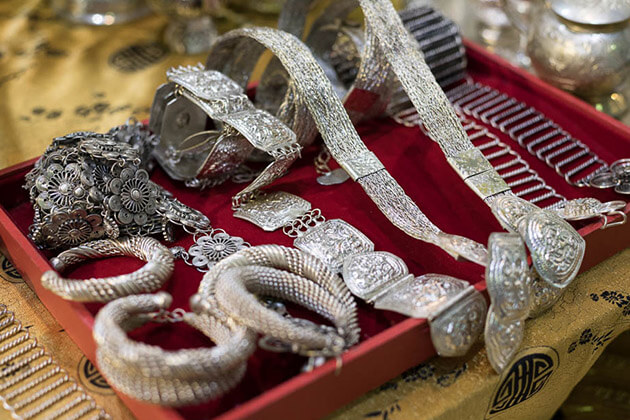 Sinh – Lao Traditional Skirt
Sinh is the name for the traditional skirt of Laos, which is worn by women when attending ceremonies, girls going to school or government officials going in public. It is a big, cylindrical tube skirt that is ankle-length. It is a significant costume with the simple but charming geometric pattern in the body and ornately embroidered animals or patterns in the bottom.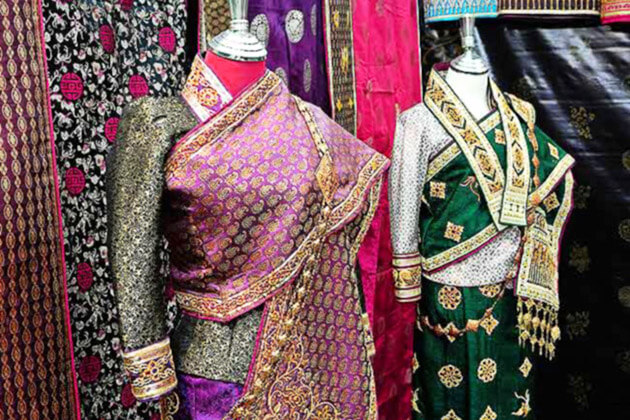 Tourists can easily find beautifully embroidered pre-made Sinh or have the local tailor-made one with their own preferred fabric and design. Together with the same colored silk blouse and you will have an authentic Lao traditional outfit – a perfect souvenir for yourself or a lovely gift for your loved one. On the way of getting into the multi country Asia tours, if you guys have opportunities to travel to Laos, you should consider having this awesome Laos souvenir.
Woven Baskets
If you travel to the rural areas in Laos, you will find that the woven basket is a very common household item. They are often made from thin strips of bamboo or rattan stalks, which is a native plant grown in the wild. These baskets are very handy, the locals usually use them to store rice and other agricultural products. Although textile weaving is done only by women, making bamboo baskets or rattan vessels is mostly done by elderly men.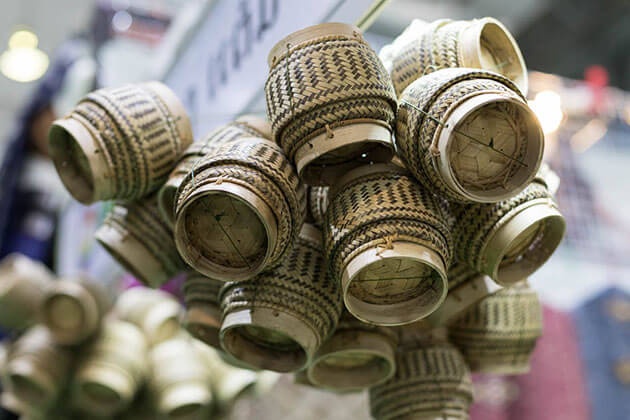 These inexpensive souvenirs can be purchased in most travel destinations and they make a great environmental-friendly and authentic gift. And if you are interested in making one for yourself, visit the workshops and classes at Backstreet Academy or Ock Pop Tok in Luang Prabang.
Coffee
Laos has a region called Bolaven Plateau, which is famous for growing coffee. With cool weather, abundant rainfall and high elevations above sea level, these ideal conditions help this region makes up more than 90% of all the coffee grown in Laos. The coffee plant was first introduced to Laos by the French in the late 19th century. The most popular type in Laos now is Robusta, but the sweet Arabica bean is also a good choice.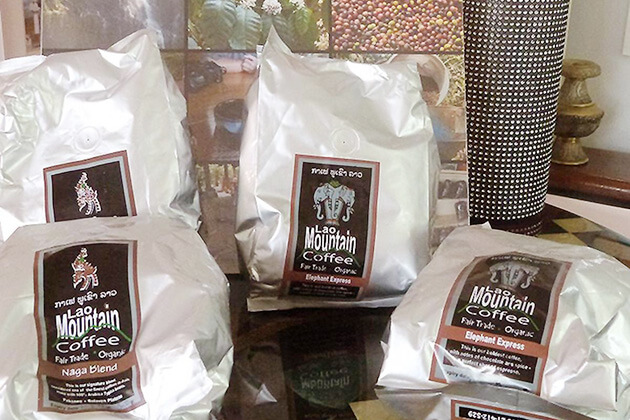 There are more than 20,000 farming families in Bolaven Plateau and most of them use organic farming techniques. Therefore, coffee is the best souvenir for those who love healthy food and want to promote ecological balance. Sinouk is one of the biggest coffee brands in Laos, they offer tours to their plantations in Bolaven Plateau where visitors can participate in harvesting and processing coffee.
Art paintings
Among Laos souvenirs above, this item is also a well-worth one to buy. A lot of tourists, especially art-lovers, like to choose paintings as a souvenir for their trip to Laos. These gifts are sold commonly in every night market and even by the rivers for the tourists going on boat tours. Buying them is a good way to encourage local artists. There are also many galleries and some professional exhibitions with high-quality art for you to choose from. For example, the National Institute of Fine Art in Vientiane is full of paintings, sculptures, and installations made by its talented students and staff.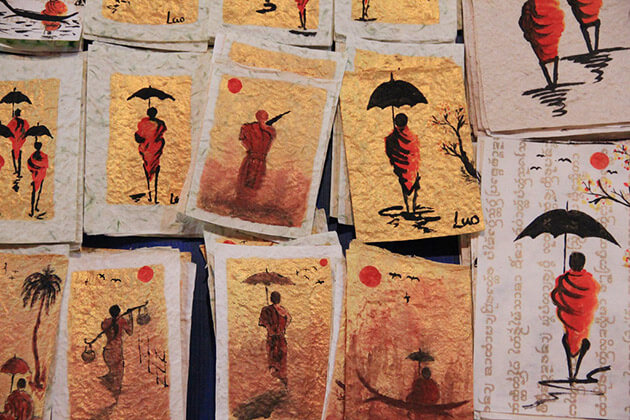 3 Unique and Wonderful Laos Souvenirs
Champa Flower
Laos people have chosen the Champa flower (Plumeria alba) to be their national flower. It is a beautiful type of flower that has five white petals and a bright yellow center. The flower is a common decorative pattern, which can be found almost anywhere in Laos. From embroidered traditional costumes, printed T-shirts to jewelry and pieces of souvenir magnet, Champa is the perfect symbol for Laos simple but delicate beauty. You can also buy incenses and essential oils to bring the sweet-smelling of Champa to your home.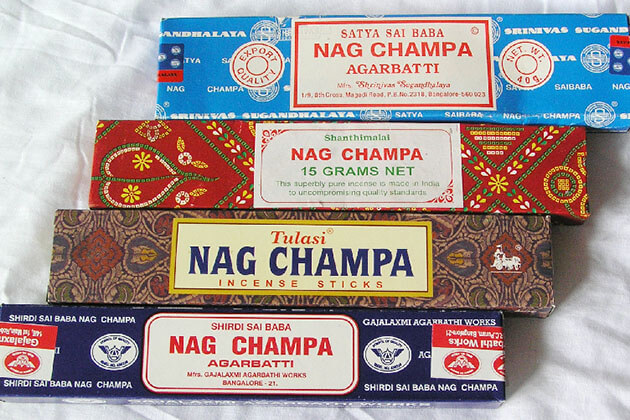 LAO Bumper Sticker
In the past, if you registered a new vehicle in Laos, you must put a white round sticker with the word LAO to present the country code. So as you can imagine, these stickers were on every road. Nowadays, the country code is integrated into the license plate, so the sticker is not compulsory anymore. Instead, it became a souvenir for the locals to reminisce about the old days. If you want to find something special or inexpensive but has a good background story, go ahead and buy some of these little stickers, they can be found in gift shops throughout the country.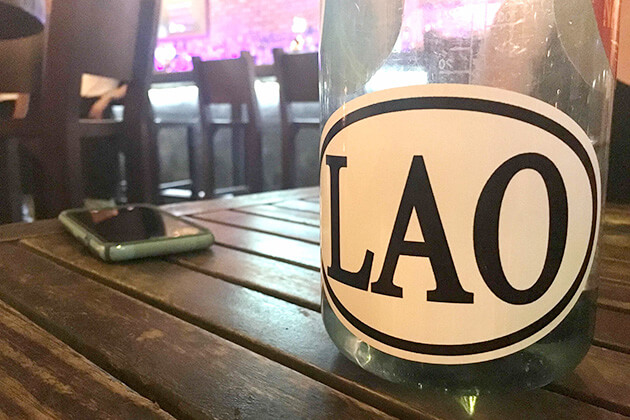 Handicraft Items from Lao Disabled Women's Development Centre Handicrafts
Founded by the Ministry of Social Welfare and Labor of Laos, Disabled Women's Development Centre is an organization that aims to help disabled women in the country. Situated near the Thai-Lao Friendship Bridge in Vientiane, the center offers training courses to teach physically and mentally disabled women how to make handcraft products to earn a living. We highly recommend you to come here and shop for beautiful items made by these women to encourage and support their incredible effort and talent. There is a wide range of different souvenirs for you to choose from: decorated cards, paper crafts, embroidered garments or textiles. These are the best souvenir in Laos if you want to contribute to the local community.