In my very first Asia vacation, I had the chance to visit Laos – a country which I hadn't known much about previously. I was so surprised by how amazing Laos was! I get to see splendid waterfalls, visit sacred religious sites and talk to the friendly locals. But above all, I think the delicious Laos cuisine is what I love the most about my trip. The food here is a brilliant combination of vibrant taste and lively colors that put your taste-buds on a wild ride. Sounds appealing right? Therefore, I have made a list of the top 15 most famous Lao dishes for you to try when traveling here. I recommend exploring street food and local markets for an authentic and unique culinary experience if you are an adventurous traveler.
Top 6 Most Famous Laos Food
Larb (Minced Meat Salad)
Larb is one of the most popular dishes in Laos, and it is even considered to be the national dish. Larb has minced meat as the main ingredient. There are Larbs made with beef, chicken, pork, fish, or duck. Other ingredients are fresh herbs, ground rice, and flavored with fermented fish sauce and lime juice. Like most other Laos food, it is often served with chili. So if you prefer your food non-spicy, make sure to ask the waiter to leave them out. Larb is best eaten when pairing with sticky rice.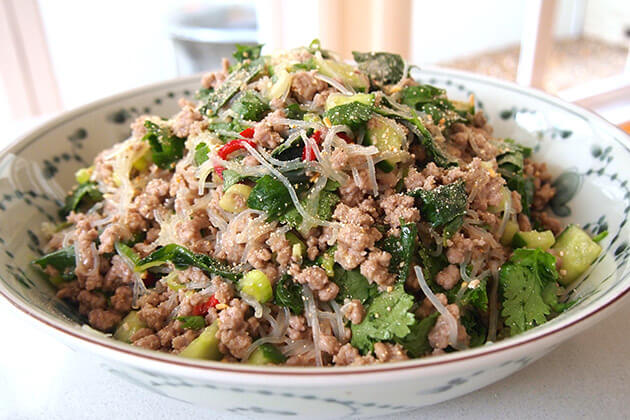 Nam Khao Tod (Crispy Rice Salad)
Nam Khao Tod is a very popular Lao salad, mainly served as an appetizer. It originated from a small port village named Tha Deua in Vientiane. The dish is made from deep-fried rice balls, diced soured pork sausage, roasted peanuts, grated fresh coconut, dried chili, and other ingredients, seasoned with fish sauce.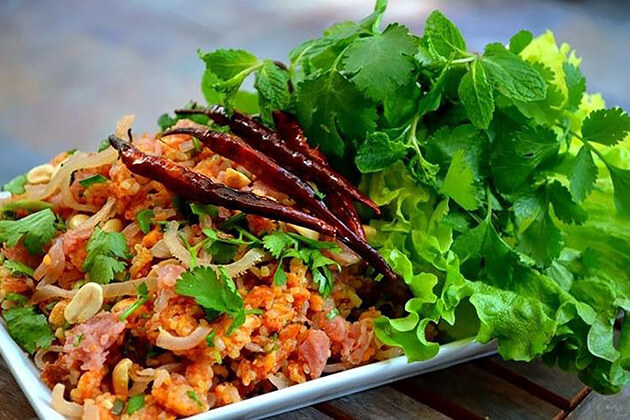 Nam Khao Tod is eaten by using a lettuce leaf to wrap around a scoop of salad mixture, topped up with fresh herbs and dried chilis. This dish is becoming more popular in Western countries because of the expansion of Laos cuisine there. However, as I had tried Nam Khao Tod in Laos, I can guarantee you that nothing can beat the truly authentic taste here.
Khao Piak Sen (Wet Noodles)
This dish name means "wet rice strands" and it is a part of Laos traditional cuisine. It is chewy like Udon noodles of the Japanese, but instead of wheat, it is made with rice flour. Khao Piak Sen is a common dish throughout both Laos and Vietnam, and it is a cuisine icon that most travelers put into their must-try list.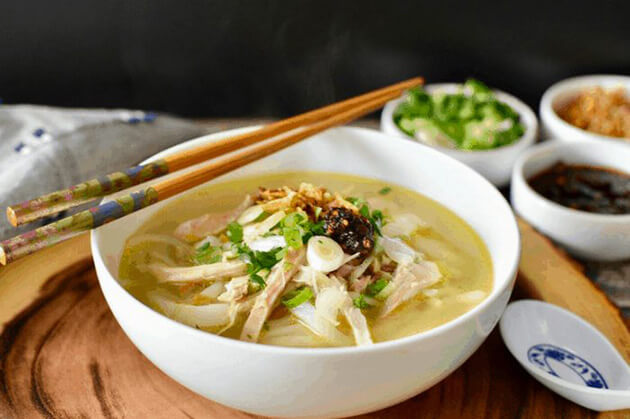 The main ingredients are chicken or pork and a handful of fresh herbs like galangal, lemongrass, garlic, shallots, coriander, bean sprouts and served with a little bit of lime juice for some extra sourness. The most important part when preparing Khao Piak Sen is making the broth, which means slow cooking the bones for a naturally sweet taste. The locals usually have this dish as a comfort dish for cold days. Diners are encouraged to put in extra chili, fish sauce, sugar or soy sauce to match their tastes.
Mok
When traveling Laos, I learned that "Mok" isn't just one dish, it is the name given to all types of food that are wrapped and then cooked in banana or taro leaf. There are so many different combinations of the filling inside and you couldn't tell which one is which by looking because they are wrapped in the same way.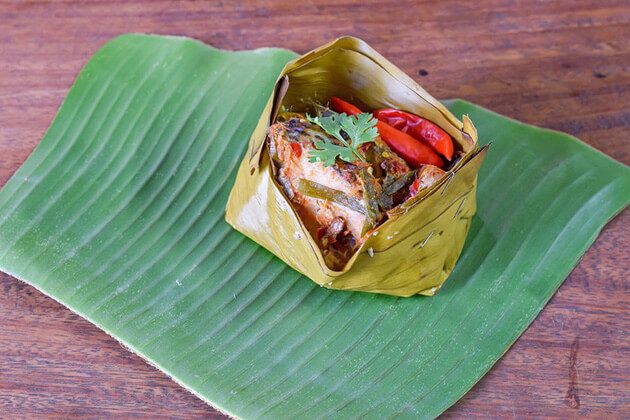 Of course, you can ask the vendor but it is much more exciting to open and see it for yourself. The filling can be fish, herbs, spices or one ingredient that you could never think of – pig brain! Mok is cooked by steaming or grilling and served with sticky rice. I recommend trying all the variations to find what you like best, especially the pig brain version called Mok Samong, it is much more delicious than you thought!
Jaew
In Laos, most people would agree that if the dipping sauce is not good, the whole meal is less appetizing. All kinds of dipping sauce in Laos are called "Jaew" and there are dozens of variations of them, each would match with the flavor of a certain main dish. Jaew is a combination of fresh chili, grilled vegetables, and sometimes added with garlic and fermented fish. It is made by grinding all the ingredients in a pair of mortar and pestle made of wood or stone,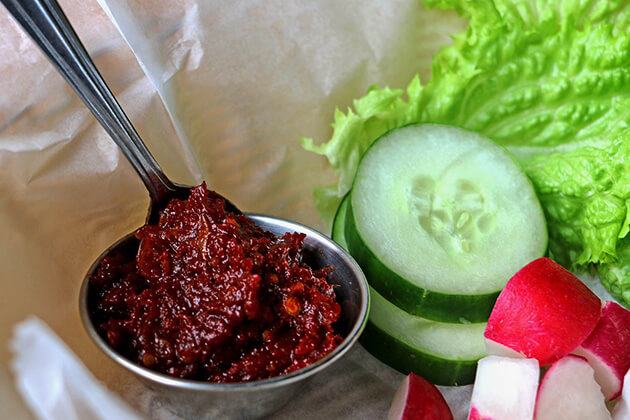 The pounding action helps strengthen all the taste, especially the smoky flavor of the grilled vegetable. The most popular version of Jaew is made with Pa Daek – clay-pot fermented fish sauce. This dish will bring you the "one of a kind" taste that can never be found elsewhere. Then I have other variations known as Jaew Ma-Keua, which is made with roasted eggplant and Jaew Moo, made with pork meat and pork rinds. This dish is eaten with sticky rice or vegetables and can be found easily all across Laos.
Paeng Pet
To all the adventurous travelers out there, you must not miss the chance to visit Laos and try Paeng Pet. Why? Because it is an amazing salad that is made with raw animal blood. I know raw blood sounds kind of scary, but the cooking process made it edible so you don't have to worry. What you need to know is that the locals love this dish and there's no shortage of restaurants to choose from. Paeng Pet can be made from pig or goat blood, but the most common version is duck blood.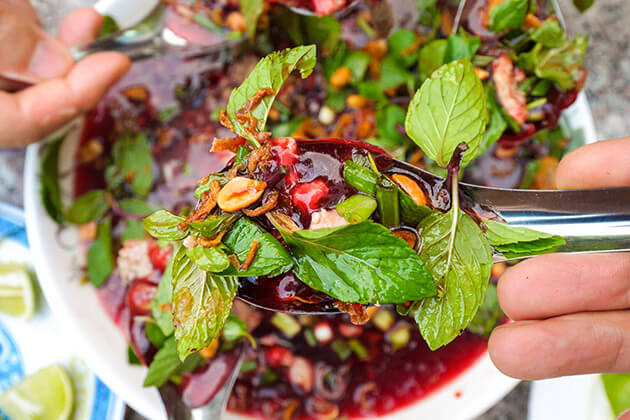 It is mixed with grilled minced duck meat and organs, spread over with chopped fresh herbs like green onions, cilantro, shallot, and mint. There are also some roasted peanuts, which adds in the extra sweetness that I personally adore. Paeng Pet is a perfect combination of creamy and gooey blood, umami taste of cooked meat, fresh mint, and lime flavors and the heat from the chili. This dish deserves to be one of the best dishes to try for an extreme vacation experience in Laos,
Best Laos Food for Vegetarians
Tam Mak Hoong (Green Papaya Salad)
This dish has long been so popular all across South East Asia that you can find it as a part of Vietnam and Thailand cuisine. Tam Mak Hoong originated from Laos but there are some small differences in how the dish is prepared between these countries. The main ingredient in Tam Mak Hoong is shredded unripe papaya and combined with other fresh vegetables and spices like garlic, lime, diced tomatoes, chilis, eggplant.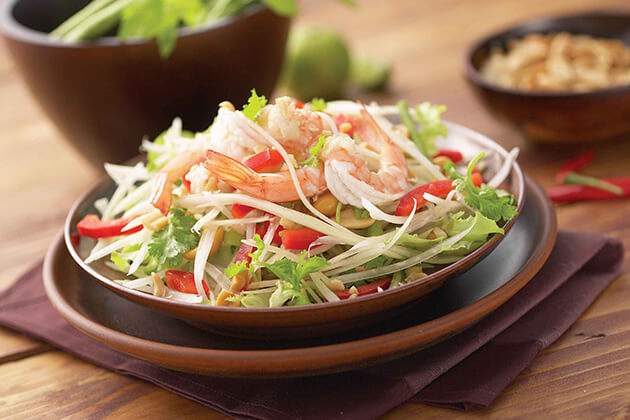 It gets the sweet taste from palm sugar and sprinkled dried shrimps, which can be left out on your order. You will find the Thai version with the name of Som Tam, which doesn't have roasted peanuts and is usually seasoned with fermented fish sauce. To guarantee that the dish is vegetarian, you can ask the vendor not to prepare the salad with fish sauce when you order. Tam Mak Hoong is a side dish served best with sticky rice.
Khao Niaw (Sticky Rice)
Sticky rice is such a popular staple in Laos that everywhere I travel, I see the locals eating it. Maybe it is true that Lao people eat more sticky-rice than anywhere else in the world. The rice is cooked by steaming in a traditionally cone-shaped bamboo basket and served in a covered basket to prevent from drying. Sticky rice is eaten as a base for other flavorful dishes. In Laos, people can eat sticky rice at any time of the day, and sometimes they just eat plain sticky rice without any other side dishes to enjoy its mild sweetness.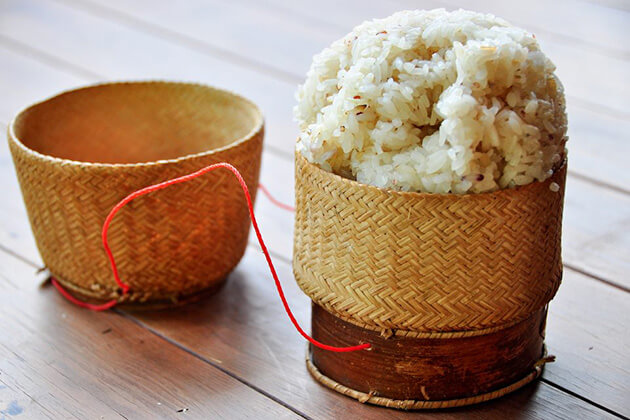 Vegetarian Tom Yum Soup
Tom Yum Soup is a spicy and sour soup that is often cooked with seafood or meat but you can find vegetarian versions in Laos. This dish originates from Thailand, where it is also a famous dish and a must-try for tourists. The most significant difference is the use of lemongrass, a kind of herb with fresh, pleasant scent in the Laotian version. Tom Yum Soup is the best Laos food to try on cold, windy days.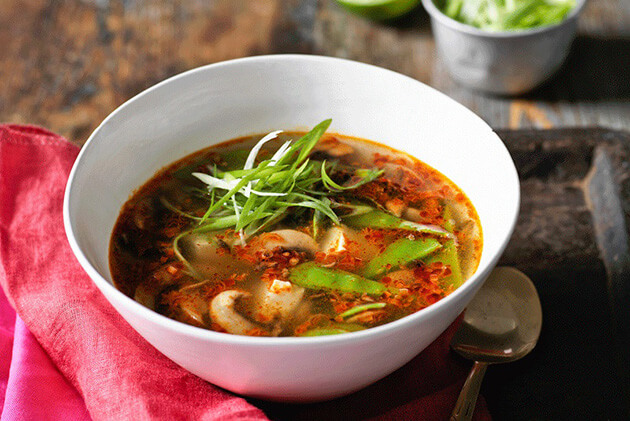 Top Laos Street Food
Khao Jii Paté (Baguette Paté)
Another example to show the shared culture and cuisine of Laos and Vietnam is the Baguette Paté, which is known in Laos with the name Khao Jii Paté. The delicious and crunchy baguette was introduced to both the countries by French people nearly a hundred years ago. And from that, they created their own version of sandwiches.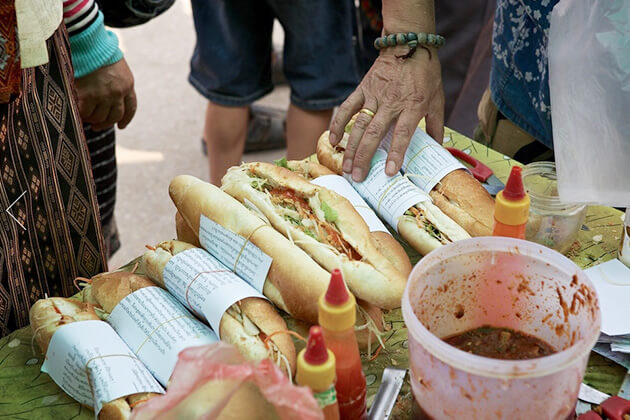 The Vietnamese version is special for cilantro and pickles while the Laos people prefer grated carrots watercress, and a generous amount of chili and garlic sauce. It is one of the most common types of street food that you can find in every town. It takes just 2 minutes to wait for the vendor to prepare and you will have a joyful Laotian meal.
Sai Ua (Laos Sausage)
I am so glad that I tried Sai Ua while in Laos because this is one of the best sausages in the world. This dish is astounding yet simple, with just the right texture of a typical sausage – springy, firm and juicy. What makes the flavor so incredible are the smoky aroma and the tasty fat from pork skin, belly, and meat.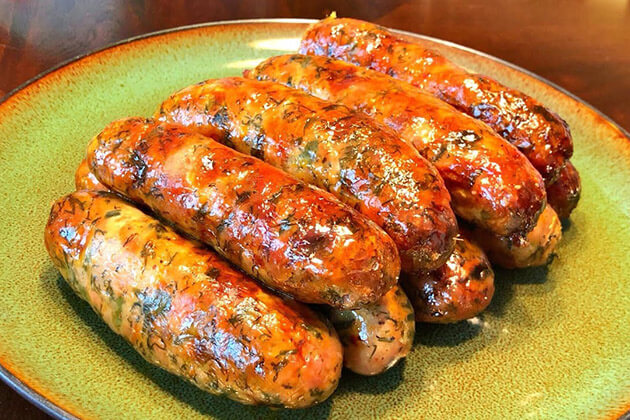 Sai Ua also contains spices and herbs like green onion, galangal, dill, cilantro and chili that help balance the flavor. It is an amazing experience to sit in a small food stall and eat hot Sai Ua directly from the grill. I won't judge you for ordering another one before you've finished your first plate because that is what is exactly what I did. Sai Ua can be taken to-go and enjoyed while strolling through the city streets or busy markets.
Khanom Krok (Laotian Coconut Pancakes)
The only dessert in our list is Khanom Krok, Laotian coconut pancake. This is a must-try street food snack for all the visitors who have a sweet tooth. Khanom Krok is made from rice flour, coconut milk, and sugar.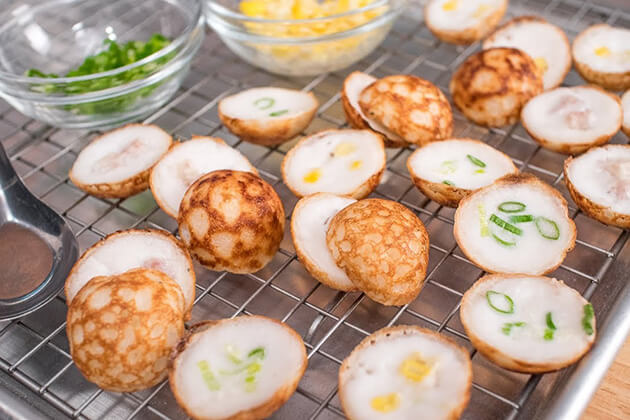 If you come across a food stall that sells Laotian coconut pancake, order a portion and you will have 4-5 pieces served on a banana leaf. I was so happy to enjoy the sweet and aromatic flavor of sugar and coconut at such an inexpensive price. This is what makes street food the best, especially in Laos.