My heart has still been open-wild whenever I have vividly recalled my thrilling multi country Asia tours. Especially when I came to Vietnam, the country itself left me numerous unforgettable things that gotten stuck in my head by now. One of them, obviously, getting around Vietnam by train. Traveling by train is certainly one of the best ways to explore Vietnam. So, in this article, I will tell you things that I know about train travel in Vietnam.
Why Train Travel in Vietnam
Why Should You Choose to Travel through Vietnam by train?
The first and most important reason is the spectacular view on the ride. As the train rolls along the railways, Vietnam's cities, villages, mountains, and coastline peacefully pass through your window. The second reason is that it will be a comfortable ride with air-conditioning and a soft bed. Finally, although it is definitely not the fastest way to travel but taking a long night train can save you the money for accommodation.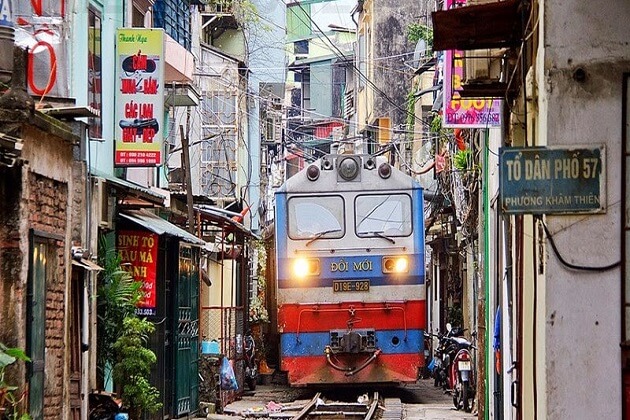 Where in Vietnam Can I Travel by Train?
Below are the most popular routes:
• Ha Noi – Ninh Binh – Hue – Da Nang – Nha Trang – Sai Gon
• Ha Noi – Hai Phong (to get to Cat Ba island or Ha Long Bay)
• Ha Noi – Lao Cai (to get to Sa Pa)
As you can see in the list, Vietnam railway system cover most of Vietnam popular destination in all three regions. Other shorter routes can be found on the official site of the Vietnam Railway.
Train Quality
Vietnam railway system is old and poorly invested. That explains why the stations are in bad condition, the trains are slow and the interior furniture is insufficient. However, the government has recently put significant resources into upgrading the railway system. Therefore, you can expect to see newer trains on some routes and even Wireless connection on some trains.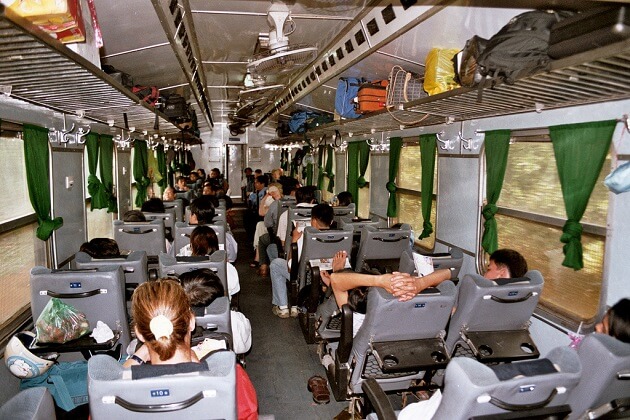 The hygiene topic is arguable. It is important to keep in mind that hygiene is not stable because it depends greatly on the work of specific staff and other passengers who join you. The train system in Vietnam often receives mixed reviews from nice, clean to disgustingly dirty. It is a good idea to prepare your own tissue, hand sanitizers, and sleeping bag. And as always, the separated sleeper carriages are considered better than seats.
Most of the trains in Vietnam will have soft seat, hard seats, soft beds, hard beds, air-conditioned and non-air-conditioned. Make sure to pick what you need in order to have the most comfortable ride.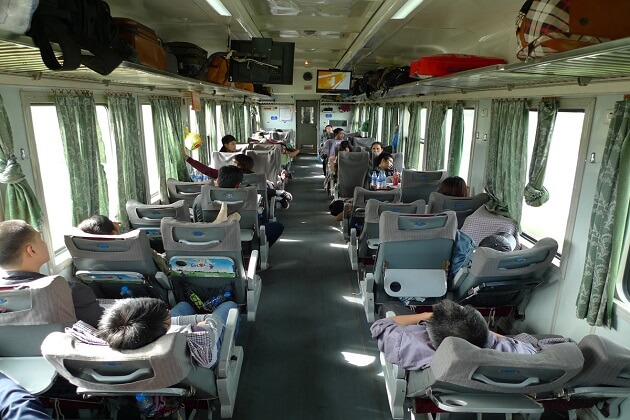 Some routes can be bumpy and you may feel uncomfortable from the loud noise of the train. However, it is still better than traveling by bus. If you are sensitive to noise, make sure to book your spot in a 4 berth carriage. With this, you do not have to share your space with too many and the noise from the train will be reduced by the closed carriage.
Luxury Train Travel in Vietnam
There are some private operators on the Hanoi-Sapa routes with high-quality sleeping-cars.
They offer soft sleepers in 2-berth and 4-berth carriages. All compartments are equipped with air-conditioning, clean and modern toilets, some water and snacks. There is staff from the operator line onboard ready to provide service 24/7.
Their ticket prices are nearly double the common Vietnam railway soft sleepers ticket. However, some tourists think that is is not that worth because soft sleepers in the Vietnam railway offer quite the same things.
You can look for these operators: Fanxipan, Sapaly Express, King Express, Livitrans, Orient Express, …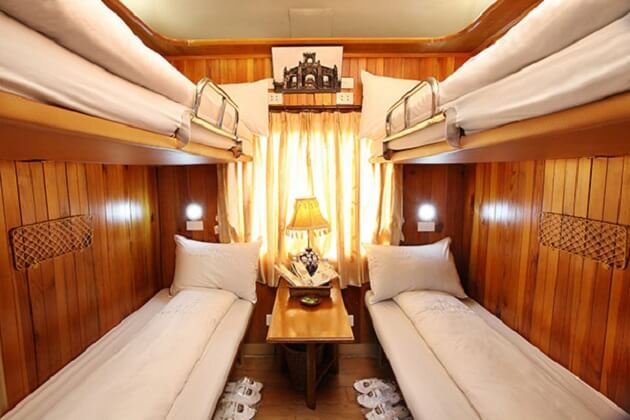 Cost of Train Travel in Vietnam
The train ticket price depends on the distance and the class of the seat. But generally, it is quite cheap compared to ticket prices in developed countries. Train tickets in Vietnam vary from a few dollars to nearly 80 dollars for the longest routes. However, it is still a little higher than traveling by bus or cheap airline.
Some examples:
• A sleeper in a 4-berth air-conditioned compartment ticket from Ha Noi to Da Nang costs nearly US $ 50 and takes 14 hours.
• A hard seat, air-conditioned ticket from Ho Chi Minh city (Sai Gon) to Nha Trang costs nearly US $ 10 and takes 7 hours.
You can check for the price of any type of ticket available at the Vietnam railway sale website: dsvn.vn. However, they only support payment from credit cards issued in Vietnam. Other options for buying tickets online are baolau.vn or vietnamimpressive.com.
Is Train Travel Safe in Vietnam
Traveling by train is one of the safest ways to travel in Vietnam regarding road traffic safety. Most traffic accidents in Vietnam involve motorbikes, cars, coach buses, and trucks. Sometimes during the rainy seasons, landslide could happen on some railway routes. However, these incidents are usually predictable and only cause delays, no casualties.
While on the train, all passengers are recommended to keep their belongings with themselves all the time. Petty crimes are rare but it's better to stay alert, especially when you are a foreigner tourist.