Indochina is one of the most attractive destinations in Asia with a variety of attractions: culture, nature, and entertainment for tourists. Therefore, it is believed that you will definitely have a great trip to Indochina if you have a good preparation for pieces of knowledge related to Indochina before taking a tour there. I am pleased to give you useful information about travel tips in Indochina and solve popular issues you are confused about. Overall, do not miss any chance to visit Indochina if you get into Asia tours.
What Things You Should Know Before Visiting Indochina
How are Indochina People?
Indochina is a wonderful land hidden many beauties and the people of Indochina is one of beauties needing reveal there. There are no articles that can describe numerous beauties of Indochina people so you should visit Indochina and meet local people to receive full feelings about them. However, we can divulge some outstanding personalities of people of three countries in Indochina to you to prove that you are true to take Indochina tours.
Friendliness & Smile a lot
People in Indochina are very nice; even when you put your feet in Indochina countries, you can feel the friendliness in the smile and the hand waves of local residents to foreigners. Sometimes, just a smile can make you easy to strike up a conversation with local people and after some gossips, you can get accustomed to them and ask them everything about their countries. They are friendly and smile a lot with foreigners; even when foreigners make mistakes but just small, they also smile and do not complain; however, they live with their principles, so you should treat them in the limit.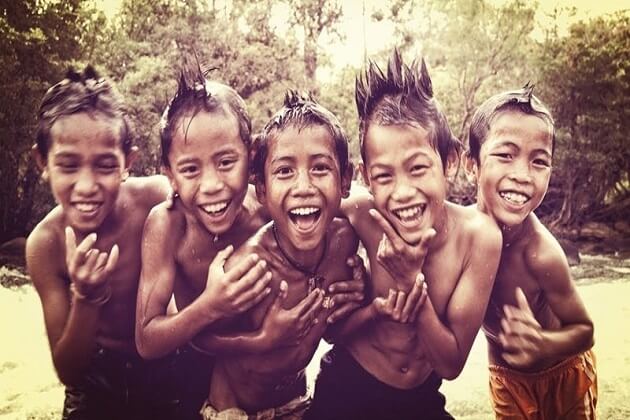 Hospitality
When having a vacation in Indochina, besides staying in hotels, tourists can have new interesting experience: living in a homestay with local families. You will not only have a stop for your long itinerary but also be treated like a king with the best special dishes and best service. Especially in the festival season, if you stay in a local's house, you will be invited to take part in parties and ceremonies with them.
Family First
Family is always a sacred thing toward people of all three countries of the Indochina which has the function as the center, whatever Indochina people do with the aim at building it better. Taking an Indochina tour, you will witness there are many generations living happily together in just a small house; from grandparent to grandchildren live together there in hundreds of years and strictly follow family rules. For Indochina people, parents live and work to give the best conditions for their relatives. They also pay much attention to their children's education, they consider that the success of children is also their parent's success , every child is grown up by the care and the love of not only his parents but also his grandparents, educated about the important role of family to his success and reminded him about his responsibilities to family.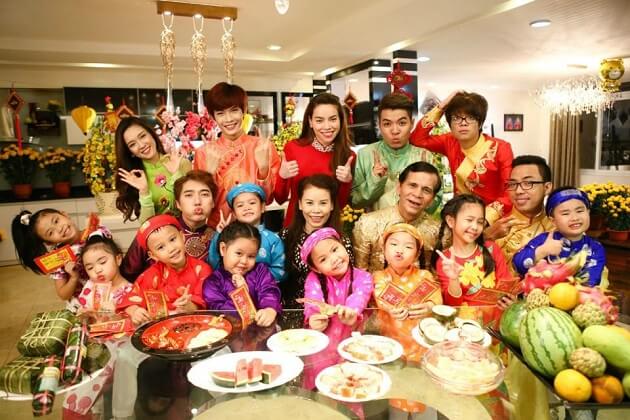 Solidarity
Indochina's development now is the result of the solidarity of local people there. In the past, Indochina was a French colony and many European countries in hundreds of year; experiencing the difficulty the colonial, Indochina countries 'residents were together to gain the independence for their nation as well as help their neighbor taking back the ownership. After the war, the people of Indochina also help together to rebuild the infrastructure and develop the nation.
How are Indochina Foods?
Indochina owns the diversity about the culture, which is proven in the cuisine of this is. Each country in this area has a special appetite and culture so their food possesses different characteristics. However, all three countries have a similar point: they are in the rice civilization so they use rice as the main ingredient in the cuisine. When having an Indochina vacation, tourists certainly taste the cuisine of each country and you will recognize that almost food in Indochina comprises rice
Laotian Cuisine
Laos is a country possessing a variety of ingredients in a dish like ginger, lemon-grass, herbal. The food of Laos is often made from fish like steamed fish – Mok Pa, chicken-like grilled chicken (Savannakhet), vegetables like Stew called Oh Lam, etc. Moreover, all dishes in Laos contain chili in various kinds: pickle, steaming, stew, etc so you should consider if you cannot eat spicy food. However, if you do not taste Laotian food, you will be regretful because the dishes are famous for the fresh and low level of fat.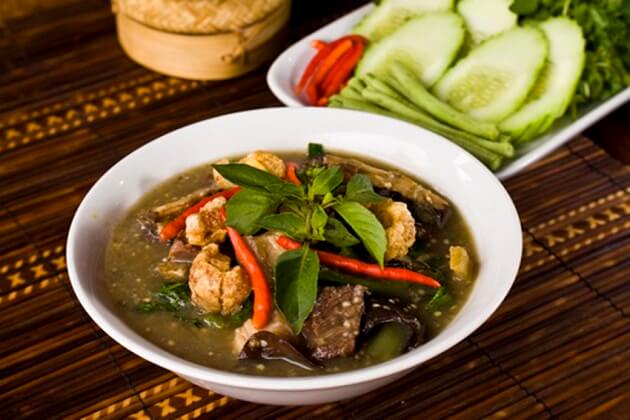 Cambodia Cuisine
Cambodia food in general includes in 3 flavors: sour, spicy, salty like two other countries in Indochina; the main ingredients also conclude in rice, fish, and bread; a bowl of rice is an essential thing for every meal but since French colonial, Cambodians have eaten more bread than any other Southeast Asian countries. However, their cuisine still remains a traditional culture of Southeast Asian countries, they add fish sauce in soups, stir-fried cuisine, and dipping. Moreover, Cambodian food also shows the specialty of Khmer when using coconut milk in curry dishes like Kari.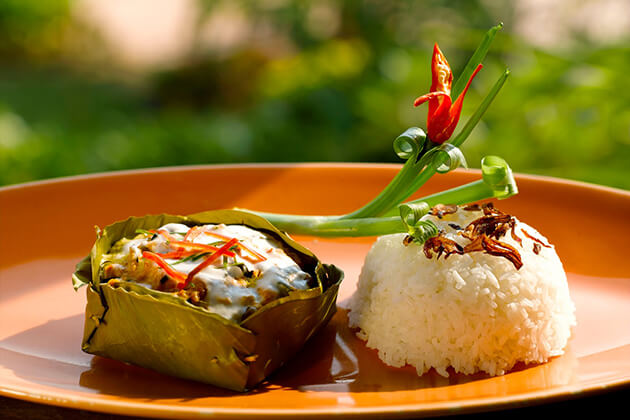 Vietnamese Cuisine
The cuisine of Vietnam is more diverse than two other countries, it also uses fish sauce in many dishes like soup, stir-flying, etc. Moreover, Vietnamese cuisine comprises various ingredients and flavors and divided regarding the area. In North Vietnam, the food is often lightly salty, fresh and is cooked sophisticatedly; the soup is often sweet, the Vietnamese salad is so fresh.
Central Vietnam cuisine is more spicy and salty than the North, the reason for that is maybe the weather there. Different from 2 other parts of Vietnam, the cuisine of southern Vietnam is the sweetest, almost dishes are added sugar into and the food in this part is quite spicy owing to the influence of Chinese living there. Generally, food in Vietnam can satisfy every appetite.
What are Religions in Indochina?
Laos – Buddhism
Laos is a country where Buddhism is considered as the main religion and plays an important role in daily life. Laotians believe that Buddhism can bring peace and happiness to people in a harsh life. When visiting Laos, you can witness that there is a 'wat' – a private temple in every Lao village, it has a function as a local cultural center where many village festivities and rituals are held there annually. In the mornings and evenings, Laotian temples are filled fully by the faithful chanting Buddhist prayer. Before marriage, Laos men spend a short time living in the temple as a monk to learn Buddhism and after that, someone can come back the ordinary life and someone can find the peace in their mind and decide to live as a monk in the rest of their life and is very respectful by the community. However, just men can become monks, the women are only monks if they are reborn as a man.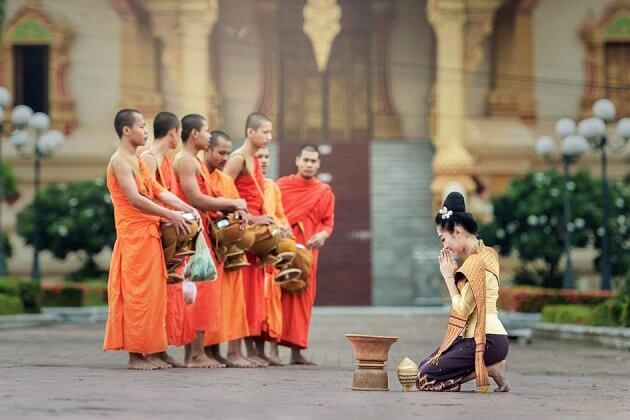 Cambodia – Theravada Buddhism
About 90% of the Cambodian population is the faithful of Theravada Buddhism; since the sixth century B.C, Buddhism was imported into Cambodia from the North India and Nepal and relates some legends Theravada Buddhists are told to see the universe and all life as part of a cycle of eternal change and it educates people that they should take full responsibility for their actions and omissions. There are three Cambodian's Buddhism versions: ancestor worship, Shamanism and Animism and in almost Cambodian houses, Cambodians have small shrines or spirit houses to eradicate bad spirits.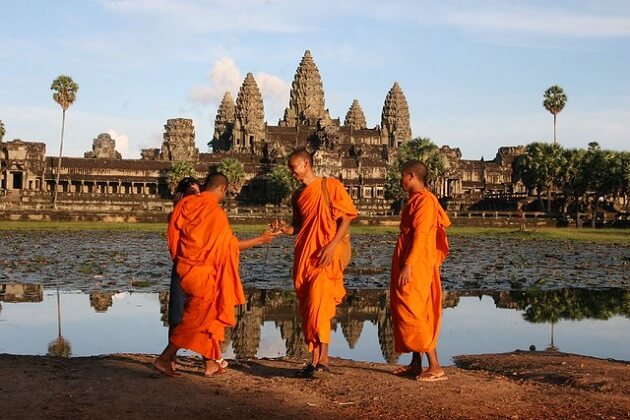 Vietnam – Mahayana Buddhism
Mahayana Buddhism is originated from the second century B.C by the Chinese immigrants and the Indian rooks. However, under the Ly dynasty from 1010 to 1214, Mahayana Buddhism is in a prosperous time, Buddhism became the official religion and Buddhist monks function as the counselors for the king and have great power and a high position in the community. At that time, there were hundreds of pagodas constructed in Vietnam and many of them still remain until now. Buddhism practices play an essential part in the thoughts and behaviors of Vietnamese; people are educated to believe that what they have today is the price for what you have done in the past.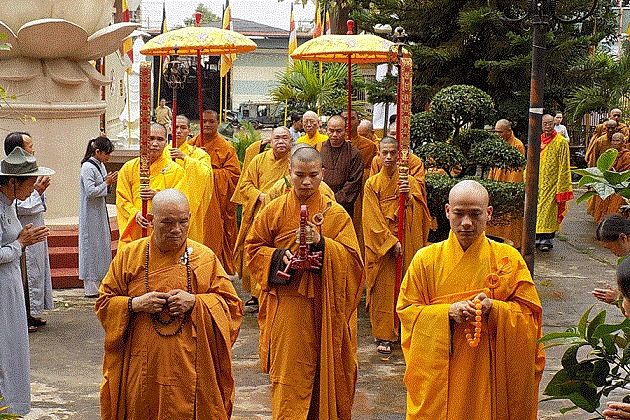 What Languages are Spoken in Indochina?
Laos – Lao, French, English
Lao is the official language in Laos; there are 6 major Lao dialects: Southern Lao, Vientiane Lao, Western Lao, Central Lao, Northeastern Lao, and Northern Lao. Vientiane Lao is the dialect understood widely and is the base for the Lao vocabulary. Moreover, because of the French invasion, there are several foreign languages spoken in Laos like French, English, etc. Nearly 35% of students in this country is learned French which means some Laotians can speak French so tourists in some situations can use French to communicate with local people. Besides, English is also spoken widely in Laos, it is in the learning system of many Laotian schools and is regarded as the language of global commerce.
Cambodia – Khmer, French, English
The official language of Cambodia is Khmer which is used by nearly 90% of the Cambodian population. From Government, Education to Media uses this language in text and voice. French and English are also spoken in Cambodia. French was the official language in Indochina including in Cambodia and until now, it still used to impart education in some schools and universities in Cambodia and funded by the French Government. Moreover, English is a popular language in this country. When visiting Cambodia, you will observe the road sign is bilingual: both by Khmer language and English. English also appears in the education system of Cambodia and the main foreign language in diplomatic communication with other countries.
Vietnam – Vietnamese, French, Chinese, English
Vietnamese is the official language in Vietnam, which derives from Northern Vietnam; it is used in Vietnamese education as well as daily life. Moreover, French, Chinese are also languages spoken widely in Vietnam. Another language that is used widely in Vietnam is English; it is used in Vietnamese education and the second popular language in Vietnam. In addition, English is used as the language for global commerce as well as a diplomatic language to other countries.
What are the Popular Currencies of Indochina Countries?
Kip (LAK) – Laos
In Laos, Kip is the popular currency which is used widely in daily commerce like eating or going shopping. Lao Kip possesses the various values of 500, 1,000, 2,000, 10,000, 50,000 and 100,000 and 1 dollar are equivalent to about 8,800 LAK regarding daily exchange rate and you can exchange it easily at the border gate or at the airport.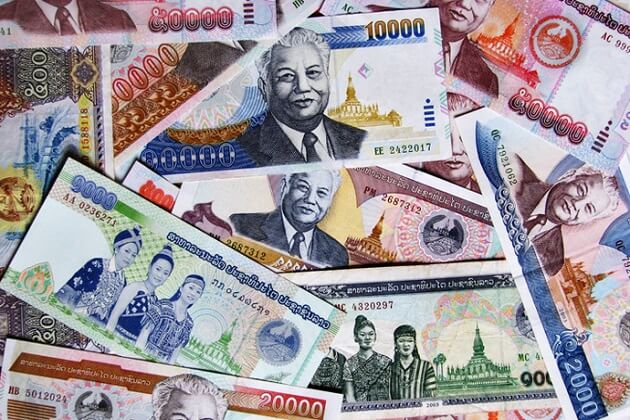 Riel (KHR) – Cambodia
Cambodians use Riel in the daily life but just in small trade like buying food, taxi fare or buying SIM card so you should not exchange much, you can exchange it many places like banks, border gate and jewelry stores or some other places in big cities like Phnom Penh or Siem Reap. The exchange rate of 1 Cambodia Riel is about 0.00025 USA dollars depending on the daily exchange rate.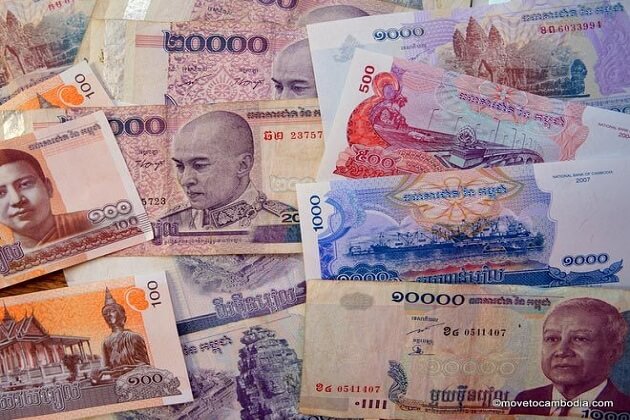 Vietnam Dong (VND) – Vietnam
Vietnam Dong is the official currency of Vietnam which is used widely in every trade from eating, shopping to buying houses. There are two types of money: paper money has low value: 200, 500, 1,000, 2,000, 5,000 and the polymer money values higher from 10,000, 20,000, 50,000, 100,000, 200,000 to 500,000. The value of the USA dollar to Vietnam Dong is about 22,000 VND and this number can be changed according to time.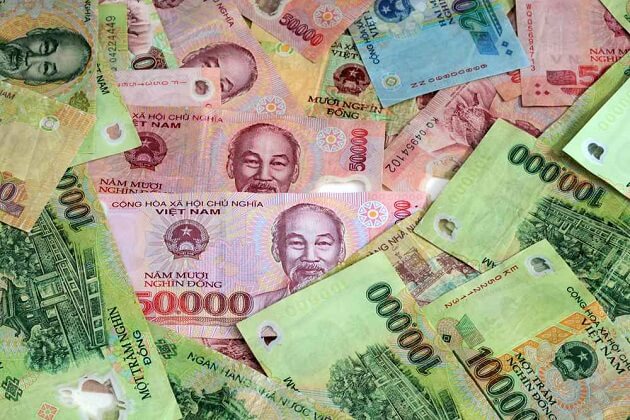 USA Dollar – Indochina
USA dollar is the most popular currency in Indochina, it is used widely in luxury places such as shopping malls, big restaurants, etc of every country. When traveling to Indochina, you should bring the USA dollar to exchange it easily into other currency when visiting each country of Indochina.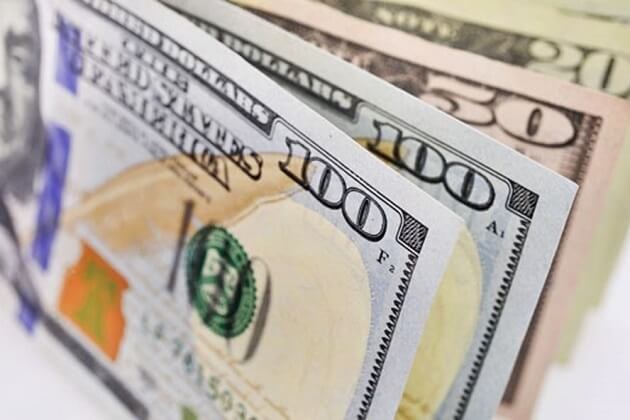 Travel tips in Indochina
Clothes and Footwear
Indochina is the tropical region with many seasons in a year and some places can some season every day so you should consider your destination as well as the travel time to prepare clothes availably. From October to February of the latter year, the weather of Indochina is quite cold and sometimes is dazzling rain so you bring winter clothes, shoes and scarf and if you are European people, you should bring clothes a lot because Indochina clothes are designed in Asian size. You intend to travel to Indochina from March to September, you should bring cool clothes, sandals for women and sunblock for yourself.
Moreover, when visiting some sacred places like temples, Pagodas, Shrines, you should wear long clothes, especially the Shrines of Hinduism, you must wear their clothes with a veil. If you do not follow the rule, you are told to be rude to their Gods and sometimes you are not allowed to come in these places.
Phones and SIM Card
Phones and SIM card is a problem for many tourists when traveling abroad, you can not the SIM card of your countries in any countries. Wi-Fi system and 3G SIM cards are the best choices for you when visiting Indochina, each country has different roaming services. In Cambodia, the postal service is not developed; you use a hotel telephone or public telephone. However, you can buy a GSM SIM card to connect with your relatives and family such as Metfone or Viettel. In Laos, buying a SIM card for telecommunication is quite easy; you can get a 3G SIM card by going to the nearest local offices and the price of a 3G SIM card is not expensive, just about 20.000 KIPs, equivalent to US$ 2.31. Vietnam has better telecommunication than 2 other countries, you can buy SIM cards in many places with the price from 50,000 VND to 65,000 VND and you have many choices for telecommunication agencies like Viettel, Vinaphone, Mobifone, etc.
Don't be Afraid to Bargain
When buying somethings on Indochina countries' streets, you are recommended to bargain with local street vendors to make sure that you buy at the real price. This bargain is quite regular in Indochina and it is not hard if you apply some tips: When negotiating with the street vendors, you should both smile and offer a suitable price; sometimes, you should make friends with them before bargaining so it is far easier to bargain.
Check Visa Requirement
Visa requirements are various in each country. Traveling to Vietnam, you must have a visa on arrival, you have two ways to apply for Vietnam Visa: Sticker Visa, E-Visa. For Sticker Visa, you get your visa through the Vietnamese Embassy or Consulate office, everything you need to do is submitting an application form, providing original passport valid at least 6 months, 1 passport-size photo, visa fees depending on the length of time staying in Vietnam. Moreover, you can apply E-visa to visit Vietnam through the website of the Vietnam Immigration Department and some countries in both Asia and Europe can have visa exemption. In Cambodia, you also have two ways to apply for a visa like Vietnam: ticker visa and E-visa and some countries in Asia cannot need a visa to enter this country and some countries are not allowed to apply E- visa, they must come to the nearest Cambodian Embassy or Consulate. In Laos, there is only one way to get Visa to Laos, E- visa is under development in this country so you must apply for a visa through Laotian Embassy or Consulate.