General Information
Duration: 17 days/ 16 nights
Start/ End: Ho Chi Minh City/ Nha Trang
Tour Route: Ho Chi Minh City – Dalat – Buon Ma Thuat – Pleiku – Quang Ngai – Quy Nhon – Nha Trang – Ho Chi Minh City
Tour Customizable: Definitely! (Tell us your specific requirements in the inquiry form)
Guides: Local Guide (English Speaking Guide, Other Languages upon Request)
Transportation: Private first-class air-conditioned vehicles
Accommodation: Rooms with private bath or shower, hotel taxes, porterage, tips, and service charges
Brief Itinerary
Day 1: Ho Chi Minh Arrival – Transfer to hotel
Day 2: Ho Chi Minh – Dalat by flight
Day 3: Dalat City tour
Day 4: Dalat – Lak Lake
Day 5: Lak Lake – Buon Ma Thuot
Day 6: Buon Ma Thuot – Ban Fon – Dray Nur Waterfall
Day 7: Buon Ma Thuot – Pleiku
Day 8: Pleiku
Day 9: Pleiku – Kontum
Day 10: Kontum – Dakto, Tan Canh
Day 11: Kontum – Quang Ngai
Day 12: Quang Ngai – Quy Nhon
Day 13: Quy Nhon City tour
Day 14: Quy Nhon – Tuy Hoa
Day 15: Tuy Hoa – Nha Trang
Day 16: Nha Trang Leisure time or Nha Trang cultural trip
Day 17: Nha Trang – Sai Gon
Full Itinerary
Day 1: Ho Chi Minh City Arrival – Transfer to Hotel
On arrival at Tan Son Nhat airport in Ho Chi Minh City, we will be greeted and driven to our hotel in the city center. After check-in, we will be free to wander around the hustling and bustling city and spend the night in Ho Chi Minh City, discovering the most developed city in Vietnam.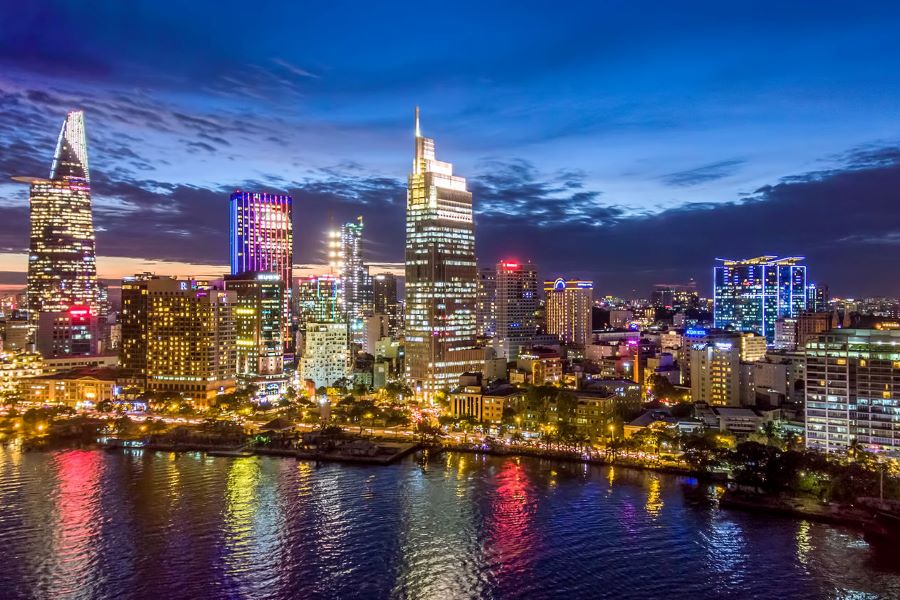 Day 2: Ho Chi Minh City – Dalat by flight (B, L)
Time will be free until our car arrives at the hotel to take us to the airport in good time to fly to Dalat. Welcome upon arrival by local tour guide and driver then we transfer to hotel. Overnight at hotel in Dalat.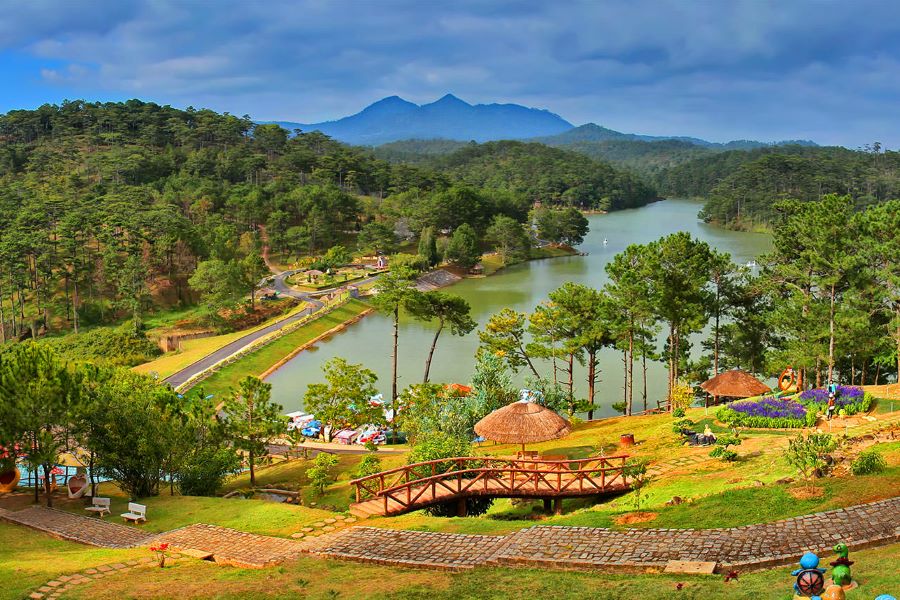 Day 3: Dalat City Tour (B, L)
After having breakfast at the hotel, we will start the Dalat city tour with the voted destinations: Bao Dai Palace – the French-style palace of the last king in the Vietnamese Feudal dynasty constructed in the 1930s; Tuyen Lam Lake – the biggest freshwater lake in Dalat with magnificent small islands surrounded by the pine forests and Truc Lam Zen – the most pleasurable destination for many years recognized by Sai Gon Tiep Thi newspaper; Flower Garden which is one of the largest flower gardens in Vietnam and all over the world with over 300 kinds of domestic and exotic flowers; Valley of Love – the ideal dating spot in 1930s and now becomes the famous romantic tourist attraction; Lang Biang Mountain, known as the roof of Dalat, is also the should-not-miss destination for your Dalat city tour. Overnight at hotel in Dalat.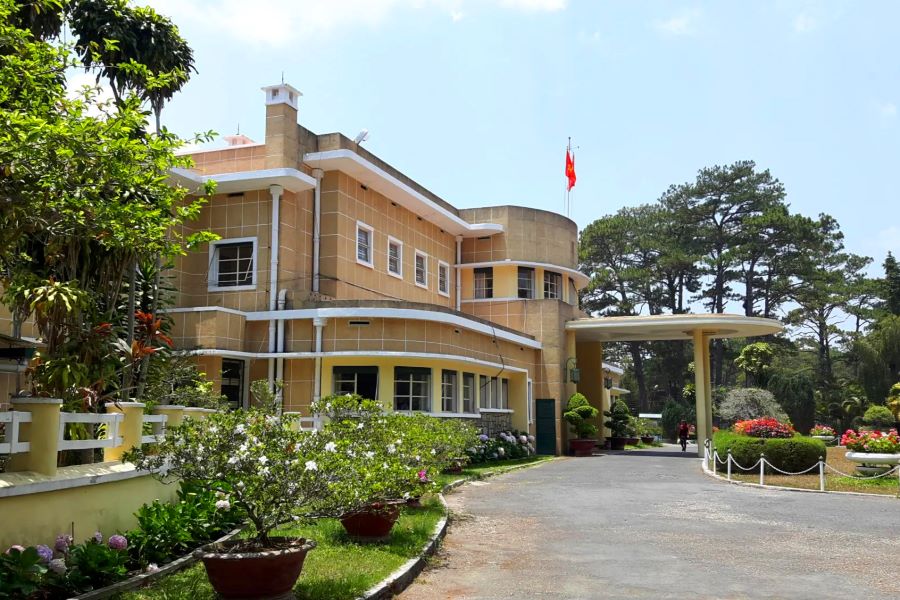 Day 4: Dalat – Lak Lake (B, L)
Besides the iconic tourist sites, one of the interesting activities in a trip is learning about the daily production life of the local people. We will visit Weasel coffee farm which manufactures this enchanting drink, then it is time to come and admire the Elephant Falls – the waterfall with rocks like a baby elephant and water sounds falling from the top of the Elephant Falls as the roar of the wild animals. The trip will continue with our visiting Linh An Pagoda to pray in front of Happy Buddha for luck, happiness, and fortune. In the late afternoon, we will drop in a silk village and silk factory to be introduced a full procedure of this interestingly traditional industry.   Overnight at a hotel in Lak lake.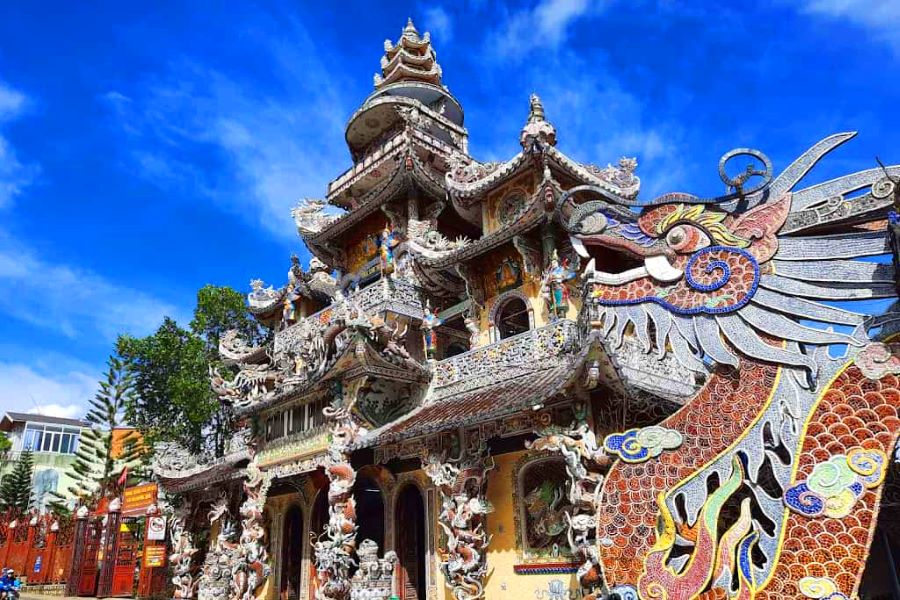 Day 5: Lak Lake – Buon Ma Thuot (B, L)
Visiting M'nong villages is supposed to be one of the most amusing activities when we have a chance to take a look at the typical Longhouse of the local people and walk around the village to be immersed in the peaceful atmosphere. The super fascinating activity for any visitors is riding the gentle elephants which are controlled by skillful drivers. After that, we will experience the feeling of riding a dugout canoe along the river and then enjoying the Buon Ma Thuot city tour. Overnight at hotel in Buon Ma Thuot.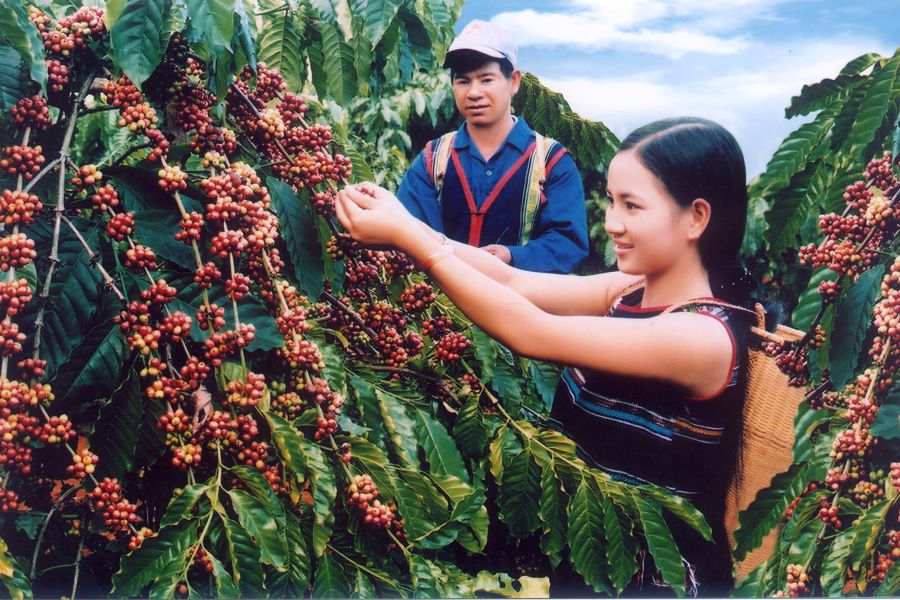 Day 6: Buon Ma Thuot – Ban Don – Dray Nur Waterfall (B, L, D)
Coming to Dak Lak, there will be a deficiency if we do not set the steps on Don Village or Ban Don which is famous for the tradition of hunting and domesticating elephants. Ban Don is also the location of a diversity of tourist attractions such as Seven-branch Waterfall, the ancient stilts, Elephant King's tomb, Yangpong Tower, and Yok Don National Park. And then, we will go together to admire the grandeur of Dray Nur waterfall. Overnight at hotel in Buon Ma Thuot.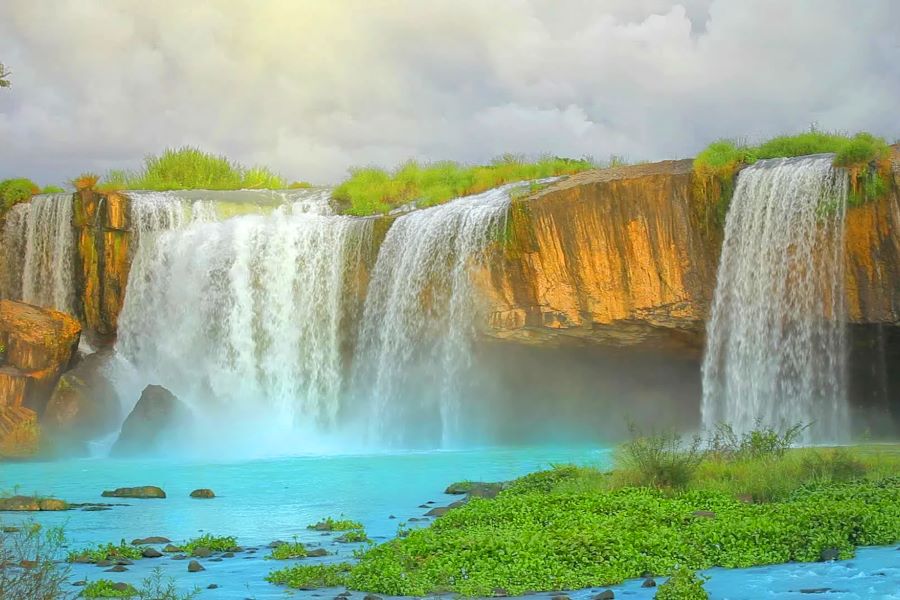 Day 7: Buon Ma Thuot – Pleiku (B, L)
After transferring from Buon Ma Thuot to Pleiku by a comfortable air-conditioned minivan, you will be overwhelmed by the historical monuments in this heroic land. There are some well-known former battlefields that mark the bravely struggling days of the Vietnamese people to protect the solemn sovereignty of the nation, including Ham Rong Mount, Camp Enari, Catecka Base Camp, Plei Me. Overnight at hotel in Pleiku.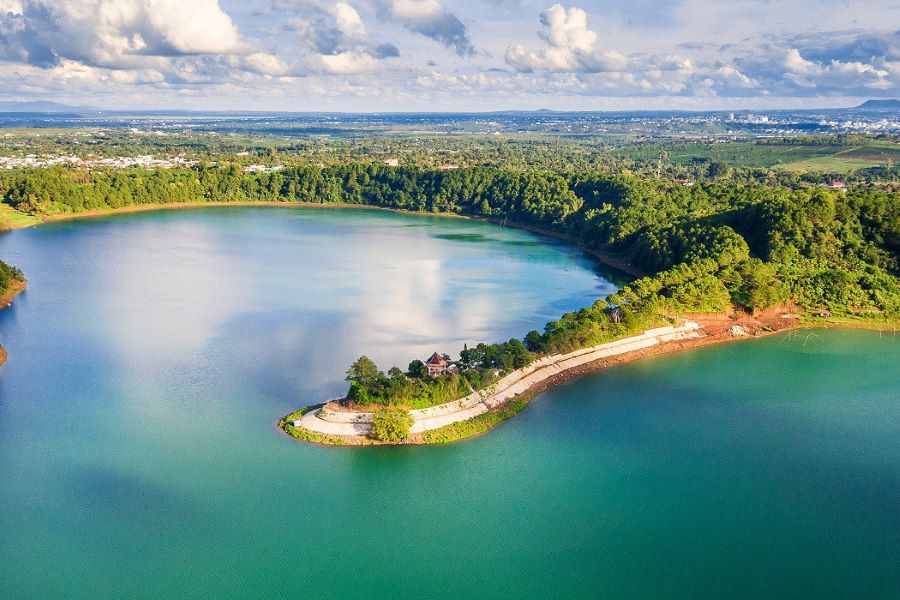 Day 8: Pleiku Discovery (B, L, D)
The trip dating back to the period of the war's fire cannot stop without visiting some other iconic former battlefields such as Mang Yang Pass, 1st Cavalry Division Base, Hon Cong mount have witnessed the victory of the Vietnamese army to regain the precious peace for the nation. Next, there will be a special highlight when we have an opportunity to join a gong festival with a campfire along with the Banar compatriots in the Dektu & Dekrol villages. Overnight at hotel in Pleiku.
Day 9: Pleiku – Kontum (B, L)
It takes us about 1 hour to transfer from Pleiku to Kontum and stay here for a few days to explore the unique beauty of culture, people, and cuisine. First, we will come and see T'nung Lake, listening to the sad story about the history of its formation. Next, the memory will continue with the trip to Plei Kep village which preserves many typical indigenous cultures of the Tay Nguyen ethnic groups in Gia Lai province and the rustic and pristine charm among the vast mountain forests.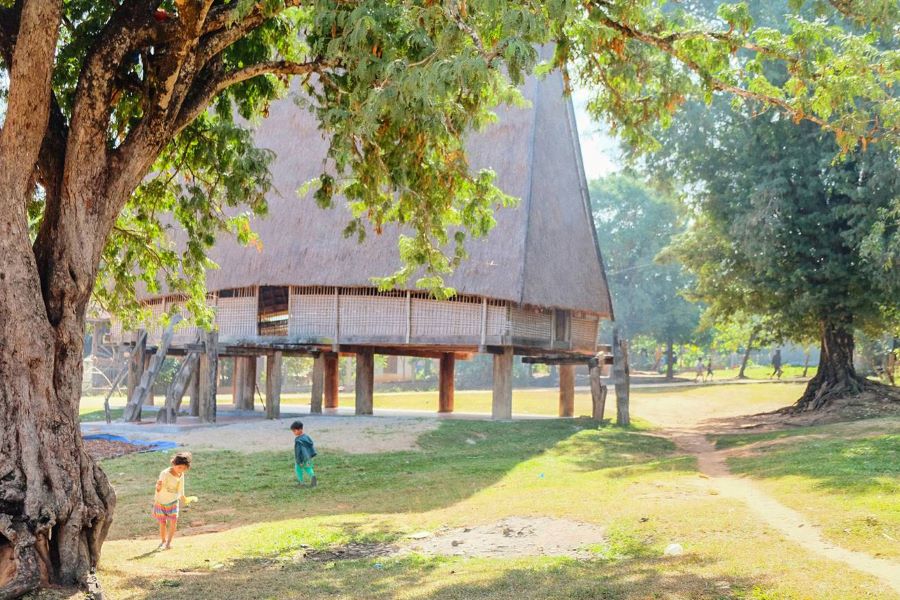 Then, the over-100-year-old wooden church is also a should-not-miss destination for tourists. The outstanding monument is the unique combination of classic Roman architecture and the traditional stilt house architecture of the Banar people. Moreover, the discovery of Big Seminary and Konkotu village will be an unforgettable memory during your Vietnam Central Highland Tour. Overnight at hotel in Kontum.
Day 10: Kontum – Dakto, Tan Canh (B, L, D)
The Central Highland is extremely famous for the historical relics where you can explore the former battlefields such as Dak To, Tan Canh with Phoenix Airstrip, and Charlie hill in Kontum. After that, visiting the Sedang village to learn about their traditional lifestyle is also an exciting activity on our trip. Overnight at hotel in Kontum.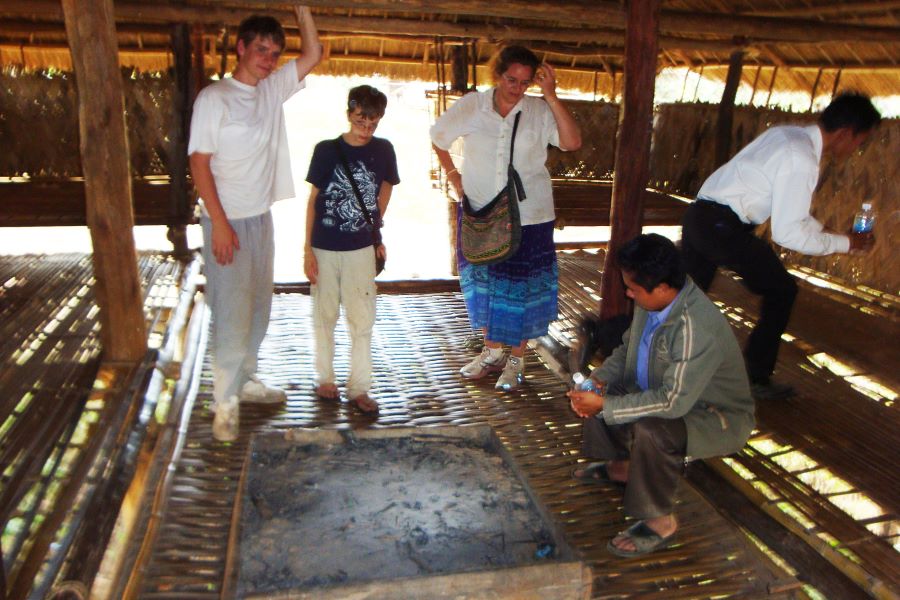 Day 11: Kontum – Quang Ngai (B, L)
Saying goodbye to Kontum, we will transfer to Quang Ngai and stopover at Ba To which is well-known for the monument of Ba To uprising in 1945 and the brocade weaving village (Teng village). In Quang Ngai, we can drop into My Lai village to sympathize and admire the miraculous revival after the My Lai Massacre by The United States Armed Forces in 1968. Overnight at a hotel in Quang Ngai.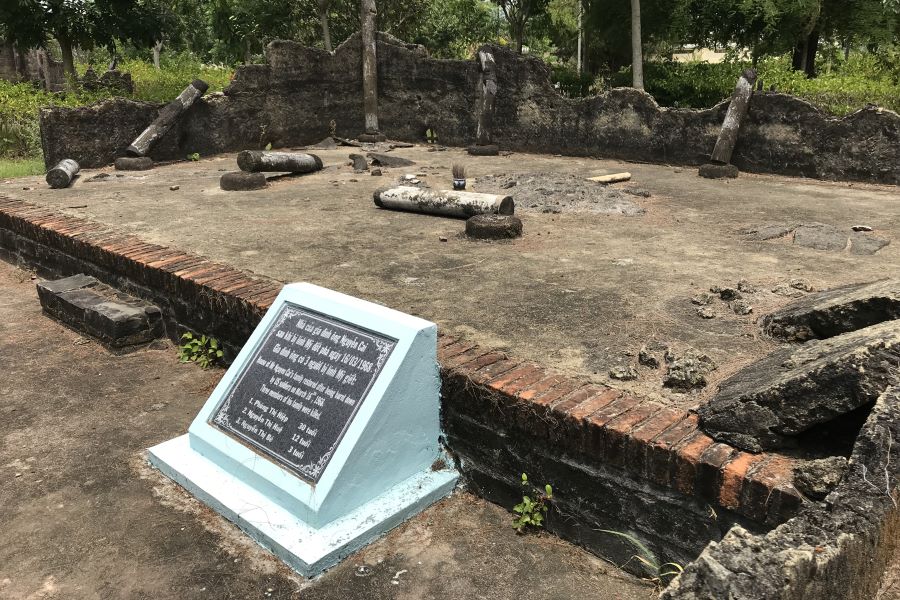 Day 12: Quang Ngai – Quy Nhon (B, L)
Stopping in Quy Nhon, we will have a chance to visit Tam Quan – the name of a town in Hoai Nhon district, Binh Dinh province where you can enjoy the picturesque beauty of the vast coconut forests and the specialties such as chewy sesame peanut candy, grilled coconut-flavored rice paper, and Vietnamese bun. And then, Bong Son town which has the meaning of the beautiful land like heaven according to the local people. Overnight at hotel in Quy Nhon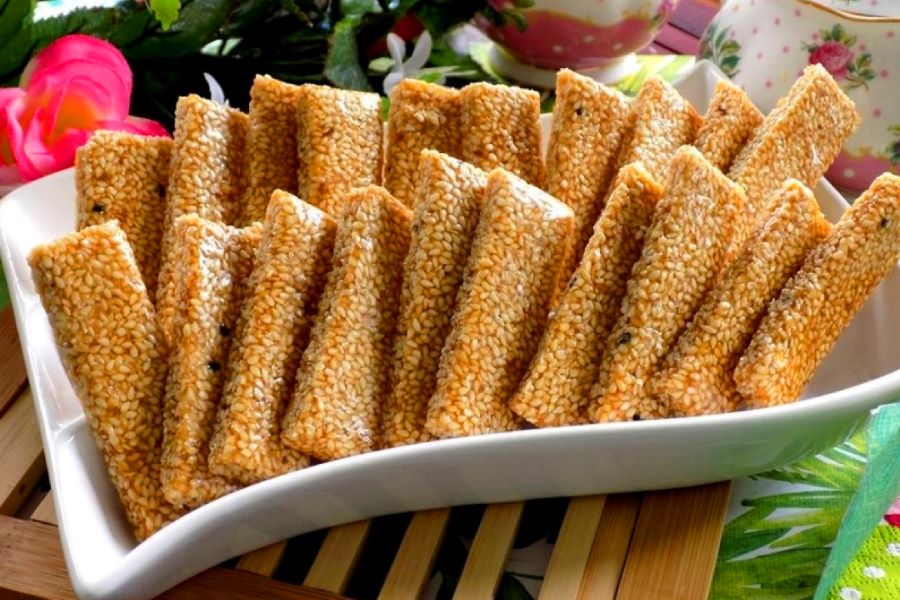 Day 13: Quy Nhon City Tour (B, L, D)
Visiting around Quy Nhon, we will be overwhelmed by the alluring charm of this hospitable land, including Wind Waist (Eo Gio), Surf Bar, Cu Lao Xanh, Ky Co Island, and Mui Vi Rong which are luckily blessed with the majestically natural landscapes. Overnight at hotel in Quy Nhon.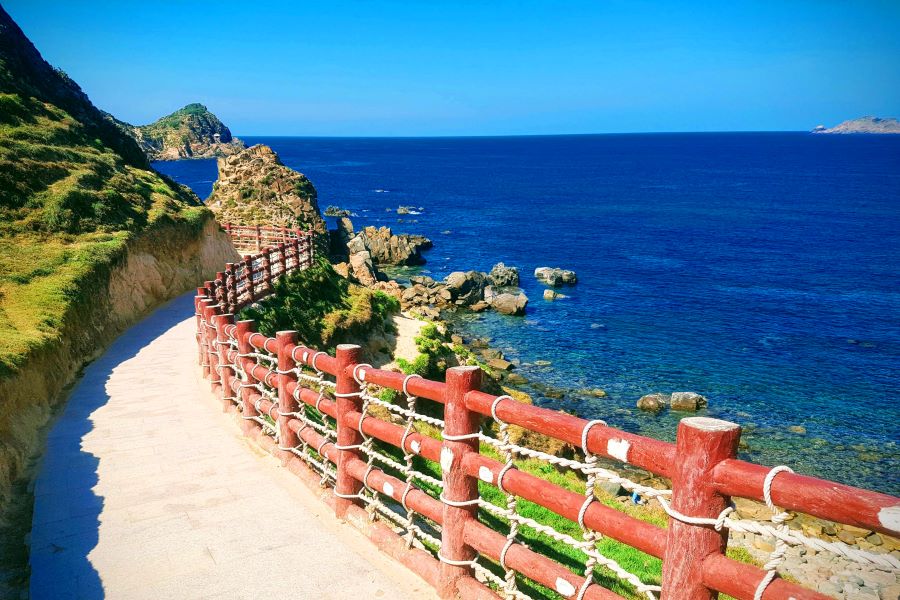 Day 14: Quy Nhon – Tuy Hoa (B, L)
Transferring to Tuy Hoa, there are some interesting places for you to choose such as Mui Dien where the first sunrise rises up in the land of Vietnam, Xuan Dai Bay which possesses a variety of beautiful sceneries, pristine beaches, and islands, Ghenh Da Dia – a unique formation of geology in Vietnam, or based on your requests. Overnight at hotel in Tuy Hoa.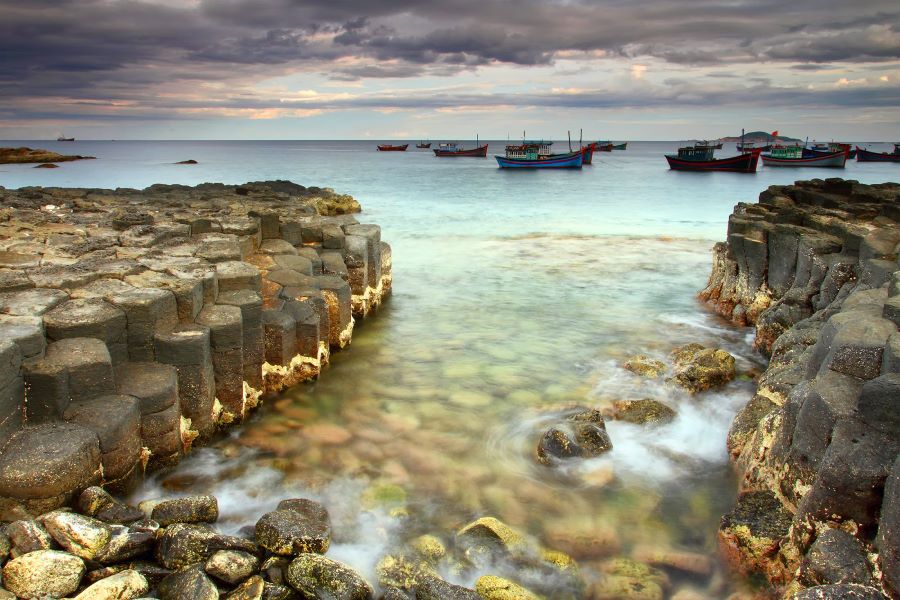 Day 15: Tuy Hoa – Nha Trang (B, L)
Transfer to Nha Trang, relaxing at the beach. Overnight at hotel in Nha Trang
Day 16: Nha Trang Leisure Time or Nha Trang Cultural Trip (B, L, D)
There will be an amazingly enjoyable time lying on the white sandy beaches and taking pleasure in the gentle sunshine in Nha Trang – the pearl of the East Sea. Besides, we can discover the unique specialties of cuisine and cute souvenirs to bring back your home. Overnight at hotel in Nha Trang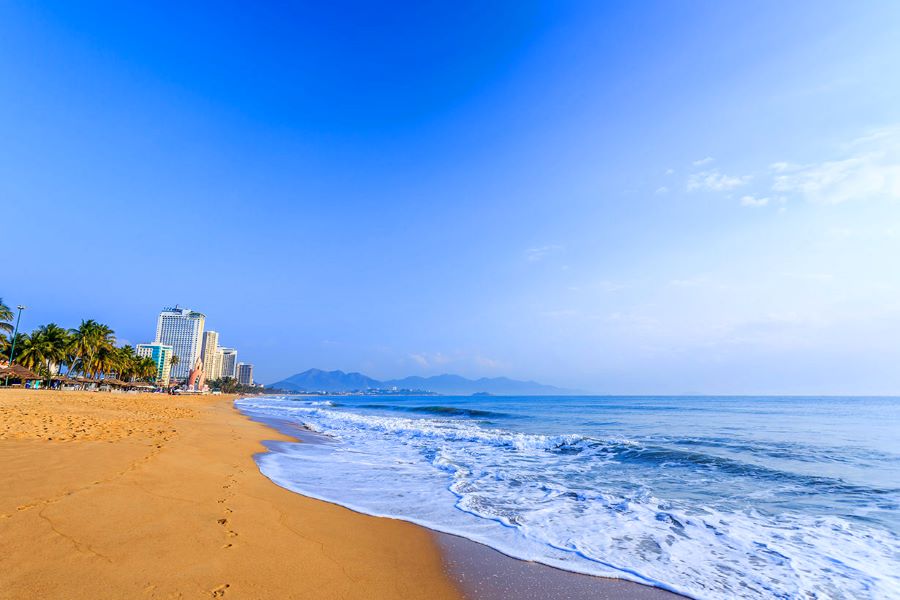 Day 17: Nha Trang – Sai Gon Departure (B)
Transfer to Cam Ranh airport for your flight back to Saigon. End of services. Your Asia tour package to Vietnam ends.