General Information
Tour Highlights
See Tokyo from a different perspective as you cruise down the Sumida River
Sip green tea in the peace of Tokyo's Hamarikyu Gardens
Get an introduction to feudal history at the magnificent Osaka Castle
See Japan as it once was in Hida No Sato folk village museum near Takayama
Explore Kyoto the 'city of a thousand temples' and meet a trainee geisha in Kyoto's Gion district
Visit Kamikochi, one of Japan's most beautiful regions
Climb Mt. Fuji (optional – July & August departures only)
Tour Details
Duration: 14 Days/ 13 Nights
Start/ End: Tokyo / Tokyo
Tour Route: Tokyo – Hakone – Osaka – Kyoto – Takayama – Kamikochi – Tokyo
Tour Type: Tailor-made tour
Tour Customizable: Definitely! Tell us your interest
Vehicle: private air-conditioned vehicle and licensed driver
Guide Service: private English-speaking guide
Tour Departure: No fixed departure. Anytime you wish!
Brief Itinerary
Day 01 – 02: Tokyo Arrival | Discover Tokyo
Day 03 – 04: Tokyo – Hakone | Discover Hakone
Day 05 – 06: Hakone – Osaka | Discover Osaka
Day 07 – 08: Osaka – Kyoto | Discover Kyoto
Day 09 – 10: Kyoto – Takayama | Discover Takayama
Day 11 – 12: Takayama – Kamikochi | Discover Kamikochi
Day 13 – 14: Kamikochi – Tokyo | Free Day in Tokyo | Tokyo Departure
Full Itinerary
Day 01 – 02: Tokyo Arrival | Discover Tokyo
Today you will touch down in Tokyo, Japan's capital and the tenth most populous city in the world. On arrival, you will be met at the airport by your driver and travel by shared shuttle bus to your hotel in the Asakusa district of the city, where your tour leader will be waiting to meet you in the lobby. This evening you will convene with your group for a welcome meeting before heading out to a local restaurant for an introductory meal – the perfect way to begin getting to know your group.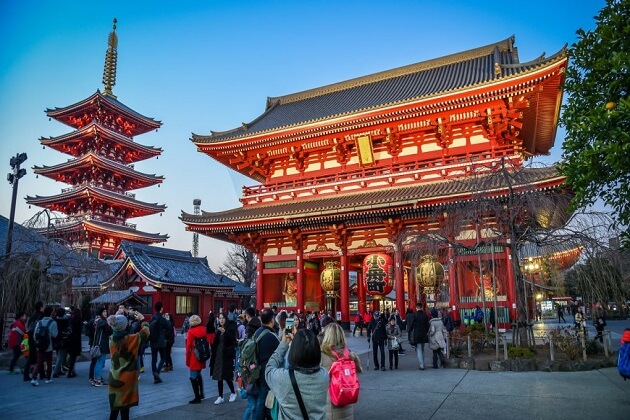 Tokyo is an international byword for hyper-modernity, so you may be surprised to find that there are still little pockets of history left for those who look. Asakusa is one of these pockets, where bustling low-rise market stalls line the approach to Senso-Ji – Tokyo's oldest temple.
After exploring this area, on day two your tour leader will take you on a guided tour of some of the city's other famous sites – from the madness of Shibuya's scramble crossing to the towering neon arcades of Akihabara and plenty in between. The highlight of today is likely to be a ride on the Sumida River, concluding with a cup of green tea in the beautiful oasis of Hamarikyu Gardens.
Overnight at the Asakusa Via Inn.
Day 03 – 04: Tokyo – Hakone | Discover Hakone
Just a short ride on the bullet train will bring you to Hakone, part of the Fuji-Hakone-Izu National Park and one of Japan's most popular hot spring towns. Here you'll be staying in a large Japanese-style hotel very close to the Hakone Open-Air Museum, which you'll be visiting with your group today. With works by Picasso, Miro, Rodin and Henry Moore set amid stunning mountain scenery, this is sure to be a real highlight for any art fans.
Besides art, Hakone has a wealth of attractions to offer. Quaint traditional buildings, a pirate ship cruise across Lake Ashi – not to mention spectacular views of Mount Fuji when the weather is clear! You'll have the chance to do all this and more on day four as your tour leader shows you some of the area's finest spots.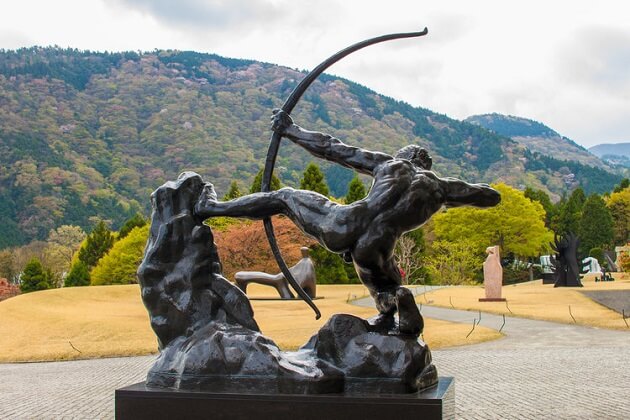 Dinner will be included on both nights of your stay in Hakone – a lovely kaiseki-style spread featuring a multitude of dishes made from local and seasonal ingredients. Don't forget to try out the hot spring baths, too – this is an integral and very enjoyable part of Japanese culture, and Hakone boasts some great bathhouses.
Overnight at the Resorpia Hakone
Day 05 – 06: Hakone – Osaka | Discover Osaka
Today you will make your way by local train and shinkansen bullet train to Osaka, an exciting, modern city known for its superb street food (Takoyaki octopus balls and okonomiyaki savory pancake are firm favorites – trust us!) and the down-to-earth attitude of its inhabitants.
This afternoon you will begin your exploration of the city by visiting Osaka Castle, a huge reconstruction of the original building, housing a great museum about the castle's origins. Later on, you will be free to do your own thing or to head out with your tour leader to explore the vibrant Dotonbori district (famous for the giant, neon "Glico running man" and huge animatronic crab) and sample a bit of the local street food.
On day six you will have a free day to do whatever you choose. Hiroshima and Miyajima, Himeji Castle, or the ancient imperial capital of Nara all make excellent day trips from Osaka – your tour leader will be heading to one of these great destinations, but will also be able to advise you should you decide to branch off somewhere else.
Overnight at the Cross Hotel Osaka.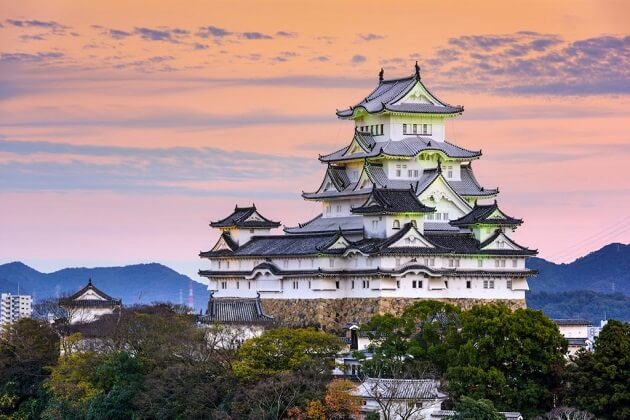 Please note the torii gate at Itsukushima Shrine (on Miyajima) will undergo renovation work from June 2019 to August 2020 to repair saltwater damage. The shrine may be partially covered with vinyl sheets during this work.
Day 07 – 08: Osaka – Kyoto | Discover Kyoto
Kyoto was the capital of Japan for over one thousand years between 794 and 1869, an illustrious history that has left it with an incredible collection of historical landmarks.
It's not for nothing that Kyoto is known as the "City of Ten Thousand Temples", as it boasts dozens of major attractions. The tour leader will be able to put together the best itinerary based on the season, weather conditions, and of course the group's interests.
In the evening of day seven, you'll head to Gion, Kyoto's traditional wood-paneled geisha district, for a private afternoon tea with a maiko. Later on, you will join your tour leader and group for an included meal at one of the city's many fantastic restaurants.
On day eight we will have a private coach available for today's sightseeing. You will be joined by an expert local guide in addition to your tour leader and will visit some of the temples and shrines mentioned above – as well as other highlights such as the bamboo groves of Arashiyama, Yasaka Shrine or the Golden Pavilion of Kinkaku-Ji.
Overnight at the Mitsui Garden Kyoto Shinmachi Bettei.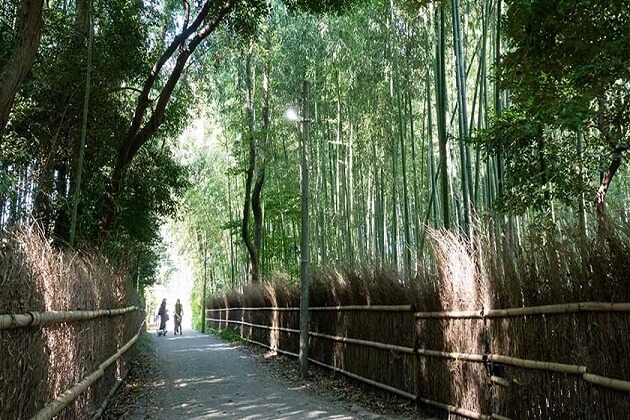 Day 09 – 10: Kyoto – Takayama | Discover Takayama
On day nine you will make the journey from Kyoto high into the Japanese Alps to the mountain town of Takayama, historically renowned for producing exceptional craftsmen. You will have the afternoon to begin exploring the area, perhaps making time to visit the craft shops and sake breweries of the old town district. Dinner this evening will be included at your Japanese-style inn.
Day ten offers a full day in Takayama, and there is plenty to see and do to keep you busy. Begin the day by visiting the riverside morning market, then we will head to the Hida no Sato folk village, an open-air museum showcasing the region's traditional thatched farmhouses.
Those looking for an unusual alternative to the traditional sights can also choose to visit the world headquarters of the Sukyo Mahikari cult, a vast shrine that dominates the Takayama skyline and features a giant fish tank at its altar!
Dinner is not included this evening, so we recommend heading out for a taste of Hida beef – just as tasty as its famous Kobe cousin!
Overnight at the Tanabe Ryokan.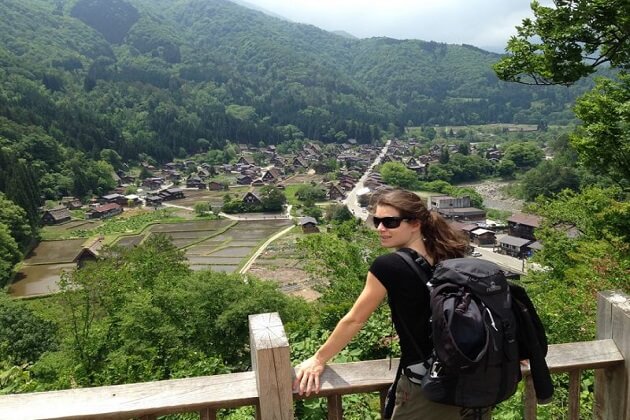 Day 11 – 12: Takayama – Kamikochi | Discover Kamikochi
Next, you will continue your adventure through the Japanese Alps as you board a private coach to Kamikochi, in our opinion one of the most beautiful locations in the whole of Japan.
The Kamikochi plateau is about 1,500 m (4,920 ft) above sea level, so the weather here will be notably cooler than in other destinations in Japan – even in summer. On the afternoon of your arrival, you'll drop your luggage at the ryokan and have the option of taking a hike along the Azusa River – which boasts clear water and stunning views. Later you will return to your inn to relax, take a soak in the onsen and enjoy a delicious Japanese-style dinner with your group.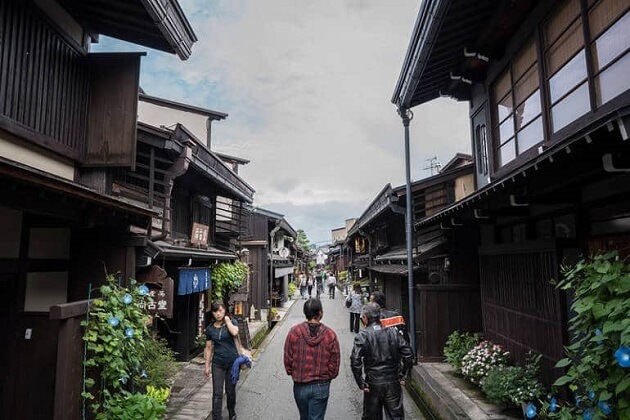 On day twelve you will have the option of another walk, this time heading in the opposite direction along the river or perhaps up to the Dakesawa route for beautiful views over the valley. Later on, you will have more time to relax and enjoy one or two of the area's superb onsen baths before another included dinner at your ryokan.
Overnight at the Gosenjaku Hotel.
Day 13 – 14: Kamikochi – Tokyo | Free Day in Tokyo | Tokyo Departure
Today you will return to Tokyo by bus and train, stopping on the way to visit the impressive "Black Crow" samurai castle of Matsumoto – one of the best original castles in Japan. You will arrive in Tokyo's buzzing Shinjuku skyscraper district in the afternoon, allowing a little time for some last-minute souvenir shopping or to fit in one last sightseeing stop. As your tour comes to an end, we hope that you might join your tour leader and travel companions for a farewell meal in the evening: a chance for one last night of good food and drink before heading home. On the morning of day 14, it's time to say goodbye to your traveling companions and board your flight home. Hope you enjoyed it and wish that we could serve you for your next Asia vacation packages.