General Information
Tour Highlights
Discover the vibrant cities and isolated villages of Sri Lanka
Observe leopards and sloth bears in Wilpattu National Park
Explore an epic historic Anuradhapura, Polonnaruwa, and Sigiriya
Marvel at breathtaking highland vistas in Kandy and Ella
High on life on the pristine beaches of Pasikudah and Unawatuna
Tour Details
Duration: 16 Days/ 15 Nights
Start/ End: Negombo / Galle
Tour Route: Negombo – Wilpattu – Anuradhapura – Sigiriya – Polonnaruwa – Pasikudah – Dambulla – Kandy – Ella – Unawatuna – Negombo
Tour Type: Tailor-made tour
Tour Customizable: Definitely! Tell us your interest
Vehicle: private air-conditioned vehicle and licensed driver
Guide Service: private English-speaking guide
Tour Departure: No fixed departure. Anytime you wish!
Brief Itinerary
Day 01: Negombo Arrival
Day 02: Discover Negombo
Day 03: Negombo to Wilpattu
Day 04: Discover Wilpattu
Day 05: Wilpattu to Anuradhapura – Sigiriya
Day 06: Discover Sigiriya
Day 07: Sigiriya to Polonnaruwa – Pasikudah
Day 08 – 09: Discover Pasikudah
Day 10: Pasikudah to Dambulla – Kandy
Day 11: Discover Kandy
Day 12: Kandy to Ella
Day 13: Discover Ella
Day 14: Ella to Unawatuna
Day 15: Unawatuna to Galle – Unawatuna
Day 16: Negombo Departure
Full Itinerary
Day 01: Negombo Arrival
Upon arrival, our representative will be waiting to warmly welcome and escort you to the hotel in Negombo – a small city with tropical beaches and a wonderful colonial legacy. You will get the first look at the city and its manifold sights along a 30-minute drive to your hotel.
The rest of the day will be yours. Relax at leisure. Overnight in Negombo.
Day 02: Discover Negombo
Good morning! Today, we begin our journey with a tuk-tuk drive, in the outskirts of Negombo, across the countryside and observe what is remote life in Sri Lanka. We will stop and meet the locals, have lunch and listen to their stories. Later, we also have dinner with them before heading back to the hotel.
Overnight in Negombo.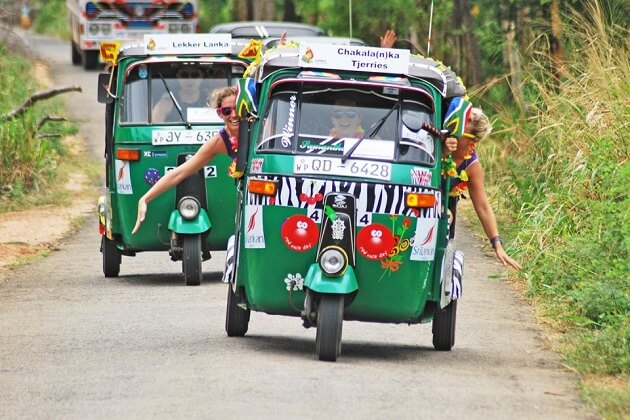 Day 03: Negombo to Wilpattu
This morning, we discover the local fish market. This is a bustling hub for locals gathering to pick up their share of the daily catch. After that, take a 3.5-hour drive northwards along the coast to the Wilpattu National Park which is known as the largest national park in such a country housing various forest ecosystems.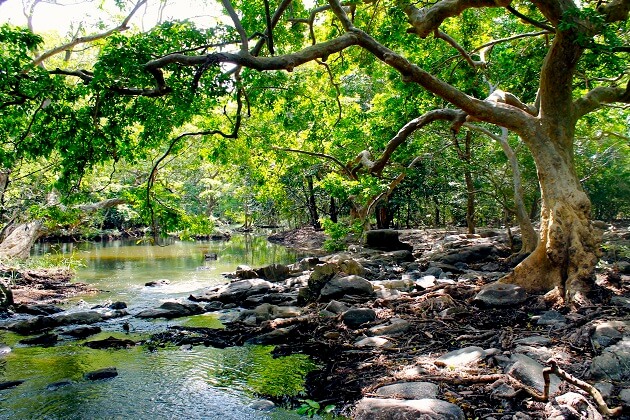 The Wilpattu National Park is home to more than 30 species of mammals consisting of sloth bears, leopards, spotted deer, elephants… Also, the park houses Wetland bird species like the whistling teal spoonbill, pintail, white ibis… Let get into the big game safari campsite and enjoy an interesting BBQ dinner. Overnight in the park.
Day 04: Discover Wilpattu
Today, we spend our entire day to discover the Wilpattu National Park to know about the habitat of native species. This day is your priceless opportunity to observe the elusive leopards, a large group of Sri Lanka's Sloth Bears. After a long day of discovering the park, back to the campsite and dinner.
Overnight in the park.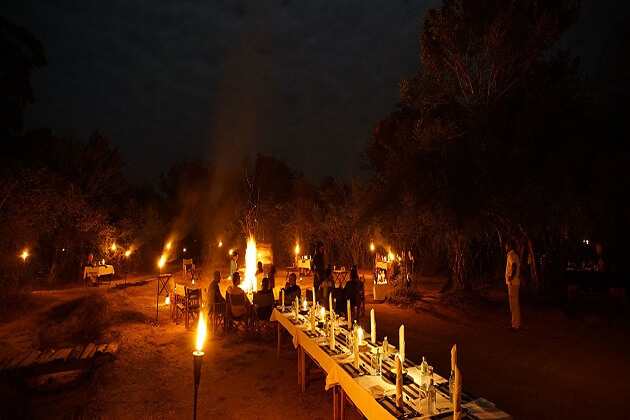 Day 05: Wilpattu to Anuradhapura – Sigiriya
Today, we move to Anuradhapura – one of the best destinations to explore the Sinhala civilization once flourished in Sri Lanka. Head to the tallest Dagoba (Buddhist Stupa) in the country as well as the Ruwanweli Maha Saya, and the sacred Bo-tree aka Sri Maha Bodhi. The Bo-tree is especially renowned as the locals believe that it grew from a branch of the tree under the Buddha attained enlightenment.
Later, drive to the area surrounding Sigiriya to have dinner. Overnight in Sigiriya.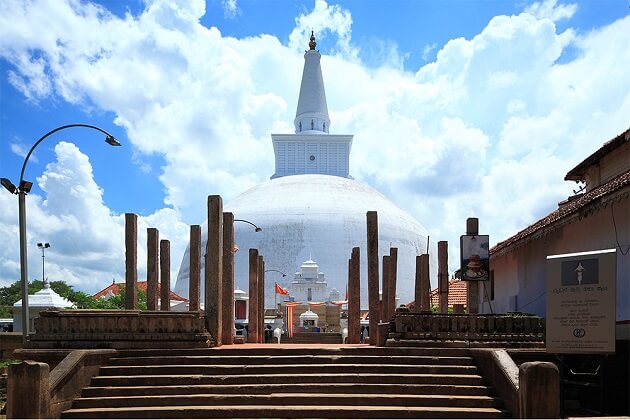 Day 06: Discover Sigiriya
Explore Sigiriya, a fortress-palace which has been considered a premier eco-tourism destination and UNESCO World Heritage Site since 1982. The structure rises up from the flatlands surrounding it, towering over 600 feet above the jungle.
Sigiriya aka 'Lion Rock', is named after the lion-shaped gateway carved into the palace's massive rocky base. Once there, you will follow the monument to ascend to the top through the lion's throat and open jaws. Unfortunately, the only remaining part of the lion that has not faded over the centuries is the set of stone paws. After exploring the site, we head back to the hotel and relax at leisure.
Overnight in Sigiriya.
Day 07: Sigiriya to Polonnaruwa – Pasikudah
Today, begin our trip to the eastern shore of Sri Lanka. Along the way, visit the ruins of Polonnaruwa, a UNESCO World Heritage site and capital of Sri Lanka from 11th to 13th centuries. Enclosed by stone walls, the city was dotted with palaces, shrines, monasteries, pavilions, parks, ponds, and irrigation lakes. Many of these still stand today, with the most spectacular being the Gal Vihara temple complex. The structure was cut from a single granite wall and contains dozens of statues of reclining, sitting, and standing Buddhas, making it one of the true masterpieces of Sri Lankan Art.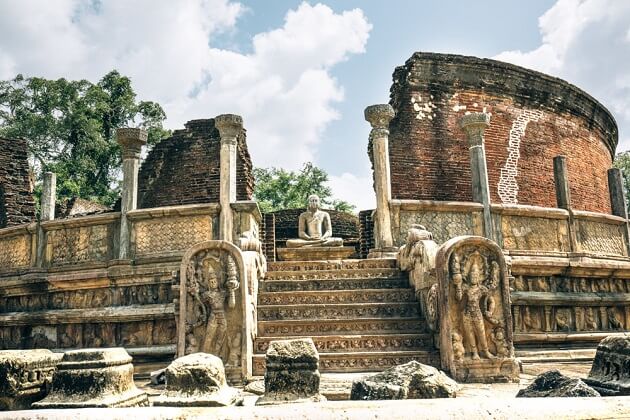 In the afternoon, we get into a tour to the entire complex, then keep driving until we reach the coastal town of Pasikudah. After a trip that totals three hours, check in to the Anilana Pasikudah hotel, eat dinner, and retreat to your room for the night. Overnight in Pasikudah.
Day 08 – 09: Discover Pasikudah
Taking place on the eastern coast of the country, Passikudah is renowned for owning one of the longest stretches of shallow reef coastline in the world, as most coasts in Sri Lanka are deep and experience stronger currents. Stroll for miles in calm, crystal-clear water only a few inches deep and go scuba diving or snorkeling at any one of the coast's ideal spots. The surrounding reef contains all kinds of tropical fish, and if you're lucky, you might even spot whales, dolphins, manta rays, reef sharks, and other exotic sea animals. The hotel also has all the resort offerings you could ever ask for, including a spa, pool, and fine dining.
Overnight in Pasikudah.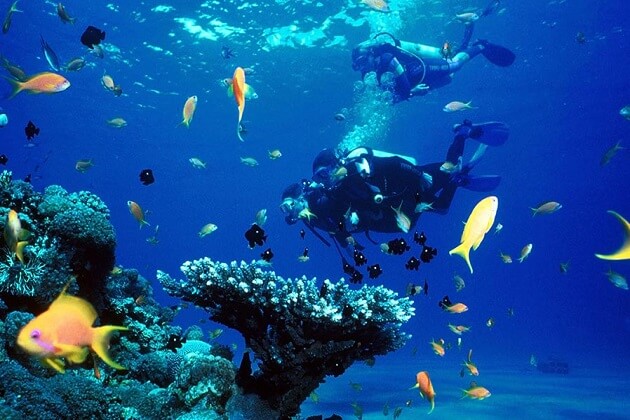 Day 10: Pasikudah to Dambulla – Kandy
Say goodbye to Pasikudah and we transfer to Dambulla which is an ancient city known for its stunning cave temples and large Buddha statue. The temple complex spans a total of 5 caves, converges more than 150 Buddha paintings, and served as King Valagambahu's refuge dating back in 1st century BC. The second cave is the most elaborately and largest decorated. It converges a large reclining Buddha statue as well as statues of Valagambahu and a which are the two of Sri Lanka's most famous kings. At the center of the cave sit a large basin that collects the water that drips from the rock ceiling.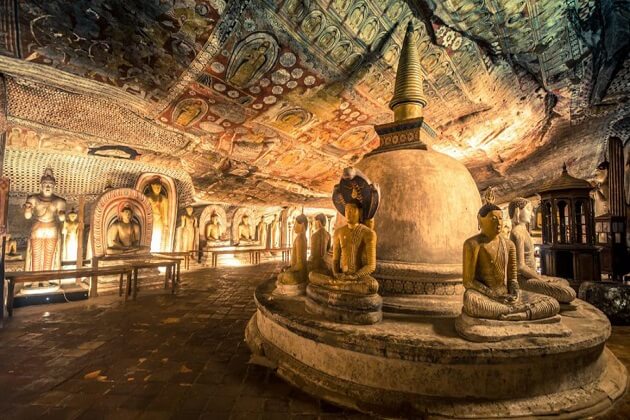 Get the chance to see each of the caves in detail, and enjoy a stunning panoramic view of the surrounding countryside. Then, continue on your five hours, 78-mile drive to Kandy and stay overnight at the Viyana Boutique Hotel.
Day 11: Discover Kandy
Kandy, the capital of Sri Lanka's central province, was initially built as a natural fortress against attack. Much of the original architecture has been preserved since it was not an easy target during the foreign invasions, Currently, Kandy is renowned as one of Sri Lanka's best attractions for both locals and tourists.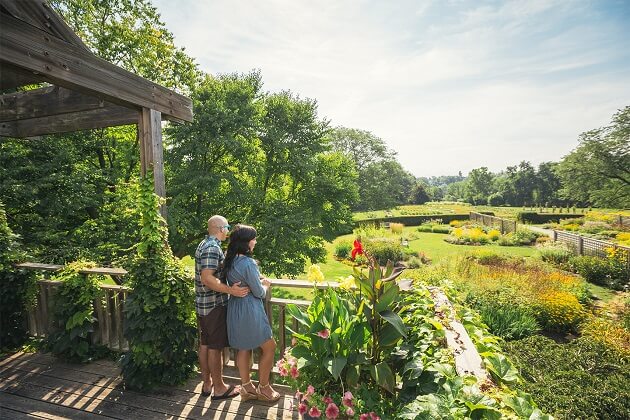 Today, we head to the Temple of the Tooth Relic which is a UNESCO World Heritage Site strategically taking place amidst three mountain ranges and the gateway to the hill country. Then, traverse to the nearby suburb of Peradeniya and head to the Royal Botanical Garden, famous for its collection of orchids, medicinal plants, and palm trees. After a day excursion, we drive back to the Viyana Boutique Hotel at night.
Day 12: Kandy to Ella
This day, board on a scenic train ride to the poetic mountain village of Ella. Situated in the cool central highlands, Ella's elevation gives you an opportunity to admire miles of Sri Lanka's south coast on a clear day. Walkthrough local tea plantations, temples, and waterfalls and relax in the soothing jungle climate before enjoying dinner at the 98 Acres Resort, where you will be staying overnight.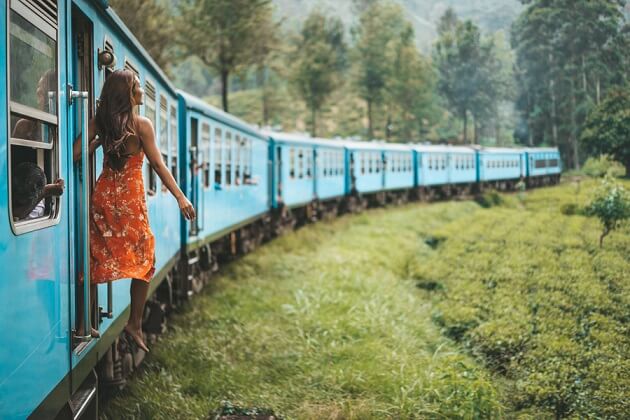 Day 13: Discover Ella
Today, visit a tea plantation and factory in Ella to gain a new perspective of one of the world's most popular drinks. Ceylon Tea is undoubtedly one of the best tea in the world and is one of Sri Lanka's main exports. We drive through the plantation and observe as vibrantly dressed tea-pickers roam the sloping hills among dense lush tea bushes. It is our chance to observe the workers gather stacks of tea leaves each day with incredible skill and then process the leaves using a traditional technique. Watch the process in its entirety, from crop to teapot, before returning to your hotel.
Day 14: Ella to Unawatuna
After breakfast, we take a 4.5-hour drive to Unawatuna, a picturesque beach setting within a cozy semicircular bay. With rows of palm trees, turquoise waters, and some of Sri Lanka's best restaurants, Unawatuna is a great place to wind down and get some sun. After arriving and discovering the beach area, have dinner and check into your room at the Cantaloupe Aqua hotel.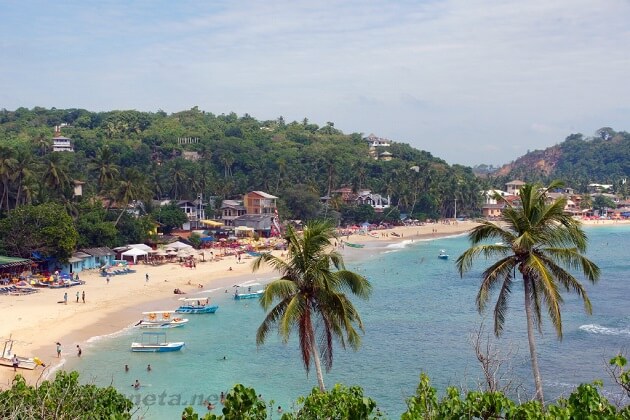 Day 15: Unawatuna to Galle – Unawatuna
Today, go on an excursion to the bustling provincial capital and administrative center of Galle. Sri Lanka's first center for international commerce and trade center, the ancient port city is conveniently located right within Unawatuna Bay. The city is famous for the Galle Fort, a UNESCO World Heritage Site with Portuguese and Dutch origins that overlooks the Indian Ocean. The sprawling fortress is surrounded by water on three sides, and within its ramparts, hosts houses, churches, warehouses, a harbor, and the Arab quarter.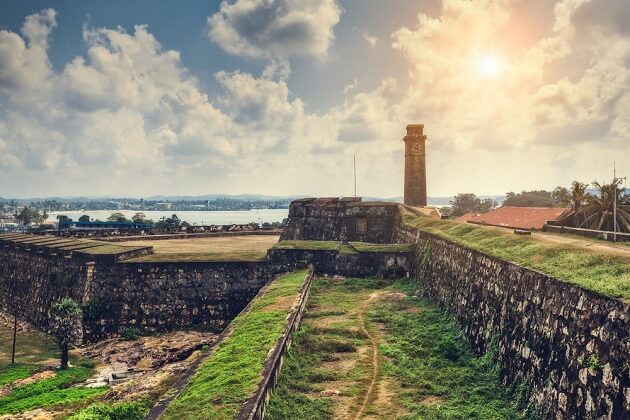 After checking out the fort, spend some time to sightsee around Galle's other remarkable ancient sites, which define the city's characteristic blend of old and new as modernization approaches at a rapid pace. Then, return to Unawatuna to relax on the beach before heading back to Cantaloupe Aqua.
Day 16: Negombo Departure
Time to say goodbye to Sri Lanka. Breakfast and morning at leisure until taking a 2.5-hour drive towards Negombo for a flight coming home. The trip ends. Hope you really enjoyed the trip and wish that Multi Country Asia Tours could serve you next time in Sri Lanka.