General Information
Tour Highlights
Take 1,200 steps upward Sri Lanka's most renowned archaeological site
Take one step closer to famous Buddhist relics, statues, and paintings
Head to an active tea plantation in a dense lush area dubbed 'Little England'
2-day tour with rare birds and wildlife, including elephants
Tour Details
Duration: 8 Days/ 7 Nights
Start/ End: Negombo / Galle
Tour Route: Negombo – Sigiriya – Kandy – Nuwara Eliya – Udawalawe – Galle – Negombo
Tour Type: Tailor-made tour
Tour Customizable: Definitely! Tell us your interest
Vehicle: private air-conditioned vehicle and licensed driver
Guide Service: private English-speaking guide
Tour Departure: No fixed departure. Anytime you wish!
Brief Itinerary
Day 01: Negombo Arrival
Day 02: Negombo – Sigiriya
Day 03: Sigiriya – Kandy
Day 04: Kandy – Nuwara Eliya
Day 05: Nuwara Eliya – Udawalawe
Day 06: Udawalawe – Galle
Day 07: Discover Galle
Day 08: Negombo Departure
Full Itinerary
Day 01: Negombo Arrival
Upon arrival, our representative will be waiting to warmly greet and escort you to the hotel in Negombo.
Nicknamed 'Little Rome', this interesting place is strongly influenced by the Catholic church, as can be seen from the many churches while driving throughout town (Christianity is a minority religion as 70% of Sri Lankans practice Buddhism). Meanwhile, the lagoon at Negombo is famous for its regular harvest of lobsters, crabs, and prawns. Fish auctions regularly occur on the beach and are definitely well worth a look, as are the many canals which meander through the area. Once you've settled in your hotel, take a long beach walk and check out the local scene.
Once you've settled in the hotel, it's time for you to enjoy walking along a long sandy beach and experience the local vista.
Overnight in Negombo.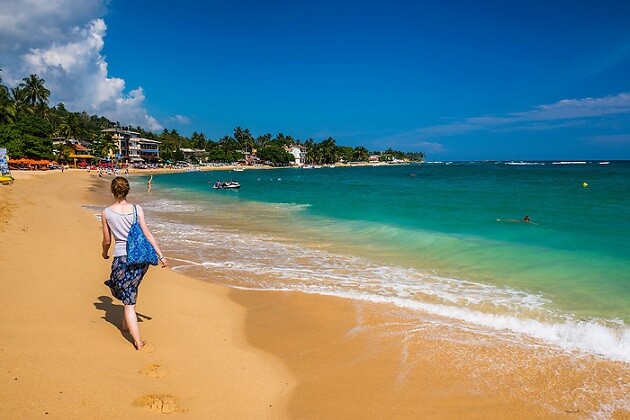 Day 02: Negombo – Sigiriya
After breakfast, we will take a 3-hour drive towards Sigiriya – an ancient city that is now a premier Eco-tourism destination in such a country. You will quickly understand why as soon as we come to Sigiriya Rock Fortress – the World Heritage Site in Sri Lanka recognized by UNESCO in 1982. The site is also known as the "Lion Rock" taken from the route which visitors use to start their final ascent to the top – through a Sinha (lion) and the open Sigiriya (throat).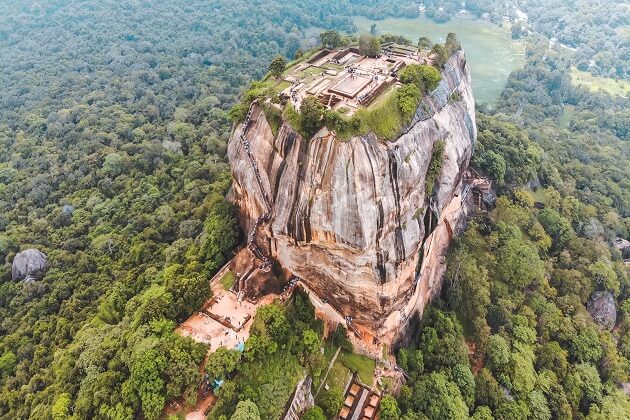 The topography of the area is flat except for the massive rock outcrop of the fortress itself, which rises an incredible 660 feet (200 m) from the jungle below. You can challenge yourself to climb the 1,200 steps to discover one of the best-preserved examples of ancient urban planning. Make sure to look for the colorful frescoes that adorn the walls, as well as the gigantic paws sculpted into the side of the rock.
After a day excursion, we drive back to the hotel and relax at leisure.
Overnight in Sigiriya
Day 03: Sigiriya – Kandy
This morning, we get into a pretty drive (2.5 hours) to Kandy to head to the Temple of the Tooth which is an essential Buddhist site taken place within a royal palace complex of the former Kingdom of Kandy housing the relic of the Buddha's tooth. The relic itself was brought to Sri Lanka from India 2.500 years ago and is highly protected in a gold casket inside the Inner Chamber.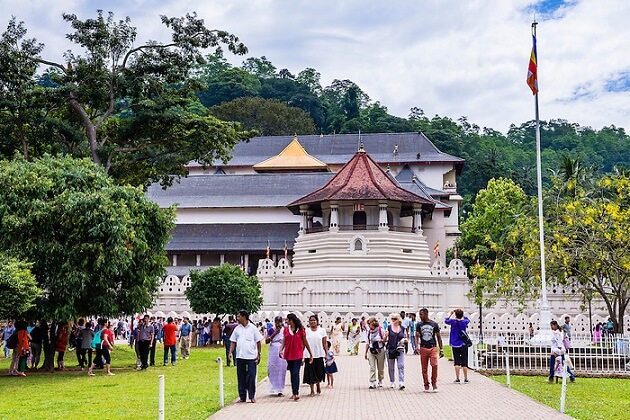 On our way to Kandy, we also pay a visit to the stunning Bambulla to head to the Royal Rock Temple – known as the largest and most well-preserved temple-cave complex in such a country with the wonderful vistas of the surrounding countryside. Once entering the site, you will see a handful of separate caves containing more than 100 beautiful Buddha statues as well as paintings dating back more than 2.000 years ago.
Overnight in Kandy.
Day 04: Kandy – Nuwara Eliya
Ready for a day of traversing to the heart of Sri Lanka's tea country at the high altitude (1890m). The Nuwara Eliya has a favorable climate which is cooler and more invigorating than anywhere else in the country; thus, it is the best area for growing tea.
After joyfully exploring the "heaven of tea", we spend our afternoon unwinding at Gregory Park which is a prevalent lake featuring picnicking, boating, and horseback riding.
Overnight in Nuwara Eliya.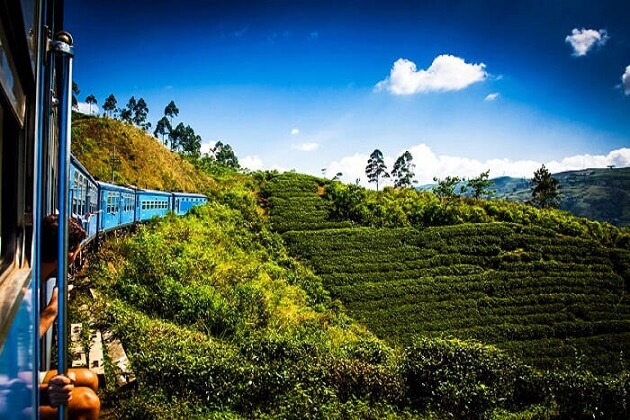 Day 05: Nuwara Eliya – Udawalawe
Start our new day with a quite-long drive to Horton Plains which is a well-known nature reserve characterized by a gorgeous landscape of rolling grassland, forests, hills. This destination is perfect for an early morning hike. The Horton Plains is known as the highest plateau on the whole island; hence, it is far too easy to understand the wildlife diversity the destination has as there are up to 24 species of mammal-like elk, giant squirrel, deer, wild boar, leopard, macaque, porcupine, wild hare…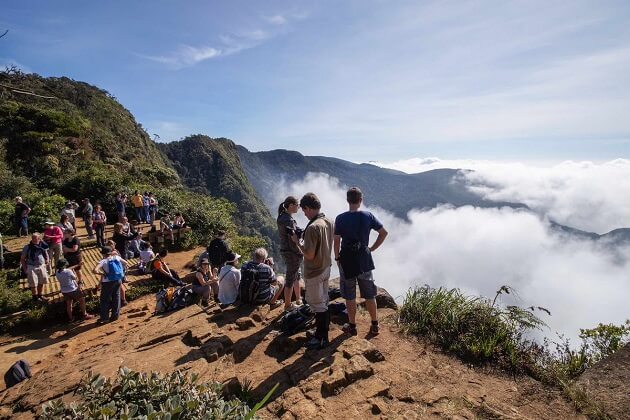 When we hike, it is our chance to observe unique vegetation offering the perfect environment to witness manifold rare and endemic highland birds in which, 87 species in total and 14 endemic ones. The Horton Plains has its own impressive physical feature as the escarpment falling 880 m to the lowlands. The "World's End" aka Aptly boasts a fantastic scenery of the tea estates below touching all the way to the southern coastline.
Later, in the afternoon, we take a 4-hour drive towards the Udawalawe National Park where you will spend your overnight stay at a safari camp.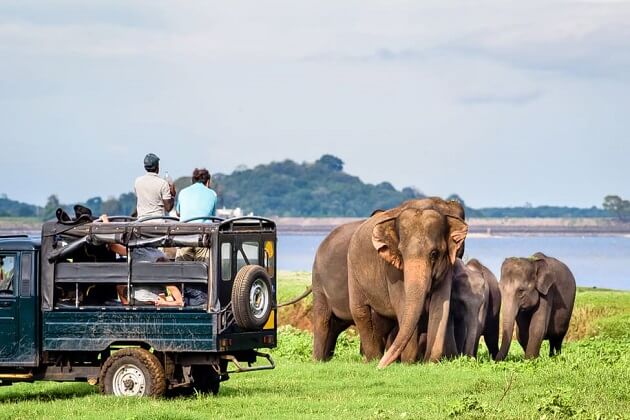 Day 06: Udawalawe – Galle
Good morning in Udawalawe National Park. Today, we spend our day playing with adorable elephants. There would be hundreds of them bathing, feeding, and residing across the park. Feel free to take them a shower, feed them, and be a good friend with them. In other words, keep your camera handy.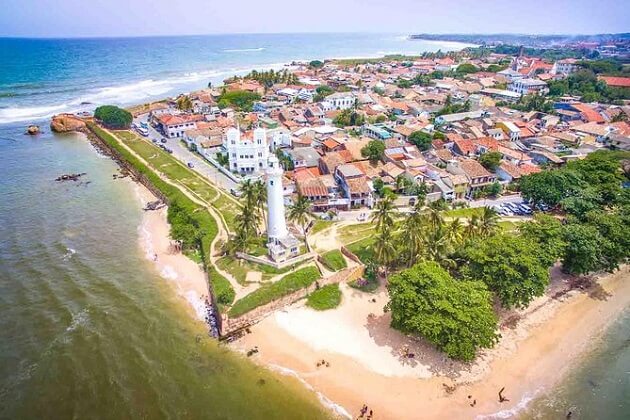 Besides elephants, Udawalawe is home to water monitor lizards, water buffalo, sambar deer as well as monkeys and other bird species. It is sure that a day spending in the park would be one of the most wonderful moments you have ever had in life.
After joyfully participating in a day excursion in Udawalawe National Park, let take a drive (3 hours) towards Galle.
Overnight in Galle.
Day 07: Discover Galle
Morning in Galle and let begin our journey exploring the destination. We head to the delightful yet exotic UNESCO-listed city along the southern coast. We will discover the fortress constructed by the Portuguese in 1587 with a background of the ocean on three sides. We also have time to head to the city's Dutch-colonial buildings, a grand mansion, historic mosques, and museums. Stroll around the streets and make our way to some awesome café, shops, boutique hotels.
Galle is renowned for the Unawatuna Bay; thus, why don't we spend time on such a wonderful destination with a dip in the ocean in the afternoon.
Later, back to the hotel and relax at leisure. Overnight in Galle.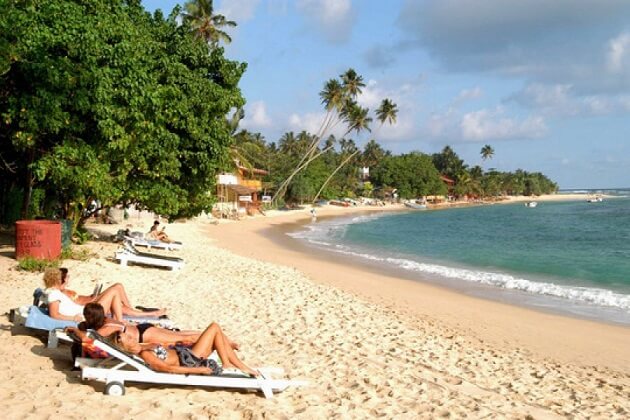 Day 08: Negombo Departure
Time to say goodbye, Sri Lanka. Breakfast and morning at leisure until getting escorted to the airport for a flight coming home. The trip ends. Hope you had a fantastic journey. If you are going to other multi country Asia tour packages, let us be your partner.