General Information
Tour Highlights
Hike or walk on the iconic attraction of China – the Great Wall
Get to know how to apply facial makeup for the Beijing Opera
Strive the scrumptious Beijing Roast Duck for dinner
Head to the Terra cotta Warriors and make one of your own
Be warmly greeted by a local family and get to know how to make dumplings with them
Strive your courage at the glass sky deck on top of the highest building in Shanghai
Tour Details
Duration: 9 Days/ 8 Nights
Start/ End: Beijing / Shanghai
Tour Route: Beijing – Xi'an – Shanghai
Tour Type: Tailor-made tour
Tour Customizable: Definitely! Tell us your interest
Vehicle: private air-conditioned vehicle and licensed driver
Guide Service: private English-speaking guide
Tour Departure: No fixed departure. Anytime you wish!
Brief Itinerary
Day 01: Beijing Arrival
Day 02: Discover Beijing
Day 03: Discover Beijing
Day 04: Discover Beijing
Day 05: Beijing – Xi'an
Day 06: Discover Xi'an
Day 07: Xi'an – Shanghai
Day 08: Discover Shanghai
Day 09: Shanghai Departure
Full Itinerary
Day 01: Beijing Arrival
Upon arrival, our representative will be waiting to warmly greet and escort you to the hotel. Once you've settled in the hotel, relax at leisure as the rest of the day will be yours.
Overnight in Beijing.
Day 02: Discover Beijing (B – L)
Today, we head to several iconic sites in Beijing like Tian'anmen Square as well as the Forbidden City which are the renowned masterpieces of Chinese architecture. Lunch with authentic Sichuan cuisine.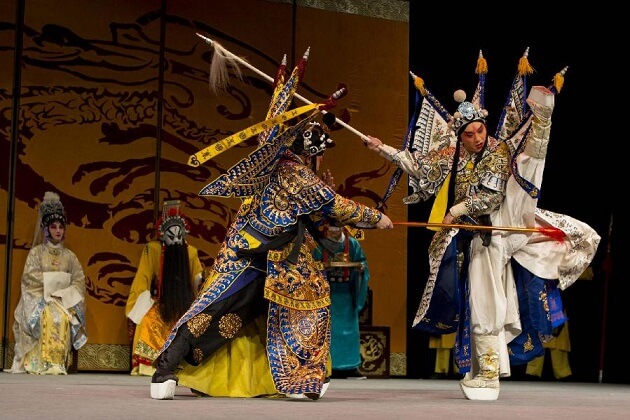 Later, in the afternoon, take a rickshaw ride and we visit a local family to get more experience of the hutongs as you can learn about a maze of historic alleyways and a single story about traditional courtyard houses. Also, we can learn how to know to apply facial makeup for the Opera in Beijing. It is absolutely a funny experience of getting an insight into the local culture.
Overnight in Beijing.
Day 03: Discover Beijing (B – L)
See the Great Wall section at Mutianyu, a much less-crowded section, where a cable car takes you up to avoid a very steep climb. Peek through the watchtowers and imagine you are on the lookout. There will be manifold options for you to choose to return as you can opt to travel by cable car, walk down, or walk along the wall for about 1 hour just before getting a toboggan to slide down, which is an interesting option if the weather is nice. Lunch is of a countryside style, and the specialties include rainbow trout, sturgeon, and salmon.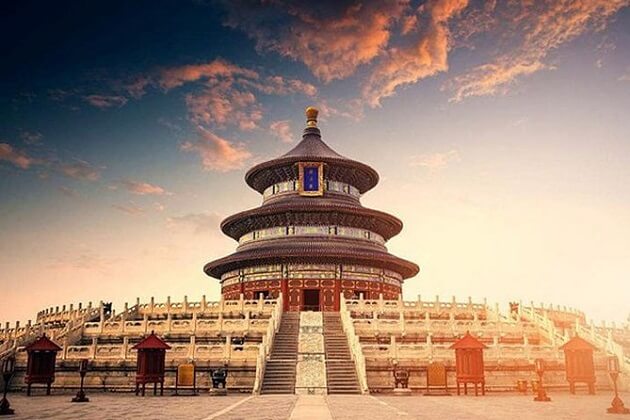 In the afternoon, head to the Temple of Heaven where the emperors of old prayed for a good harvest and where local people now practice tai chi; it is an impressive complex surrounded by a beautiful park. The renowned Beijing Roast Duck awaits you for dinner and you will be showed how to savor it according to Chinese customs.
Overnight in Beijing.
Day 04: Discover Beijing (B – L)
Today, we spend our morning unwinding in the Summer Palace where converges beautiful gardens and sparkling lakes. We board on a boat riding along a lake and discover the Garden of Virtue and Harmony to get further into China's history.
After lunch, take a short rest and you will be escorted to the airport for a flight to Xi'an. Upon arrival, your guide will escort you to the hotel. The rest of the day will be yours. Today, you will have 2 optional activities for this day.
Optional Activity 1: If you visit China in Summer, without doubt, the Water Magic Cube Amusement Park is highly recommended to get away from the heat.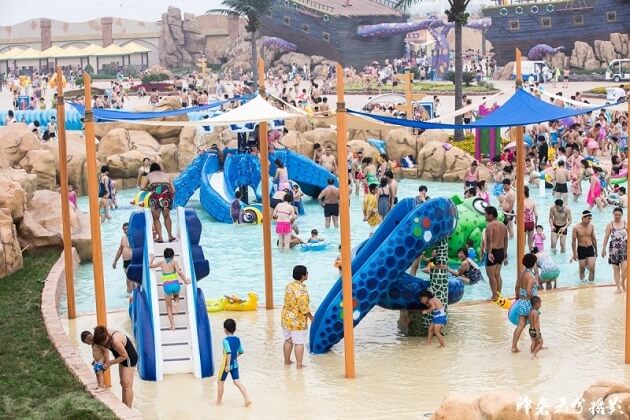 Optional Activity 2: If you get a bit tired of taking a flight, a high-speed train from Beijing to Xi'an is a perfect alternative option for you to choose.
Overnight in Xi'an.
Day 05: Discover Xi'an (B – L)
Show your children how archeology comes to life in the form of the Terra cotta Army and the underground pits where they were found. An interesting museum and film deepen the experience. Did you know that each soldier has his own unique face and was painted in vivid colors? Our guides are on hand to unravel the mysteries and stories surrounding them and to bring history alive. You will have the opportunity to learn how to make a terra cotta figurine with your own hands and take it back home as a memorable souvenir.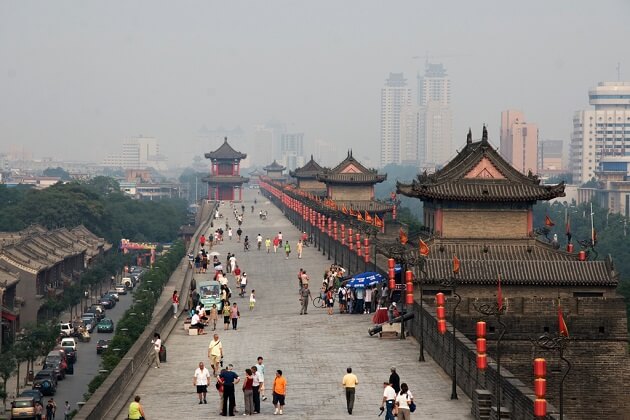 After enjoying some Hunan and Sichuan cuisine for lunch, get some exercise during the day with a bike ride on the Xi'an City Wall, one of the oldest and most complete city defenses still around. There are also ramparts, gates, and watchtowers in abundance. If today weather becomes not good, we will substitute this with a visit to the Bell Tower.
Day 06: Xi'an – Shanghai (B – L)
Dumplings are very popular all over China. Your family will learn how to make these mouth-wateringly good little morsels at a local family's home, and then you can eat your creations for lunch.
The elegant Big Wild Goose Pagoda, in fact, is one of the major attractions in the Xi'an city center, and it makes a truly wonderful silhouette against the sky.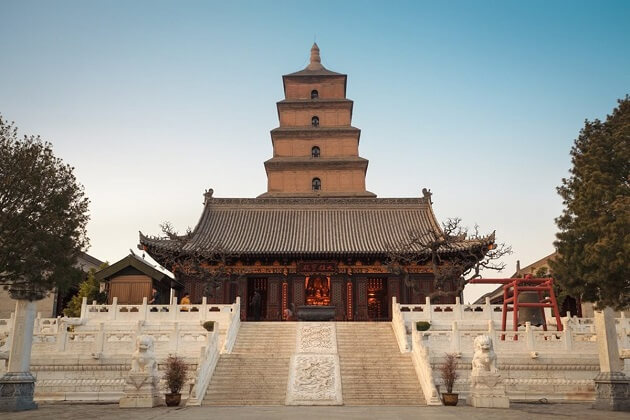 Our guide and driver will take you to the airport for a late afternoon flight to Shanghai. Upon arrival in Shanghai, you will meet your local guide at the airport's arrival hall, and be transferred to the hotel by a private van and driver.
Day 07: Discover Shanghai (B – L)
Shanghai is a collision of new and old. Visit the new part of Shanghai in the morning and go to the Shanghai Urban Planning Exhibition Hall to have a fascinating insight into Shanghai's future and the Shanghai World Financial Center having the tallest glass observation deck in China. Lunch is a meal of Cantonese food in beautiful surroundings with a nice view of the Bund.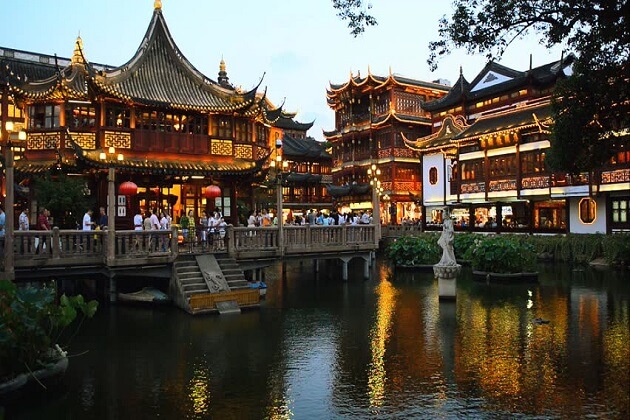 In the afternoon, travel back in time to the old part of Shanghai: the famous Yuyuan Garden that was built during the Ming Dynasty. You will have an exciting experience at a market street near Yuyuan Garden where crowds of people buy local snacks, handicrafts, antiques, and souvenirs.
Day 08: Discover Shanghai (B – L)
Today, you can freely explore Shanghai your way. There would be 2 optional activities for you today to get into if you want:
Optional Activity 1: Water Town Day Tour
There are plenty of picturesque water towns around Shanghai owning inimitable vista with their black-awning boats, tilted eaves, arched bridges, and their interesting local dialects. Xitang (1 hour away) and Zhujiajiao (40' away) are highly recommended to choose if you want to enjoy the serene of ancient China.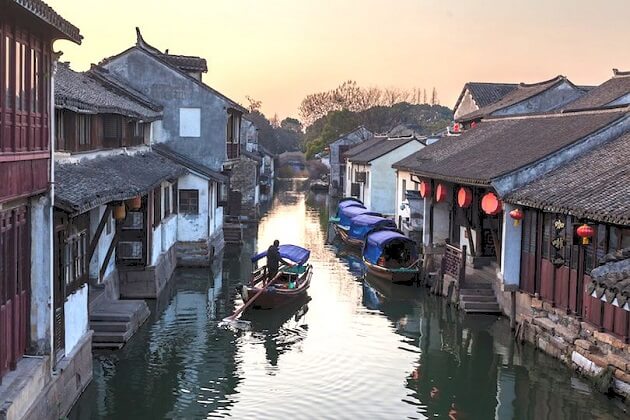 Optional Activity 2: Suzhou or Hangzhou Day Tour
Hangzhou is 1hour away from a high-speed train. It was considered to be like heaven on Earth in ancient China. It is famous for its picturesque view of West Lake. If you have any interest in ancient Chinese gardens, Suzhou is just about 30′ away via a high-speed train or 90′ by private transfer. The old-aged gardens in Suzhou stand for the highest art and architecture of old-aged China and you can also board a boat across the ancient Grand Canal.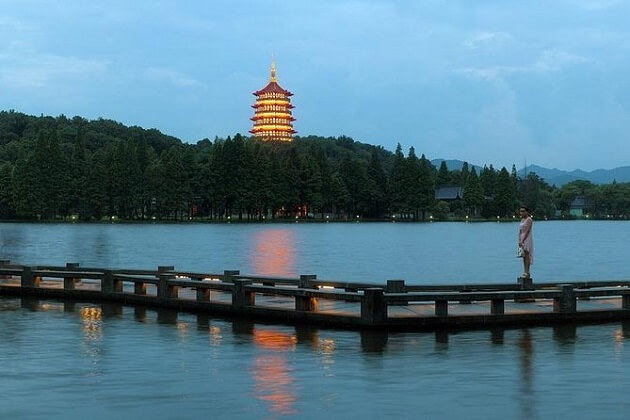 Day 09: Shanghai Departure (B)
Time to say goodbye China. Breakfast and morning at leisure until getting escorted to the airport for a flight coming home. Your Asia vacation package ends. Hope you had a fantastic trip and wish that we can serve you next time in China.