Souvenir is the thing that we cannot ignore whenever we travel to any country. Thus, on our Asia tour packages, especially when we visit Myanmar where is famous for its traditional & cultural items, buying some souvenirs seems to be the must. However, what are the best souvenirs in Myanmar? Keep scrolling down and the answer for such a question is open-wide.
Best Fashion and Jewelry Souvenirs in Myanmar
Longyi – How to Achieve The Vintage Burmese Look
Both men and women in Myanmar wear Longyi as their everyday outfit. Travelers should choose this tradition costume as a souvenir because of its availability and diversity. You can have tailor-made longyi from fine silk or buy premade ones available in all popular clothing shops. It is very comfortable to wear and will always remind you of how fascinating the trip to Myanmar was.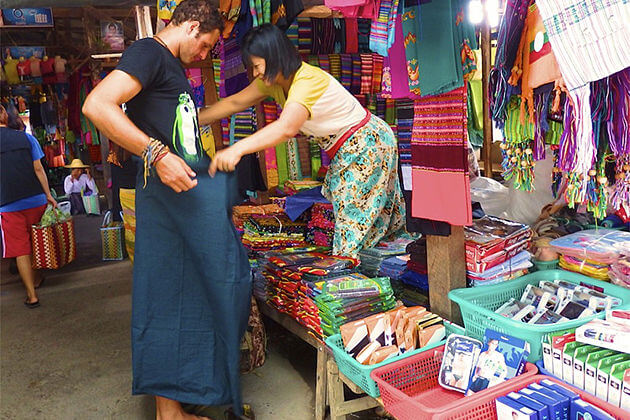 Gemstone – Myanmar's Precious Gift from Nature
It is such an absurd deficiency if one fails to mention gemstone as one of the best souvenirs to buy in Myanmar. The country is known for its abundant mines of jade, sapphire, and ruby. As a result, their prices are relatively lower than in other places. Tourists are free to choose from hundreds of different designs of jewelry, with price varies from as cheap as a few dollars to as luxury as thousands of dollars. It is important to keep in mind that travelers should be aware of fake jewelry or fraudulent act. Tourists who are interested are welcomed to visit Myanmar gem trade center or Bogyoke Aung San market in Yangon, Panchan gem market and Pan-Ma gem market in Mogok.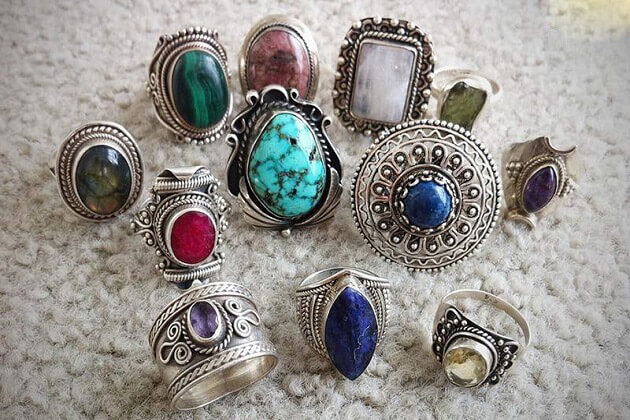 The Best Hand-crafted Souvenir
Hand-made Home Decor Items
The perfect combination of rustic wood and creative, skillful artists creates unique wood artworks, luxury home decor, and unique furniture. Art colored-pencil tables, wine glass holders, and rustic wall clocks are born with the purpose to brighten up the living space and raise the inspiration for their owners. Travelers from the USA & Canada can acquire an amazing item after the trip cause it is recently available on Amazon.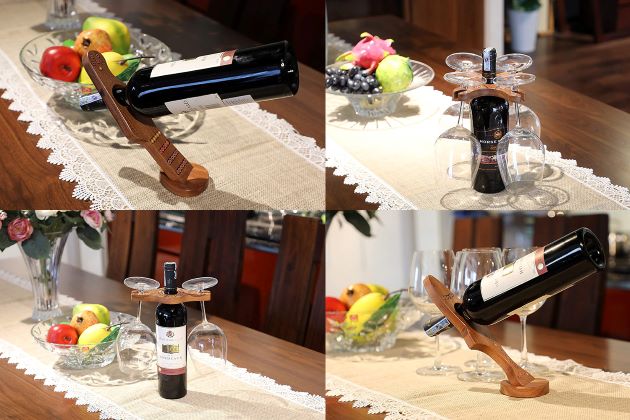 Paper Umbrellas – the Beautiful Hand-crafted Gift
With price range varies from 7-8 US$, these affordable souvenirs are highly recommended for foreign travelers. Tourists can also experience making one from scratch with the help of skillful local artisans. Myanmar traditional umbrellas are special because of their colorful patterns of animals or flowers, and they sure look lovely on photos.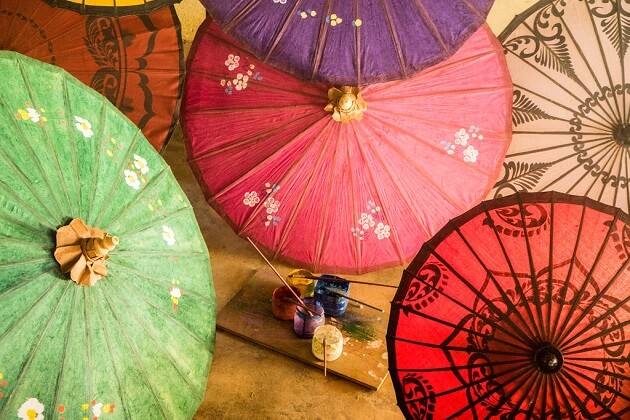 Tapestries – the Shiny Gift for the Special Loved Ones
These complex handicrafts are made from gold and silver threads, which makes them outstanding for displaying. The art of making tapestries originated in Myanmar around a century ago and nowadays, Mandalay has become a famous destination for designing and making tapestries. Sometimes the diversity of these sophisticated weaved cloths can make tourist a little indecisive: there are patterns of sacred animal like a white elephant or a blue peacock; there are tapestries describing traditional Burmese dancing costumes; there is an embroidered scene of exciting festivals or the beauty of the local daily life; and many more. These souvenirs are not only suitable for home decoration but also a perfect gift for your family.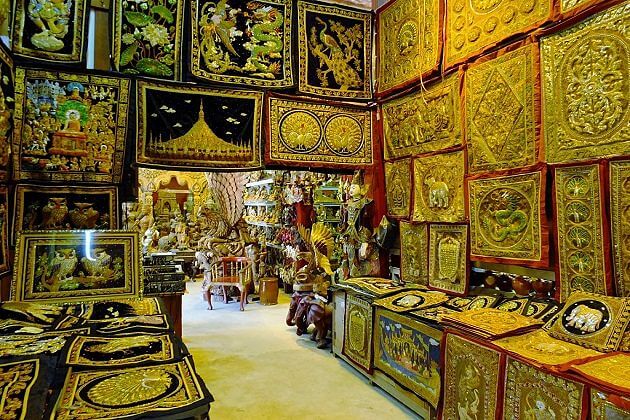 Wind Bells – Myanmar Best Memories Hanging in the Wind
It is no doubt that one of the best things to buy when traveling to Myanmar are wind bells. They come in various sizes and materials, with decorations of Myanmar most beautiful attractions or traditional symbols. The Burmese believe that if you have wind bells hanging in front of your doors, it will help to protect you from evil spirits and attract luck and fortune. The small wind bells are excellent choices for tourists who are looking for budget-friendly souvenirs as they cost less than 1 US$.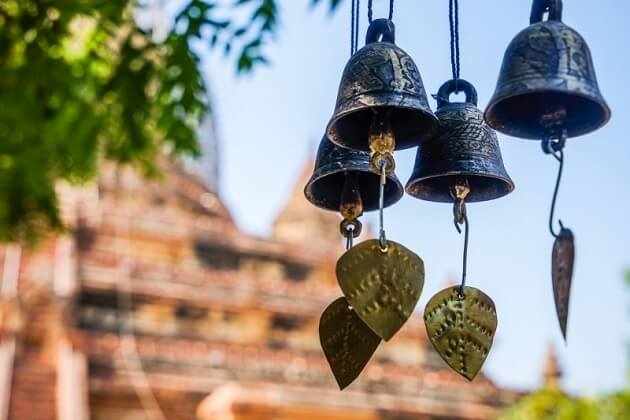 The Best Souvenirs for Art-lovers
Sandpaintings – Colorful Masterpiece
A long-time ago, on my trip to Vietnam, I saw a Vietnamese artwork called Sandpaintings and I was really interested in it. However, to be honest, this sort of artwork was for kids and others for entertaining as it was not the traditional art of Vietnam.
On the contrary, when I came to Bagan, the ancient city in the central region of Myanmar, I realized that the city is famous for the art of making a colorful sand painting. In the past, the growth of the sandpainting technique also reflects the Buddhism development in the region. Popular painting subjects were religious stories, normal life or simply just decorative patterns. Modern artists are now experimenting with newer topics, which give tourists even more choices.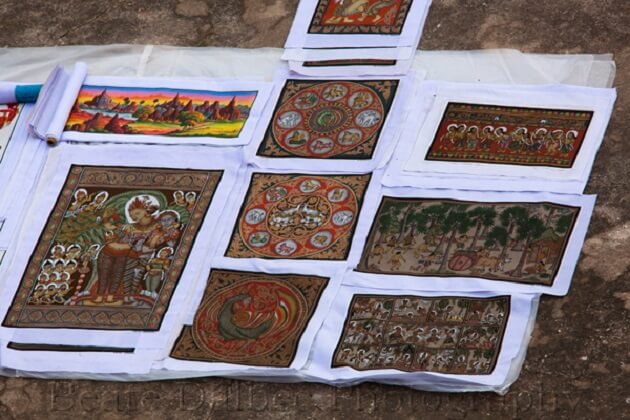 Marionettes – a Symbol of the Traditional Art of the Burmese
The art of Puppetry was very popular in Myanmar in the past with its original purpose was to spread the news or educate people. Nowadays, thanks to dedicated artists, this form of art have been restored and maintained. Visitors can enjoy these wooden puppets performance in almost all popular tourist destinations and then buy them as souvenirs. In order to create a handful of stories, Marionettes characters are very diversified, from royalties like princes, princesses to alchemists, clowns and even animals like elephants, monkeys, and horses. This is the perfect option if you want to find a unique souvenir with a meaningful story to tell.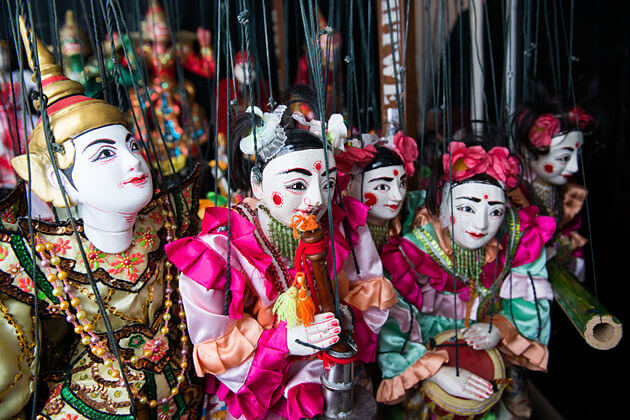 Handicraft Souvenir for Home Decoration in Myanmar
Wood Carvings
This sort of traditional items, in my opinion, is the best souvenir you have to buy because it is not only a thing that can be a special gift for friends after the trip in Myanmar but also it can be the most stunning and unique home decor that you can have ever had in your house.
Wood carvings are made from a high-quality wood (softwood teak) found in abundance across Myanmar and formed by carving experts making a beautiful shape and somehow, it feels like this sort of items has its own characteristic.