Burmese food, like most other national cuisines, is the combination of the food from many regions. It also shares a significant amount of similarity with Myanmar's neighboring countries – Indian, Thai and Chinese cuisine. However, Myanmar still has immensely interesting cuisine. For example, the creative and diverse salads, tasty soups and flavorful curry. It was back in 2015 when I was high on life with my exhilarating Asia vacation packages in Myanmar and honestly confessing, Burmese food left me a deep impression that the flavors of its dishes have stuck in my mind so far. So, what did I taste? I would like to share my list of the best food in Myanmar with you now.
Must-try Dishes in Myanmar – Yangon
Lahpet Thoke – Fermented Tea Leaf Salad
Lahpet Thoke is definitely one of the biggest Burmese cuisine features. This dish is made from fermented tea leaves, mix with crunchy dried beans and peanuts, shredded cabbage or tomato and seasoned with garlic and salt. The bitter and tart taste of the tea leaves is very strong, but it is neutralized to a perfect flavor thanks to other ingredients. The Burmese also eats tea leaves as a tasty snack at the end of a meal, which can be very refreshing.
The creative variety of salad is what makes Myanmar's cuisine stand out from the rest. Samosa, which is a famous dish originated from the Middle East, is adapted by the Burmese and turned into a type of salad of their own, brilliant right?
Address: Rangoon Tea House, Ground Floor, 77-79, Pansodan Street (Lower Middle Block, Yangon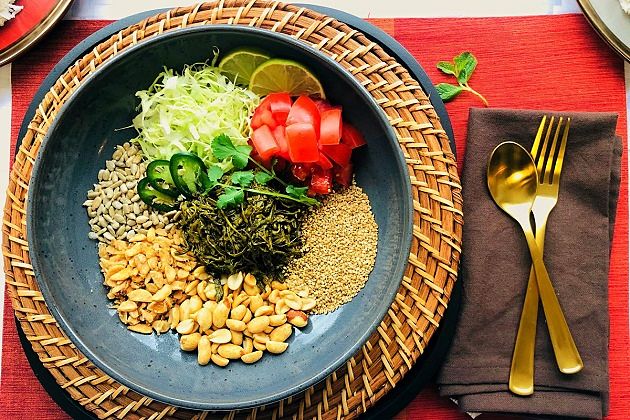 Chicken Feet Salad
Chicken feet are something rather unfamiliar for most Westerners. But when you are in South East Asia, don't miss the chance to try out this delicious ingredient, to understand why the locals here are so crazy about it. The Burmese own a very tasty recipe for their Chicken feet salad, which is made from brown sugar, soy sauce, vinegar, and lime juice. In the last step, the juicy, tender, savory and sweet chicken feet are sprinkled with roasted sesame seed, creating the final flavorful and crunchy texture.
Address: Street food vendors on 19th Street, Chinatown, Yangon.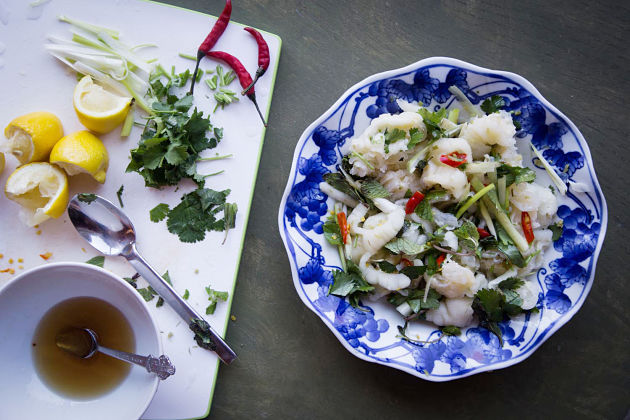 Nangyi Thoke
In Burmese, "nangyi" means round thick noodles and "thoke" is the word for salad. As simple as that, another appetizing traditional kind of salad is waiting to be tested by travelers worldwide. The noodle is prepared with Burmese style chicken curry, sliced boiled egg, chili powder, onion, coriander, bean sprouts, and deep-fried fritters and lime. Therefore, Nangyi Thoke is the perfect harmony of flavors and texture. The noodles are usually made in thick and round shapes, sometimes you can see flat, thin Nangyi Thoke depending on which region you are visiting. Cafes and restaurants usually give you an extra bowl of chicken soup to have with the salad, which you can ask for extra refill for free.
Address: Feel Myanmar Food, No.124 Pyi Htaung Su Yeikthar Street, Yangon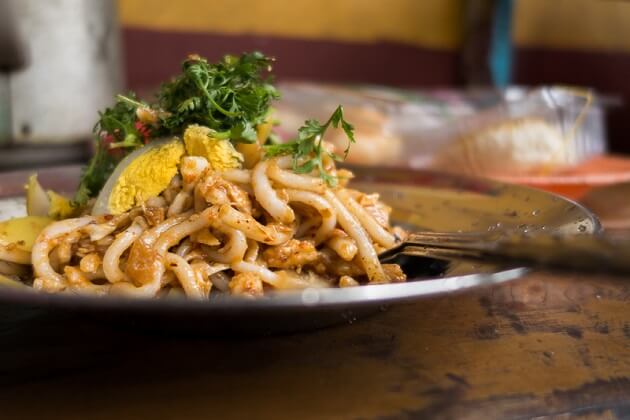 Delicious Food in Myanmar – Bagan
Mohinga – Number 1 Burmese Food for Breakfast
The essential breakfast of the Burmese, Mohinga, is a must-try dish for every foreign tourist in the country. When visiting the streets of Bagan, you could get the chance to see Mohinga being prepared and sold simultaneously in busy food stalls. The cooked noodles are put into a wide bowl. Then, a mix of toppings that often includes lentils, fresh vegetables, and banana tree stalk is added. Finally, a big scoop of tasty soup made from fish broth, chickpea powder, flavored with fish sauce, lemongrass, and ginger is poured over all the ingredients to create a finished dish that is warm, filling and particularly delicious. Mohinga is the perfect solution to kick start a day of adventure through the pagodas of Bagan.
Address: As Mohinga is a typical street food breakfast, we highly recommend you to go and look for a local food stall near your stay that offers the dish. The more locals go there, the tastier the Mohinga is.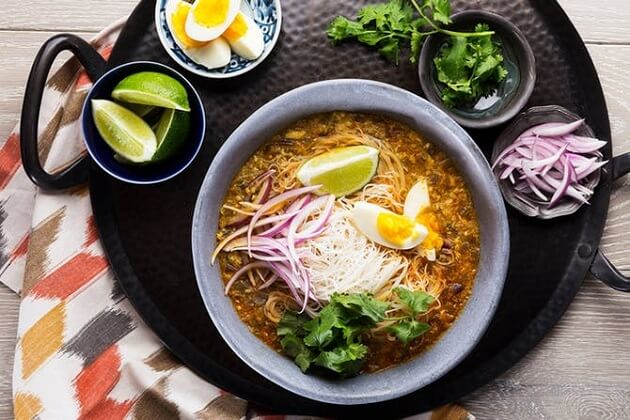 Fried Burmese Tempura
Fried Burmese Tempura is made from several types of leafy vegetables, sweet potatoes, tofu, onions, and meat alternatives. The dish is significant for its crunchiness and extra flavorful taste form the sweet, thick sauce. With deep-fried food is served in every restaurant and as street food, tempura is certainly one of Burmese favorite.
Address: Sanon Training Restaurant, Pyu Saw Hti Street, next to Nyaung U Thante Hotel Nyaung-U, Old Bagan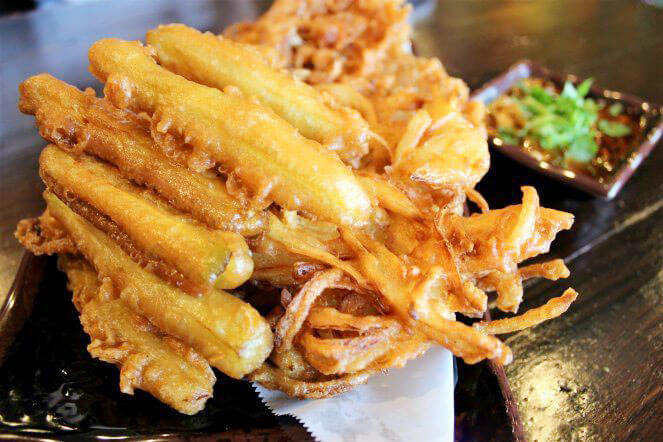 Burmese Curry
Curry is an example of how Burmese cuisine blends with Indian and Thai culinary traditions. The dish in Myanmar has some distinct twists such as the milder taste and extra use of oil. With the generous amount of oil cooked in an adequate time, the lipids can reduce the strong flavor of chili or ginger. It is the perfect option for those who can't stand the heat of the Thai and Indian curry. The oil also makes the Burmese curry delicious and filling.
Address: The Moon Vegetarian Restaurant, North of Ananda Temple, Old Bagan, Bagan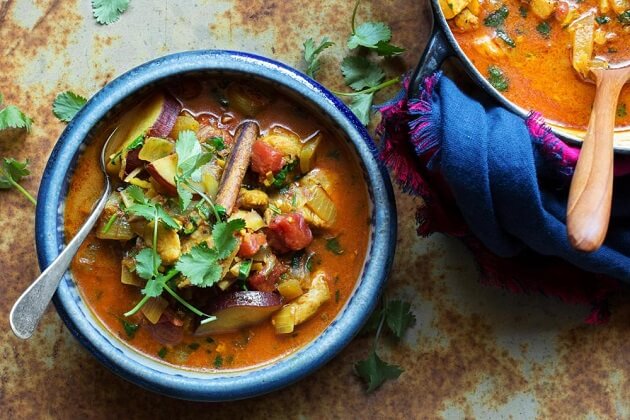 Traditional Food in Myanmar – Mandalay
Shan Noodle
Myanmar's cuisine is famous for being culturally and ethnically diverse. With the Shan as the second biggest ethnic group, they exert a powerful influence over the country's culinary tradition. Their famous noodle variety is special by the use of turmeric oil in the kneading process. The finished thin, flat, flavorful noodles are then added with minced meat, chili, onion and sprinkle with roasted peanuts. Finally, the hot broth is poured over and everything is brought to serve the guests.
Address: Shan Ma Ma restaurant, 81st Street, Corner of 34th Streets, Chanayethazan Tsp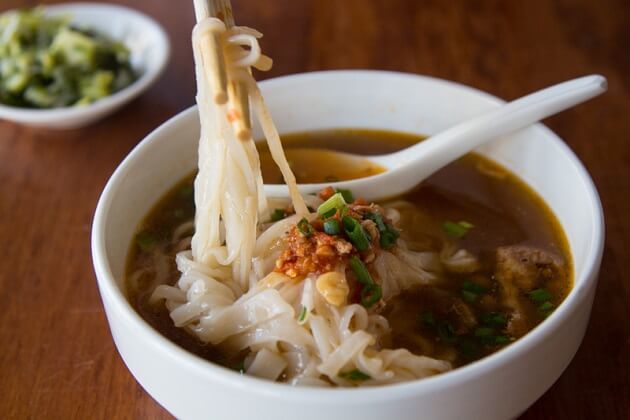 Chickpea Tofu
This is also a specialty of the Shan ethnic. Unlike the normal tofu that is made from soybean, the Shan tofu key ingredient is chickpea. The dish is made by cooking a liquid mixture of chickpea and turmeric until it firms up. There are two variations, one that has a porridge-like texture and is ready to be served, and one that is set out to thicken like tofu and can be used as an ingredient to make other dishes.
Address: Mogok Daw Shan Noodle, 77th N 33rd Street, Mandalay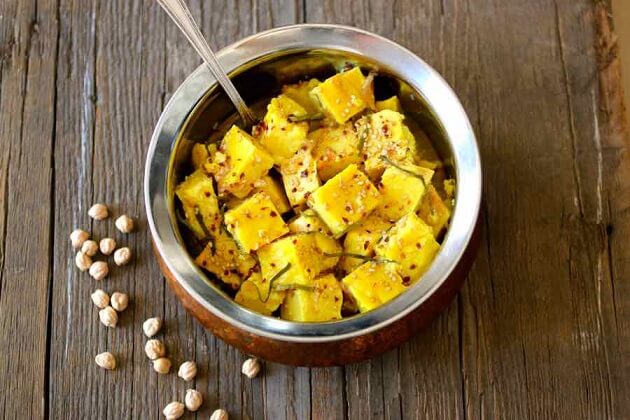 Nga Htamin – Shan Rice
Nga Htamin is very popular in Myanmar as a traditional Shan dish. The main ingredient, rice, is cooked with turmeric to create a beautiful and appetizing color of yellow. The cooked rice is then combined with fish flakes, garlic oil, leek roots, garlic, and pork scratchings. Nga Htamin is very delicious, don't miss your chance to try one for yourself when in Mandalay.
Address: Golden Shan (Shan Buffet & Restaurant), 22nd Street, Between 90 & 91 Street, Mandalay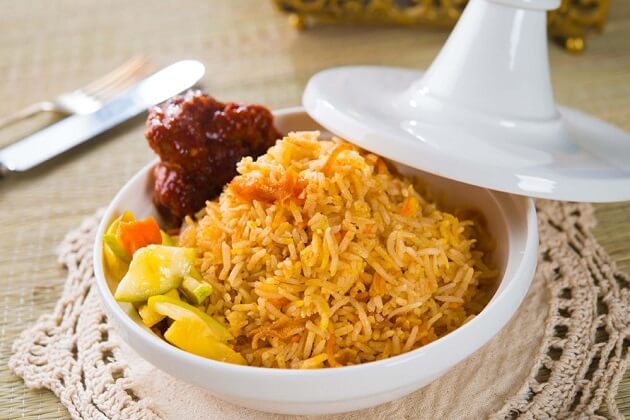 Best Myanmar Street Food
Mont Lin Ma Yar
Mont Lin Ma Yar is the name of a very common Myanmar street food that consists of a "husband" snack and a "wife" snack. They are actually just two small pieces of rice cake cooked on cast iron pan. Before being combined to make a "complete couple", the filling that includes scallion, chickpeas and quail eggs is added to cakes. Although it is quite oily, Mont Lin Ma Yar is still a delicious, crisp and soft treat for a nice afternoon.
Address: In Yangon, head over to the corner of Anawrahta Road and Seikkanthar Street to look for a small stall that prepares and sells Mont Lin Ma Yar right at the spot.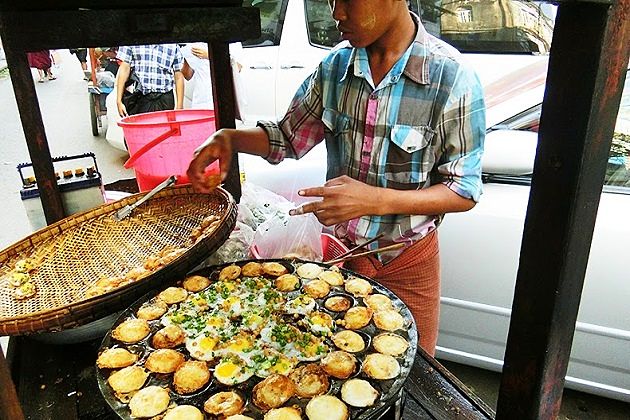 Dosas
Just like curry, Dosas is another Indian culinary delight that the Burmese have taken in and developed. Walking down on the streets, you can easily see how this tasty Myanmar street food is prepared in food vendors. A white batter made from fermented lentil and rice powder is cooked on a concave pan to create a thin pancake. For the filling, it could be either veggie or sweet. For the healthy veggie version, the filling is chopped pieces of fresh tomatoes, cabbage, roasted chickpea. And for the sweet version, it is palm sugar, shredded coconut, and cooked black bean. Only 0.2$ each, these hearty Dosas are an excellent choice for everyone.
Address: A small food stall sold by a lady on the sidewalk of the junction between Anawratha and Pansodan Street, Yangon.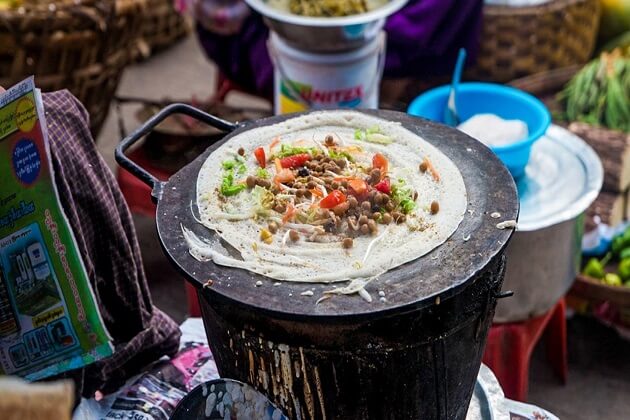 Grilled Skewers
Grilled skewers are definitely the most diverse type of Myanmar street food there is to offer. Visiting a grill vendor, the tourists can choose what they like from a wide range of ingredients. From pork, fish, beef to mushrooms, potatoes, broccoli and corn, everything is marinated in such a sweet and tasty chili sauce. The picked raw skewers are then handed back to the sellers to be grilled on hot coals. Before the seller came back with finished skewers, get yourself a cup of cold beer and enjoy the street view while you eat.
Address: The Burmese people enjoy this dish so much that they dedicate a whole street in Yangon for selling grilled skewers. Ask the direction to 19th Street in Chinatown, every local will know it.