A lot of tourists claim the reasons why they love Thailand so much are mesmerizing natural scenery, friendly locals and most importantly, delicious cuisine. Made of fresh and diverse ingredients, food in Thailand is surprisingly inexpensive. Whether it is luxury dishes served in nice restaurants or simple street vendors, everything is good in its own way. When I got into my very best multi country Asia packages, I had a chance to visit Thailand and absolutely, I was in love with these Thailand foods below.
Best Food in Bangkok, Thailand
Boat Noodles – Kway Tiao Ruea
This dish has such a special name due to the fact that it was originally sold by vendors on boats that sail through the canals and rivers of the capital city. Kway Tiao Ruea is so adored that there is even an alley in Bangkok that specialized for it – the Boat Noodle alley near Victory Monument. The dish is made with rice noodles and a few scoops of thick broth that is made from a pig's blood and stock. The tasty broth is the perfect harmony of sweet, salty and sour flavors, and goes perfectly with slices of beef or pork. As you can guess, the Boat Noodle alley is the place to go if you want to get a taste of Kway Tiao Ruea while in Bangkok.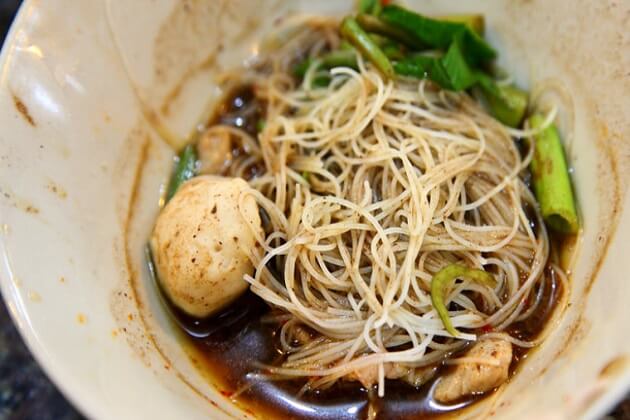 Kao Niew Ma Muang
It is no doubt that once visiting Thailand, you cannot resist yourselves ignoring this mouth-watering Thailand food – Kao Niew Ma Muang which is simple yet immensely delicious made from sticky rice, coconut cream syrup, and freshly sliced mango. When the coconut cream overwhelms the sticky rice, wonderfully soft texture and mildly sweet taste are created which will satisfy your appetite, definitely. This scrumptious sort of Thailand food is more prevalent when it comes to mango season (April – May). However, you can see stalls serving this dish all year round.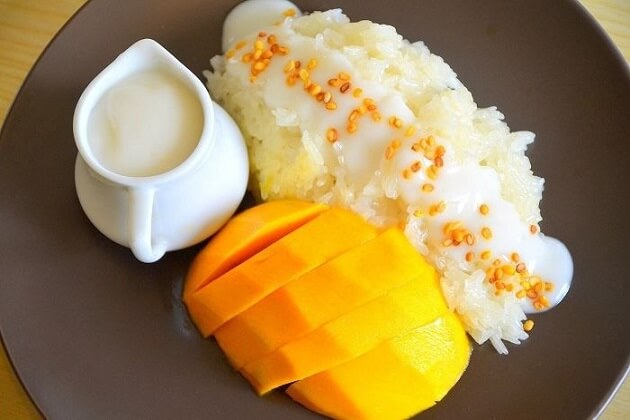 Moo Ping – Grilled Pork
Moo Ping, the most popular street food item in Bangkok, offers tourists with a delightful experience. Although it is such a simple dish, Moo Ping has never failed to attract food-lovers with its pleasant smell. It is made by marinating chopped pork in a mixture of soy, fish and oyster sauce, and season with garlic, pepper, and sugar. The pork is then grilled on charcoal for the final smoky taste and smell. Moo Ping could be found in most streets of Bangkok, but the best vendor names Moo Ping Hea Owen locates in 7/11 Silom Road. Come here after 10 pm because this is a late-night food stall.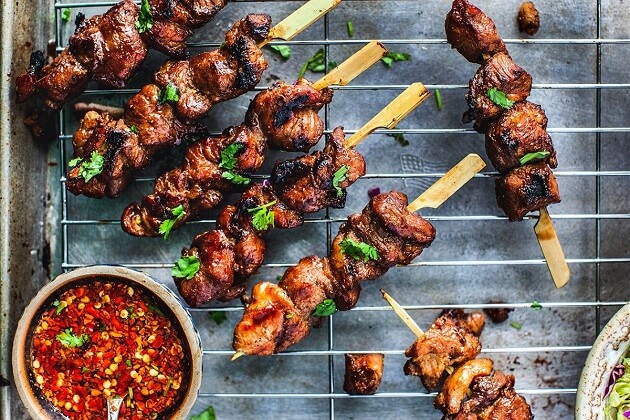 Must-Try Thai Food in Phuket
Pad Thai
Tell a foreigner to name a famous Thai dish and you will get loads and loads of the same answer – Pad Thai. The base ingredient is stir-fried rice noodles. From this, the number of different variations of Pad Thai is endless. The common top-up ingredients are tofu, shrimps, bean sprouts, onion, lime, etc. Pad Thai's perfect taste also comes from fish sauce, chili, sugar, and especially: crushed roasted peanuts. Whether you are eating Pad Thai in a cozy restaurant or on the sidewalk of a busy street, there are always extra sauce and spices available for you to adjust the taste to your own preference. Check out The Pad Thai Shop in Karon, Mueang Phuket District, you will not be disappointed.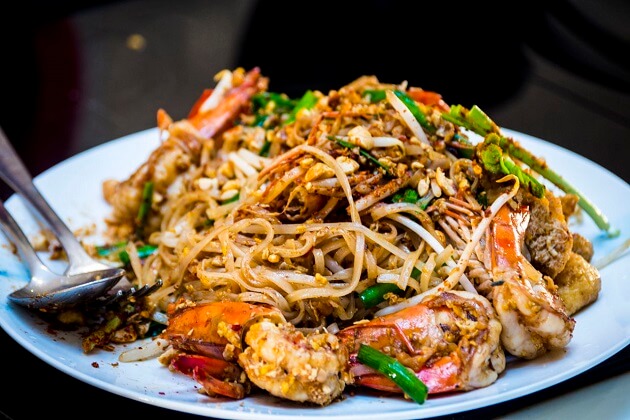 Gai Med Ma Moung – Chicken Cashew Nuts
Cashew nut is a famous native produce that is grown locally in Phuket and other provinces of Southern Thailand. So where else to try the delicious Gai Med Ma Moung other than Phuket? The dish is made by stir-frying pieces of chicken with cashew nuts, garlic, chili in a sweet sauce of honey and soy sauce. Whoever thought of combining chicken and cashew together is an absolute genius. Visitors to Phuket island can take part in cooking class at the Phuket Thai Cookery School to try making a dish of Gai Med Ma Moung themselves. The address is 39/4 Thepatan Road Rassada, Muang Phuket.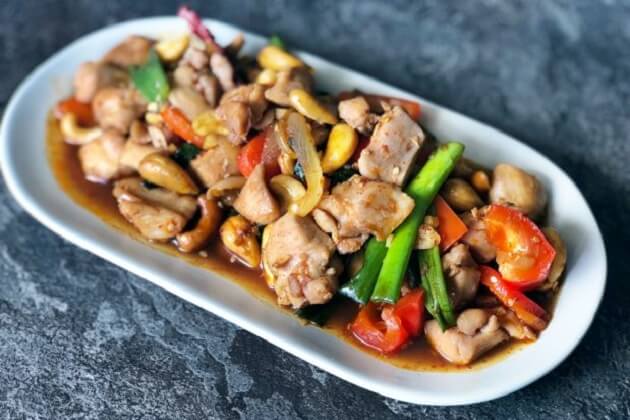 Tom Yum Soup
We saved the best for the last of our Phuket list – the national aroma of Thailand's cuisine – Tom Yum soup. The dish is made by cooking the chicken broth with a rich mixture of fresh herbs: galangal, lemongrass, and shallots. The tastiness is made by seasoning the soup with fish sauce, salt, sugar and chili paste. Then diced tomato, mushroom and prawns or shrimp are added and cooked for a while before being brought to serve with the final touch of lime leaves and juice. The dish is a perfect starter or eaten with rice as a nice main dish. The Ban Suan Layan Restaurant at 4018 Rural Road, Tambon Choeng Thale, Amphoe Thalang, Chang Wat Phuket is a really nice place to try a bowl of Tom Yum Soup.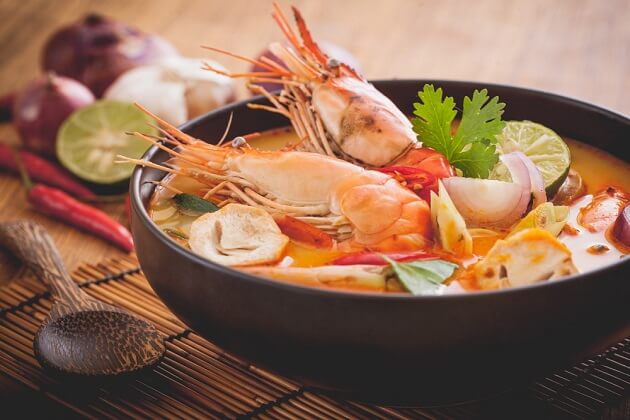 Best Thai Food in Chiang Mai
Khao Soi – Spicy Noodle Chicken Soup
Khao Soi is very popular in the mountainous area of Chiang Mai. The dish represents the cultural fusion of the Southern Chinese Muslims with Northern Thailand, Laos, and Myanmar. Khao Soi is made from chicken thigh cooked in red curry paste, topped with crispy noodles and seasoned with roasted chili, lime, shallots, and pickled cabbage. With the typical chill weather of Chiang Mai, a hot and spicy bowl of Khao Soi is simply perfect. Go to Sri Poom 8 Alley, Tambon Si Phum, Amphoe Mueang Chiang Mai, Chang Wat Chiang Mai to give yourself a nice meal at the famous Khao Soi Khun Yai.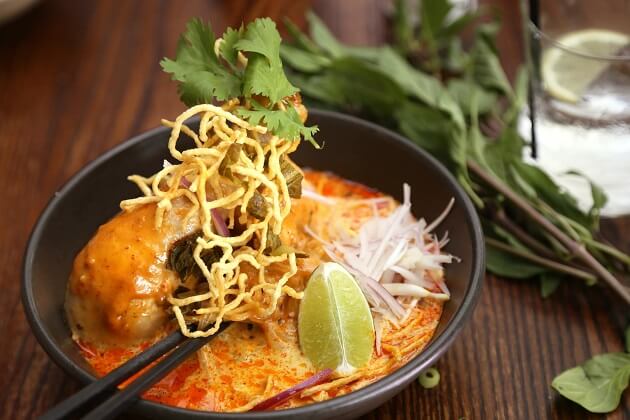 Som Tam
Som tam is one of the most popular Thailand food and comes in a variety of serving styles. It includes shredded green papaya, chilies, lime juice, fish sauce, garlic, sugar, dried shrimp string beans, peanuts, carrots, and tomatoes. The ingredients are mixed together using a mortar and pestle, which blends the flavors beautifully. This awesome Thailand food tends to be quite spicy by default, so depending on your tolerance level, it's often best to ask for it mai pet (not spicy).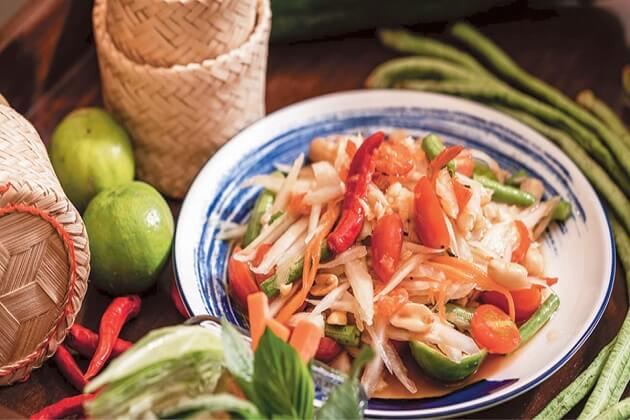 Thai Larb
A signature dish of Northeastern Thailand, Thai larb can be understood as a type of cold meat salad. It is usually made from pork but other variations include chicken, fish, duck or even beef or liver with a bit of blood. The meat is stir-fried after been seasoned with lime juice. With the cooked meat, sliced shallots, cilantro, crushed pepper, everything is mixed and marinated with fish sauce and extra lime juice. The key feature of Thai larb is toasted glutinous rice powder, which makes the dish extra nutty and crunchy and the sauce becomes thicker. If you are in Chiang Mai, don't miss the chance to taste authentic Thai larb at Huen Phen restaurant, 112 Ratchamanka Rd, Tambon Phra Sing, Amphoe Mueang Chiang Mai, Chang Wat Chiang Mai.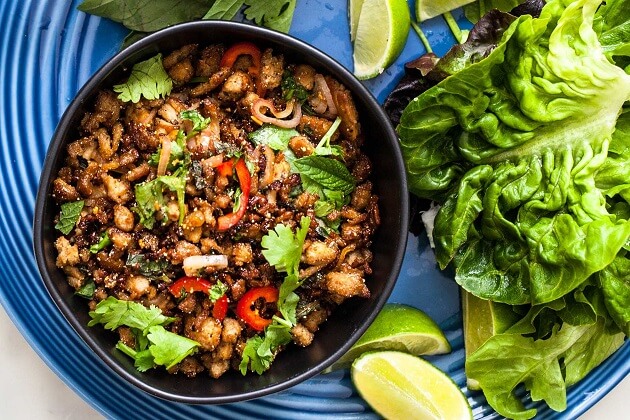 Best Vegetarian And Vegan Thai Food
Tao Hoo Song Kreung – Mixed Tofu
Tofu is the loveable ingredient for vegetarian and vegan worldwide, and Thai food has just the perfect dish to offer – Tao Hoo Song Kreung. A few kinds of colorful vegetables and soft tofu quickly fried up in a wok with oyster and fish sauce sounds simple but the taste is awesome. Tao Hoo Song Kreung is often served with cooked white rice.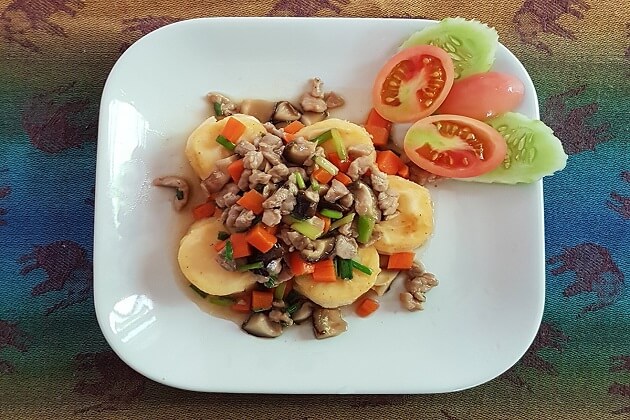 Pak Boong – Morning Glory
You probably have heard of Morning glory as of the name of a type of aquatic plant with pretty flowers. But in Thailand and its neighboring countries, the plant is used very commonly in every day cooking. Pak Boong is made by stir-frying the plant and then seasoned with soybean paste, soy sauce, chili, garlic. Super simple, super tasty and super healthy. Remember to ask for a version of Pak Boong without oyster sauce to make sure it is vegetarian.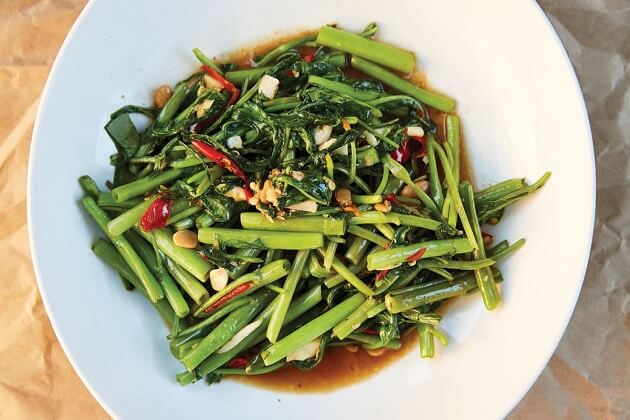 Pad Phuk Tong – Stir-fried Pumpkin
Thai people don't play around with pumpkins every Halloween but they sure know how to make a good dish of it. Anybody who has not tried Pad Phuk Tong would never imagine it as one of the best vegetarian dishes in Thailand. Although it is not as common as papaya salad or pad Thai, it is still worth to look for.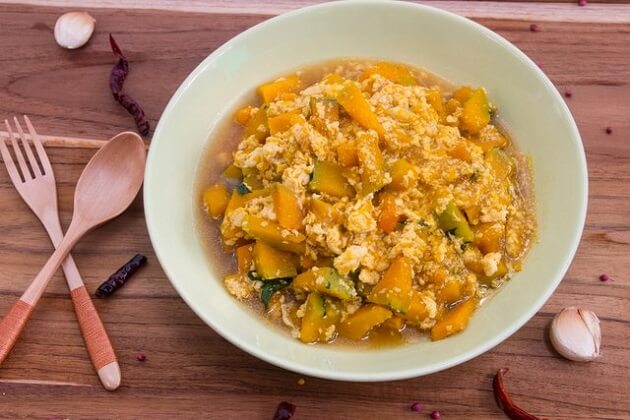 Top 3 Scrumptious Thailand Street Food
Kluay Tod
If you are looking for some snack and fruit at the same time, Kluay Tod would be the best choice for you. This kind of Thailand street food is deep-fried mini-bananas usually made with less ripe bananas that are more suitable for deep-frying. Sliced bananas are prepared in a batter of desiccated coconut as well as sesame seeds. After deep-frying these bananas, we will have a slightly crunchy and golden outside wrapping a creamy and warm center.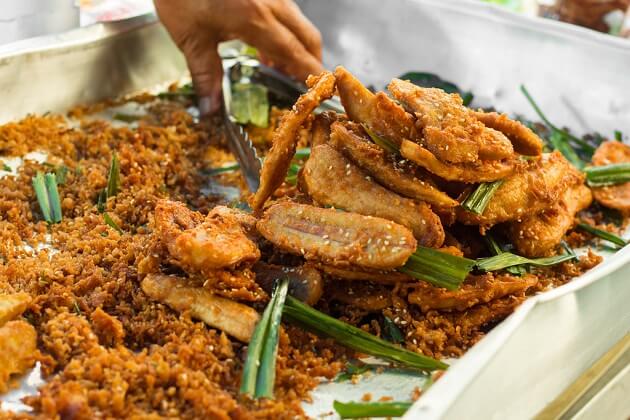 Kai Jeow
This Thailand street food is delicious and its price is for a song. Kai Jeow aka Thai omelet with rice is served at manifold food stalls. The omelet is cooked a bit different from Western counterpart as the inside is fluffy yet the outside is golden and crispy. Tasting Kai Jeow, we cannot forget to enjoy this dish with fish sauce and chilies & chili sauce.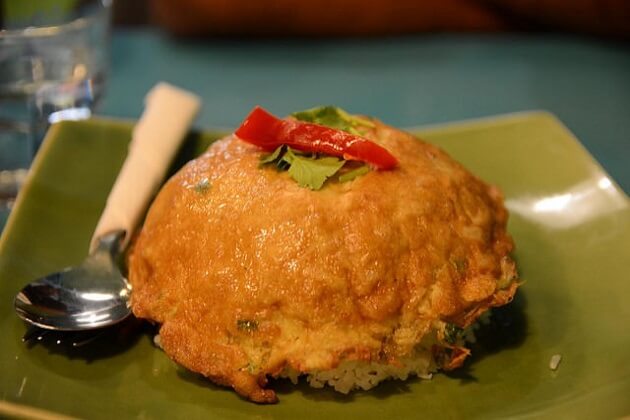 Guay Teow
Guay Teow describes any type of noodle soup. It can be made with chicken, pork, or beef stock, as well as either rice noodles or egg noodles. There are so many variations of the dish that, like many Thai foods, it's a bit different everywhere you try it, but it's always warm and satisfying. Thailand street food is best topped with fish sauce, lime juice, dried chili peppers, and sugar.