Bhutan, an incredible country having everything that travelers dream of – fascinating mysteries, heroic legends, splendid sceneries, and diverse cultures. Vividly remember that once I participated in my very first Asia vacation, I had no idea about Bhutan; however, my kind tour-guide (my friend in Nepal) introduced me this country and obviously, I traveled to there. By now, I still in love with it.
Once there, manifold things will be waiting for you. I love hiking to the Tiger's Nest, bumping into the locals, admiring the religious architecture, and shopping, absolutely, is my favorite. If you are a shopaholic, shopping in Bhutan will be your things and below, I would like to introduce some of the best Bhutan souvenirs that I decided to have them all.
Best Textile and Accessories Souvenirs in Bhutan
Dzi Beads (Himalayan Beads)
I highly recommend you take a look at this interesting Bhutan souvenirs. The Bhutanese have a special way of making accessories from colorful beads, they call them the Dzi Beads or Himalayan Beads. They are ancient beads that are believed to have the power from gods. By wearing jewelry made from Dzi beads, you will be blessed with luck and fortune and the evil will be warded off. They are quite expensive because they are made of natural agate. But on the other hand, they would make great souvenirs thanks to the pretty colors, various shapes, and symbols.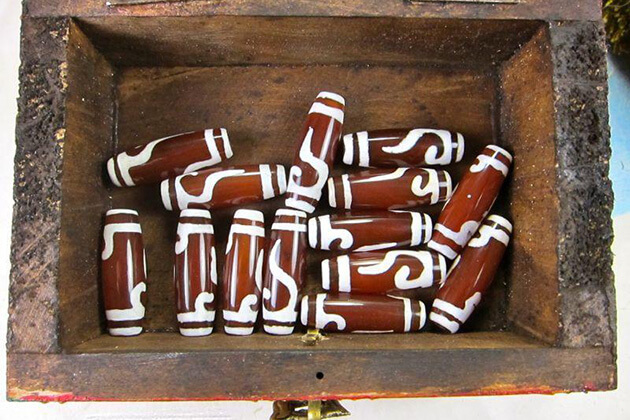 Hand-made Home Decor Items
The perfect combination of rustic wood and creative, skillful artists creates unique wood artworks, luxury home decor, and unique furniture. Art colored-pencil tables, wine glass holders, and rustic wall clocks are born with the purpose to brighten up the living space and raise the inspiration for their owners. Travelers from the USA & Canada can acquire an amazing item after the trip cause it is recently available on Amazon.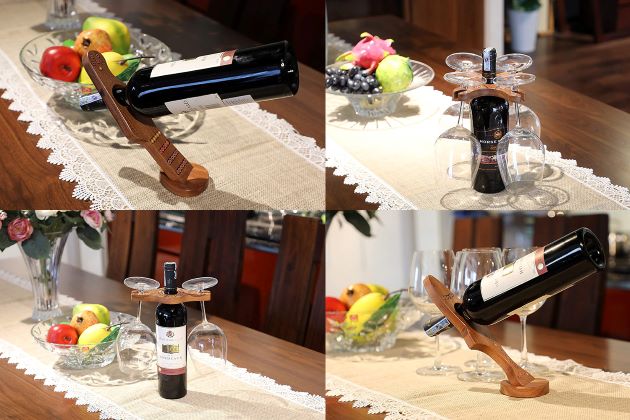 Bhutanese Yathra
Yathra is the traditional woven woolen cloth products that belong to the Chumey valley in Bumthang. The local women use traditional handlooms to make these textiles with intricate patterns and vibrant colors. These beautiful Yathra are made of yak wool and sheep wool dyed with natural colors. Yathra is made into a variety of clothing like coats, bags or scarf. They are also great for making modish décor items such as wall hangings, rugs, cushion covers or table runners, which are a great way to bring a little Bhutanese style into your home. This stuff is super cool, even men can put on it.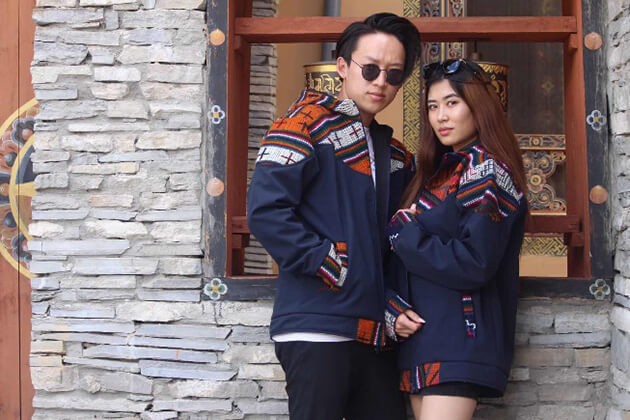 Jewelry and Ornaments
The Bhutanese love wearing delicate silver and gold jewelry and ornaments. That is why most people here use them on a daily basis. These Bhutan souvenirs could likely to be considered to be the best souvenir in Bhutan because they are made from precious metals like silver, bronze, and gold and are embedded with beautiful gemstones. Ornaments and jewelry here are the products of skilled craftsmanship and traditional production style. Travelers are free to choose from a variety of gifts like earrings, bracelets, necklaces, hairpins or tie clips.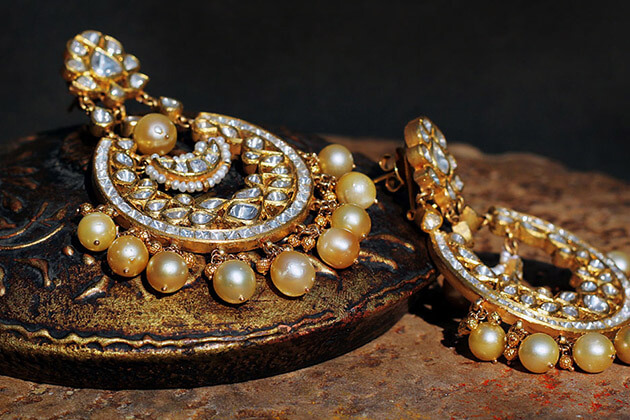 Bhutan's Traditional Crafts and Arts Souvenirs in Bhutan
Cane and Bamboo Products
When the harvesting season comes to an end, farmers in Bhutan will have more free time. They would come together and spend their days making useful items from canes and bamboos. These products are super environmental-friendly and convenient. Although it can be quite difficult to decide what to buy because there are so many to choose from. A few common canes and bamboos souvenirs in Bhutan are carpets, baskets, ropes, utensils, arrows, hats, mats, wall hanging, etc.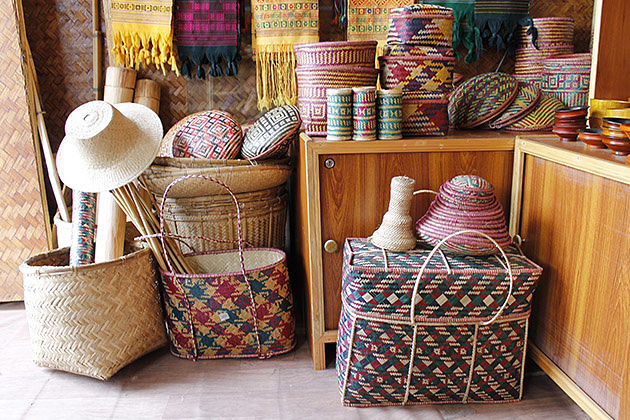 Bhutanese Style Traditional Masks
Looking for Bhutan souvenirs that contain the value of the country's culture? Let take a look at this one. Bhutanese Style Traditional Mask was since the 8th century that the tradition of wearing masks became popular in Bhutan. Festival is an important component of the culture and spirituality of this country and an occasion where the masks are used. Especially in the biggest Bhutanese festival – Tsechu, where the monks perform exciting dances while wearing colorful masks.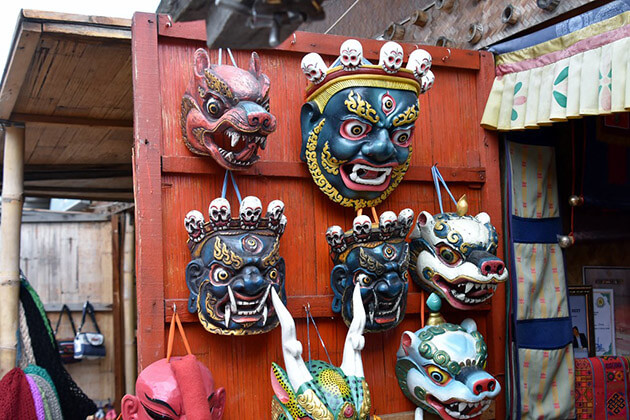 It has always been one of the biggest highlights of Bhutan's culture. Bhutanese style traditional masks are made by carving wood panels and then painted with vibrant colors. The performers must choose an appropriate mask and matching costumes as they all have their own meanings. If you or your friends are interested in arts and cultures, a Bhutanese style traditional mask is a great souvenir. You can find them in most major travel destinations in Bhutan.
Bhutanese Traditional Papers – Daysho
The Bhutanese have a very special way to produce papers that have been around for hundreds of years. There are two main types of trees used here. For dark, strong paper, they would use the bark from a type of plant called Daphne Papyri. And for thinner and whiter paper, the craftsman would have to climb 3000 feet high mountains to finds the Edgeworthia Papyri plant. The whole production process does not involve any chemical and causes no environmental harm to the local source of water and land. Spending a day on your Bhutan tour to visit the traditional paper factory to learn more about how to make these intricate products. And while you are there, shop for some greeting cards or notebooks made from handmade paper to give your family as a souvenir from Bhutan.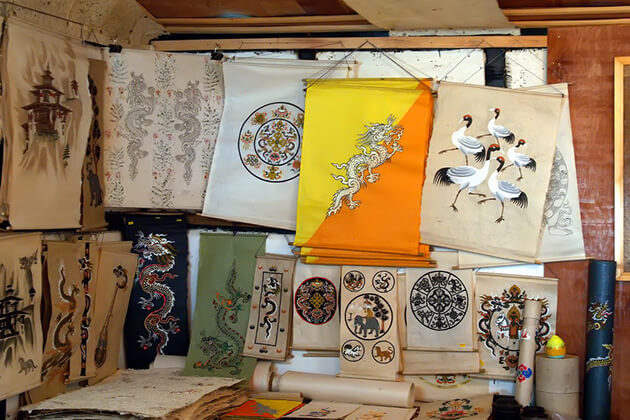 Buddhist Sculptures and Paintings
In Bhutan, Buddhism is more than just a religion, it is a way of life. Bhutan is known for being the last Buddhist kingdom on earth. Therefore, Buddhist sculptures and paintings are an essential part of Bhutanese culture. The Bhutanese Buddhist paintings are called Ihazo in Bhutanese and are made from a special type of paint with mineral. And for the Buddhist sculptures, most are delicately carved from clay.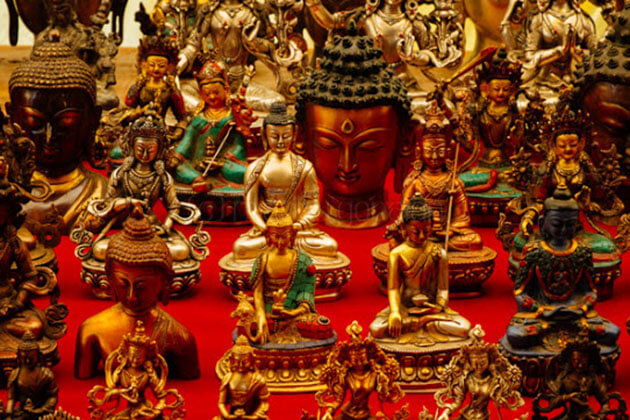 Handmade Wooden Bowls – Dappa
Handmade wooden bowls called Dappa in Bhutanese is a very popular souvenir. It originates from Trashiyangtse, a district in the west of Bhutan and nowadays is used throughout the country due to its usability. These bowls come in various sizes, colors, and designs. And in Southern Bhutan, the locals even use bamboo reeds to weave Dappa. You can find them in most travel sites in Bhutan and they make great practical souvenirs.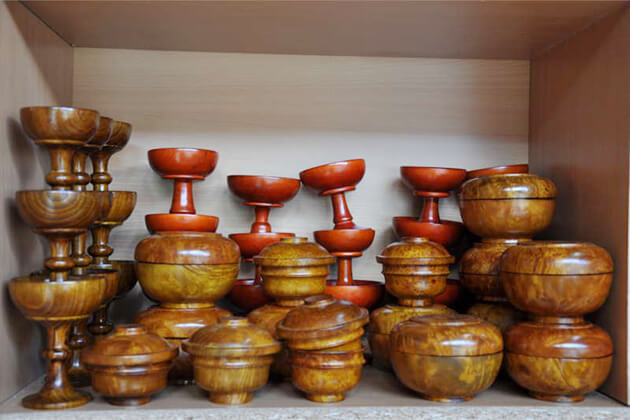 Where to Buy Bhutan Souvenirs
Authentic Bhutanese Crafts Bazaar
Authentic Bhutanese Crafts Bazaar is a handicraft market in Thimphu that consists of a series of bamboo huts. This is the perfect destination to get a glimpse inside the world of authentic Bhutanese art and craft. Here and you will be welcomed with smiling vendors while strolling through the vibrant colors of interesting items on display. With more than 70 stalls lying on a half-a-kilometer street, the selection of gifts and souvenirs seems endless. The Authentic Bhutanese Crafts Bazaar open from 10:00 am to 6:00 pm every day.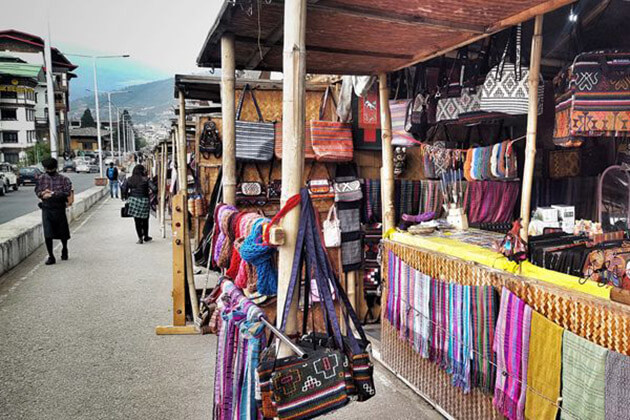 Norzin Lam Street
Norzin Lam Street is known as the heart of Thimphu and a popular shopping site for both locals and travelers. The street is adorned with pretty and unique shops and even big shopping centers are also found here. Visitors can spend a morning in the street to shop for the best souvenirs while enjoying the city life of Thimphu. Your Bhutan tour is not complete if you miss the chance to visit Norzin Lam Street.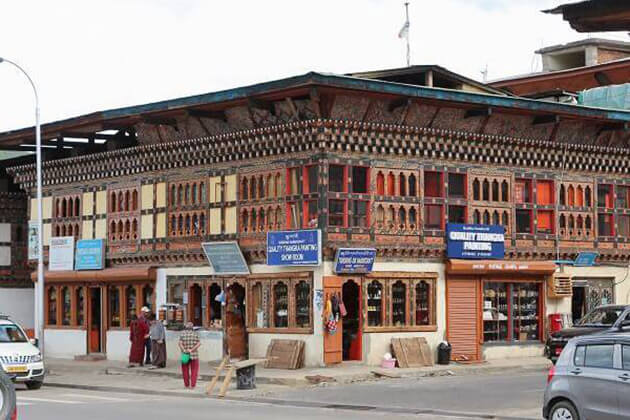 Choki Handicrafts
Choki Handicrafts is a big souvenirs shop and also a traditional art school in Choki Khangzang, Pedzoe Lam, Thimphu. Here, tourists can shop for masks, thangka, painting or other traditional items. This destination is special because the souvenirs come from the same name affiliated Art School. For those who keen on making handmade stuff and want to learn how to make one of them, this place is a must-visit.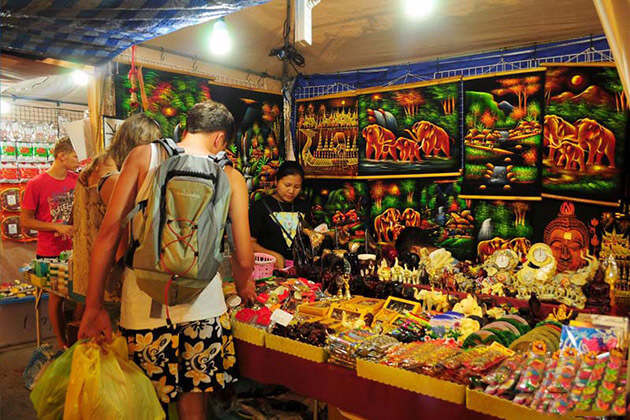 The Weekend Market in Paro
Takes place every Saturday morning, the Weekend Market in Paro is a lovely place to shop for souvenirs. All types of popular Bhutanese handicrafts like Dappa, wood mask, or Ihazo can be found here. You can also buy other unique traditional items like Kiras (Bhutanese dress), Bhutan style stamps or prayer wheels.