Obviously, there are plenty of best things to do in Cambodia – an amazing country being renowned worldwide for the massive and uncanny Angkor Wat – one of UNESCO World Heritages. But, is that all? Not yet, absolutely. Cambodia has so much more to offer than just Angkor Wat and I believe that every tourist who gets an opportunity to visit such a country would fall in love with them. It is not an exaggeration, I myself had chances to get into manifold multi country Asia tours. And today, I would like to show you some of the best Cambodia attractions that I joyfully experienced.
Best Things to Do in Cambodia – Krong Siem Reap
Explore Cambodia Attractions – The Ancient Angkor Wat
As I said before, Cambodia is infamous with the World Heritage Site – Angkor Wat; thus, there is no doubt that this site is the first must-go destination that one has to visit.
The religious complex was built nearly 10 centuries ago, and it was the center of the Khmer kingdom back then. Recently, Angkor temples continuously astonish tourists worldwide for their grandeur. Angkor Wat is so big that a lot of travelers decide to spend more than one day to explore it. If you feel like digging up all the interesting facts and details of Angkor Wat, make sure to buy a three- or seven-day pass.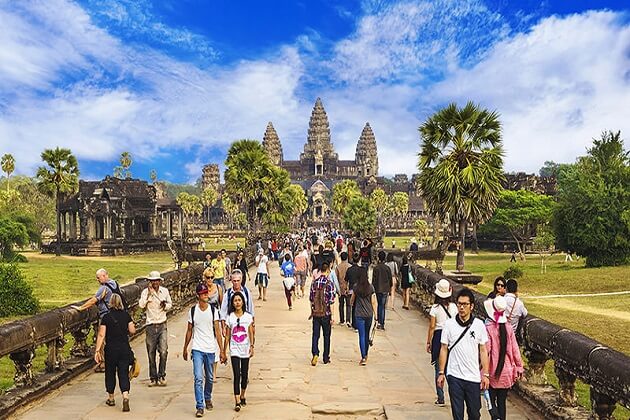 Get a Taste of Modern Life From the Pub Street & Night Market
If you are a party people or simply want to experience the nightlife of Siem Reap, don't miss out on Street 08 and surrounding night markets: ANM Khmer Market, Siem Reap Art Center Night Market, Siem Reap Night Market, Noon Night Market.
Visit the pub street, get yourself some tasty drinks, enjoy the party music, dance with your friends and meet other tourists is a ton of fun. You can easily recognize this destination by the signature neon sign "Pub Street". And inside, the whole street is filled with pubs, bars, restaurants and all types of services like shopping, massage, music show.
The night markets in Siem Reap center open from sunset every day. They are great places to shop for local souvenirs and try out some Cambodian street food. Most of the stuff sold here is cheap and nice. My personal favorites are intricate handmade silverwares with Khmer patterns.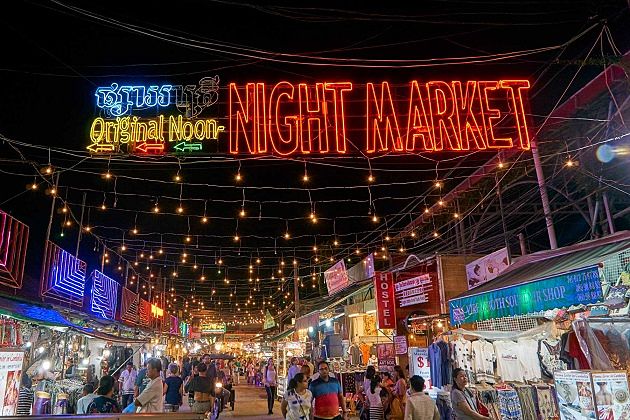 Visit the Landmine Museum
Located inside the Angkor National Park, the Landmine Museum and Relief Facility is the must-visit destination for those who are interested in history. Cambodia suffered badly from the long and severe conflict in the 1970s. It results in thousands of landmines and unexploded bombs remain underground till present, causing great danger for the locals. That is the reason why an ex-soldier decided to when back to defuse the landmines and open the museum. The ticket price for an adult is about $5 but the guide is free (available in English and Japanese). You can contact the museum to book a tour on any weekdays except for Wednesday. The tour is available from 9 am to 3 pm. All profit and donations are used to support landmine clearing activities and a specialized school for children who suffer from explosive accidents.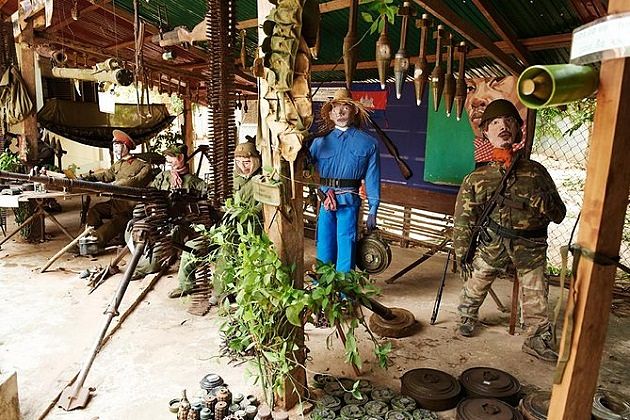 Top-rated Things to Do in Cambodia – Phnom Penh
Marvel at the Royal Palace & Silver Pagoda
Taking place near Phnom Penh city center, the Royal Palace and Silver pagoda is a great destination to admire the traditional Khmer royal architecture. Like other kingdoms and monarchs in the world, the Royal Palace is the King's residence. You will see a blue royal flag flying when the king is in residence. The palace is famous for the Throne Hall and Moonlight Pavilion.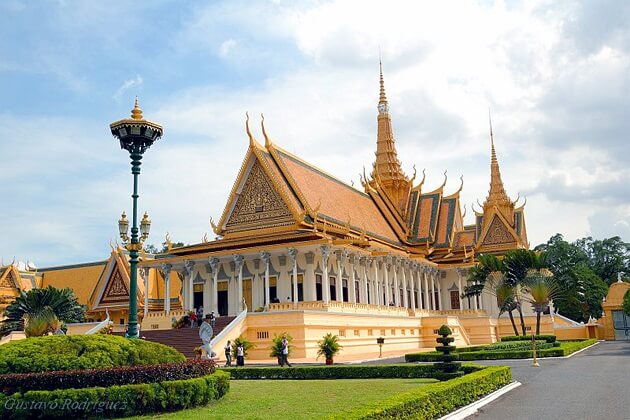 Right next to the palace complex is the magnificent Silver Pagoda, which was built 130 years ago. The pagoda got its name from the 5-ton silver floor. You can only take a look at some parts of them because the rest is covered for protection. Other features of the pagoda are the Emerald Buddha sculpture, a life-sized gold Buddha statue adorned with more than 2000 diamonds and a stupa with a relic of Buddha brought from Sri Lanka.
The Silver pagoda is free to visit but the Royal Palace charges $6.50. Remember to choose appropriate outfits, which covers your shoulders and knees before you go.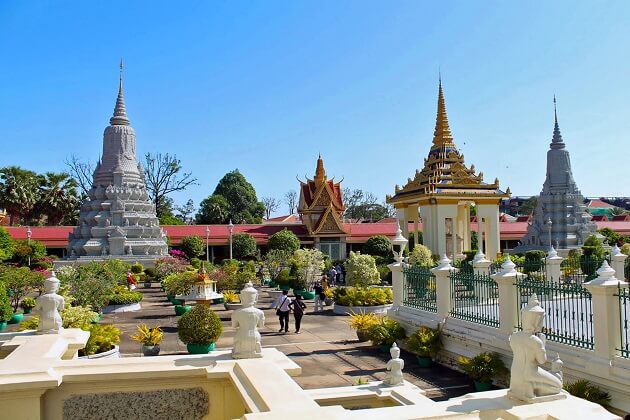 Get an Insight into Cambodian Culture at The National Museum
Built right in the North of the Royal Palace, the National Museum of Cambodia is the largest archaeological and cultural history exhibition and it is also known as one of the well-worth Cambodia attractions to visit. Once there, you will get a chance to admire thousands of artifacts, with the oldest ones, belong to the ancient Angkorian period. There are rare lingas, statues, sculptures, ceramic items and especially the 6th century Lord Vishnu statue with eight arms.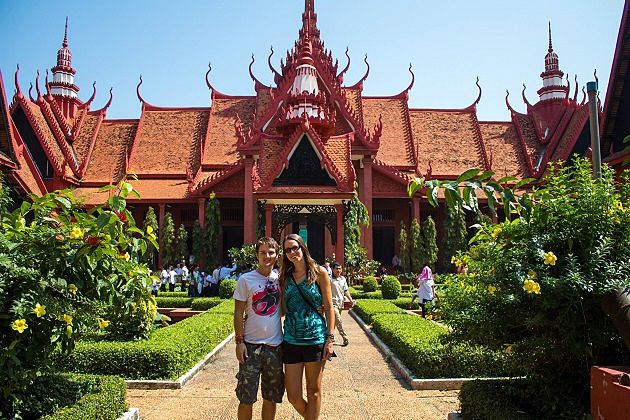 The museum has a Bronze Gallery, where visitors can experience the traditional 1000-year-old Angkorian bronze-casting method. Another gallery that belongs to the museum is specialized in displaying sandstone sculptures made from the 10th – 11th century.
The museum is also famous for its unique architectural design. With a red terracotta structure of the traditional design, the museum complex stands gracefully between a lush green garden.
Ticket price for foreigner children is $5 and for adults is $10. All visitors should be aware that photography is not allowed inside the museum.
Take a Look into Cambodia's Tragic Past at Tuol Sleng Genocide Museum
In 1975, the Rough Khmer forces toke control of Tuol Svay Prey High School and used this location as an interrogation, torture and execution center, known as S-21. This place witnessed the death of more than 17000 people, together with gruesome tortures prior to their murders. It is now turned into the Tuol Sleng Genocide Museum, with many rooms and suites that were kept in the state as when they were found. Visitors can see more than 6000 photographs of the victims displaying in the museum, and listen to their tragic stories told by the local guide.
Tuol Sleng Genocide Museum provides an intense and depressing experience; I do not recommend taking young children here. But it is a worthy visit to remind us all about the despicable crime of a brutal regime.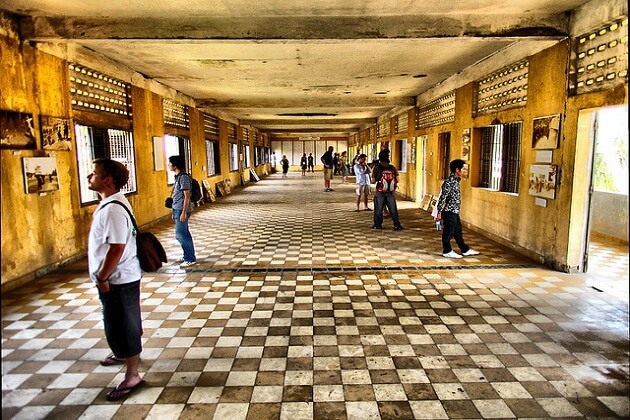 Fascinating Things to Do in Cambodia – Kep
Unwind on The Beach
Kep only has a small strip of white-sand-beach but it is still a great place to swim in the warm water and enjoy the bright sun. The beach is not really populated with foreign travelers. Therefore, you can even experience watching the locals hanging out in here, enjoying their beach day on bamboo pavilions and swinging hammocks. There are also a lot of dining restaurants and seafood vendors for you to try there.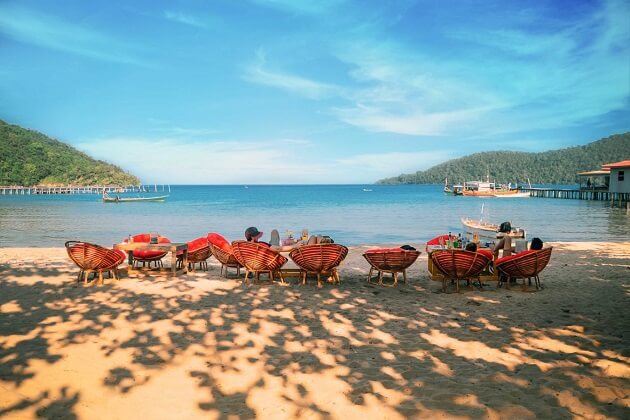 Tasting Fresh Seafood Right from The Market
Kep is one of the best places to try fresh off the shore seafood. All Cambodians know about the famous blue crab of Kep and how tasty it is. They literally put up a statue of a blue crab to show that to all travelers and tourists.
In the Crab Market, they sell fresh living crabs by kilos. You just need to tell them how many crabs you want, pay and wait. The sellers will take the crabs from the water and cook them right off for you. There are some tables for you to sit and you can enjoy watching the market while dining.
There are also a lot of restaurants if you prefer to eat seafood cooked with more various ingredients. I recommend trying the stewed herbaceous crab curry at the Magic Crab Restaurant.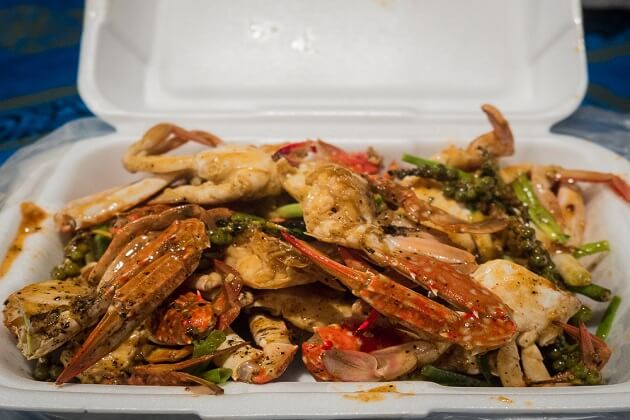 Exhilarating Things to Do in Cambodia – Kampot
Trying Out Water Sports
With beautiful untouched coastlines, Kampot is an excellent destination to try kite surfing. While sliding along the beach, you can get a good view of the pristine shores and adjacent places. It would be a great and perfect way to release energy, especially for sport-lovers.
If you prefer the types of water sports that are easier for beginners, try out paddleboarding or canoe kayaking. It is said that slowly sliding through the Kampot river is the best way to enjoy the authentic scenery of Cambodia's countryside. You can easily look for guided tours on a paddleboard or rental facilities along the river. It is also a great option if you are traveling here with children because these sports are easy and exciting enough for them to take on. It's quite inexpensive with the rental price starting from 2 – 4 $/hour each board or canoe kayak.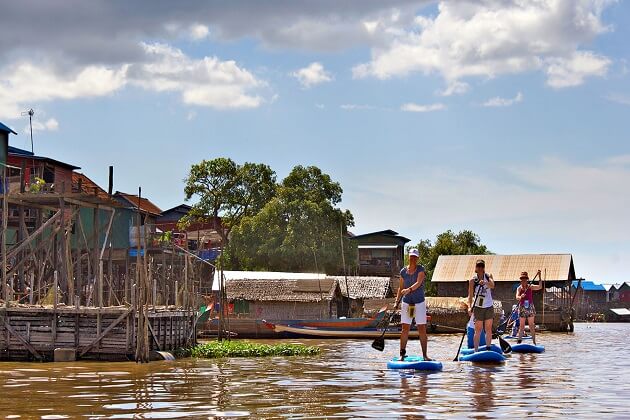 Sightseeing at Phnom Bokor National Park
One of the first-rated Cambodia attractions – Phnom Bokor National Park is a great combination of spectacular natural scenery and rustic abandoned Western-style buildings. Spend time to explore the vast area of the untouched rain forest to get the chance to see various tropical animals like foxes, elephants or even the king animal of the jungle – tigers. In the rain season, visitors can see the Povokvil waterfall, which takes about more than an hour to walk there.
Also in the Park is the Bokor Hill Station, with an abandoned luxurious resort complex from the French colonial time. A walk through the empty building with walls full of lichen could be exciting and spooky at the same time. It is even better if you get to travel here during summertime, when the weather is not foggy, to see the view of the beautiful Phu Quoc island (Vietnam) across the sea from the top of the old casino.