On my journey of joyfully getting into Asia tours, I had an opportunity to visit Vietnam and to be honest, I fell in love with the country within 4 days. Why? Vietnamese dishes were immensely awesome and it was enough to make the heart of a person having a huge appetite be open-wide. So what the best Vietnamese dishes that I once strived. Let check it out in this article.
Best Vietnamese Dishes in Hanoi
Pho
You have probably heard of this mouth-watering Vietnam food – Pho, at least once in your life because it is the most famous Vietnamese dish to try. The most classic preparation, which is beloved worldwide is made with rice noodles, pork soup, sliced beef, and herbs. Also, when you are in Ha Noi, don't miss out on other versions of Pho with different techniques of preparing. There are deep-fried Pho, Pho salad and stir-fried Pho. They all carry their unique tastes and flavors worth that is trying at least once.
I would be honest that if you want to taste a really good bowl of Pho, just stroll around and find yourself a stall selling Pho on the pavement. Trust me, not every good dish always comes from restaurants. I would like to show you some addresses for you to taste a delicious bowl of Pho.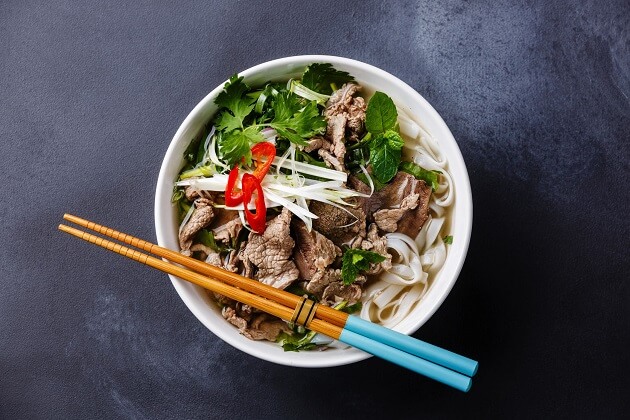 Address
• Deep-fried Pho at Huong Mai restaurant – 32 Ngu Xa – Ba Dinh district – Ha Noi
• Pho Bat Dan | 40 Bat Dan Street – Hoan Kiem District (6 am – 10 am; 6 pm – 8:30 pm)
• Pho Thin Lo Duc | 13 Lo Duc Street – Hai Ba Trung District
Banh Cuon
Banh Cuon is the Vietnamese name of a type of steam rice rolls. It has a delicious filling made from ground pork and minced mushroom and tops off with deep-fried shallot and fresh cilantro. However, what makes this dish heavenly delicious is the dipping sauce. It is a mixture of fish sauce, rice vinegar, sugar, lime, chilies, garlic, and water. A very rare and exotic ingredient is sometimes added to the sauce – the refined essence from a kind of water bug. It is not easy to get nowadays but many chefs can use other imitation flavors to create the same taste.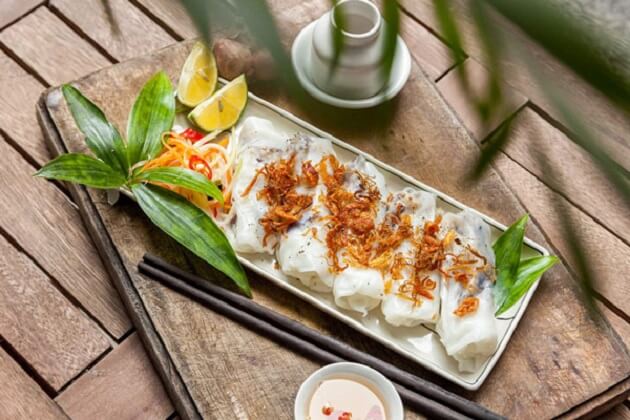 Address
• Banh Cuon Thanh Van | 12 Hang Ga Street – Hoan Kiem District – Ha Noi
• Banh Cuon Ba Hoanh | 66 To Hien Thanh Street – Hai Ba Trung District – Ha Noi
Best Vietnamese Dishes in Ho Chi Minh City
Banh Trang Tron
One of the best ways to explore Ho Chi Minh city is to try the street food here and Banh Trang Tron is the number one street food snack. It is made from rice papers, dried beef, boiled quail eggs, dried shallot flakes, mangoes and coriander, and all are mixed with a special type of chili paste. Sound delicious, right? And because it is street food, it is incredibly cheap. One portion, which costs only about 50 cents can keep you full for an afternoon.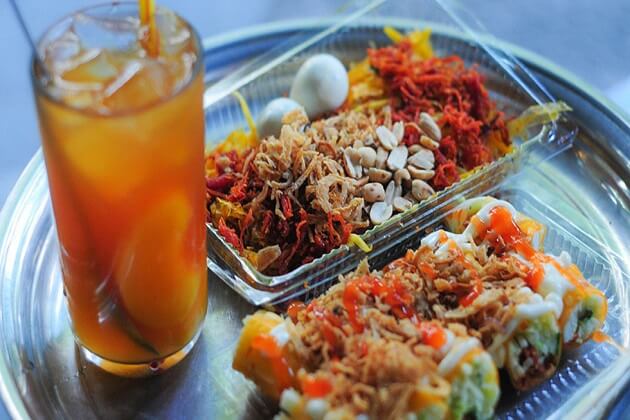 Address
• Banh Trang Tron Chu Vien stall – 38 Nguyen Thuong Hien – District 3 – Ho Chi Minh city
Com Tam Suon
This is the name of a type of rice cooked from fragmented rice grains and is served with grilled pork. The special rice texture makes it softer and absorbs flavors from other side dishes more easily. The grilled pork is cooked very simply but together with fish sauce some pickled vegetables, the dish makes a perfect lunch.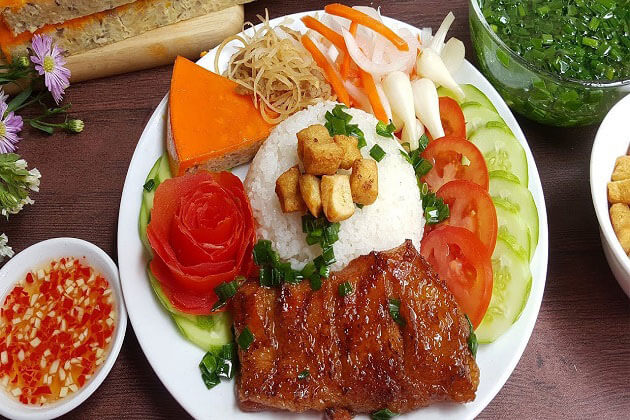 Address
• Com Tam Ba Ghien restaurant – 84 Dang Van Ngu – Phu Nhuan District – Ho Chi Minh city
Best Vietnamese Dishes in Ha Long Bay
Horseshoe Crab
When you travel to Ha Long Bay, try out this delicious seafood. Its Vietnamese name is "Sam" and there are a lot of them from December to February every year. There are many ways to cook the crab's meat: steam, mix with salads, sauté, stir-fried, … The good thing about traveling to a seaside destination in Vietnam is that you can go to local markets to buy fresh seafood for yourself and then ask the hotel chef to cook them for you. Some restaurants will even hold a cooking class for tourists.
Address
• Sam Ba Ty restaurant – 6 Cao Thang alley – Ha Long city – Quang Ninh
Cha Muc
Cha Muc is the Vietnamese name of Squid sausage. There is no doubt that this is one of the best Vietnamese food. The locals say that the squids caught from Ha Long Bay make this dish better than everywhere else. The squid is crunchy and juicy and the sausage is sweet. Vietnamese often eat them with Banh Cuon (steamed rice rolls), sticky rice or rice.
We recommend: Ba Ngan restaurant – 34 Doan Thi Diem – Ha Long city – Quang Ninh
Best Vietnamese Dishes in Sa Pa
Smoking Shelf Buffalo
This is the signature dish of the Black Thai ethnic, a minority group lives mostly in the mountainous area in the North of Vietnam. The meat cut from a buffalo is seasoned with salt, peppers, gingers, Mac Khen (a type of local pepper tree grows in the forest) leaves. The Black Thai people then it in their kitchen and use smoke to preserve it for at least 8 months. After that, they can be taken down to be cooked by grilling or stewing. The meat is famous for its sweet flavor and smoky crust.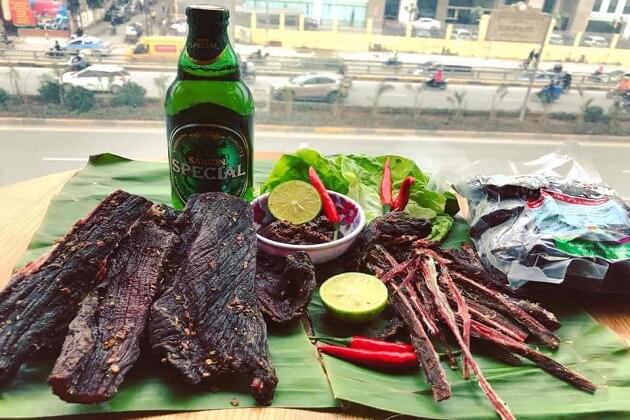 Address
• A Quynh restaurant – 15 Thach Son – Lao Cai.
Five Colour Rice
This pretty dish of rice belongs to Giay ethnic. From a famous kind of white rice grows in the region, Giay people add in several kinds of local herb to get bright colors and fresh aroma. Ginger leaves for green rice, spiny bitter gourd for red rice, turmeric for yellow rice and magenta plant leaves for purple rice. The chewy, sweet and flavorful rice and interesting colors help create an unforgettable moment for all tourists.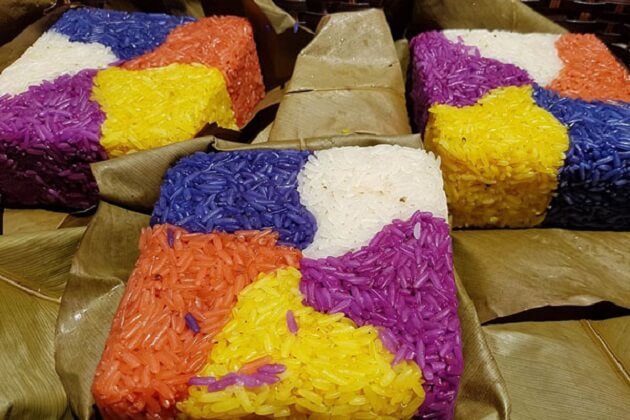 Address
• Hill Station Signature Restaurant – 37 Fansipan – Lao Cai.
Best Vietnamese Dishes in Hoi An
Banh Mi
Although in Vietnamese, "banh mi" only refers to the French baguette. However, when a foreign traveler mentions it, all Vietnamese people can understand that they want to try the famous Vietnamese sandwich. It consists of a crunchy toasted baguette, pickles and carrot shreds, pate or an omelet egg or grilled pork (or all combined), cilantro and chili sauce. The famous American chef, Anthony Bourdain, called banh mi the "symphony of a sandwich" when he visited Hoi An in 2017. Prepare your bag and go to Hoi An as soon as possible to try this Vietnamese food "symphony" yourself.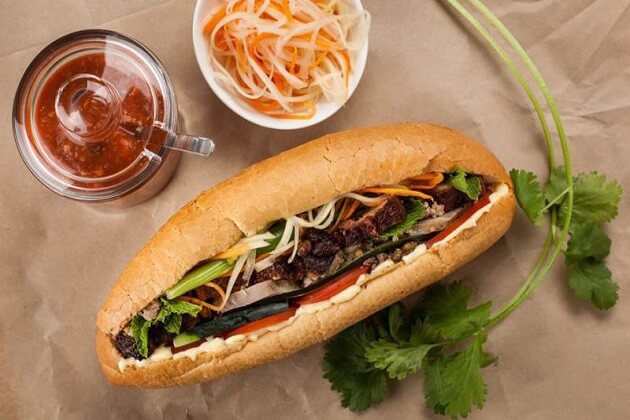 Address
• Phuong's bread, 2B Phan Chau Trinh – Minh An – Hoi An
Spring Roll – Summer Roll
And last but not least, Vietnamese spring roll is definitely a must-try for all visitors. These dishes are the perfect representative to show how Vietnamese food can be so tasty and healthy at the same time. The recipe varies with different regions but generally, they all share the same style. Both of them are made by wrapping a rice paper around a handful of filling, which often includes pork, egg, shrimp, sliced cucumber, lettuce or mushroom. The final step to prepare Spring roll is to deep-fried them, which helps create a tasty and crunchy crust. Vietnamese rolls are used with an appetizing sauce made from fish sauce, vinegar, garlic, and roasted peanuts.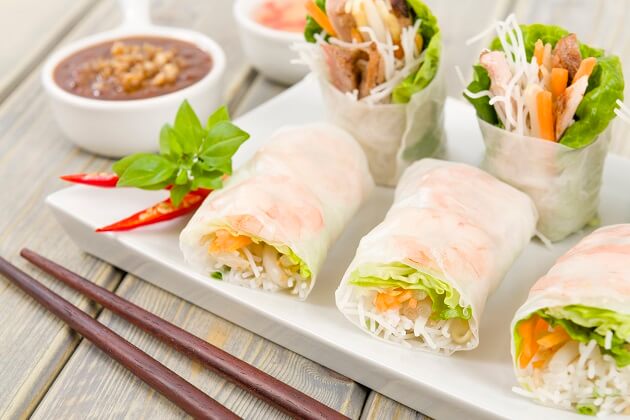 Address
• Bale Well restaurant – 45/51 Tran Hung Dao – Minh An – Hoi An.
Cao Lau
This is the foremost traditional food in Hoi An and you should not miss strive this yummy dish. Owning a unique feature of taste, Cao Lau doesn't taste like any other food existing in Vietnam; however, no one can even recognize that this scrumptious dish is comparable to Japanese or Chinese cuisine. Although the fact that Cao Lau has a Chinese-liked appearance yet, none of the Chinese consider it to be Chinese food. Thus, the origin of this Vietnam food is still uncanny.
For those who want to try the best Cao Lau in Hoi An, just head to Ms. Vy's Morning Glory Restaurant. Here is the restaurant's address:
• 106 Nguyen Thai Hoc Street – Centre of Hoi An town