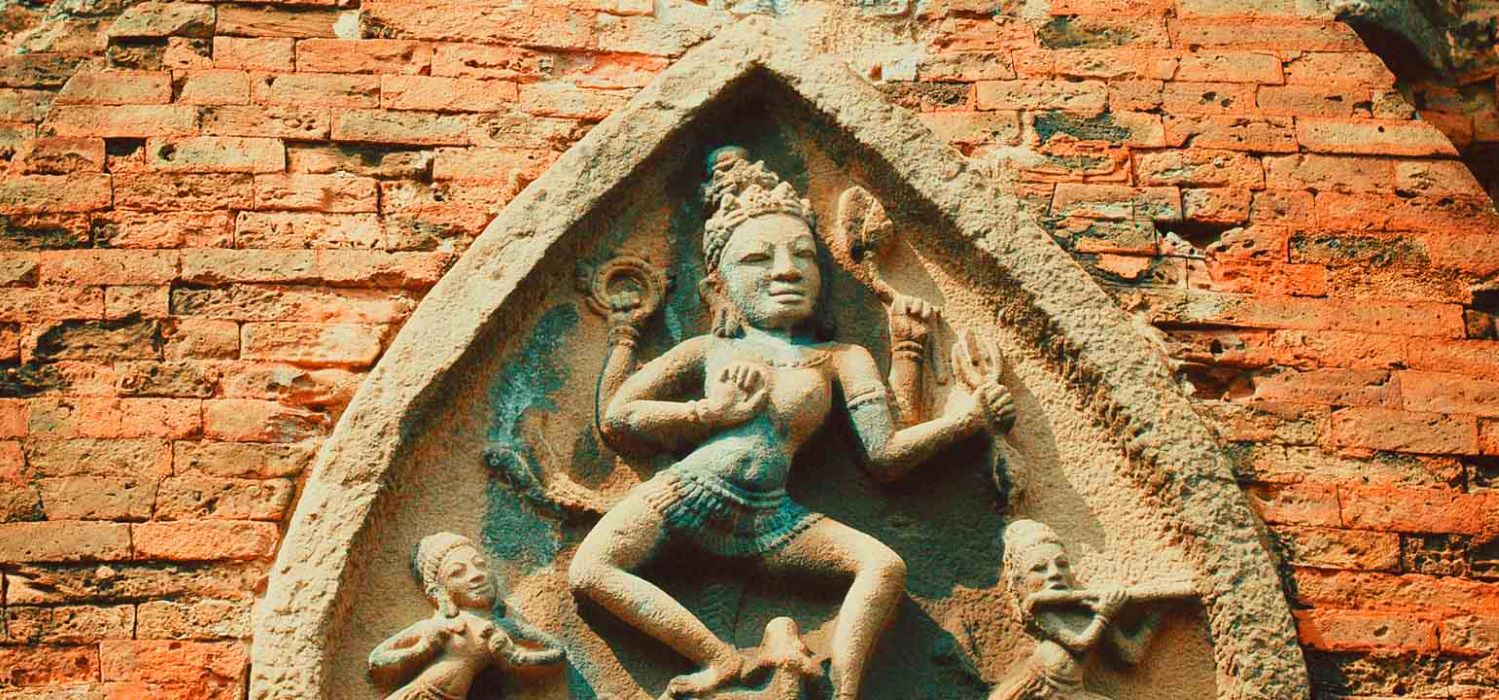 Cambodia Laos Tours & Vacation Packages
2 weeks is the best period to joyfully getting into Cambodia Laos Tours.
Indochina hosts a variety of elements that combine to make a fantastic trip for anyone interested in Asian culture. In there, Laos and Cambodia are considered the two hidden gems of Indochina, where you can contemplate their impressive natural beauty and spectacular architecture in pure serene. If you are looking for an active journey discovering the depth and essence of these two countries, then  2-week Laos Cambodia Tours are good choices. This adventure combines the best of Cambodia and Laos into one interesting itinerary that promises to bring you nice memories. Do not miss these two countries once enjoy Multi country Asia vacation packages.
---
Things to do and see Cambodia Laos Tours in 2 Weeks
Laos – the First Stop in 14-day Cambodia Laos Vacation
Luang Prabang
Start your 2-week tour in Laos, you should choose to visit
Luang Prabang
first. Luang Prabang is considered the best-preserved traditional city in
Southeast Asia
which is declared as the UNESCO World Heritage Site in 1995. You will admire the tranquility and charm, its splendid natural scenery, and cultural sights. All makes it one of the most delightful destinations to visit in your Laos and Cambodia itinerary. Come here, do not forget to visit some outstanding places in this ancient city: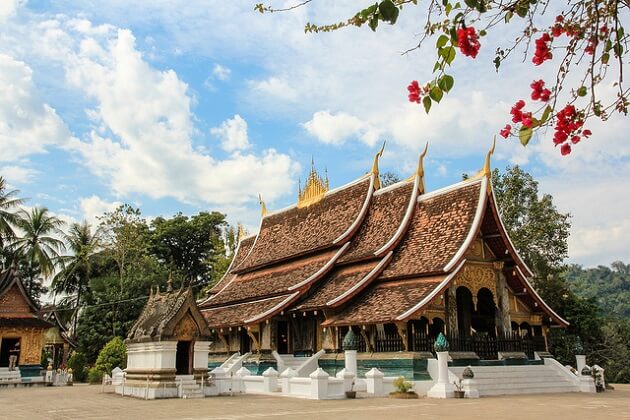 The oldest temple of Wat Sene as well as the impressive Wat Xieng Thong. Its roof swept to the ground to represent the classical architecture of Laos.
Take a cruise on the Mekong River, which offers spectacular views of the tranquil countryside.
Explore the mysterious Pak Ou Cave, which is home to thousands of golden Buddha statues of various shapes and sizes. Stop for a moment in Ban Xanghai, where local specialties are prominent rice wine.
Phosi Market is also a tourist site you should not miss when traveling to Luang Prabang. When arriving in the morning, you will find a variety of items such as buffalo skin, local tea, salted meat, vegetables, chicken hills.
Laos is also famous for its traditional handicrafts, and if you have more time, you should visit the local villages of Lao ethnic minorities in Ban Quay and Ban Thapene to experience.
If you have much time, you can also drive to the beautiful Khouang Si Falls, where you can dance in the turquoise pool or stroll along the forest path.
Also, you should visit Ban Phanom, a famous weaving village, and then watch the sunset at Wat Siphouthabath. This will be an unforgettable memory when you traveling here.
Vientiane
Vientiane capital is sure to be a tourist site you cannot ignore in the 2-week Laos Cambodia vacation. This city can be described in two words: beautiful and ancient. Coming there will give you an opportunity to discover various notable religious attractions. Such structures are all outstanding in the middle of natural beauty. In addition, the land is also legendary and full of old pagodas án temples for tourists to contemplate and worship. That's why a visit to the capital of Laos seems to be a spiritual trip! Some places you cannot ignore when coming to Vientiane, such as: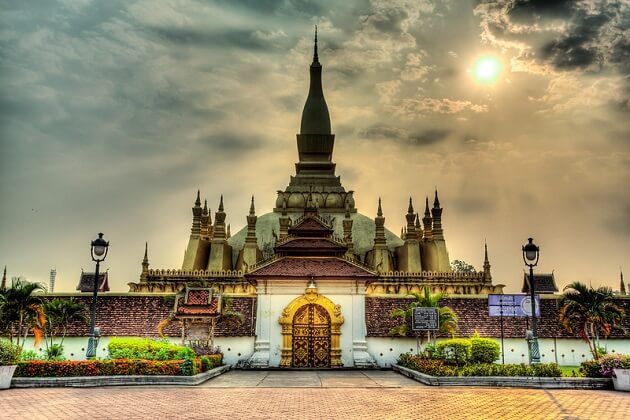 That Luang Stupa: With unique and mysterious beauty, this is the most amazing golden Buddha stupa in Laos.
Wat Si Saket: This oldest temple has over 6,800 small Buddha statues of all sizes, dating back to the 16th to 19th century. These were mostly made of stone, wood, and bronze.
The ruins of Wat Phou: Erected between the 5th to 13th centuries, Wat Phou features the same characteristic as the popular Angkor Wat in Cambodia, the decorative lintels, the stone causeways, and elaborate carvings.
The Bolaven Plateau: Don't forget to go trekking in the Bolaven Plateau to immerse yourself in its cool climate, eye-catching waterfalls, and fertile soil.
Khong Island: Tourists are fond of checking on the island because it remains laid-back, pristine, sleepy, and very friendly. Another exciting information is Khong Island is the largest one among the 4000 islands in the Mekong River, Khong District, Champasak Province.
Discovery of Cambodia in 14-day Cambodia Laos Tour Packages
Phnom Penh
During 14-day Laos and Cambodia tours, tourists will visit Cambodia – the golden temple country. Your first stop is the vibrant bustling capital of Cambodia – Phnom Penh. Located at the confluence of 3 main rivers of this country (the Bassac, the mighty Mekong, and the great
Tonle
Sap
), this city was once considered the 'Gem' of
Indochina.
Phnom Penh
 has still retained its own considerable enchantment with many stunning sights to admire. The capital city exudes an enchanting and serene beauty of the province with
French colonial villas
and a tree-lined avenue amidst glorious 
Angkorian
architecture
. This capital city is a truly unique oasis, distinct from the modernity of other capitals in other nations in the world. A mix of Asian exotica, the well-known Cambodian hospitality awaits tourists to the capital of the Kingdom of Cambodia. Traveling to the capital, there are a lot of fascinating tourist attractions, including: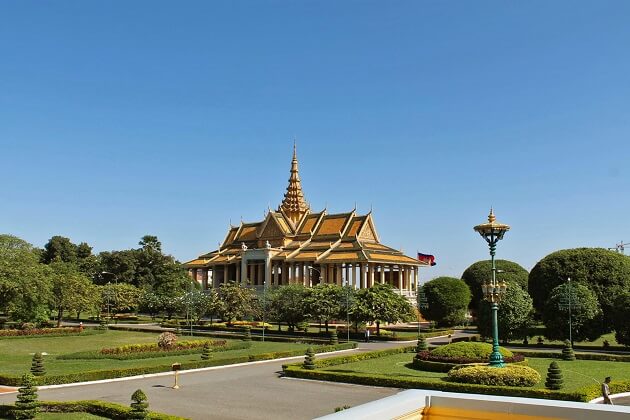 The Royal Palace and Silver Pagoda: Let's feast your eyes on the incredible and amazing architecture of the palace which is the combination of Khmer and European styles. Moreover, attached to its background is the presence of The Silver Pagoda that wins an award for about 5,000 silver tiles.
The Royal University of Fine Arts: This university is established in 1979 and considered a non-profit public higher education institution. Exploring the university brings you an opportunity to soak up its prominent architecture and have friendly conversations with students around.
The Russian Market: Here you can wander to feel the daily life of locals, and by pretty souvenirs for friends and relatives.
Toul Sleng Museum and Choeung Ek Death Field: The trip will give memorable emotions and experiences. It was once a high school before 1975. After that, the Khmer Rouge arrived and turned it into a 21-security prison, where many inmates were brutally imprisoned and tortured before being executed at the Choeung Ek Death Field.
Siem Reap
Siem Reap
– the old capital of Cambodia is famous for two architectural works
Angkor Wat
and
Angkor Thom
– the pride of Cambodia people. This is also an attractive destination for many travelers in Cambodia Laos Itinerary. For those who looking for unmatched glamour, a trip to Siem Reap is an ideal choice. Located in northwestern Cambodia, the city has become a famous tourist destination dỏ centuries, thanks to its French cultural influences, historical and religious sites, as well as rich and multi-faceted local culture. Here are some recommendations for you when going on a tour in Siem Reap: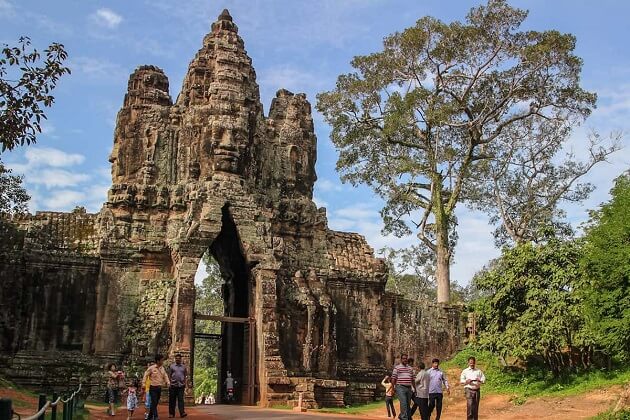 Angkor Wat: This is a temple complex in Cambodia and the largest religious monument all over the world. It's really a must-visit monument for those who love unique architectural beauty. It is not only the country's major magnet but it also appears in the Cambodian national flag and even becomes the pride of the locals.
Angkor Thom: and its surrounding features: The Bayon Temple, the Royal Enclosure, the Elephant Terrace, Phimeanakas, and Terrace of the Leper King. It's hard to imagine any building larger or more beautiful than Angkor Wat, but in Angkor Thom, the sum of the parts adds up to a greater whole.
The temple of Ta Prohm: When you come to this jungle paradise, you will feel like you are lost in a mysterious land. In addition, you can capture the majestic photos to take the best memories for yourself.
The Roluos Group of temples: If you wish to deeply discover the temple complex in Siem Reap, let's visit the 3 Roluos Group temples, called Bakong, Preah Ko, and Lo Lei.
Suggested 2-week Itinerary for the Best Cambodia Laos Tours
Day 01: Vientiane Arrival
Day 02: Vientiane – Highlight City Tour
Day 03: Flight to Luang Prabang – Half-day Buddhist Ancient City and Temples Tour
Day 04: Luang Prabang – Boat Trip to Pak Ou Caves – Kouang Si Waterfall
Day 05: Flight to Pakse – Bolaven Plateau Tour
Day 06: Pakse – 3 Days Mekong River Cruise (Day 1)
Day 07: Mekong River Cruise (Day 2)
Day 08: Mekong River Cruise (Day 3) – Back to Paske
Day 09: Flight to Siem Reap – Tonle Sap Lake Cruise
Day 10: Siem Reap – Full Day City Tour
Day 11: Siem Reap – Angkor Wat & Banteay Srei
Day 12: Drive to Phnom Penh – Royal Palace Tour
Day 13: Phnom Penh – Highlight City Tour
Day 14: Phnom Penh Departure