Located in Southeast Asia, Vietnam is endowed with the diversity of nature and culture; therefore, tourism in Vietnam is always hot pot in Southeast Asia in recent years including beautiful natural landscapes, pristine islets and quaint villages to war museums, colonial structures, and ancient citadels. With so many things to do in Vietnam, traveling is never boring and the best choice for tourists seeking peace in the soul. If you are looking for what are the must-visit destinations in Vietnam, we – Multi-Country Asia Tours, joyfully give you some useful information about such thrilling destinations in Vietnam that you should not miss once getting into Asia tours.
Top-rated Thing to Do & See in Northern Vietnam
Day Trip in Hanoi City
Hanoi is one of the two largest cities in Vietnam which possesses the range of tourist attractions in various types like culture, history, cuisine, etc. In the day trip to Hanoi, you can visit the Temple of Literature which is the earliest university in Vietnam to understand the Vietnamese education in ancient times as well as the traditional architecture in Ly, Tran Dynasties there. Moreover, you can visit Thang Long Imperial Citadel of the Ly dynasty and walk a little to Ho Chi Minh Mausoleum in Ba Dinh district and Ho Chi Minh Museum near there.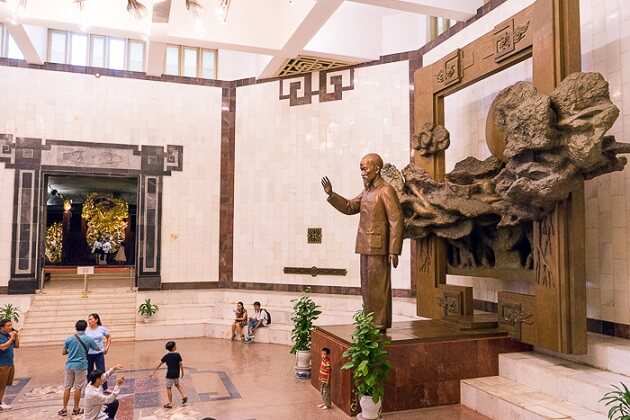 If you have time, you should visit the Hoa Lo Prison Museum of French or Maison Centrale which political prisoners of Indochina were held in captivity to know more about the war crime and you are hungry for a trip around Hanoi, a bow of Beef rice vermicelli or Cha vermicelli in Hang Muoi street is a good choice for you; after that, you can taste a cup of official egg coffee in Cong Café or Giang Café in Hanoi Old Quarter. The day trip can be ended by observe the Water puppetry show in Hanoi Water puppet theatre or enjoy cups of beer with foreigners in Beer Street-Ta Hien.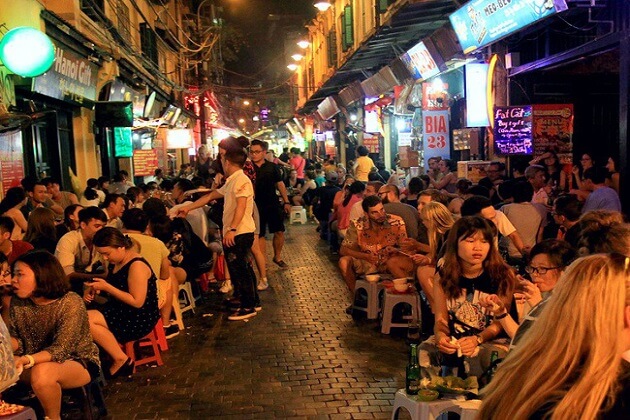 Kayaking in Ha Long Bay
Ha Long is known as UNESCO World Heritage Site in 1994 by not only the beautiful landscapes but also the variety of terrains. Traveling to Ha Long Bay, tourists will be surprised at the giant number of limestone islands with 1,600 islands and islets; each island features a kind of limestone caves like phreatic caves, karstic foot caves, marine notch caves, etc. When visiting Ha Long Bay, you must visit a range of typical Karst caves like Sung Sot cave, Thien Cung cave, Dau Go grotto, etc; you cannot stop saying wow when seeing the shape of animals in the caves appearing little by little. If you want to relax after busy working days, you can go kayaking to Ti Top Island, lie in the golden sand beach and hear the call of Nature Mother reflecting through the sound of waves and taste the sweetness of fresh coconuts.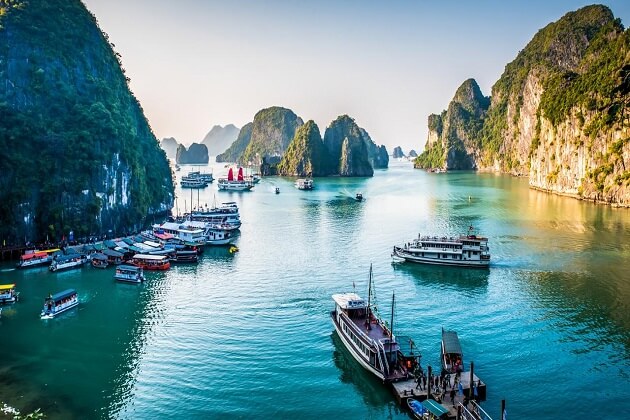 Backpacking in Ha Giang
If you are a person appealing to adventure, Ha Giang is an ideal attraction for you. Located in the Northernmost part of Vietnam, Ha Giang is endowed with the diversity of nature. When traveling to Ha Giang, you should visit the Lung Cu Flag Tower which marks the Northernmost point of Vietnam, climbing to the top of this tower, you can open your eyesight to panoramic view of surrounding area: green rice terrains, a little China side and sense of freshness and coolness of clouds surrounding you.
Moreover, you should visit Dong Van Geopark when visiting Ha Giang province and many beautiful natural attractions like Ma Pi Leng Pass, Quang Ba Heaven Gate, Hoang Su Phi rice terrace, etc.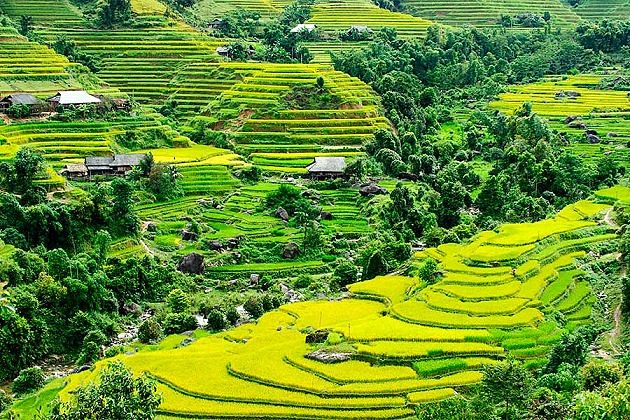 The Most Exciting Things to Do & See in Central Vietnam
Relaxing in Hoi An Ancient Town
Hoi An is an ancient town formed in the 16th-17th century when Chinese and Japanese lived densely there and is known as the center of entertainment as well as cuisine. Visiting Hoi An, you can take a cyclo around the Hoi An town to call on Chinese and Japanese architectural sites like Bridge Pagoda of Japanese, Chinese assembly halls, Guan Yin Temple, etc. Moreover, Hoi An is a cuisine paradise where you can taste a list of Quang Nam special dishes such as Cao Lau noodle, White Rose (pawn dumplings), etc.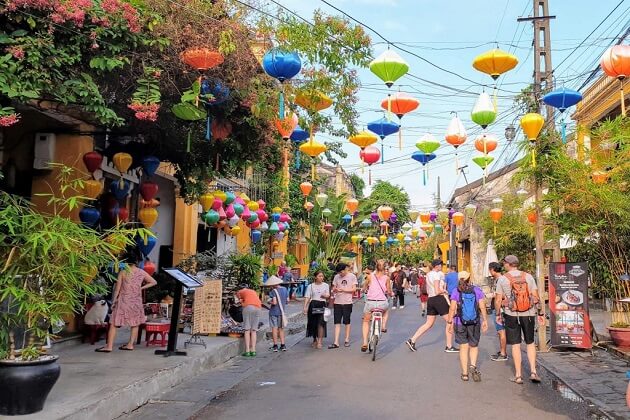 Exploring My Son Hindu Sanctuary
My Son Hindu Sanctuary was the political center of the Champa Kingdom, which is located in the Center of Vietnam. This sanctuary consists of approximately 70 architectural structures devoting to Hindu Gods and Goddesses; especially to Shiva who protects Champa's kings. The special point of this attraction is not only the religious site of a dynasty but also the typical architecture of shrines. Shrines were built by red bricks and sandstone; through the damage of time and war, it remains the major of the central complex to remind visitors of the popularity of Hindu as well of the prosperity of the Champa Kingdom in the past of Vietnam.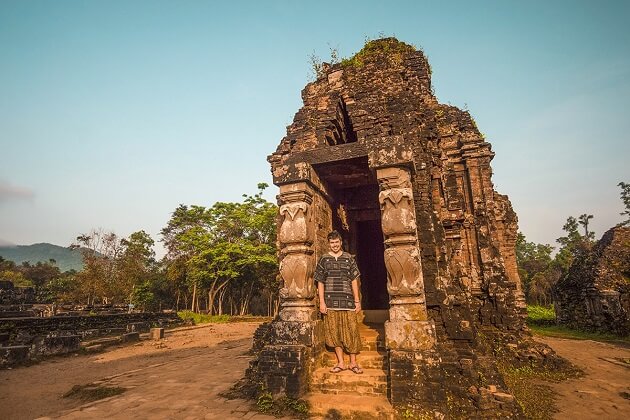 Top 4 Thrilling Attractions in South Central & Southern Vietnam
Sledding in the Sand Dunes of Mui Ne
The Sand Dune of Mui Ne is located in Phan Thiet in the center of Vietnam. It looks like Saharan including in the White Dunes of Mui Ne or Bau Trang with white sand, Red Sand Dunes of Mui Ne with reddish-brown sand. Each sand dune has a special thing to experience; tourists can experience kite flying in the open space covered by the white of sand or having a picnic with friends and view the horizon disappearing after sand dunes in White Dune of Mui Ne. If you love thrilling, sand-sledding in Red Sand Dunes of Mui Ne is a good choice for you to experience.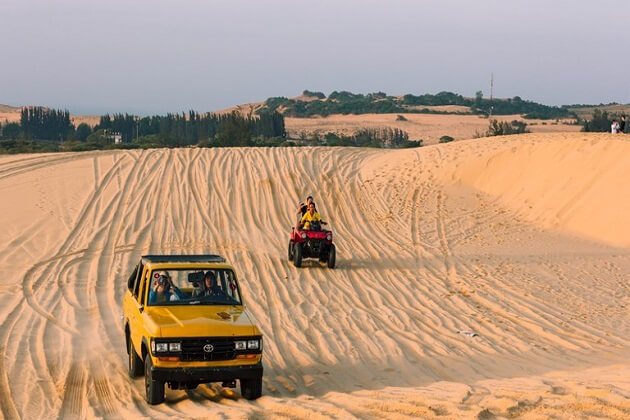 River Cruise in the Mekong Delta
Mekong Delta is a river system derived from the Tibetan Himalaya, spread out the Southern provinces of Vietnam such as Dong Thap, Tien Giang, An Giang, Can Tho, etc. Take a ride with a cargo boat and you will have a nice cruise in the Mekong Delta. You can be surprising with stunning sights of green rice terrains, ranges of coconut trees and quiet stilt houses. Moreover, you will have chances to explore lush orchard around the year to broaden the knowledge about agriculture there as well as understand the daily life of local people; some famous fruit orchards in Mekong Delta are named as Cai Be Orchard, My Khanh Orchard, Cai Mon Orchard, etc. Moreover, when reaching Tien Giang province, tourists will experience shopping in Cai Be Floating Market which is a typical market in the Vietnamese water area. The floating store mainly sells fresh fruits, dried foods and special dishes like Hu Tieu, Banh Canh, Sticky rice, etc. The cruise can end with a show of Southern Folk songs called 'Don Ca Tai Tu' with beautiful melodies.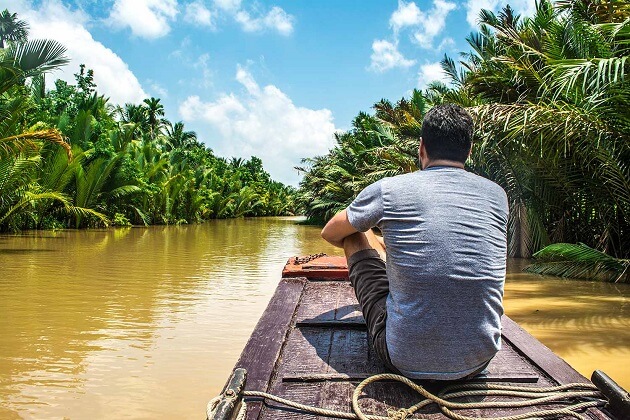 Get History Lesson at the Cu Chi Tunnels
Located in the bustling and modern Ho Chi Minh city, Cu Chi Tunnels were used by the Viet Cong during the Vietnam War as a hiding place from the enemy as well as the secret military base area of Viet Cong. Going through narrow pathways of these tunnels, tourists will observe the misery of hiding Viet Cong through both the model of Viet Cong and the history lessons of the local guide there which absolutely make you respect for the peaceful life now.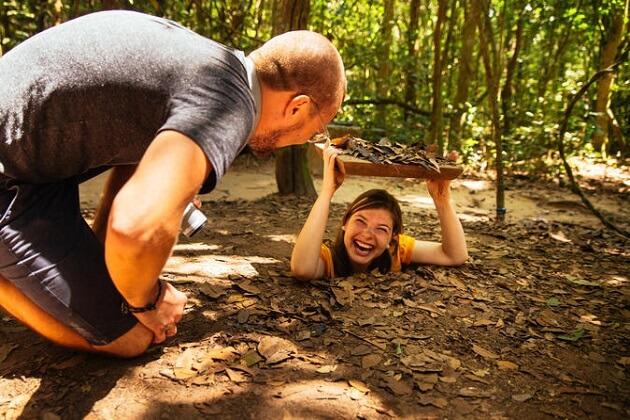 Relaxing in Phu Quoc Island
Phu Quoc Island is well known for the pretty pristine beaches and interesting experiences with traditional trade villages there. Reaching this island, you are impressed by the long golden coastline pristine ranges of coconuts and palms there and Sao Beach is the first place you should come to dip your body inflows of cool water and enjoy your peaceful life after stressful days. The best way to enjoy the Phu Quoc trip is by hiking a motorbike to explore the whole island, you can go sightseeing Phu Quoc National park, visit the waterfalls and experience making fishing sauce or picking pepper on this island which is certainly exciting experience in your trip.